Frontier Communications (FTR) stock has resumed its decline following the announcement of third quarter earnings on November 6 th. The declines also extended to the company's bonds. Even shorter-term bonds, such as Frontier's July 2021 maturing notes, declined in price from the mid-90s to 86 cents on the dollar. With a 9.25% coupon, the bond's yield to maturity exceeds 16% and may present an attractive investment opportunity if the company is able to support its debt load.

Source: FINRA
From a profit and loss standpoint, Frontier's revenue continues to decline. Year to date, Frontier's revenue has declined by more than $400 million. Fortunately, for every dollar in revenue declines, Frontier has managed to cut operating expenses by two dollars. Ultimately, the company's $700 million year to date operating income was notably better than $264 million a year ago.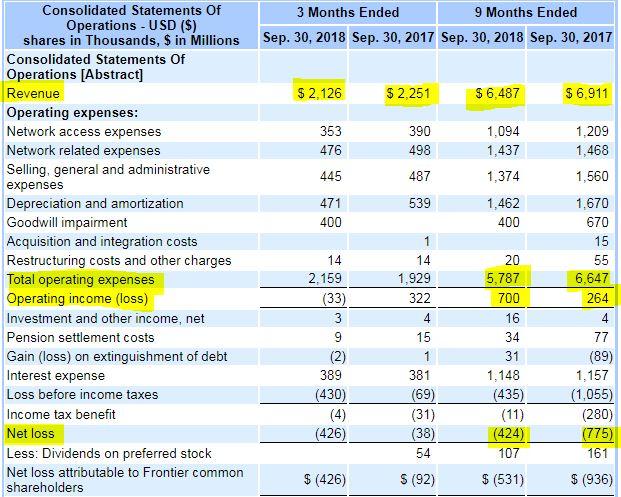 Source: SEC 10-Q
Frontier's balance sheet has been quite uneventful in 2018. The company's decline in assets, which is outpacing liabilities, is the main cause behind the decline in shareholder equity. The asset decline is led by the decrease in intangible assets, which currently accounts for more than a quarter of all assets. On the debt side, long-term debt declines are partially offset by the increase in debt due within a year. Yet, despite the increase in short-term debt, interest bearing debt is down slightly ($100 million) from the end of 2017.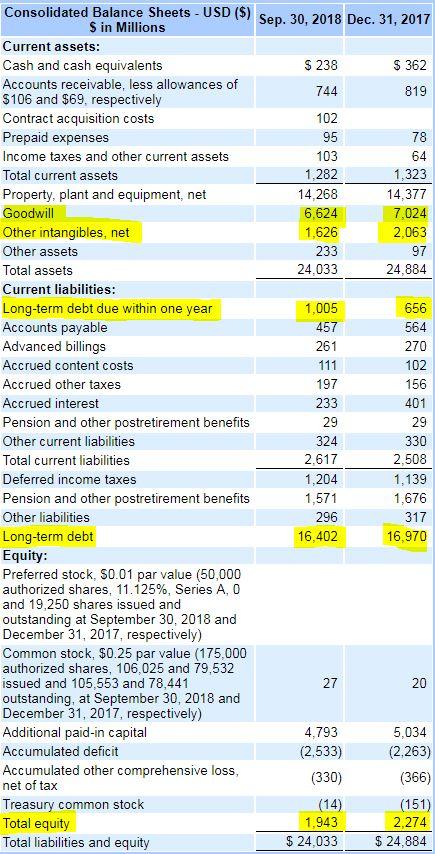 Source: SEC 10-Q
Frontier's ability to generate cash will determine whether they will be able to reduce debt. Year to date, operating cash flow for Frontier has increased, albeit marginally, from a year ago. The company's free cash flow has decreased due to a $100 million increase in capital expenditures. Despite the decline in free cash flow, Frontier has managed to reduce debt by $150 million.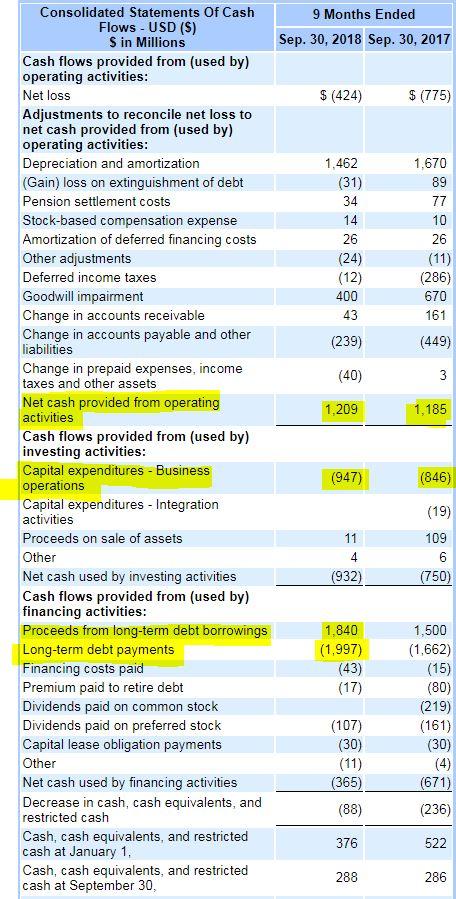 Source: SEC 10-Q
Frontier's debt maturity schedule is quite modest over the next three years with half a billion dollars coming due each year. Frontier's principal obligations ramp up in 2021 and 2022 when the company will be responsible for $4.3 billion in maturities between the two years. Based on the company's updated 2018 guidance, Frontier should generate over $600 million in free cash flow.

Source: SEC 10-Q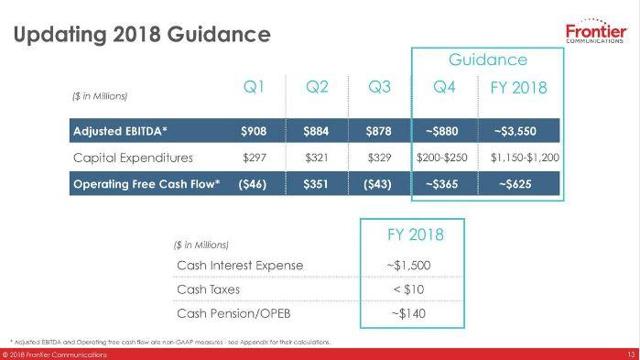 Source: Earnings Presentation, Slide 13
Looking beyond 2018, Frontier's management made a few comments in the conference call to shine some light on the future. In the call, Frontier mentioned that cost improvements are ongoing, but when it came to specific dollars, the only amount mentioned was $64 million in interest expense savings from the repayment of October 2018 and March 2019 debt maturities. Due to timing issues, the company will need to temporarily borrow from its revolving line of credit, but it is fair to assume the company will save $48 million in interest costs in 2019 and $64 million per year beyond that.
With no 2019 guidance available yet, it is best to model no change in operating cash flow (other than the interest savings) and $1.1 billion in ongoing capital expenditures. Based on this analysis, Frontier should continue to make steady debt reductions until 2021. From there, the company will need slightly more than $2 billion to refinance its 2021 and 2022 maturities.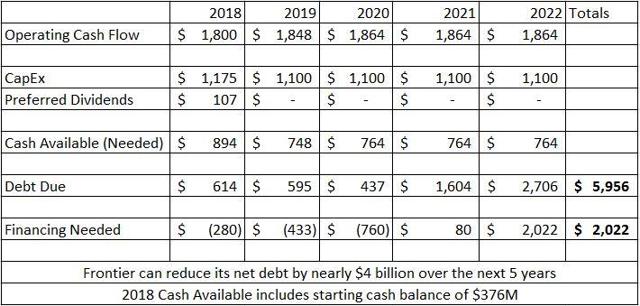 Source: 2018 Guidance combined with interest expense savings
The risks related to this investment revolve around the firm's ability to refinance its 2022 maturities. It is likely that Frontier will try to achieve some form of refinancing by 2020 to avoid a last second scramble. If the company is able to maintain continued cost savings and increased operating income, a debt exchange near par value will likely be successful. Failure to achieve a refinancing structure that works could place fixed income investors in danger of experiencing default prior to their 2021 maturities coming due.
For Frontier fixed income investors, bonds maturing prior to 2022 should be worth the investment. The company may engage in additional debt exchange opportunities in the future to help with its debt maturity wall, however, the need to do so is not urgent .
CUSIP: 35906AAL2
Bond/Debt Type: Debenture, Senior Unsecured Note
Price: $86.00
Coupon: 9.250%
Yield to Maturity: 16.093%
Date of Maturity: 7/1/2021
Credit Rating (Moody's/S&P): Caa1/CCC+
Disclosure: I/we have no positions in any stocks mentioned, and no plans to initiate any positions within the next 72 hours. I wrote this article myself, and it expresses my own opinions. I am not receiving compensation for it (other than from Seeking Alpha). I have no business relationship with any company whose stock is mentioned in this article.
Additional disclosure: I own Frontier bonds coming due in 2019, 2021, and 2025.