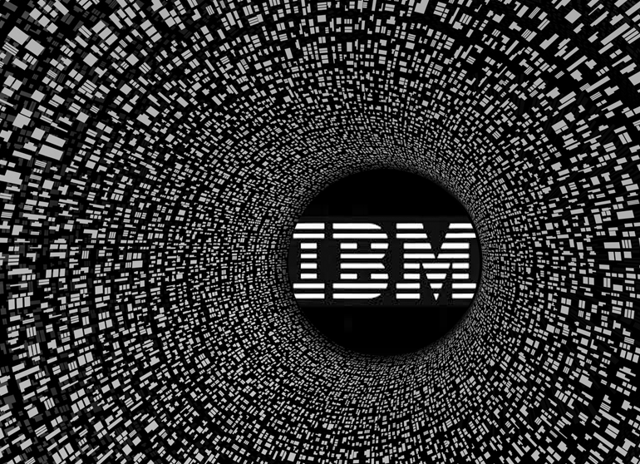 I have been bearish about International Business Machines (IBM) for a while now. In May 2017, I published an article, describing the reasons why I believed that the Big Blue was fading. In the article, I wrote about the weak performance of the company under Virginia Rometty, the missed opportunities in the cloud, and the weak case for Watson. Since then, the company has gotten worse. Its stock has declined by 18%. YTD, the stock has declined by 19%, making it the second worst performer in the Dow after Goldman Sachs (GS). Its market capitalization has dropped to $112 billion from a peak of $240 billion in 2014. It has also continued to trail its old-tech peers like Microsoft (MSFT), Oracle (ORCL), Intel (INTC), and Cisco as shown below.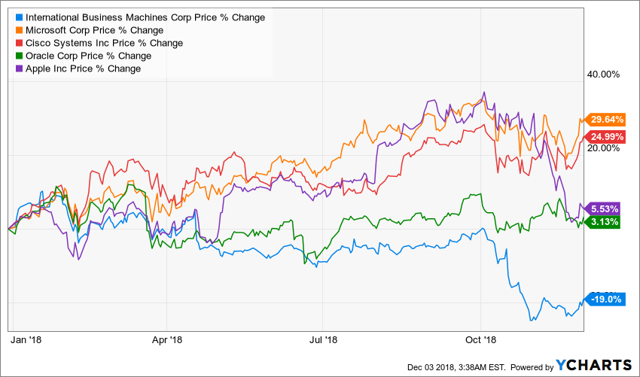 From a distance, the current low valuation of the company makes it an ideal acquisition for value investors. It has a trailing PE ratio of 19, which is lower than that of the S&P 500 and Dow Jones Industrial Average. Its PE, PS and price to cash flow ratios have been declining as shown in the chart below. Couple this with the attractive dividend yield and strong cash flows makes IBM a good acquisition to many value investors. However, as General Electric (GE) have taught us, finding a bottom for companies in a difficult financial position can be a difficult thing to do. The chart below shows the company's PE, PS, and cash flow ratios of the company.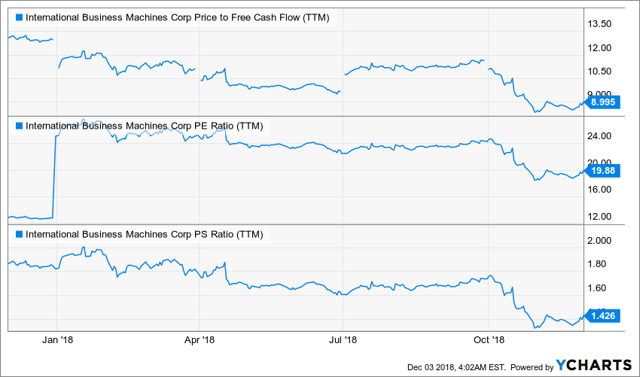 The Case for Breaking up IBM
In the last article, I explained that IBM can be saved if the company's board implemented a few strategies including replacing the CEO, giving up on the Red Hat (RHT) acquisition, and focusing on small strategic acquisitions. In this article, I will give another option in which the company can create value for investors through divestitures.
Divestitures have been excellent value creators for companies. There are a few examples of this. In 2010, Dow (DWDP) divested the Styron division into a new company called Trinseo (TSE). Since then, TSE's stock has gained by more than 149%, lagging that of Dow. Another example is that of eBay (EBAY) and PayPal (PYPL). As a public company, PayPal's stock has gained by 133%, which is significantly higher than that of eBay's 14%. In general, spin-off companies tend to perform better than their parent companies. The table below shows the performance of key spin-offs compared to those of their parent companies in 2017.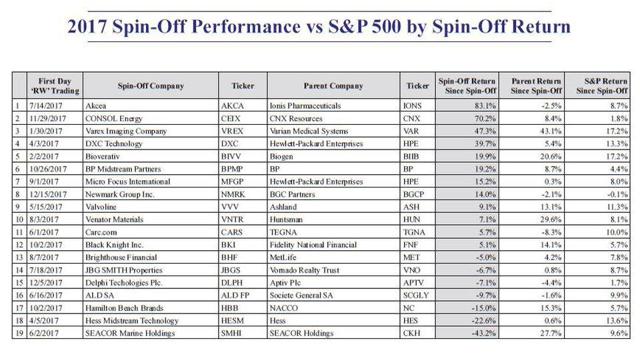 Source: Forbes
The chart below shows the performance of the Invesco S&P 500 Spin-off ETF compared with that of the Dow.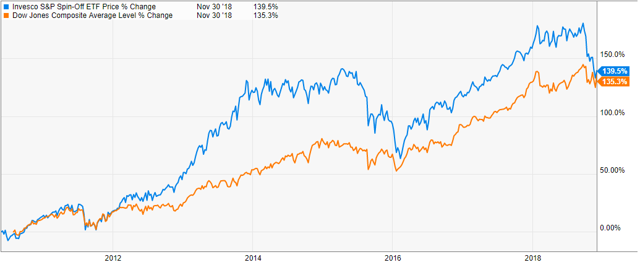 As we speak, General Electric (GE) has announced plans to spin-off its healthcare business and reduce its stake in Baker Hughes (BHGE) with the goal of raising money to service its upcoming maturities. DowDupont is in the process of dividing into three companies and a few days ago, United Technologies (UTX) agreed to divide its business into three separate companies.
There are many reasons why spin-off companies do well but the main one is that the management is usually more focused than when it is a part of the larger company. In addition, as a standalone company, investors are able to compare the company with its peers in a better way.
In the past, IBM has divested a number of its businesses. In 2004, the company sold-off its struggling personal computing business to Lenovo for $1.75 billion. Ten years later, it divested its x86 business to Lenovo for $2.3 billion.
Reimagined IBM
Even with these divestitures, I believe there is a case for a smaller IBM. Today, IBM operates in five segments. The chart below shows the performance of these segments in the first nine months of the year.

Source: SEC
A reimagined IBM would focus on high-margin and high-growth businesses. The first part to start would be to divest the Global Business Services to be a standalone company. This segment includes services like consulting, application management, and global business services. In the first nine months of the year, the division contributed revenues of $12 billion, making it the third largest division after technology services and cloud platforms.
However, this division is known for its low margins because of the number of total workforce involved. While the number of employees per division is not known, the number of employees in GBS is estimated at 120,000. This means that these employees make more than 30% of the entire company.
Even with this, the division's margins are going down and are the least among its divisions as shown in the chart below.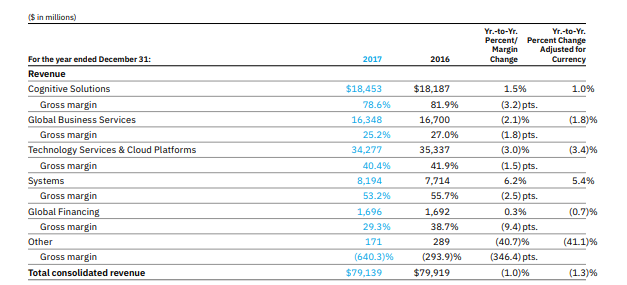 Source: 10K
The gross profit margin of 25% is lower than that of the peer companies. The gross margins of other consulting companies like Infosys (INFY), WiPro (WIT), Cognizant (CTSH), and Accenture (CAN) are 35.50%, 30%, 39.9%, and 30.2% respectively. With annual revenues of more than $16 billion, the spin-off would create the second largest consulting company after Accenture, which has annual revenues of more than $41 billion. The third company would be CTSH with annual revenues of more than $15 billion and a market cap of $41 billion. Therefore, with some margin expansion, a conservative valuation of the new GBSCo would be about $45 billion.
The second spin-off would be in the systems segment. This is a segment that deals with servers – IBM Z and power systems -, storage, and operating systems software. In the first nine months, the segment generated revenues of $5.4 billion. In 2017, its gross profit margins were down to 55.3. This margin is close to that of its would-be peer companies like Hewlett Packard Enterprise (HPE), Cisco (CSCO), and Dell (DVMT) which have margins of 30.65%, 62.32%, and 85% respectively. With annual revenues of $8 billion, the new Systems SpinCo would be the third in size after Cisco – though this includes other Cisco businesses – and HPE. Giving it an EBITDA margin of about 25% would give the new company a value of about $20 billion.
The third spin-off would combine the fast-growing cloud and cognitive solutions. These two would basically offer cloud and analytical solutions to businesses. In these two, while IBM remains behind Amazon (AMZN), Microsoft (MSFT), and Google (GOOG), the company would likely achieve more success as a leaner company. The new IBM's businesses would have annual revenues of more than $50 billion and average gross profit margins of more than 60%. It would have all the fastest growing segments – cloud and cognitive solutions. Giving it a conservative operating margin of 25%, the segment would generate annual operating profits of $12 billion. AWS had operating margins of 30% in the past quarter.
Conclusion
In the past few years, IBM has been a master at financial engineering whereby it has borrowed heavily to buy back its stock. To create value for its investors, a good way would be for the company to break itself into three separate companies: Global Business Services Co., IBM Systems Co, and IBM Cloud and Cognitive Services Co. These spin-offs would create more value for shareholders than if the company continued to operate as it is today. In this analysis, I did not factor in the RHT acquisition and the Global Financing segment.
If you like this article, please click the 'Follow' next to my name above. I am always to expand my network. I always appreciate all my followers. In case you have comments about my research style, please leave a comment below or send me a private message. Thank you.
Disclosure: I am/we are long GOOG, AMZN, PYPL. I wrote this article myself, and it expresses my own opinions. I am not receiving compensation for it (other than from Seeking Alpha). I have no business relationship with any company whose stock is mentioned in this article.