Some very interesting happenings in the month of November. I rolled over an old 401(k) into this account, which gave me just under an additional $12,000 to work with.
Secondly, if you read my October update or are familiar with the account, you will remember that I had one share of American International Group Inc (AIG) in my account due to a 1-for-20 reverse split that occurred in 2009. Well, I now have 100 shares of AIG that I do not intend to keep for very long. I discuss my thoughts behind this move in this article. And while my projected dividend was only $0.32 per quarter, the way I handle it will change my projections and I'll discuss that.
Third, I did make a purchase this month (besides AIG) and I will briefly outline the purchase and the effect it had on my portfolio.
Finally, my march towards financial independence rolls on. I have updated the forward looking dividends section and the graph and this section is quickly becoming my favorite one to update and see the progress of. The amounts that I am adding to my future retirement income seem small when one considers how much income it will take to live a certain lifestyle, but these small amounts all add up over time.
Now let's get into the meat of these update articles - the numbers:
November Dividends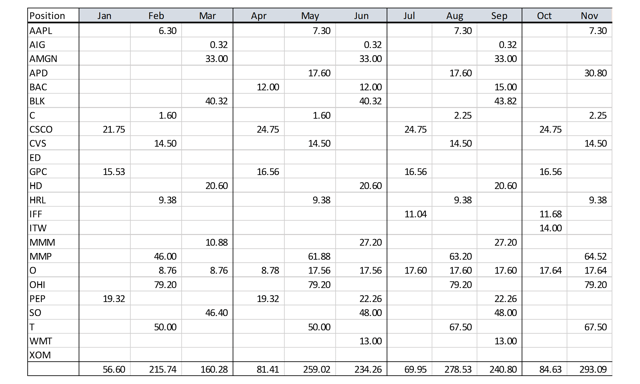 All graphs and charts created by author unless otherwise specified
The dividend income I received in November set a new record for me, just barely missing the $300 mark. The total was aided by my purchase in July of some more Air Products and Chemicals Inc (APD) shares and the quarterly raise by Magellan Midstream Partners LP (MMP) from $0.9575 to $0.9775 per share.
Below you can see the record month that was November represented graphically. I really like the trend of that green line.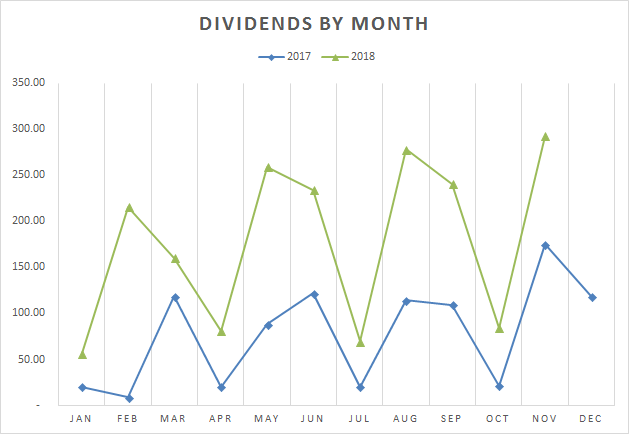 November Performance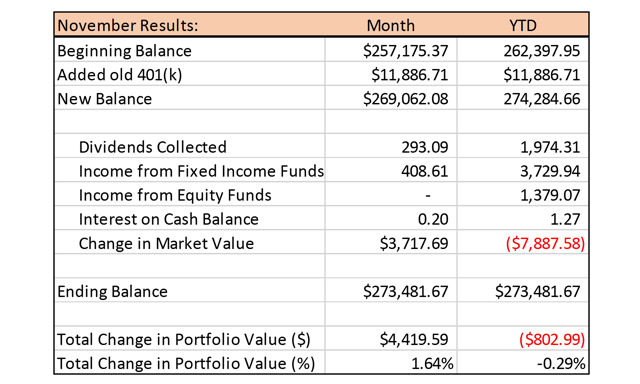 Here is one of the tables that required some tweaking and will look different next month as well.
You can see I added the funds transferred in to the original beginning balance to arrive at a new beginning balance. Since it is not fair to count the additional $12k as a positive change in value when I calculated the "change in portfolio value" lines (the bottom two) I compared the ending balance to the new beginning balance.
Next month I will not need to do this for the monthly results, but will still need to adjust the beginning balance for the YTD numbers. Fortunately, next month is the end of the year and then we start this table over.
All that being said, as you can see the market rebounded slightly from the drubbing it took in October and my portfolio gained 1.64%, roughly in line with the S&P 500 as a matter of fact. For the year my portfolio is pretty flat, so hopefully December is a nice month and we can finish with a gain.
Individual Stocks
Below are the positions in my portfolio and their respective yields as of the close of business on November 30, 2018: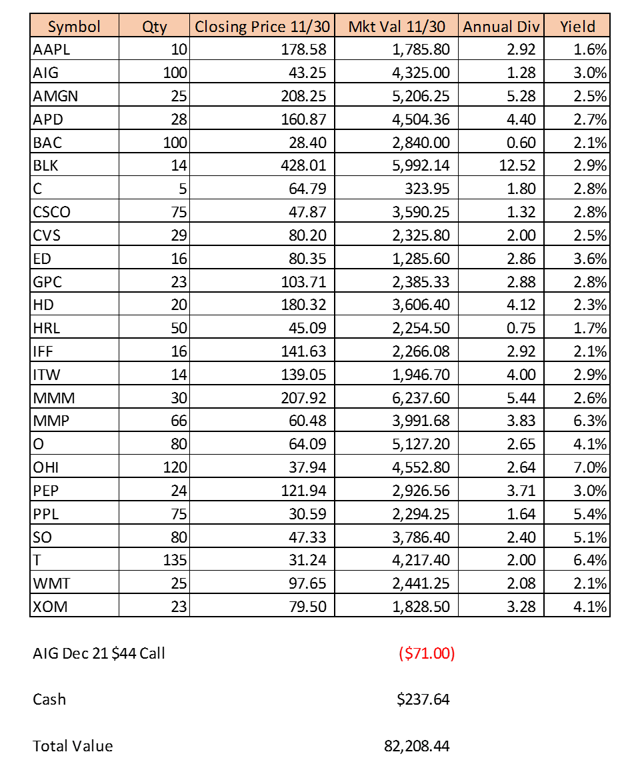 So if you did not read my article about my AIG strategy, now you might have an inkling about what it is. I sold a covered call for later this month in the hopes that after December 21 I no longer own any shares of AIG. This is going to have a ripple in more than one report as we shall see, but I'll talk about that when I get there.
Also as mentioned I added another stock, not counting AIG, and that would be the 75 shares of PPL Corp (PPL) and that sweet 5.4% yield.
Projected Dividends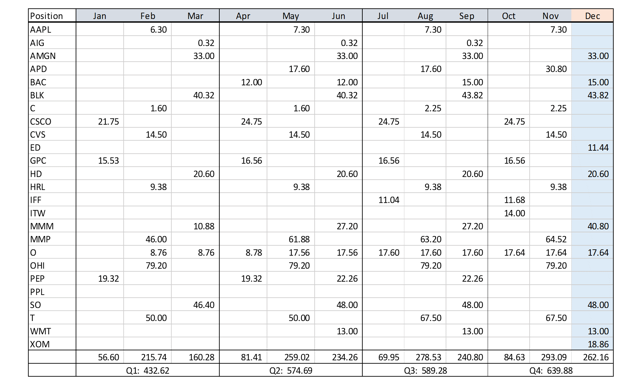 Here again, AIG throws a wrench into the works. I know for sure that I will not receive the dividend of $0.32 in December that I projected last month. I will either receive $32 or $0. I have decided to go with the latter because it is possible that I get called out of the stock early and do not receive the dividend. However, if I get the $32 dividend I will not be upset and in fact would set another new record (barely) in December.
Unfortunately, even though I believe all of the December dividends have been declared at this point, I cannot tell you with certainty what my year end total will be yet. I do know that it will be at least $2,236.47 and could be another $32 higher than that. We will know in less than two weeks which way it will go since AIG stock goes ex-dividend on December 11th.
Sector Diversification
| | |
| --- | --- |
| Consumer Discrectionary | 7.3% |
| Consumer Staples | 9.3% |
| Energy | 7.1% |
| Financials | 16.4% |
| Health Care | 9.2% |
| Industrials | 10.0% |
| Materials | 8.3% |
| REIT | 11.8% |
| Technology | 6.6% |
| Telecom | 5.1% |
| Utilities | 9.0% |
| | 100% |
And of course right now my financial sector looks pretty high, and it is. However, once the 100 shares of AIG get sold, that percentage drops right back down to less than 12%. Of course we can see that relatively speaking the telecom, energy, and technology sectors are all less than my target and it is likely that I will be adding to one of those in December.
Asset Allocation of the Portfolio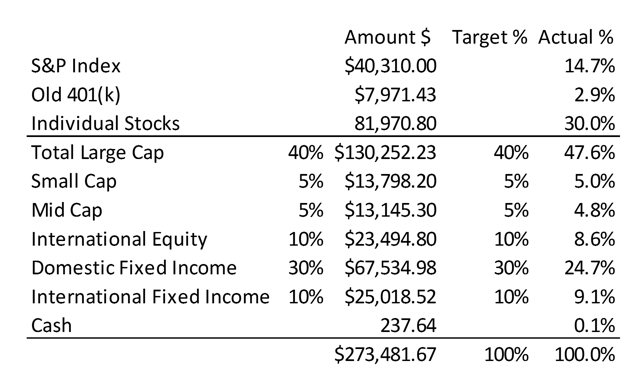 We have some serious issues here. I did not know exactly how to classify the fund I rolled over from my old 401(k). It is in one of those target date retirement funds (a "fund of funds") and I don't have the time or energy to figure out how it is allocated. However, it will be all cash before the end of December and I will deal with it then. Even if I put the nearly $8,000 in my cash balance for this table it does not make the percentages much closer to my targets.
Once I sell the fund off I will be making some adjustments to the various funds and ETFs that are right now very far off of my targets. I will probably keep some cash because it is always nice to have some powder dry and that will allow me to leave my S&P 500 fund untouched for another month or two, which is nice.
I am going to wait to sell it until nearly the end of December because it appears this target retirement fund pays a small dividend once per year and I might as well capture a hundred bucks or so before I put that money to work. The fund goes ex-dividend December 21.
Sales and Purchases in November
I already linked to the article above regarding AIG, but to sum up I bought 99 shares of AIG on November 27 for $43.40 per share and immediately sold a December $44 call for $90. In order to do this I sold $4,000 of that target date retirement fund from my old 401(k) and used a portion of the cash in the account for the rest.
Earlier in the month, on November 15, I sold a bit less than $2,000 worth of the S&P 500 Index fund and purchased 75 shares of PPL for $30.51 per share. I will receive my first dividend from this stock in January, which will be a good start to the new year. If you want to see the decision making behind this purchase, here is a link to that article.
Forward Looking Dividends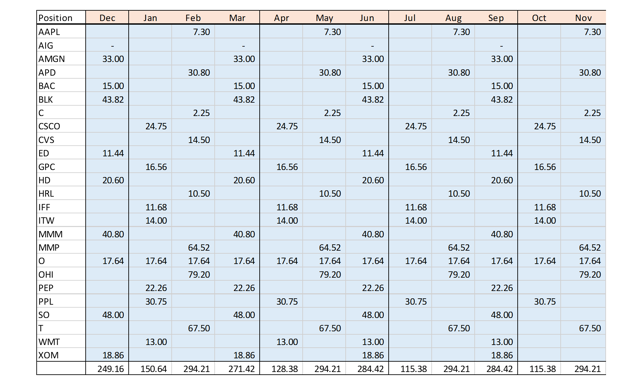 Once again, since my desire is to no longer hold AIG in this account, I have assumed that the dividend is being paid to someone else going forward. If the stock does get sold as I hope I will remove that line from this report altogether. Removing this means I took the future total down by $1.28 per year.
However, I have added the PPL dividends, which added a cool $123 to my future retirement income per year, and hopefully growing. Also, since my last update Hormel Foods Corp (HRL) announced a 12% dividend increase from $0.75 to $0.84 per share annually. This added $4.48 annually to my total.
Those three moves together have added $126.20 per year to my future retirement income. The breakdown of these future dividend payments is below:

This brings the projected total for the next twelve months up to $2,776.04. And now here is the chart that I will add on to each month. It is finally starting to look a little bit interesting, and I'm looking forward to the day that I need to adjust the y-axis labels as we get closer to my goal of $10,000 in a single year.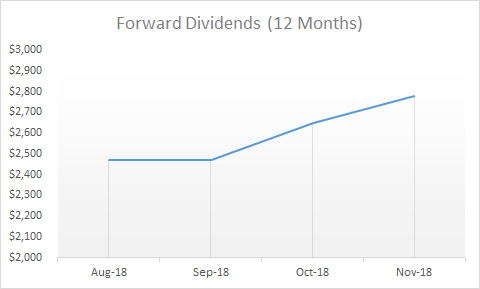 Final Thoughts
The next couple of weeks will be interesting to watch. If AIG is over $44 a day or two before the stock goes ex-dividend then I will probably have $4,400 of cash to invest. Otherwise I may have to wait until after December 21 for that cash, or I might be in a position to sell another covered call and generate a little bit of cash that way.
I am extremely excited each and every month as I watch my dividends roll in. This was a good month for that, and I think next February I will likely eclipse the $300 mark. This will be the first quarter my dividends exceed $600 in a quarter, and lost in my forward dividend spreadsheet was the fact that the first quarter of next year I should fly past the $700 mark.
I have some new capital to work with, and already have started putting some of it to use in my AIG strategy. Unfortunately I will have a hard time putting all $12,000 of my new capital to work in individual stocks. I have a lot of asset classes that are currently very underweight compared to my target portfolio allocation. Almost certainly you can look forward to me reporting that I have added some capital to a few asset classes, looks like fixed income and international stocks.
I'm looking forward to what December has to bring and seeing how the year ends up. I thank you for reading this and best of luck!
Disclosure: I am/we are long AAPL, AIG, AMGN, APD, BAC, BLK, C, CSCO, CVS, ED, GPC, HD, HRL, IFF, ITW, MMM, MMP, O, OHI, PEP, PPL, SO, T, WMT, XOM. I wrote this article myself, and it expresses my own opinions. I am not receiving compensation for it (other than from Seeking Alpha). I have no business relationship with any company whose stock is mentioned in this article.