Despite most mining analysts continuing to call for bottoms in the Gold Juniors Index (GDXJ), the market is not providing any confirmation of this yet. We have seen more than half of the index constituents drop below their September low, we have 85% of the sector below their 200-day moving averages, and we have not seen a single new 52-week high. The Gold Juniors Index remains below all of its key moving averages, continues to hang in the bottom half of its recent trading range, and remains locked in a bear market for the time being.
It seems that every week there's a new bottom call for the Gold Juniors Index, but most analysts must have short memories as all reliable bottoms start with a reclamation of the 200-day moving average. Each 10% rally in the Gold Juniors Index is met by chest-thumping from the analysts trying to pick a bottom, but these moves higher are just counter-trend rallies that do nothing to improve the technical picture. In the below chart we can see that we had quite a few counter-trend rallies of 10-15% in 2015, but they resulted in new lows every single time. It was not until the index reclaimed its 200-day moving average and showed commitment above it that we actually had a reliable bottom in place. For those who are convinced we must have bottomed, the below charts show a comparison of previous bottoms.
1996 - 2000 Bear Market - Gold Bugs Index
The below chart shows the Gold Bugs Index (HUI) during its 1996 through 2000 bear market. While the Gold Bugs Index did see several rallies that certainly may have felt like bottoms during the two-year span between 1997 and 1999, all of these rallies were just counter-trend moves in a longer-term bear market. These rallies did absolutely nothing to improve the technical picture even though they may have had the feel of potential bottoms at the time. As we can see in the below chart, none of these rallies showed any follow-through above the 200-day moving average (yellow line). Each time the index met this level, the index immediately lost momentum and fell back below it.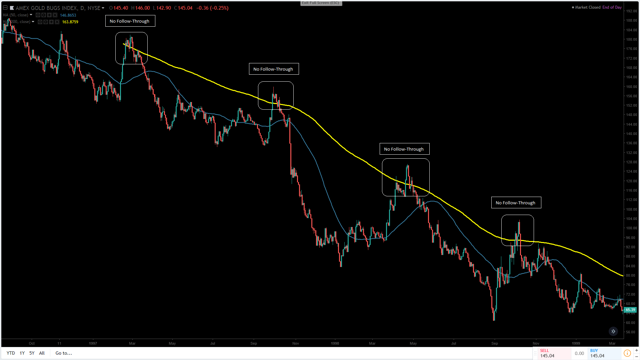 (Source: TradingView.com)
Taking a look at the 1999 to 2000 period in the below chart, we can see more of the same. Three more times the index saw sharp rallies up to its 200-day moving, and three more times the index went on to make new lows.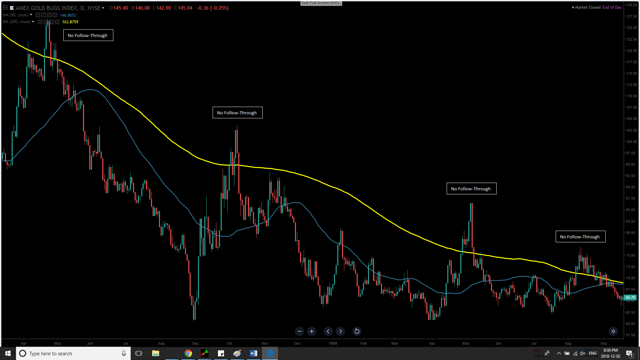 (Source: TC2000.com)
Finally, in early 2001, the index changed its character and actually found support at its 200-day moving average. This was the first time the index moved above its 200-day moving average and was able to hold onto this gain. Critics of trend-following strategies may suggest that an investor would have had to pay up to $48.00 to wait for confirmation that the bottom was in when the real bottom was at $34.00. This is entirely true; the patient investor had to pay up 40% to confirm there was signs of a turnaround. Having said that, the impatient investor that tried to buy each rally would have been trying to find a bottom in the index during the bear market at the $150.00 level in 1997.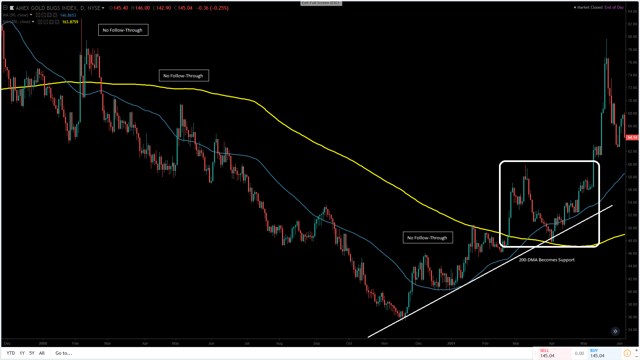 (Source: TradingView.com)
Just 18 months later, the Gold Bugs Index had exploded higher to the $150.00 level and the investor who waited to buy at $48.00 after a 40% rally would have enjoyed a 200% rally without ever being down more than 10% on the trade. The investor that decided he had to catch the bottom and began buying when the Gold Bugs Index was down 50% from its highs at $110.00 would be up 40%, but would have had to endure a 60% drop and wait three years to achieve that 40% gain. This is why I believe trying to time bottoms to be nonsensical. Bernard Baruch said it best:
Don't try to buy at the bottom and sell at the top. It can't be done except by liars.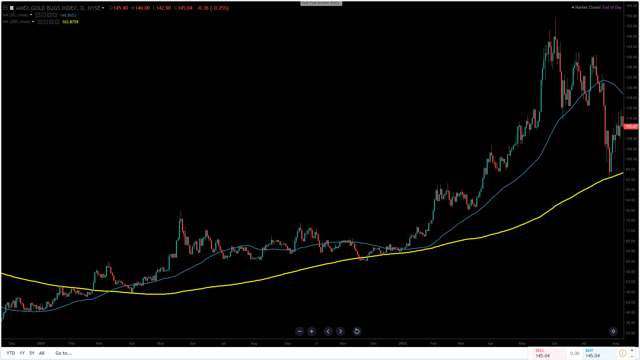 (Source: TradingView.com)
2015/2016 Bottom
Looking at the 2015 - 2016 bottom below, we saw two sharp counter-trend rallies in 2015 that ended up being traps for the bulls and the index went on to make new lows. It was not until the index reclaimed its 200-day moving average and showed commitment above it by not giving up any of its gains that there was a strong indication that a bottom might be in. I did not buy the exact 2015 bottom and had no interest in trying to catch it, but I still managed to get long McEwen Mining (MUX) at just over $1.00, as well as Fortuna Silver (NYSE:FSM) and several other juniors.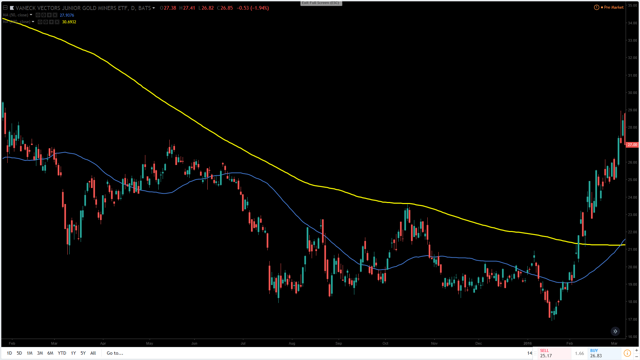 (Source: TradingView.com)
Despite waiting for the index to prove itself, I was still able to put a reasonable return for 2016 even with less than half of my portfolio allocated to miners. While it may be tempting to try to catch the bottom due to fear on missing the move, the below equity curve shows that being patient is just as valid a strategy. The difference is that most investors that bought in 2014 and 2015 had to recoup their losses and get back to break-even, while those that were patient and got in on the trend change were immediately at a profit.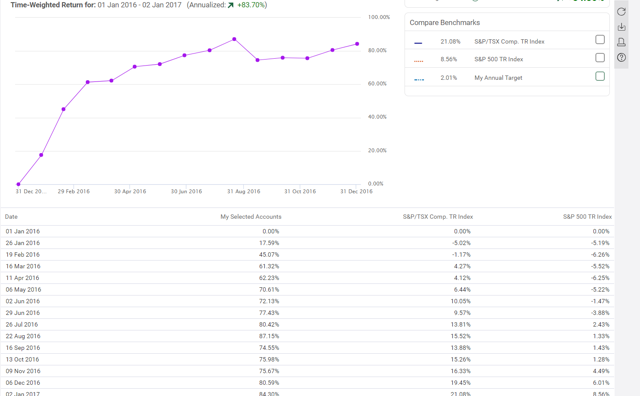 (Source: TD WebBroker)
Taking a look at the below chart of the Gold Juniors Index, there's absolutely no indication of a bottom yet. We have the index below its 50-day and 200-day moving averages like it was during the 96-2000 bear market and the 2012-2016 bear market, and we have been unable to show any follow-through above the 200-day moving average. If it doesn't look like a bottom and doesn't smell like a bottom, it's probably not a bottom. Does this mean that the Gold Juniors Index has to go lower from here? No. Having said that, this is not a high-probability trade bottom-fishing just because the index "feels" low.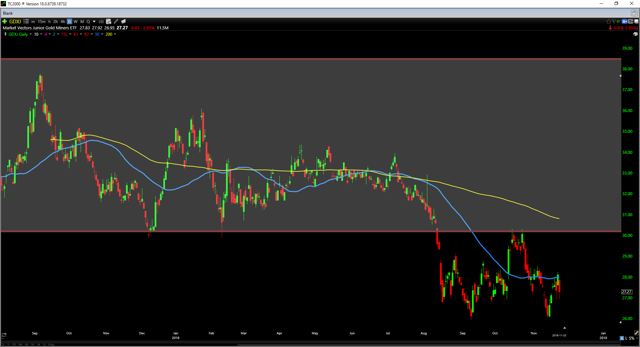 (Source: TC2000.com)
Looking at a more zoomed-out picture of the index, we can see that we continue to trade in a downtrend and have broken down from a 2-year base and are holding below. Until the Gold Juniors Index can at a minimum move back into this base, I see no reason to get even remotely excited. Past support levels tend to become new resistance levels, and so far the index is making minimal effort to reclaim its prior support.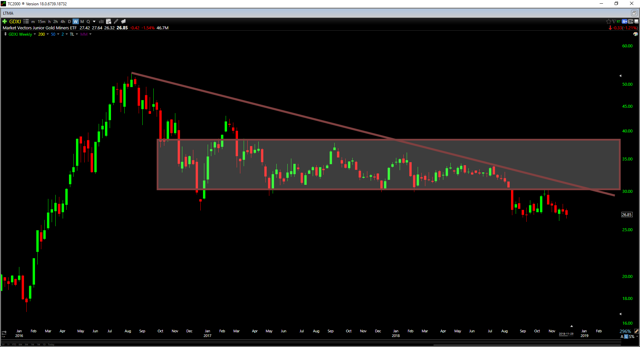 (Source: TC2000.com)
Looking at a daily chart of the index, we can see that the index has strong resistance at both $30.55 and $33.50. The downtrend line off also comes in near the $30.55 area, as well as the 200-day moving average. Unfortunately, for the bulls, the odds are stacked against them here until they can put in a weekly close above $30.55. The trouble then is that there's another key resistance level at $33.50 they will need to push through before this bull market can resume. This means that even if the Gold Juniors Index managed to stage a 20%+ rally, it would still need be out of the woods. I would view rallies into either of these levels as just oversold bounces within a bear market.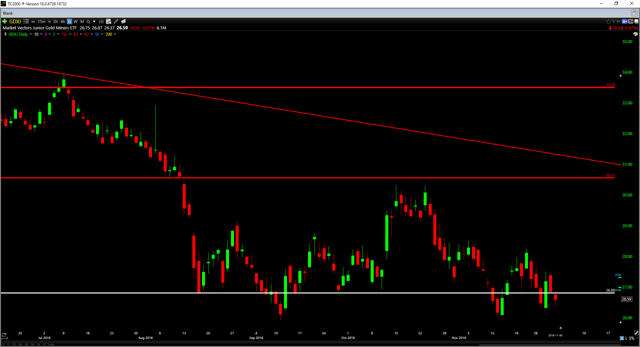 (Source: TC2000.com)
The bulls do have a key line in the sand here at $26.80, and holding this level is very important for the bulls. This $26.80 level is the last real support level left until the $18.80 near the 2016 lows. As we can see that if $26.80 is lost and the index remains weak, we have two strong resistance levels above, but minimal support below. The bulls must hold onto this $26.80 support level on a weekly close going forward. This means that the bulls do not want to see any Friday closes below $26.80. The bulls closed below this level last week, but it was a marginal break. This does not mean we have to head down to $18.80, but it's not an ideal situation when the next key support level is 30% below if the current one is broken (26.80).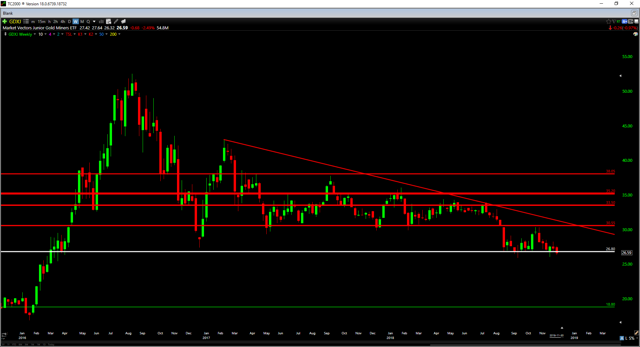 (Source: TC2000.com)
With almost no gold juniors left in up-trends, and an index that has resistance stacked overhead with no bottoming pattern in place, I see no reason to be in a rush to buy positions here. It's entirely possible the index has bottomed and maybe I'll miss the first 10% move, but that 10% is the most expensive 10% that one can chase. Outside of price showing signs of a turnaround, breadth continues to remain weak as well. Until breadth improves or the index itself starts showing signs of a bottom, I see no reason to commit any real capital to the sector. The first sign of a potential turnaround would be a weekly close above $30.55, or an improvement in breadth in the sector. I will continue to monitor these changes going forward in my monthly articles.
Author's Note: If you like this article and hope to see more like it in the future, check the little thumbs up at the end of the article. In addition, please feel free to follow me by clicking on my name next to my avatar at the top of this article. I would love to know what companies you believe are superior long ideas that are underrated. While I do track 3000+ stocks on a daily basis, there are always a few that fly under my radar.
Disclosure: I/we have no positions in any stocks mentioned, and no plans to initiate any positions within the next 72 hours.
I wrote this article myself, and it expresses my own opinions. I am not receiving compensation for it (other than from Seeking Alpha). I have no business relationship with any company whose stock is mentioned in this article.