It's the start of a new month. And that means that we get a ton of valuable leading indicators that tell us everything we need to know to predict the direction of the US economy. In this article, I will discuss two sets of leading indicators for the US economy. Both regional manufacturing surveys as well as the ISM manufacturing index are valuable indicators that tell us what we can expect in terms of real economic growth over the next 1-3 months. The trend is even more valuable since it displays economic cycles in a way that other indicators cannot.
Before I go any further, feel free to read this article to get a better understanding of leading indicators and the value they bring to the table when it comes to economic prediction.

Source: MarcoPolo
The USA Is Outperforming And It's Not Even Close
In this article, I am going to change things a bit. Not only am I combining both regional FED and ISM data, I am also including the Euro Area and Asia in this article. My goal is to give you a few details regarding my 'growth slowing' thesis.
First of all, let me show you a part of the conclusion from my previous article. My call has been, and still is that we are beyond peak growth.
That said, I expect a further ISM decline over the next few months as we are clearly in a downwards cycle. However, I cannot emphasize enough that I am not calling for a recession nor am I currently panic selling. Even though I did sell some industrials because I expect defensive to outperform, I am still overweight energy. I am also net long since I have not yet shorted a stock and I am not yet planning to start shorting anytime soon.
With regards to the US economy, we are not in a usual slowing cycle. We are at multi-year highs since the end of 2017 and have not seen any significant downside other than the loss of upside momentum. Most recent data for the month of November shows an ISM uptick to 59.3 after falling to 57.7 in October. In other words, we are once again getting a month of stronger growth. This time just 0.7 points shy of the 60 mark.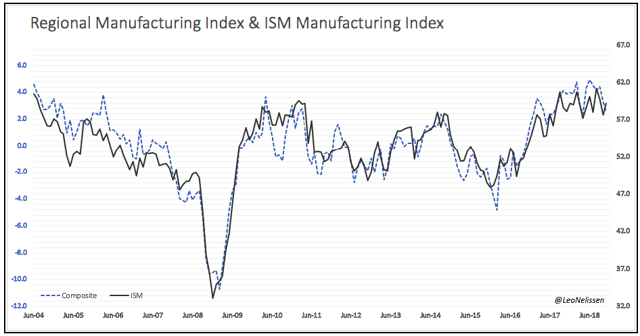 The important thing is that this move has been predicted by regional manufacturing surveys (blue line in graph above). Regional surveys did predict a decline in November just like they did in October. The difference is that they did not predict a severe decline in October which is why both indicators are more or less at the 'same level' in November.
The same goes for new orders as you can see below. Orders got a much needed boost in November but it is still hard to call it anything else than a short-term rebound.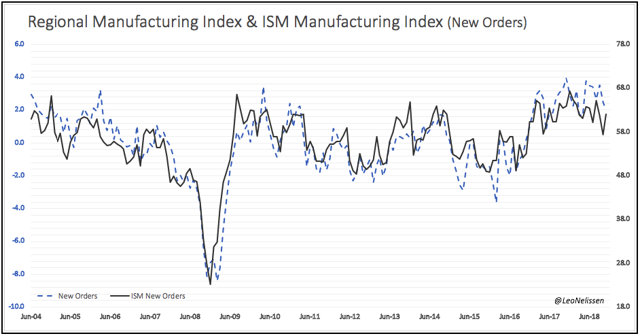 And to show you even better what I am talking about I want to show you the graph below. The 6-months average of the ISM manufacturing index is one of the best indicators to track the business cycle. It has correctly predicted every single up and downswing and is currently doing something very strange. Never in the history of the ISM index have we seen a period where growth was at these levels with less volatility. It's almost a straight horizontal line since the end of 2017. If this does not show the current strength of the US economy, I don't know what does.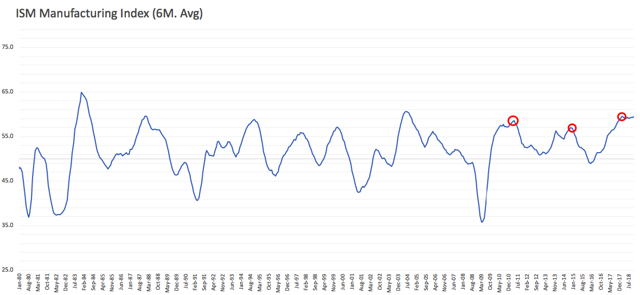 Source: Author's Spreadsheets (Raw Data: ISM)
The problem for traders however is that the odds of a slowing economy are increasing. Even though the ISM index, new orders and regional indicators are above average levels, there is no denying that we are slowly entering a downtrend. And that is exactly what makes the situation so unpleasant since it increases the pressure on stocks. Simply because outlook matters more than the current situation.
Another reason why the odds of additional growth slowing are rising is the situation in two powerful economic regions: the Euro Area and China.
The Euro Area manufacturing PMI (similar to the ISM index) has fallen to 51.8 in November. This is the lowest level since the start of 2016. Not only does this mean that the entire uptrend of 2016 has been erased, it also means that the economy is getting dangerously close to a point where contraction can be expected. Levels below 50 indicate economic contraction which has not happened since 2012/2013.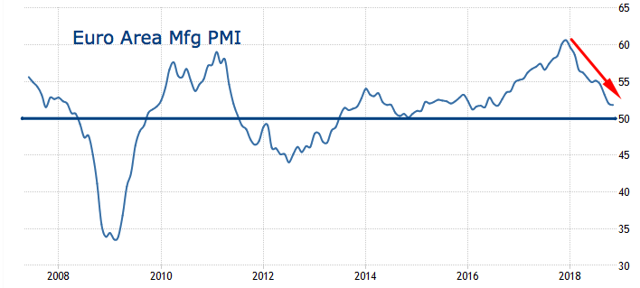 Source: TradingEconomics
The same goes for China as you can see below. The Chinese manufacturing PMI inched up to 50.2 in November but is still dangerously close to contraction after falling from multi-year highs since the start of this year. This is pressuring both commodities and the entire world given the country's size and position in global supply chains. I also discussed this in my article about AK Steel (AKS) which perfectly shows the impact from falling Chinese growth on industries like the US steel industry.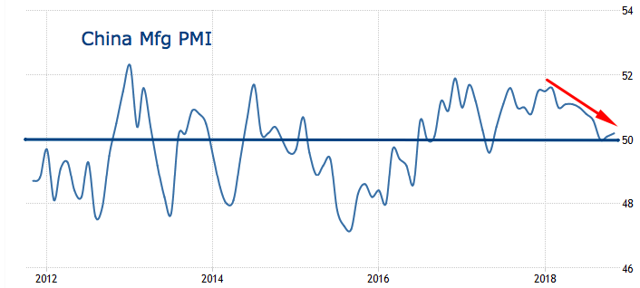 Source: TradingEconomics
Takeaway
The US economy did quite well in November. Growth indicators slightly improved and are still stuck at multi-year highs. However, the problem is that we are still on the verge of a slowing cycle. I almost feel silly saying this after months of solid growth, but that's still the situation we are in. China and the Euro Area are already much slower and are just slightly above levels that would imply contraction.
I am therefore still vey happy that I did sell a lot of industrial and consumer stocks. I am still long energy and I did not short anything.
My main message is to be careful. We are in an entirely different situation compared to 2016 and 2017. US growth is about to decline and pressure on stocks is rising. I am not saying we are going to enter a recession but slower growth is both bearish for cyclical stocks and bullish for bonds. Especially now that lower oil prices are taking the pressure off inflation.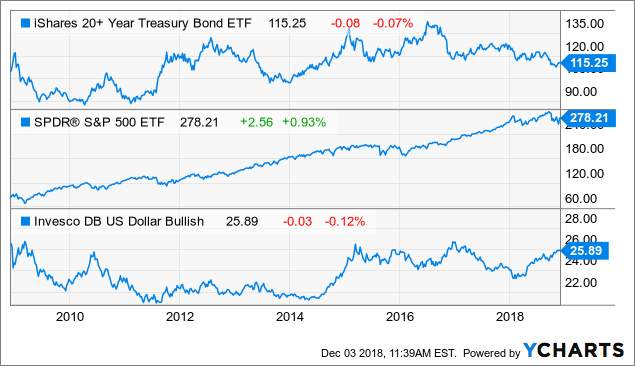 I am therefore sticking to a large cash position and might even start buying government bonds as long as the US economy is still in the early stages of the growth slowing cycle. Note that I will likely write an additional article about government bonds. The main reason why I wrote this article is to show you the pressure on the economy. I will discuss investment opportunities in different articles.
I'll keep you updated!
Thank you for reading my article. Please let me know what you think of my thesis. Your input is highly appreciated!
Disclaimer: This article serves the sole purpose of adding value to the research process. Always take care of your own risk management and asset allocation.
Disclosure: I/we have no positions in any stocks mentioned, and no plans to initiate any positions within the next 72 hours. I wrote this article myself, and it expresses my own opinions. I am not receiving compensation for it (other than from Seeking Alpha). I have no business relationship with any company whose stock is mentioned in this article.