Incyte (NASDAQ:INCY) is the biopharmaceutical company that has successfully developed Jakafi®, a drug that deals with myelofibrosis and polycythemia vera. Jakafi has been the main source of revenue for Incyte over the past few years, but it is now facing a possible new competitor in the future. However, the company's diverse and growing portfolio of product candidates might be able to offset potential revenue loss from increased competition. Overall, we think that despite the major risk regarding its lead product Jakafi, Incyte might still have some potentials to grow in the future if its developing products are able to capture the current huge market needs.
Financial results Q3 2018
Product-related revenues experienced an upward trend for the first nine months of 2018, reaching more than $1,233M. Jakafi sales accounted for more than $1,000M, which is 21% higher than its prior-year period figures. Sales from Iclusig also showed an improvement of 28%. When including milestone and other revenues, total revenues reached $1,353M, representing a y-o-y growth of 24%.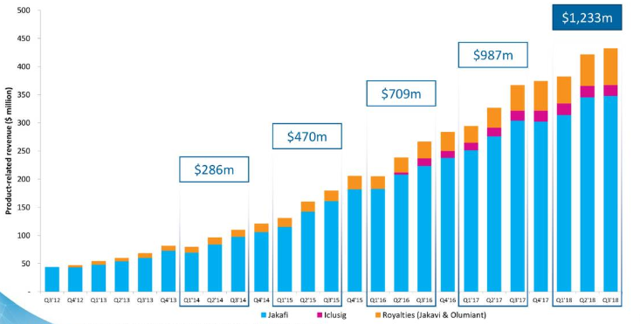 (Source: Incyte Q3 results)
On average, Incyte's revenue has grown by ~40% each year over the last 5-year period. This has helped the company to recover from its last year net loss of $163.5M. Instead of backing off, Incyte has reinvested approx. 66% of its total revenue in R&D. This proportion is much higher compared to the industry standard, which is around 20%. The reason is that Incyte is now aiming at developing new product candidates to strengthen its portfolio pipeline and to generate new future sources of income.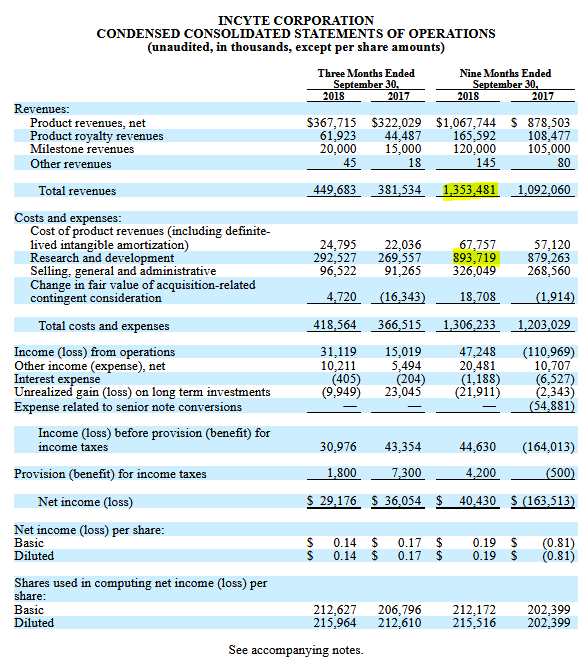 (Source: Incyte Q3 Report)
The company has improved its liquidity position and strengthened the balance sheet by raising its cash holdings to $1,112M (+23%). With the low total debt of $24.87M, there is no need to worry about its payment capability.

(Source: Incyte Q3 Report)
In the next part, we will examine Jakafi - Incyte's moats - as well as the company's two new products (Iclusig and Olumiant) and the potential upcoming products in development.
Market potential for Jakafi, Iclusig, and Olumiant
Jakafi is a medicine that provides treatment to people suffering from polycythemia vera (PV) - a rare, chronic, progressive blood cancer in which a person's body makes too many red blood cells, white blood cells, and platelets. If PV can no longer be controlled by phlebotomy, then hydroxyurea or interferon will be utilized. According to Incyte, approximately 25,000 U.S. patients with PV are considered to be uncontrolled because they have an inadequate response to or are intolerant of hydroxyurea.
Another indication for Jakafi is MF - a rare, life-threatening condition of bone marrow. MF is the most serious type of the myeloproliferative neoplasms, which occurs as primary MF or develops in patients with PV. From Incyte's analysis, there are approximately 18,500 people suffering from MF in the United States, of which, 80-90% are intermediate and high-risk patients.
Until now, Jakafi faces no competitor in the field. This monopoly allows Incyte to recognize a continuous growing number of patients. At the end of 3Q 2018, over 12,500 patients are taking Jakafi, which induces the company to update this medicine's net revenue guidance to $1.37-1.4 billion.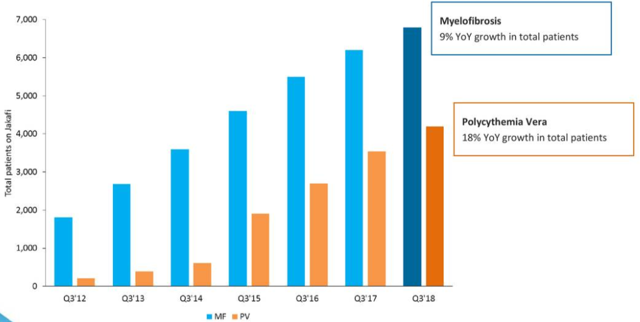 (Source: Incyte Q3 results)
However, in the near future, Incyte could lose its moat to Celgene's (NASDAQ:CELG) Fedratinib, which is expected to be launched in 2020. This new drug would be a serious competitor in the field of myelofibrosis. Even though Jakafi still has an advantage of being able to treat another disease (PV), it is very likely that its sales will be affected when Fedratinib is launched.
In 2016, Incyte has acquired the exclusive development and commercialization rights to Ariad's Iclusig (ponatinib) in Europe and other specific countries. Since then, drug sale has reached ~$60M for the first 9 months of 2018 compared to $47.5M in the same time span in 2017. However, we expect that sales of Iclusig will not strongly influence the overall sales numbers due to limited rights. Besides that, Takeda (OTCPK:TKPYY) is eligible to receive tiered royalties on net sales of Iclusig.
Olumiant, a product of Eli Lilly (NYSE:LLY) and Incyte, received FDA approval for the treatment of rheumatoid arthritis in June 2018 with some hefty safety concerns. Before the FDA has noted these issues, different analysts have predicted annual sales ranging from $1-2B until 2022. Now that these problems are coming up, together with the numbers of competitors, we expect that Olumiant can only impact a maximum of 10-20% of Incyte's total revenue.
Strong development pipeline
Even though Incyte's current product portfolio is now quite uncertain, other products/programs in the development pipeline are signalling more positive future outlook. The company is now having another 8 programs in its pipeline, two of which are currently in Phase 3 (itacitinib and ruxolitinib) and one in preparation for phase 3 (ruxolitinib cream). Here, we will only discuss the most important programs which can be accomplished in 2019.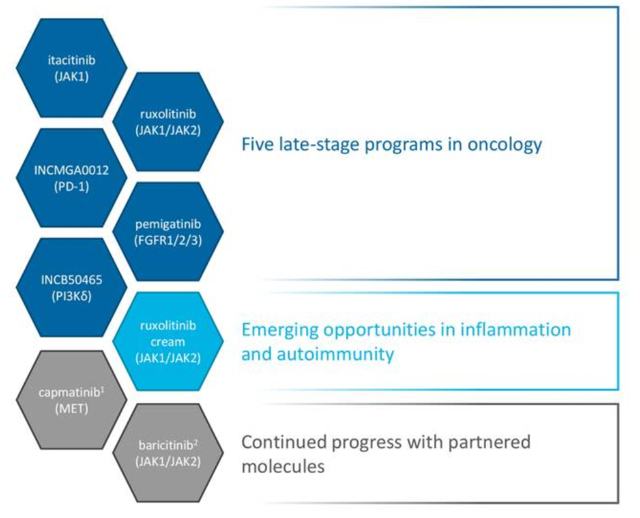 (Source: Incyte Q3 results)
Ruxolitinib is a program to expand the indication for Jakafi. It is developed to provide treatment to new-refractory GVHD, a serious condition that can occur after an allogeneic transplant. According to Incyte's report, less than 50% patients with Grade III or IV steroid-refractory acute GVHD survive for a 12-month period. Each year, ~5,700 incidences of acute GVHD and ~4,500 incidences of chronic GVHD have been observed across the United States, Europe, and Japan. Due to its severe consequences, GVHD is a crucial medical area in need of treatment. Incyte has completed REACH 1 for ruxolitinib with very good results (best overall response rate is 73%). The FDA has granted a priority review for the drug. Thus, the company expects to complete two other phase 3 trials and receive FDA approval in 2019. This would bring about $25 million milestone revenue under the licensing agreement with Novartis (NYSE:NVS).
Beside ruxolitinib, itacitinib is another product candidate currently in phase 3, which offers treatment to naïve GVHD. According to Incyte, the new treatment can help ~15,000 new patients globally. Phase 3 clinical trial for gravitas 301 is expected to generate results in 2019, which implies a potential market launch in 2-year time.
Ruxolitinib cream is also a product candidate that is in preparation for phase 3. It is indicated for the topical treatment of atopic dermatitis - a type of skin disorder. It is estimated that there are around 10.3 million U.S. patients and 6.5 million European patients with atopic dermatitis, opening up a huge market chance for Incyte.
In total, Incyte is having 84 clinical trials in process, which shows a tremendous effort to advance in the future.
Risk
Though Jakafi has been growing very rapidly, it is true that Incyte depends heavily on this blockbuster as the mainstream of revenues. If the company is unable to successfully extend the indication of Jakafi or establish new blockbuster products, its business may be materially harmed. Moreover, the potential competition in 2020 is very likely to affect Jakafi sales. Thus, we think this source of revenue can only be safely protected until the end of 2020, despite the long patent until 2027.
However, there are still some potentials for Incyte to grow its business. As discussed earlier, the company is now investing a large amount of money on R&D to strengthen its development pipeline. Of which, Phase 3 trials for itacitinib and ruxolitinib are expected to be completed in 2019, which may imply a possible launch in late 2020. The FDA drug priority review for ruxolitinib in the indication of GVHD is definitely facilitating the whole process.
Conclusion
Based on the discussion above, if Incyte manages to address the GVHD market, it will be able to generate more revenue in the future. But it is also clear that Celgene's Fedratinib approval might be a threat to Jakafi. This risk, however, is not acute since there is no direct head-to-head trial between Fedratinib and Jakafi.
After evaluating the facts, we have mixed feelings about Incyte's future. The company's evaluation is already pretty high with $13.67B. In order to reach a P/E ratio of 20, it has to generate ~$700M net income. This means that the company has to either cut the R&D expenses to 20% according to industry standard or to generate a revenue of $2.4-2.5B annually at the current level of cost and expenses. Therefore, at this time, it is better to wait for the upcoming trial results in 2019 and 2020 to see how Incyte's business model will evolve.
Disclosure: I/we have no positions in any stocks mentioned, and no plans to initiate any positions within the next 72 hours.
I wrote this article myself, and it expresses my own opinions. I am not receiving compensation for it (other than from Seeking Alpha). I have no business relationship with any company whose stock is mentioned in this article.