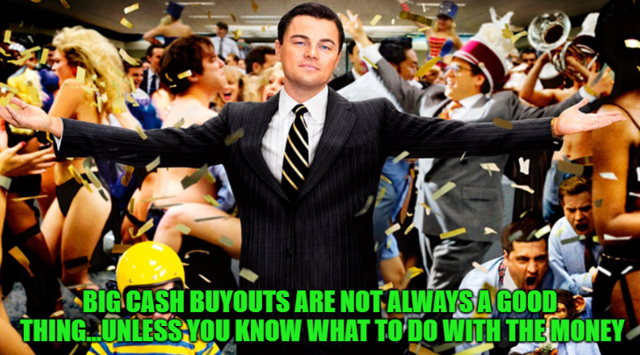 (Source: imgflip)
Note that due to reader requests, I've decided to break up my weekly portfolio updates into three parts: commentary, economic update, and portfolio summary, stats, and watch lists. This is to avoid excessively long articles and maximize the utility to my readers.
This week's commentary explains why these 3 undervalued dividend aristocrats are the best recession-proof stocks you can buy right now.
This week's economic update looks why the Fed may have just kicked off the Santa rally but why that might not necessarily be a good thing.
Introduction
First, let me be very clear that this is my personal portfolio tailored to my specific financial situation, risk profile, time horizon, and personality traits. I am not recommending anyone mirrors this portfolio. My situation is that I'm 32 but consider this portfolio an income-focused retirement one (though in a taxable account, so I can use modest amounts of margin).
I'm also working full-time (self-employed) and am thus able to continually add to this portfolio. I do not plan to actually tap the portfolio's income stream for 14-20 years when I plan to move my family (and help support my parents) to the promised land of my people (retired dividend investors): Coastal Florida.
What this portfolio can be used for is investing ideas; however, this portfolio includes high-, low-, as well as medium-risk stocks, so it's up to each individual to do their own individual research and decide which, if any, of my holdings, are right for you.
For a detailed explanation of my methodology, please read my introductory article to the EDDGE (Eternal Daily Dividend Growth Experiment) 4.0 portfolio. However, keep in mind that the portfolio is not static, and both it and the underlying investment strategy will evolve and adapt over time. This is because a changing world, new knowledge, and more experience will cause me to fine-tune it over coming years and decades to maximize my income and total returns.
Also, note that this is currently a very sector concentrated portfolio. That's because I received my professional training working at The Motley Fool's energy desk, specializing in midstream MLPs (and also lots of renewable energy yieldCos). Thus, my comfort with these high-yield and very fast-growing industries. Since moving to Seeking Alpha (and becoming an analyst for Simply Safe Dividends), I've branched out into covering all industries. I now look at about 200 companies per year in detail. I spent most of the first year building out full positions in deeply undervalued midstream stocks, and am now diversifying into other sectors (during each market downturn).
The bottom line is that researching dividend stocks is both my greatest passion and my profession. Thus, you should only use these updates as sources of ideas but not mirror them exactly unless your risk profile/time horizon/goals very closely match my own.
Big Cash Buyouts Are Great...
Some investors love it when their stocks are bought out, especially with fat cash premiums. I personally never buy a stock with the goal of it being acquired. But, sometimes, such things happen, as occurred last week when Equitrans Midstream Corp. (ETRN) announced it was buying out EQT GP Holdings (NYSE:EQGP) for $20 in cash in January. This is part of EQT Corp.'s (NYSE:EQT) midstream simplification, which involved spinning off all of its midstream assets, so it could focus on its core business of gas production.
ETRN was the freshly created midstream corporation whose sole assets are ownership stakes in both EQGP and EQT Midstream Partners (EQM). The corporate simplification created by this multi-stage deal is part of the industry's general shift towards simpler and lower cost of capital structures (no more IDRs).
In addition to the EQGP buyout, Equitrans announced it was offering to let EQM buyout its IDRs and general partner position in exchange for 95 million units (some of which will be payment-in-kind or PIK units). That's a rather rich price (18 to 20 times IDRs) for an IDR buyout, and EQM's conflict committee will have to crunch the numbers to see if it makes sense. I expect the final buyout price to be lower (fewer units). However, I'm sure that many EQM investors want to know what this means for their long-suffering MLP, especially given that news of the deal sent EQM units crashing as much as 10% at one point on Friday.
EQM Highlights
The proposed transactions would not result in a distribution cut for EQM unitholders
Targeting 6% - 8% annual distribution growth beginning in 2019
2019 distribution coverage in excess of 1.0x
Long-term distribution coverage target in excess of 1.2x beginning in 2020
Long-term debt to EBITDA target of 3.5x - 4.0x beginning in 2020
PIK Units will provide balance sheet and coverage support
Improves cost of capital
No equity issuance is required to fund capital projects for the next several years (Fully Self-Funding Business Model)
Reduces corporate overhead associated with the elimination of a publicly traded entity
The reason EQM crashed initially (it ended up down just 5.5% on the day) was that the deal will be highly dilutive since it's being paid with incredibly undervalued (and thus high cost) equity. However, ultimately, the deal is a good thing for long-term investors because the elimination of the IDRs means that EQM's cost of capital will now be much lower, and more importantly, it can pursue a full self-funding business model.
Self-funding MLPs have lower leverage ratios (stronger balance sheets) and higher coverage ratios in order to avoid issuing equity to fund their growth projects. Instead, they use retained distributable cash flow or DCF, leveraged about 50/50 with low-cost debt to expand their cash-rich and long-term contracted asset bases.
Now, when I first bought EQM, management's five-year distribution growth guidance was for 15% to 20% backed by EQT's plans for 15% long-term production growth. EQT is now planning on just 10% production growth (in order to fund growth through cash flow), so the long-term growth rate had to come down.
Similarly, the fact is that until the MLP bear market ends, the traditional industry business model of funding growth with low-cost equity is broken. Only very rarely can an MLP still make an accretive acquisition with equity funding (Oasis Midstream Partners (NYSE:OMP) did two weeks ago). But that typically requires bargain basement prices on assets (OMP paid 6.75X forward EBITDA), and so, the midstream industry is adapting to the harsh reality that Wall Street hates it with a passion.
Given the insanely great growth opportunities facing it in the coming decade, all midstream are moving towards minimizing their cost structure (IDR eliminations) and self-funding business models. Even dropdown MLPs like OMP and Noble Midstream Partners (NBLX) that still have IDRs and have said they plan no near-term IDR buyouts are planning on distribution coverage ratios or DCRs that are high enough to allow them to effectively self-fund. For example, by the end of 2019, OMP plans on a DCR of 1.7 to 1.85 and NBLX a DCR over 2.0. In fact, NBLX's growth plans through 2022 call for 90% funding of its organic growth with retained cash flow.
Eventually, all MLPs, even the hypergrowth ones I own, will buy out their IDRs and switch to a self-funding business model. That ensures that even if Wall Street were to hate the industry forever, they could afford to fund their growth projects and keep growing their cash flow and distributions at a slower but steady rate.
Which is why I personally am not recommending EQM investors sell. You are still looking at a safe and mouthwatering distribution that will be growing at 7% over the long term. My personal yield on cost for EQM is about 7.5%, and I'm more willing to collect that growing payout for several years waiting for Wall Street to come to its senses regarding this thriving and incredibly undervalued cash-rich and booming industry.
midstream investment needed by 2021: $100 billion
midstream investment needed by 2035: $791 billion
midstream investment needed by 2050 (in North America): $1.2 trillion
With highly stable, long-term and often volume committed contracts ensuring commodity insensitive and recession-proof cash flow, the fact is that midstream stocks are sure to one day be viewed far more favorably than the past four years. Remember that value stocks, including REITs, were once hated by Wall Street too, especially during the tech boom. In fact, many value stocks, including Berkshire (BRK.B) and Realty Income (O) fell by 50% between 1997 and 2000 (Realty's yield peaked at 11%, and it was trading at 5.5X FFO). Back then, too, investors wondered if "value is dead, long-live tech" would result in never-ending underperformance.
The key is to always focus on the fundamentals. As long as your dividend stock's cash flow is growing, the payout is covered, and the balance sheet is strong, then you need not fear you own a yield or value trap. I'm highly confident that patient MLP investors will one day look back on this epic industry bear market and consider it the golden age for value investors looking for high, safe, and fast-growing yield.
...But Only If You Know Where To Put That Money To Good Use
Ok, so what did I do with my large EQGP sale? Well, my portfolio's fundamentals are composed of three things:
max safe yield
fast long-term income growth
buying the most undervalued quality stocks I know of (high margin of safety and big valuation return boost potential)
The first thing I considered was just rolling all the proceeds into EQM which was down 10% at the time (9.5% yield). That would have drastically reduced my cost basis and boosted my income too. But I chose against that because of two reasons. First, I always try to optimize my investments by putting money to work in the best opportunities.
EQM is a fine stock with its 9.5% yield (at the time) and 6% to 8% long-term payout growth potential. But OMP offers nearly the same yield and is growing much faster (both in the short and long-term), so I decided to put half the money into that stock. Doing so also allowed me to diversify away from energy (one of my long-term goals is to get down to 25% MLP exposure) while still increasing my portfolio's total income.
The other half of my EQGP money went into Brookfield Property Partners (NYSE:BPY), which is trading at a 40% discount to NAV (dividend yield theory says its 31% undervalued). I'm doing an article offering a closer look at why BPY is now my 3rd biggest holding this week, but the gist is: safe 7.2% yield, 5% to 8% long-term payout growth (management hinting at 8%) and 15% to 25% CAGR total return potential over the next 5 years (per management guidance depending on whether or not valuation gap closes).
For those that aren't aware, Brookfield is the Berkshire of hard assets, literally being the world's largest hard-asset (real estate, infrastructure, utilities) management firm. They have an excellent track record of delivering on guidance, especially when it comes to hitting their payout growth targets. Worst case I'm buying a safe 7% yield (at what are objectively fire sale prices) and 5% to 8% long-term income growth. For my purposes, that's more than good enough, but given that management plans to eventually (post deleveraging) start buying back tons of stock (if price doesn't recover first), I'm confident that I'm going to see long-term total returns well in excess of the 12% to 15% target Brookfield has on all its LPs (as well as Brookfield Property REIT (NASDAQ:BPR) and Brookfield Asset Management (NYSE:BAM)). My 10-year valuation-adjusted Gordon Dividend Growth Model is predicting 19% CAGR total returns over the next decade, no matter when BPY manages to close the valuation gap.
The Best Dividend Growth Stocks You Can Buy Today
This group of 20 dividend growth blue chips represents what I consider the best stocks you can buy today. They are presented in four categories, sorted by most undervalued (based on dividend yield theory using a 5-year average yield).
High yield (4+% yield)
Fast dividend growth
Dividend Aristocrats
Monthly dividend stocks
Note there may be some overlap between these groups. To help with further research, I've linked to my articles for each recommendation (those not behind a paywall).
The goal is to allow readers to know what are the best low-risk dividend growth stocks to buy at any given time. You can think of these as my "highest-conviction" recommendations for conservative income investors. Note these are not meant to represent a diversified or complete portfolio, but merely highlight the best opportunities for low-risk income investors available in the market today.
The valuations are determined by dividend yield theory, which Investment Quality Trends, or IQT, has proven works well for dividend stocks since 1966, generating market-crushing long-term returns with far less volatility.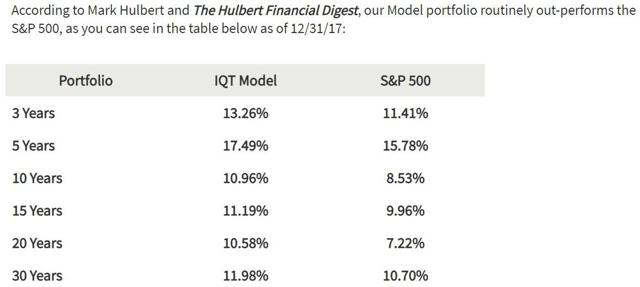 (Source: Investment Quality Trends)
That's because, for stable business income stocks, yields tend to mean-revert over time, meaning cycle around a relatively fixed value approximating fair value. If you buy a dividend stock when the yield is far above its historical average, then you'll likely outperform when its valuation returns to its normal level over time.
For the purposes of these valuation-adjusted total return potentials, I use the Gordon Dividend Growth Model or GDGM. Since 1956, this has proven relatively accurate at modeling long-term total returns via the formula: Yield + dividend growth. That's because, assuming no change in valuation, a stable business model (doesn't change much over time) and a constant payout ratio, dividend growth tracks cash flow growth.
The valuation adjustment assumes that a stock's yield will revert to its historical norm within 10 years (over that time period, stock prices are purely a function of fundamentals). Thus, these valuation total return models are based on the formula: Yield + projected 10-year dividend growth (analyst consensus, confirmed by historical growth rate) + 10-year yield reversion return boost.
For example, if a stock with a historical average yield of 2% is trading at 3%, then the yield is 50% above its historical yield. This implies the stock is (3% current yield - 2% historical yield)/3% current yield = 33% undervalued. If the stock mean-reverts over 10 years, then this means the price will rise by 50% over 10 years just to correct the undervaluation.
That represents a 4.1% annual total return just from valuation mean regression. If the stock grows its cash flow (and dividend) at 10% over this time, then the total return one would expect from this stock would be 3% yield + 10% dividend (and FCF/share) growth + 4.1% valuation boost = 17.1%.
Top 5 High-Yield Blue Chips To Buy Today
| | | | | | | | | |
| --- | --- | --- | --- | --- | --- | --- | --- | --- |
| Company | Ticker | Sector | Yield | Fair Value Yield | Historical Yield Range | Discount To Fair Value | Expected 10 Year Annualized Dividend Growth | Valuation Adjusted Total Return Potential |
| Enbridge | (ENB) | Energy | 6.4% | 3.7% | 2.3% to 6.6% | 41% | 8% | 19.7% |
| Kimco Realty | (KIM) | REIT | 6.9% | 4.1% | 2.7% to 24.5% | 41% | 3.8% | 16.7% |
| Tanger Factory Outlet Centers | (SKT) | REIT | 5.9% | 3.5% | 2.2% to 6.8% | 41% | 4.7% | 15.8% |
| Altria | (MO) | Consumer Staples | 5.8% | 4.0% | 3.1% to 14.4% | 31% | 8% | 17.3% |
| Magellan Midstream Partners | (MMP) | Energy (uses K1) | 6.5% | 4.5% | 2.7% to 12.0% | 29% | 5% | 14.5% |
(Sources: Management guidance, GuruFocus, F.A.S.T. Graphs, Simply Safe Dividends, Dividend Yield Theory, Gordon Dividend Growth Model)
Top 5 Fast-Growing Dividend Blue Chips To Buy Today
| | | | | | | | | |
| --- | --- | --- | --- | --- | --- | --- | --- | --- |
| Company | Ticker | Sector | Yield | Fair Value Yield | Historical Yield Range | Discount To Fair Value | Expected 10 Year Annualized Dividend Growth | Valuation Adjusted Total Return Potential |
| A.O Smith | (AOS) | Industrials | 1.9% | 1.1% | 0.8% to 3.4% | 40% | 9.9% | 15.9% |
| FedEx | (FDX) | Industrial | 1.1% | 0.7% | 0.3% to 1.2% | 33% | 13.1% | 18,1% |
| Snap-on | (SNA) | Industrials | 2.3% | 1.6% | 1.2% to 5.6% | 30% | 11.0% | 16.9% |
| Thor Industries | (THO) | Consumer Discretionary | 2.3% | 1.6% | 0.8% to 2.7% | 29% | 12.0% | 17.7% |
| Illinois Tool Works | (ITW) | Industrial | 2.9% | 2.1% | 1.5% to 4.5% | 28% | 9.8% | 15.8% |
(Sources: GuruFocus, F.A.S.T. Graphs, Simply Safe Dividends, IQ Trends, Gordon Dividend Growth Model)
Top 5 Dividend Aristocrats To Buy Today
| | | | | | | | | |
| --- | --- | --- | --- | --- | --- | --- | --- | --- |
| Company | Ticker | Sector | Yield | Fair Value Yield | Historical Yield Range | Discount To Fair Value | Expected 10 Year Annualized Dividend Growth | Valuation Adjusted Total Return Potential |
| A.O Smith | (AOS) | Industrials | 1.9% | 1.1% | 0.8% to 3.4% | 40% | 9.9% | 15.9% |
| Cardinal Health | (CAH) | Healthcare | 3.5% | 2.1% | 0.9% to 3.9% | 38% | 8.5% | 17.2% |
| Altria | (MO) | Consumer Staples | 5.8% | 4.0% | 3.1% to 14.4% | 31% | 8% | 17.3% |
| Illinois Tool Works | (ITW) | Industrial | 2.9% | 2.1% | 1.5% to 4.5% | 28% | 9.8% | 15.8% |
| AbbVie | (ABBV) | Healthcare | 4.5% | 3.3% | 0.9% to 5.5% | 26% | 10.6% | 19.0% |
(Sources: GuruFocus, F.A.S.T. Graphs, Simply Safe Dividends, IQ Trends, Gordon Dividend Growth Model)
Top 5 Monthly Dividend Stocks You Can Buy Today
| | | | | | | | | |
| --- | --- | --- | --- | --- | --- | --- | --- | --- |
| Company | Ticker | Sector | Yield | Fair Value Yield | Historical Yield Range | Discount To Fair Value | Expected 10 Year Annualized Dividend Growth | Valuation Adjusted Total Return Potential |
| Pembina Pipeline | PBA | Energy | 5.1% | 4.6% | 3.3% to 12.6% | 10% | 5.0% | 11.4% |
| Shaw Communications | SJR | Communications | 4.8% | 4.3% | 1.9% to 5.1% | 10% | 5.0% | 11.0% |
| LTC Properties | LTC | REIT | 4.9% | 4.9% | 3.8% to 9.5% | 0% | 4.0% | 8.9% |
| EPR Properties | EPR | REIT | 6.1% | 6.2% | 4.5% to 24.8% | -1% | 4.7% | 10.6% |
| Main Street Capital | MAIN | BDC | 6.1%/7.6% | 6.3% | 2.3% to 18.5% | -2% | 2% | 7.7% to 9.2% |
(Sources: GuruFocus, F.A.S.T. Graphs, Simply Safe Dividends, IQ Trends, Gordon Dividend Growth Model) - note MAIN's yield includes both regular and total dividend (including supplemental)
My Bear Market Buy List
These are the top 10 stocks that I plan to buy during the next recession/bear market. That's when even blue-chip valuations will drop to levels that will be capable of generating the kind of strong 13+% total returns that my portfolio is targeting. Note that all total return estimates are for a 10-year annualized basis. That's because total return models are most accurate over longer time frames (5+ years) when prices trade purely on fundamentals and not sentiment. This allows valuations to mean-revert and allows for relatively accurate (80% to 95%) modeling of returns.
The list itself is ranked by long-term CAGR total return potential from target yield. Bolded stocks are currently at my target yield and thus "Strong Buys."
| | | | | | | |
| --- | --- | --- | --- | --- | --- | --- |
| Company | Current Yield | Fair Value Yield/Share Price | Target Yield | Historical Yield Range | Long-Term Expected EPS Growth (Analyst Consensus, Expected Dividend Growth) | Long-Term Valuation Adjusted Annualized Total Return Potential At Target Yield |
| LeMaitre Vascular (LMAT) | 1.0% | 1.1% | 1.5% | 0.3% to 2.0% | 17.5% | 22% |
| BlackRock (BLK) | 2.9% | 2.5% | 3.0% | 1.2% to 3.5% | 13.7% | 19% |
| Texas Instruments (TXN) | 3.1% | 2.5% | 2.9% | 0.9% to 3.5% | 12.6% | 17% |
| Enterprise Products Partners (EPD) | 6.6% | 5.9% | 7.2% | 3.4% to 11.7% | 5.9% | 16% |
| Illinois Tool Works (ITW) | 2.9% | 2.2% | 3.0% | 1.6% to 4.5% | 10.0% | 16% |
| A.O Smith (AOS) | 1.9% | 1.1% | 1.5% | 0.8% to 3.4% | 11.5% | 16% |
| Apple (AAPL) | 1.6% | 1.7% | 1.7% | 0.4% to 2.8% | 13.1% | 15% |
| Berkshire Hathaway (BRK.B) | 0% | $164 | NA | NA | 12.0% | 15% |
| Microsoft (MSFT) | 1.7% | 2.6% | 2.6% | 1.1% to 3.1% | 12.7% | 15% |
| 3M (MMM) | 2.6% | 2.5% | 3.0% | 1.8% to 4.8% | 9.5% | 14% |
(Sources: Dividend Yield Theory, Gordon Dividend Growth Model, Simply Safe Dividends, GuruFocus, F.A.S.T. Graphs, Moneychimp)
This week I added 3M to the BMBL. Realty Income remains on the watchlist BUT since I only have time to update the top 10 stocks in these updates it has been bumped due to a lower TRP (which is how this watchlist is ranked).
Note that Texas Instrument and A.O. Smith are above my target yield. That makes it a great time to either add them to your portfolio or add to an existing position. This is why I'm currently buying these stocks for my portfolio to take advantage of this latest correction.
Buys/Sells This Week
Sold $15,000 EQT GP Holdings - forced sale at 5% loss
Sold $1,800 Simon Property Group (SPG) - 50% position sale at 17% capital gain
Sold $2,700 Omega Healthcare Investors (OHI) - 50% position sale at 31% capital gain
Bought $7,200 Oasis Midstream Partners (OMP) - now full position
Bought $14,700 Brookfield Property Partners (BPY) - partial position
The SPG and OHI sales were part of my portfolio's capital recycling plan (to be explained next week) and funded the purchase of BPY, which is the best and most undervalued real estate opportunity I know of right now.
My EQGP proceeds was split 50/50 between OMP and BPY. The OMP purchase was to boost my portfolio's overall income (yield superior to YOC on EQGP), and the BPY purchase (with that money) was to further diversify into non-energy stocks. In addition, as I'll explain in the plan section, BPY has limit orders, two of which triggered last week.
Tentative Plan For The Upcoming Week/Weeks
After doing a deep dive on BPY, I decided not just to buy some with recycled capital, but replace two of my limit chains (on my correction watchlist stocks) with 10 limits on BPY.
Because of the Santa rally likely kicking off due to last week's dovish Fed comments and November minutes, as well as this Saturday's trade war truce, chances are that I'm done buying stocks this year. So, it's going to be a rather boring few weeks of paying down margin and strengthening my portfolio's balance sheet. That's ahead of either the next market downturn (most likely a 5% to 9.9% pullback sometime in 2019) or the next bear market (a less likely scenario).
The next scheduled buy is Amazon (NASDAQ:AMZN) in mid-January, part of my regular pre-earnings (by two weeks) purchase to continue building out my position in quality tech firms trading at good prices. Remember that I can only buy Amazon if it's at fair value or less ($2,200 right now). If it's above that price, then I'll merely put those two shares in a mental escrow account to be purchased in the future, either next quarter or during the next market downturn. Should the 2/10 yield curve invert before, then I'll push off that buy until the next bear market begins (likely mid-2020 or later based on my analysis of the latest fundamentals).
The Portfolio Today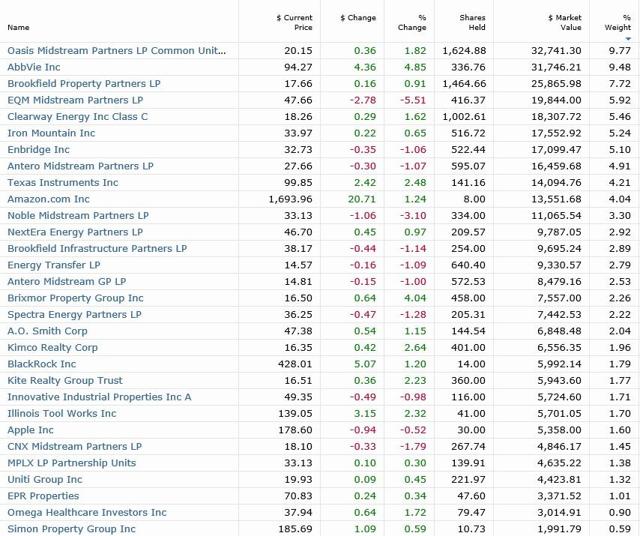 (Source: Morningstar)
Dividend Risk Ratings
Low risk: High dividend safety and predictable growth for 5+ years, max portfolio size 10% (core holding, SWAN candidate). Note, low-risk MLP/GP pairs have a max limit of 10% of invested capital. Aristocrats and future aristocrats (22+ consecutive years of dividend growth) have the option to go "overweight" up to 15% of the portfolio if their prices fall to ridiculous enough levels. Amazon is also allowed to rise to 15% of the portfolio before I stop adding more shares each quarter (as long as the price is at fair value or below).
Medium risk: Dividend safe and potentially growing for the next 2-3 years, max portfolio size 5%.
High risk: Dividend safe and predictable for 1 year, max portfolio size 2.5%
Safety Outlooks
Negative outlook: Fundamentals of industry and/or company are deteriorating, rising risk of safety downgrade. If it's a turnaround story, the turnaround is unlikely to succeed.
Stable outlook: Fundamentals are stable, or if in a turnaround, the management plan seems likely to work. The risk of a safety downgrade is low.
Positive outlook: Fundamentals are strong and rising.
High-Risk Stocks
Uniti Group (UNIT) - Stable outlook (WIN revenue diversification plan outlook improving)
Omega Healthcare Investors (OHI) - Stable outlook (confidence in management executing on turnaround plan)
Innovative Industrial Properties (IIPR) - Stable outlook (strong growth requires current Federal regulatory status quo and strong share price)
Medium-Risk Stocks
EPR Properties (EPR): Due to heavy exposure to cinemas (though thriving ones), will be upgraded once it diversifies its property portfolio
Low-Risk Stocks
Brookfield Property Partners - Stable outlook
Simon Property Group (SPG) - Stable outlook
Enbridge (ENB) - Stable outlook
Brookfield Infrastructure Partners (BIP) - Positive outlook
Iron Mountain (IRM) - Stable outlook
Spectra Energy Partners (NYSE:SEP) - Stable outlook
NextEra Energy Partners (NEP) - Positive outlook
AbbVie (NYSE:ABBV) - Stable outlook
EQT Midstream Partners (NYSE:EQM) - Stable outlook
MPLX (NYSE:MPLX) - Stable outlook
Antero Midstream Partners (NYSE:AM) - Stable outlook
Antero Midstream GP (NYSE:AMGP) - Stable outlook
CNX Midstream Partners (NYSE:CNXM) - Stable outlook
Oasis Midstream Partners - Stable outlook
QTS Realty (NYSE:QTS): Stable outlook
Clearway Energy (NYSE:CWEN): Stable outlook
Energy Transfer LP (ET): - Positive outlook (ETE/ETP merger makes it a low-risk stock)
Texas Instruments (NYSE:TXN): - Stable outlook
Kimco Realty (NYSE:KIM): - Stable outlook
Brixmor Property Group (BRX): - Stable outlook
Kite Realty Group (KRG): - Stable outlook
BlackRock: - Stable outlook
Illinois Tool Works (NYSE:ITW): - Stable outlook
A.O. Smith (NYSE:AOS): - Stable outlook
Noble Midstream Partners (NBLX) - stable outlook (Prop 112 defeated in Colorado election)
Amazon - stable outlook (not a dividend stock but low risk of permanent loss of capital over 10+ years)
Apple (AAPL) - stable outlook
My portfolio began with five stocks, all medium-to-high risk, in two sectors. Right now, I'm invested in 31 stocks (29 post upcoming MLP mergers), mostly low-to-medium risk, in five sectors. Eventually, I'll expand into all sectors, but for now, limited capital must be allocated with care into the best opportunities you know of. This is why I'm focusing on just a handful of my best opportunities each market pullback/correction/bear market.
Top 10 Income Sources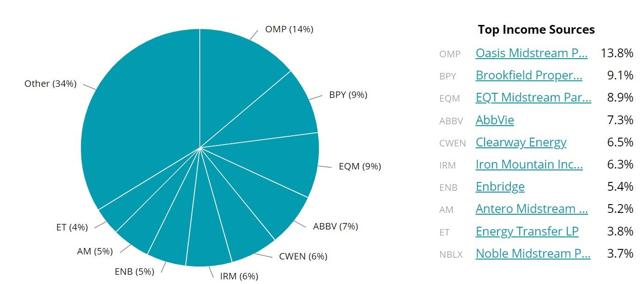 (Source: Simply Safe Dividends)
The long-term goal is to diversify to the point where no single position accounts for more than 5% of my income. However, it will take several years to diversify the portfolio to that point. Fortunately, all my biggest income producers have safe dividends/distributions.

(Source: Morningstar)
The portfolio has become far more diversified by stock style, especially compared to the early days, when it was pretty much 100% small-cap value. That being said, I'm fundamentally a value-focused investor, and so, will always be overweight in that investing style. Meanwhile, my heavy US exposure is due to the heavy concentration of hard assets, most notably MLPs.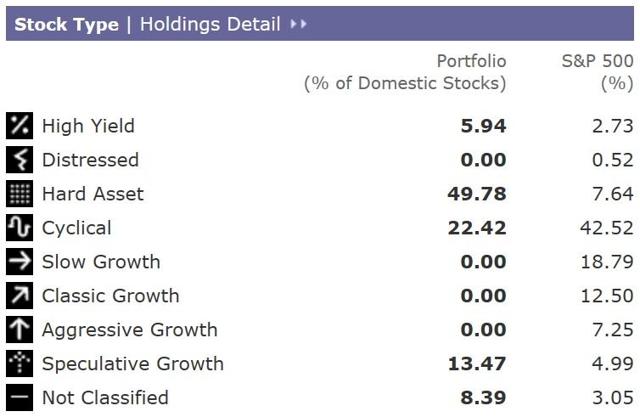 (Source: Morningstar)
My portfolio is very concentrated in energy because that's where the best overall opportunities are in terms of safe yield, fast payout growth, and valuation. But now that my midstream MLP buildout is complete (full positions in all my highest-conviction buys), I'll be working on diversifying into more ultra-value REITs, utilities (yieldCos), and any other great opportunities I find. I've come down from about 70% hard assets to just 50%, thanks to all the diversification I was able to do during this correction.
Sector Concentration
I've managed to diversify down from 59% energy to just 39% thanks to buying other sectors so aggressively during this correction.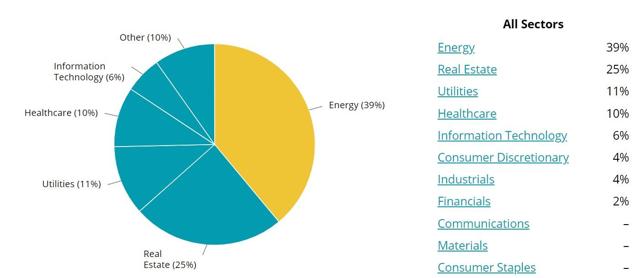 (Source: Simply Safe Dividends) note consumer discretionary is Amazon, so 10% of my portfolio is actually in technology stocks, which is now tied for my 4th largest sector.

(Source: Morningstar)
The benefit of my currently concentrated portfolio is that I enjoy far better fundamental stats than the S&P 500. That includes lower valuation, much higher yield, and superior long-term growth potential. I'm also running a mostly midcap portfolio, with above-average profitability, and that should generate market-beating long-term returns.
In the future, I plan to add more utilities to help build up the defensive side of my portfolio. The new utilities I'll be buying include:
In the meantime, my limit orders are focused on the most undervalued, fast-growing blue chips I know of, mostly industrial, pharma, and financial stocks.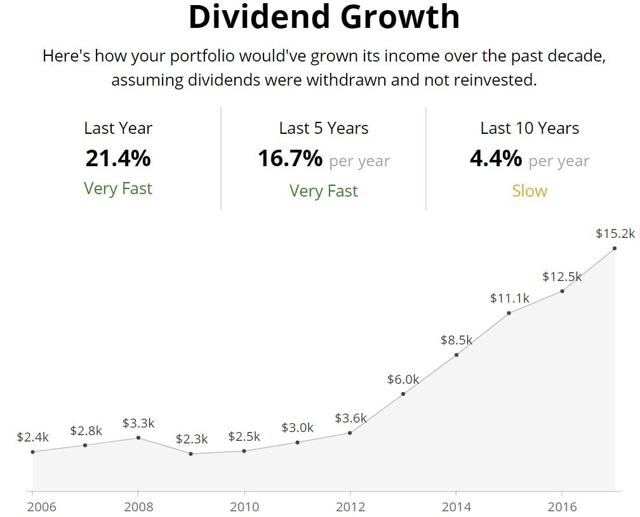 (Source: Simply Safe Dividends)
Note that the 10-year dividend growth figures are artificially low because my tracking software doesn't average in anything that hasn't existed for those time periods. Some of my holdings have IPO-ed in the last five years, and so, the 1-year and 5-year growth rates are the most accurate. These figures are purely organic growth rates and assume no dividend reinvestment. The dividend declines during the Financial Crisis were due to three of the REITs, I own cutting their dividends (78 REITs did during the Great Recession). Fortunately, since then, the sector has deleveraged and enjoys the strongest sector balance sheet in history.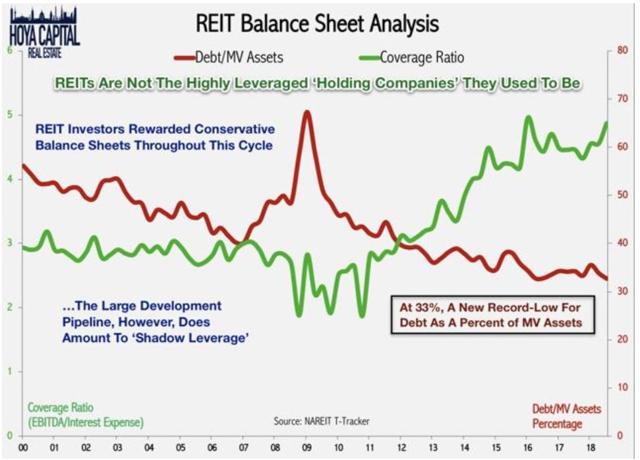 (Source: Hoya Capital Real Estate)
That means that, during the next recession, most REITs will NOT cut their payouts, especially the ones I own. The long-term goal is to maintain a 10+% organic income growth rate.
Projected Portfolio Dividends Over Time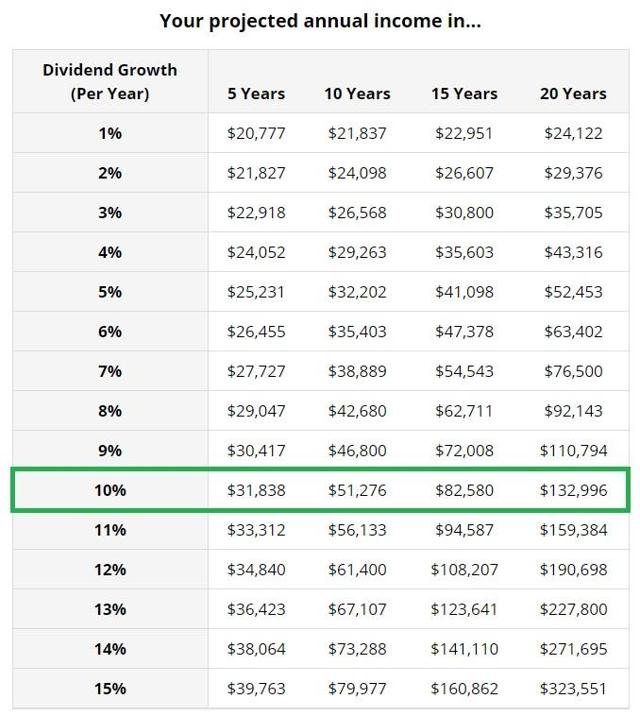 (Source: Simply Safe Dividends) (Note: Assumes no dividend reinvestment, just organic growth that slows gradually over time (constant holdings))
Even assuming no dividend reinvestment (I do that manually) and that I never sell anything I own (if growth slows and I find better opportunities), this portfolio would become an income powerhouse. And even if I were to not add to the portfolio at all with fresh savings within 20 years, I would have achieved my goal of financial independence.
Over the long term, my goal is about 5% portfolio yield, with about 10% long-term dividend growth over time. In order to maintain that, I may have to recycle some holdings when they no longer meet my needs.
For perspective, the S&P 500 yields 1.9%, and its 20-year median annual dividend growth rate has been 6.4%. So, the goal is about to triple the market's yield, with about 4% faster dividend growth. Since 1871, the S&P 500 has generated annual total returns of 9.2%. The market's historical inflation-adjusted total return has been 7.0%.
Even assuming no valuation multiple expansion (my deeply undervalued portfolio always remains so), this portfolio should easily be capable of about 15% un-levered total returns over time. Factoring in multiple expansion (which is already starting to happen for some of my stocks) and 25% leverage, the returns could be even greater, potentially north of 20% annualized net levered returns.
Portfolio Statistics
Holdings: 31
Portfolio Size: $327,355 (new record high)
Equity: $192,170 (new record high)
Remaining Margin Buying Power: $846,963
Margin Used: $135,700
Leverage Ratio (portfolio/equity): 70%
Dividends/Margin Interest Ratio: 4.1
Distance To Margin Call (how much the portfolio would need to fall): 46.4%
Current Margin Rate: 3.57%
Yield: 6.0%
Yield On Cost: 6.0%
Net Yield On Invested Capital: 8.0%
Time Weighted Total Return Since Inception (September 8, 2017): 1.4%
Cumulative Dividends Received: $16,044
Cumulative Margin Interest Costs: $1,463
Cumulative Net Dividends: $14,581
Total Portfolio Gains (inclusive of commissions and margin interest cost): $5,642
Annual Dividends: $19,769
Annual Margin Interest Cost: $4,844
Annual Net Dividends: $14,925
Monthly Average Net Dividends: $1,244
Daily Average Net Dividends (my business empire never sleeps): $40.89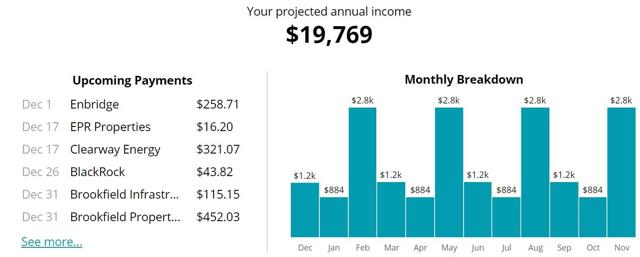 (Source: Simply Safe Dividends)
Note that the diversification effort has now smoothed out my monthly dividend stream immensely. Over time, this will continue. The recent additions are also gradually lowering my portfolio volatility.
Portfolio Beta (volatility relative to S&P 500): 1.13 (down from high of 1.29)
Projected Long-Term Dividend Growth: 10%
Projected Annual Unlevered Total Return: 15%
Projected Net Levered Annual Total Return: 18% (assuming long-term average leverage of 25%, 3% average margin rate)
10 Worst-Performing Positions
| | | |
| --- | --- | --- |
| Stock | Loss | Cost Basis |
| AMGP | -18.2% | $18.11 |
| NBLX | -17.2% | $40.03 |
| EQM | -14.5% | $55.47 |
| AM | -11.6% | $31.27 |
| ET | -11.0% | $16.27 |
| BIP | -7.8% | $41.39 |
| BPY | -6.5% | $18.89 |
| MPLX | -4.1% | $34.53 |
| AMZN | -3.5% | $1,752.12 |
| OMP | -1.4% | $20.42 |
(Source: Interactive Brokers)
10 Best-Performing Positions
| | | |
| --- | --- | --- |
| Stock | Gain | Cost Basis |
| OHI | 35.3% | $28.04 |
| EPR | 25.8% | $56.31 |
| UNIT | 23.1% | $16.19 |
| SPG | 19.2% | $155.79 |
| CNXM | 10.2% | $16.42 |
| ITW | 10.1% | $126.23 |
| ABBV | 9.1% | $86.18 |
| BLK | 9.0% | $392.66 |
| KIM | 8.4% | $15.06 |
| KRG | 7.3% | $15.38 |
(Source: Interactive Brokers)
Bottom Line: Having One Of Your Stocks Be Acquired Isn't Always A Good Thing But Is Always An Opportunity
Most investors love the idea of one of their stocks being acquired because they assume it will be for a big premium that represents a sudden windfall profit. That's not always the case, especially if you're a value investor who specifically buys the most out of favor income stocks. If the buyout target is down, then you can even end up locking in a loss, especially if it's a cash buyout that doesn't allow you to retain stock in the acquiring company.
But while such events are suboptimal for a well-constructed portfolio, they are also far from a hindrance to achieving your long-term goals. In my case, I was forced to take a 5% loss on EQGP, which offset the long-term gains on my OHI and SPG sales earlier last week (unintended tax loss harvest). More importantly, I was able to put that money to good use, buying more OMP and BPY, which resulted in:
a lower cost basis on both stocks (and OMP is now soaring higher)
higher portfolio income
a slightly faster long-term portfolio dividend growth rate
a slightly more undervalued portfolio (due mostly to BPY's 40% discount to NAV)
higher portfolio total return potential
The goal of every investor should be to maximize their portfolio's core stats. Those are key metrics that represent the fundamental goals you are trying to achieve with your portfolio. In this case, the continued simplification of the MLP industry has actually made my portfolio more diversified and better suited to my long-term aims.
I'm sure, in the coming years, there will be plenty more unexpected surprises that come up that I'll have to deal with. Fortunately, my strong collection of watchlists and overall sound investing strategy (for me personally) means that no matter what surprises may come down the road, I'll always know what quality dividend growth stocks are most worth buying to maximize my portfolio's long-term income and total return generating power.
Disclosure: I am/we are long EQM, OMP, BPY, ABBV, ET, BIP, AM, NEP, SEP, EPR, CNXM, OHI, MPLX, IRM, QTS, AMGP, UNIT, ENB, SPG, NBLX, CWEN, KIM, BRX, KRG, BLK, AOS, AAPL. I wrote this article myself, and it expresses my own opinions. I am not receiving compensation for it (other than from Seeking Alpha). I have no business relationship with any company whose stock is mentioned in this article.