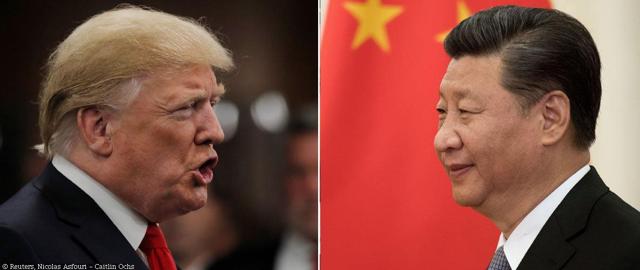 As of Monday morning, representatives from the US and China have agreed to have a pause of the ongoing trade war for 90 days whilst an agreement is reached that can end further escalation. This means that the tariffs on $200 billion of Chinese goods are set to remain unchanged from their current 10% on January 1st, as opposed to going up to the 25% that had been currently announced.
This is a sharp reversal from Donald Trump's previous rhetoric, with him suggesting that he would be prepared to continue the trade war for many years. For example, just last week a press statement was released that suggested that a pause to the tariffs was "highly unlikely", causing stock markets worldwide to continue their decline. Yet, this news suggests that this statement was merely made to force the Chinese hand at the negotiating table, and that Trump is willing to come to a conclusion if China is willing to make some concessions.
Even more significant than this, however, is the news that tariffs on US cars, previously at 40%, are set to fall. Before this event, I had been skeptical as to whether we would truly see the end to hostilities, making me reluctant to call this anything other than short-term news. The fact that improvements are being made between the countries at such a quick pace highly suggests that there are powerful interests on both sides of the Pacific that wish for hostilities to end. This should allow for a deal to be reached that allows both sides to come out successful, with America getting a more favorable deal whilst China continues to be a global manufacturing hub.
If a deal can be reached, a sharp end-of-year rally should be expected to occur. December has historically been a very strong month for the S&P, as the below chart shows. I expect this trend will continue into 2018.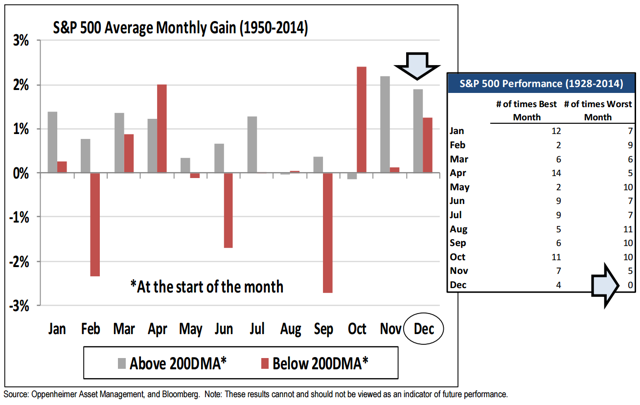 More importantly for the global economy is whether emerging markets, which have heavily underperformed US stocks for the past 10 years, are set for a reversal, or whether they will ultimately converge due to US equity valuations coming down. Although many market pundits are betting on the latter occurring, I believe that so long as the Federal Reserve doesn't overheat the US economy, we should expect for emerging markets to rise on the back of lower valuations and the sharp decrease in risk that has now occurred.
Alibaba - An example of the trade war impacts and how its ending could affect the markets
I am now going to use my favorite Chinese stock - Alibaba (BABA) - to highlight the massive effect that the trade war has caused on all companies, resulting in their valuations being at their cheapest points in years despite continued growth.
For anyone who didn't previously know, Alibaba is the biggest company in China, most well known for their large e-commerce platform known as Taobao (AliExpress in the west), but which also operates in industries ranging from cloud computing to video streaming.
This is their share price over the past year: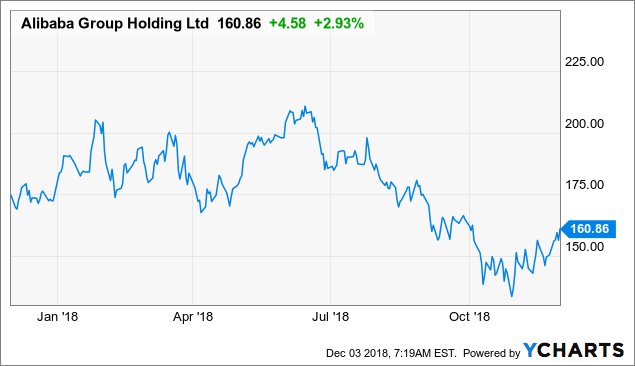 From this graph, you may assume that this is one of those government-run, state-subsidized conglomerates that is commonly associated with many Chinese companies. Being down in the last year, one would also assume that this company is on the decline, or at the very least a stagnant firm.
This is also the message that many potential investors in this company, along with many others, have been hearing over the past few months. Talks of a recession in the Chinese market have caused sentiment in some stocks to be at an all-time low, dropping by over 5% on any negative news. Yet, China is a country which has recorded 6% GDP growth this quarter and is expected to add over 300 million people to its middle class over the next 20 years - the equivalent to the entire population of the United States.
This is why despite growth slowing in recent months due to the trade war, it is still unbelievably strong for a country that is already the 2nd richest in the world. Going back to Alibaba, let us look at how they have managed to grow revenue over the previous year: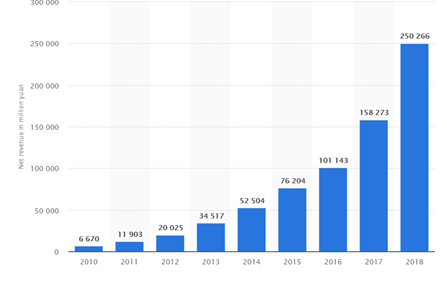 (Souce: Statistica)
As this shows, it grew by over 60% last year - not bad for a company that should be on the brink of death! What this shows me is that the decline due to these fears is completely unfounded if we look at the fundamentals of the market. Although there's always a chance that the cheap gets cheaper, I am confident that the market should now realize that now that the greatest obstacle to their growth has been eliminated.
Risks
Before closing, I wish to highlight the greatest risk for my overall thesis above. If this pause to the trade war doesn't result in a conclusion, with it instead ending in continued escalation throughout 2019, then it is unlikely that we will see a rise in the markets, and the chance of a recession occurring sometime between now and 2020 increasing drastically.
Despite this being a possibility, I do not think it is very likely due to the repercussions from it continuing. If a recession was to occur as I predict, it would end up hurting both countries and would be very bad politically for Donald Trump. He has previously boasted about how his policies are very pro-market, using its performance as a gauge of his success. If it was to instead fall under his leadership, it would look very bad for everyone involved, which is why I believe he would rather take a deal that results in China giving the US some concessions, and in exchange, both countries open up.
Conclusion
The end of the trade war (or at the very least it not escalating further) would be great for the global economy, with it especially helping beaten up emerging markets that, although growing strong, have fallen due to overblown fears. If a deal can be reached in the next 90 days, it would allow for continued global growth throughout 2019, and would greatly reduce the likelihood of a recession going forward. This should also prove to be one of the best times to buy stocks such as Alibaba which are growing at rates unparalleled in the West and which should continue to benefit from the structural tailwinds that make China such a great place to invest.
Disclosure: I am/we are long BABA, JD. I wrote this article myself, and it expresses my own opinions. I am not receiving compensation for it (other than from Seeking Alpha). I have no business relationship with any company whose stock is mentioned in this article.