Written by Nate Parsh for Sure Dividend
With just eight years of paying and raisings its dividend, Amgen (AMGN) is a relatively young dividend paying company. While it may lack the number years of dividend growth that some healthcare stocks can boast about, Amgen has increased its dividend by more than 26% per year over the past five years. This type of dividend growth should attract income investors to the company.
We feel that a combination of growth and dividends make for a nearly 10% annual return for Amgen stock.
Company Background and Recent News
With a market cap of $133 billion, Amgen is the world's largest independent biotech company. Amgen discovers, develops, manufactures and markets medicines that treat serious illnesses. The company's products cover six therapeutic areas: cardiovascular disease, oncology, bone health, neuroscience, nephrology and inflammation. Founded in 1980, Amgen generated nearly $23 billion in revenue last year. The company employs more than 19,000 people.
Amgen reported financial results for the third quarter on October 30th. The company earned $3.69 per share, coming in $0.24 ahead of the average analysts' estimate. The company saw revenues grow 2.3% to $5.9 billion, which was $120 million above the market's expectations. A lower tax rate (13% in Q3 2018 versus 19.4% in Q3 2017) and a lower average share count (649 million shares in Q3 2017 versus 733 million in Q3 2018) aided EPS results. Net income was actually down $7 million in the most recent quarter.
Amgen's product sales saw some areas of both strength and weakness during the quarter.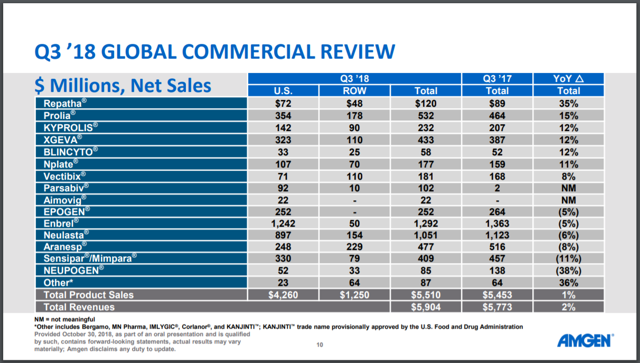 Source: Amgen's Third Quarter Financial Results Presentation, slide 10.
Amgen's top two selling products, Enbrel and Neulasta, both suffered year-over-year declines. Enbrel, which treats arthritis, had a 5.2% drop in sales. Enbrel has faced marketplace competition that has caused the company to lower its price for the product. Amgen and Novartis (NVS) are in the midst of litigation to determine if the latter can bring a biosimilar to Enbrel to the U.S. market. A biosimilar for the product was given approval for the European Union in June of 2017.
Revenues for Neulasta, which stimulates the growth of white blood cells to help fight infection in patients receiving cancer chemotherapy, were lower by 6.4%. Again, increased competition and lower selling prices have impacted sales totals. Neulasta is also expected to face biosimilar competition in the U.S. in the coming years. Enbrel and Neulasta represented nearly 40% of Amgen's total sales during the third quarter.
These sales declines, while not optimal, are relatively low. Not all is lost for Amgen as the company has several newer products that are showing high levels of growth.
One such product is Repatha, which helps to control cholesterol. Though worldwide sales were just $120 million in the third quarter, about a tenth of Enbrel's total, they did grow 35% on the strength of higher unit demand. The company did have to lower its price on Repatha by 60%, but this should lead to higher unit growth rates going forward. Amgen is waiting on test results to bring the drug to most international markets, but China approved Repatha for sale in the country this past summer. Having access to the largest market on earth is likely to drive sales for this product in future quarters, which could help transform the product into a blockbuster. Some analysts expect that Repatha could reach $4 billion in annual sales.
Higher unit demand for Prolia, Amgen's treatment for osteoporosis, resulted in sales growing 15% to $532 million. Prolia is the company's third best grossing product. Prolia could reach peak sales of nearly $2 billion.
Xgeva sales grew 12% worldwide to $433 million. Growth for this product, which treats bone cancer, was due to higher unit sales. Xgeva was approved for use in patients with multiple myeloma in early 2018, which has helped the product take market share in the U.S.
Kyprolis sales increased 12% to$232 million from the same quarter of last year mostly. Unit growth of 19% was driven by international sales as the number of new patients increased. Kyprolis, which treats patients who have received one or more treatments for multiple myeloma, was approved by the U.S. Food & Drug Administration for once per week dosing in October.
While these products cannot fully make up for Enbrel's and Neulasta's decline in sales today, they do offer promising growth rates for the future.
One issue investors should be aware of is that Amgen has an agreement to market a biosimilar for AbbVie's (ABBV) Humira, the world's top selling drug. The company brought its biosimilar, Amgevita, to market in the European Union in October of this year. Amgen will have to wait until 2023 to sell its biosimilar in the U.S. The company will pay AbbVie a royalty for the rights for Amgevita.
After third quarter results, Amgen raised its full year guidance for 2018.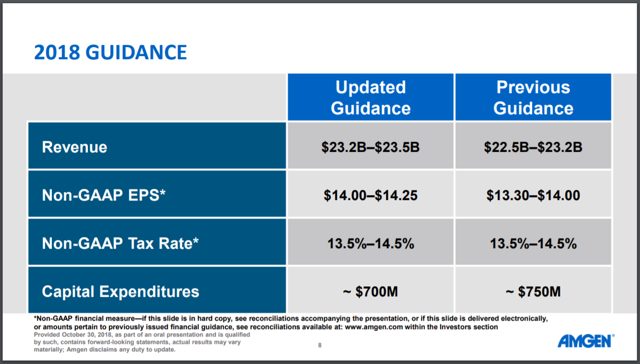 Source: Amgen's Third Quarter Financial Results Presentation, slide 8.
Amgen increased its guidance for both earnings-per-share and revenue for the third time this year. The company forecasts a midpoint of $14.13 for EPS and $23.35 billion for revenue. If achieved, this would represent earnings growth of 12.3% and revenue growth of 2.4% from 2017. Over the last ten years, Amgen has seen its EPS grow at a rate of 12.4% annually.
Product growth rates and potential for higher future sales isn't the only reason to consider purchasing Amgen. The company's past, and likely future, shareholder returns are very attractive.
Return to Shareholders and Total Returns
Amgen has only paid shareholders a dividend since 2011, but the dividend growth since has been very high. The company has increased its dividend:
By an average of 23.5% over the past three years
By an average of 26.1% over the past five years
Since inception, Amgen's dividend-per-share has increased from $0.56 in 2011 to an expected dividend-per-share of $5.28 in 2018. The last raise was announced on December 12th, 2017, which resulted in the dividend increasing by 14.8% for the payment made to shareholders last March. If Amgen holds to their usual increase schedule, then shareholders should expect a raise to be announced in the next few weeks. Shares currently yield 2.5%, above the 1.9% yield that the S&P 500 offers.
Besides dividend growth, Amgen returns capital to investors through share repurchases. The company repurchased $3.1 billion worth of stock in the third quarter. In total, Amgen has repurchased just over $17 billion worth of its own stock in 2018.
Valuation and Total Returns
Amgen closed Friday's trading session at a price of $208.25. Based off of the company's midpoint for EPS for this year, shares trade with a price-to-earnings multiple of 14.7. This is a relatively cheap valuation compared to that of the S&P 500, which has a P/E ratio of 22.5, but Amgen's ten-year average valuation is just 12.9. Investors have demonstrated over the last decade that they aren't willing to bid shares of Amgen up to an exorbitant height. This remains true today, likely because of the declines in top grossing products.
If shares of the company revert to their historical average by 2023, then investors could see the multiple contract 2.6% per year. Including dividends, Amgen's stock has appreciated more than 20% in 2018, well above the S&P 500's total return of 5.1%.
While Amgen's historical earnings growth rate is above 12%, we feel that the decline in sales for Enbrel and Neulasta likely mean that growth could slow slightly going forward. This will be partially offset by the company's aggressive share repurchases. We expect earnings to grow at a rate of 10% going forward.
Based off our projected earnings growth rate (10%), dividends (2.5%) and multiple reversion (2.6%), we forecast that Amgen can offer annual returns of 9.9% through 2023.
Conclusion
There is no question that Amgen's top selling products are in decline. Biosimilar competition has eroded some of the market for Enbrel and Neulasta. Though both products saw declining sales, the year-over-year drops were just mid-single digits, not exactly making for a dire situation for Amgen. With that said, Amgen has several other drugs that are showing healthy growth rates. Analysts expect that Repatha will become a top selling drug, even with a recent significant decrease in the price. Other products, such as Prolia and Xgeva, will have to show that they can gain market share, but the growth rates have been in the double digits so far.
Amgen is a very shareholder friendly company, returning cash to investors in the form of double digit dividend growth and large share buybacks. The stock, while expensive against its own history, is cheap compared to the market. Total returns could approach 10% annually over the next five years.
Disclosure: I am/we are long ABBV. I wrote this article myself, and it expresses my own opinions. I am not receiving compensation for it (other than from Seeking Alpha). I have no business relationship with any company whose stock is mentioned in this article.