Summary
ESPN has lost an astounding 11 million subscribers since 2013.
The package Amazon desires includes 22 regional sports TV networks that Disney must divest after acquiring Twenty-First Century Fox (FOX).
Amazon's sports strategy is a work in progress after they introduced NFL's Thursday Night Football to its prime members a few years ago.
Google (GOOGL) paid Apple (AAPL) $8 million in 2017 to plop its search engine on Apple iOS devices.
If you were waiting for the other shoe to drop, well, it dropped.
That is the takeaway from finding out that Amazon (AMZN) is making a daredevil bid to pry away the last remaining crown jewels from the traditional television dinosaurs.
In the first round of bidding, Amazon has flexed its muscles and is going after live sports content which Disney (DIS) has limited time to sell off.
The package Amazon desires includes 22 regional sports TV networks that Disney must divest after acquiring Twenty-First Century Fox (FOX).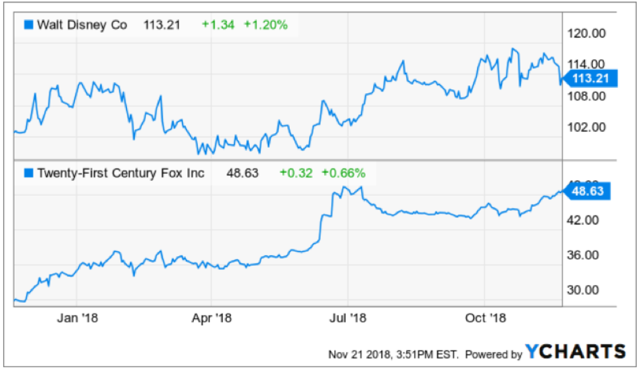 Professional sports leagues usually engage in auction-based models to sell programming rights.
This auction takes place every few years and has largely eluded the big tech firms.
This gives Amazon another chance to permanently crack the live sports market by buying up the sports networks themselves.
Amazon's sports strategy is a work in progress.
It started when they introduced NFL's Thursday Night Football to its prime members a few years ago.
Amazon followed that up by successfully bidding on a 20-match package of English Premier League matches in a 3-year deal thought to be around $135 million.
These games are free of charge if you are an Amazon prime member.
The amount was quite large considering Amazon only coughed off $50 million for 10 Thursday night games.
Even more intriguing is the possibility of Amazon's digital ad business collaborating with the live sports content.
Professional sports would serve as the ideal platform to dish out targeted digital ads to its prime viewership, and nobody has better sets of data to place the right products in front of the right eyeballs than Amazon.
Marketers would pay top dollar for this type of gilt-edged opportunity.
Half of product searches already start on Amazon and the number is rising.
Patiently, Amazon has sat back and bided its time to make a monumental splash for the right type of sports assets.
And that time has now come.
Remember that live sports are one of the last bastions of premium television content for the traditional players.
Professional sports are optimally enjoyed in the moment gripped by emotion, watching on replay doesn't cut it in a cutthroat on-demand world.
Traditionally, advertisers have blissfully paid top advertising dollar to paint firm's logos on television sets knowing that a guaranteed set of viewers will tune in.
This has made ESPN the most exorbitant affiliate fee of any cable network and they do not apologize for it.
It is also part of the reason why they are hamstrung by a dwindling viewer base.
ESPN has lost an astounding 11 million subscribers since 2013.
The value of ESPN has been heavily diluted because of professional sports leagues offering proprietary content directly through their own websites in a subscription style format slicing off the value of sports networks like ESPN.
ESPN is no longer the one-stop shop for live sports like it used to be.
In the past year, ESPN, owned by Disney, launched ESPN+ for $4.99 per month that signaled ESPN's foray into online streaming that CEO of Disney Bob Iger has made the utmost priority.
The sign of intent telegraphs the beginning of traditional network television's attempts to move into the online streaming tech ecosphere.
Disney's ESPN+ has been tepid at best as the content is mainly second-string content of American soccer matches and alternative sports leagues.
This appears like a testing phase for Disney as they hope to smoothly roll out their flagship online content platform in 2019.
At worst, if Amazon and the rest of the FANGs pour into the auction bidding process for the sports assets, Fox or other suitors will have to pay through the nose for these regional sports networks.
Facebook (FB) was interested in the Indian Cricket League's broadcasting rights and only offered $600 million.
The winner won with a bid of over $2.5 billion.
Obviously, Facebook underestimated the level of cricket fanaticism in India. These types of assets can't be bought at a discount.
Facebook's consolation prize was claiming the rights to broadcast La Liga soccer from Spain in eight South Asian countries including India, Pakistan, and Sri Lanka.
These are the lengths that American tech companies will go to lure in additional users.
In fact, American tech companies do not need to profit from these live sports deals.
They merely view it as a traffic acquisition cost (TAC), in the same vein as Google (GOOGL) paying Apple (AAPL) $8 million in 2017 to plop its search engine on Apple iOS devices.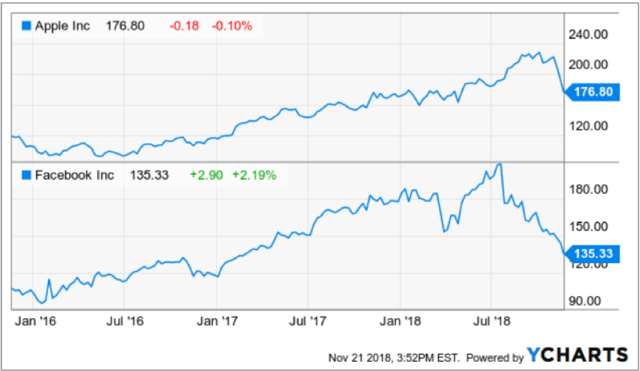 That number will rise to $12 billion in 2018, and it's worth every penny for Google.
How can traditional linear television stations compete with tech titans who are content with losing money on live sports?
The answer is they can't, and they should be frightened to death about these developments.
And I would argue that Facebook would much rather get into the live sports businesses than moderate fractious elections around the world which has been a suicide mission tearing apart the company.
I am completely aware that the NFL has had its issues with the kneeling of the national anthem, but in general, live sports is safer content than politics and should be the clinching reason why every FANG should migrate to live sports.
And that is what will happen.
I bet that the likes of Apple or Facebook will pony up a bid too.
CEO of Apple Tim Cook has been as stern as a prison warden overseeing Apple's content.
He is cautious about the quality of content delivered to iOS customers and wants to avoid anything controversial.
The NFL might be too risky for Cook, but European soccer seems like it would fit the iOS ecosystem perfectly.
After all, soccer is the number one growing sport in America and is an absolute hit with the younger generation.
The real victor out of all of this is Roku (ROKU).
It could be a real high flyer in 2019 with the pivot to online streaming picking up steam.
First, Disney's platform is coming online in a few months.
It's a godsend that big tech is looking to dive into the live sports market for industry-leading OTT TV box company Roku.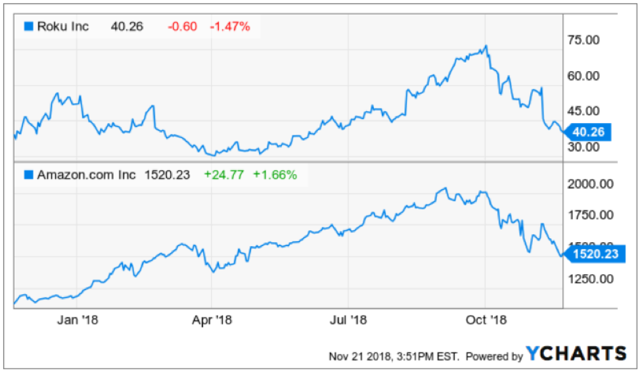 Roku doesn't care which company is producing content as long as it is quality online content, and it is on Roku.
At some point, Roku will be a must-have for sports fans who want to follow their favorite sports teams because the content could be spread out through a plethora of online streamers.
Roku is the best system to select a la carte content, and the dispersion of content across many online channels makes content aggregators a critical need going forward.
Take Amazon, for instance, the bulk of the 20 English Premier League matches will be broadcasted during Boxing Day holiday in England.
This would give the British massive incentive to sign up for Amazon prime for one month during the winter holidays to watch the matches while using Amazon's free 2-day shipping to buy gifts on Amazon's e-commerce platform.
Effectively knocking out two birds with one stone.
A substantial percentage of British soccer viewers will presumably retain Amazon Prime the following months as the soccer package concludes ushering in a new wave of prime converts.
Roku makes watching Amazon Prime for just a month less painful because habitual Roku viewers are familiar with the Roku platform and can sign up quickly.
This will be the new way of enticing viewers with luxury on-demand content enabling the cross-selling of other services on offer.
After all, Amazon cares deeply about growing prime members that effectively bring down the cost of executing the free 2-day shipping because of the massive economies of scale.
This all bodes well for Roku to outperform in 2019.
Disclosure: I/we have no positions in any stocks mentioned, and no plans to initiate any positions within the next 72 hours. I wrote this article myself, and it expresses my own opinions. I am not receiving compensation for it (other than from Seeking Alpha). I have no business relationship with any company whose stock is mentioned in this article.