Annaly Capital (NYSE:NLY) is a name that we have held since the last time the yield curves inverted a decade ago. As shareholders will attest, the stock has been pretty volatile, rising and falling with rates, reacting to dividend adjustments, and moving in tandem with the general mREIT sector as well as the general market in recent weeks. Through 2018, the stock has traded in a pretty specific range, which is actually a positive since we own a stock like this for the income, and not share appreciation, generally speaking.
While we see higher rates as a benefit to net interest income longer term, the big risk we see in the sector is the flattening of the yield curve. As such, we rely on management to position the portfolio correctly. It is our thesis that the dividend, despite being thinly covered, remains safe. Right now, we are holding, and the stock, while being range-bound, continues to come with a bountiful dividend, which we are reinvesting to harness the power of compound interest. In this column, we assess recently reported performance and discuss critical metrics investors should be aware of, while offering our thoughts going forward.
About this dividend
Let's get right to it. The reason we buy an mREIT like NLY is for the yield. However, this sector has seen time and again investors' principal get crushed (at least on paper) every time there are dividend cuts. So, NLY has not cut its dividend in years now, and as a result, shares have been mostly range-bound. But there are questions of safety. In the quarter, Annaly delivered decent results that were essentially in line with our expectations. It was a mostly neutral report, some positives and some negatives, but a little better than the sector average in our opinion.
In Q3, Annaly saw GAAP net income of $385 million or $0.29 per share in the quarter. We have to reiterate that for a full year now, we have had really positive numbers on the GAAP front. While using GAAP income is not always very useful for an mREIT, it has merit. But it's certainly not a strong measure for dividend coverage. As such, with Annaly, we prefer to use core earnings. Annaly's core earnings have been stable in recent quarters, while the dividend has been maintained as seen below: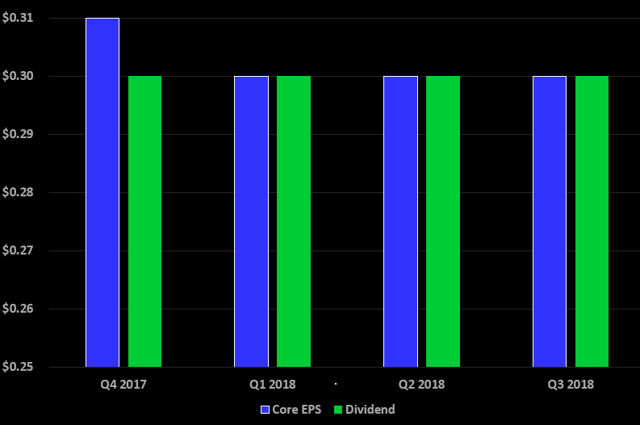 Source: Data from SEC Filings, graphics by BAD BEAT Investing
Now, we want to be clear. Core income as a figure is being actively managed by the team at Annaly. By that we mean that management is actively working to ensure core income hits this figure. To hit the $0.30 per share core income mark, management uses different strategies. Management works on adjusting its hedges, portfolio activity etc., to generate this result. While this implies dividend coverage, we need to ensure this is sustainable.
Even if it is managed, core earnings per share is preferred as they closely approximate net interest income. While the indicator is strongly aligned with dividend coverage, it doesn't always reflect what could be large hedging spending. That is always something to keep in mind, especially as this quarter saw an uptick in the hedge ratio. From what we see now, we believe the dividend will be maintained in 2018 as far as Annaly's core operations are concerned.
We do know the MTGE Investment acquisition will be accretive and so in future quarters, we will have more work to do in looking at new coverage-related issues. However, with Annaly's core earnings remaining close to the dividend, we still have some concerns, despite the dividend being maintained the last two years.
The company has increased its financing sources and capacity, while improving terms. It also issues shares to raise capital, which means more shares that require the dividend payment. Most of this is used to reweight the portfolio, but share issuance, etc., does impact book value and the erosion caused by the dividend. Keep that in mind. Excluding any impact of MTGE, which will enhance the capital base and the company's allocation to credit, let's look at operational key metrics of the portfolio.
Prepayments ticking up
The constant prepayment rate, sometimes abbreviated CPR, remains a critical indicator to monitor in the mREIT sector. This metric weighs on many others. Now, comparing prepayments across companies doesn't really make sense because these are driven by the portfolio strategy of the underlying company, and so it varies widely across the sector. However, the big rush of refinancing ahead of rate hikes that we saw in 2016 and 2017 seems to have subsided.
Still, in this case, prepayments rose again for Annaly. In general, the higher the prepayment rate, the worse the results will be on average, as there is less time to collect a yield on the asset, and it can hit the spread. The constant prepayment rate for Annaly Capital has been much higher than the sector average over the last year, but is down from highs in the mid-teens that we saw in 2016.
Prepayments were once again in the high-single digits earlier this year but have inched higher in recent quarters. This remains a trend we need to watch. We are still on the side of believing that the prepayment rate should subside, but this will depend on the portfolio activity of the company in 2019. We were a bit surprised to see that in Q3 2018, the prepayments rose to 10.3%, after rising in Q2 to 10.1%. Ideally, we would like to see 5-6% on this measure given what is being held, as it usually helps benefit the net interest rate spread.
The net interest rate spread
The net interest rate spread has been volatile for over the last two years just like prepayments. The spread bottomed under 1% back in 2017 and rebounded coming into 2018. However, with the pressure of a flattening yield curve, in conjunction with a tick up in prepayments, we thought the spread would have faced a lot more pressure.
In Q3, the average yield on interest earning assets rose 3.21% from 3.04% in the sequential quarter. This was largely due to the changes in the portfolio mix and in part due to a higher prepayment rate. At the same time, the average cost of interest-bearing liabilities was much higher, reflective of a flattening yield curve and rising rates. Including interest expense on interest rate swaps used to hedge cost of funds, the costs were up to 2.08%, versus 1.89% in Q2 2018.
Combining the average yields and costs to acquire assets, the net interest rate spread narrowed quite a bit from 1.15% to 1.13%, and is down from 1.55% at the end of Q1 2018. While the spread is up from the low of 0.84% in Q2 2017, it is contracting again toward the 1% mark. We continue to expect the spread to exceed 1% in Q4, but are closely watching the motion in rates and comments from the Fed.
Book value erosion in 2018
Book value can be volatile especially when share issuances occur and of course by the regular payment of a dividend. Book value matters when valuing an mREIT in addition to the dividend coverage. What also matters is the price of the stock versus book value if you are looking at common stock. Book value has been moving lower over the last 5 years straight. In 2017, book value rebounded and stabilized somewhat, only to move lower in 2018: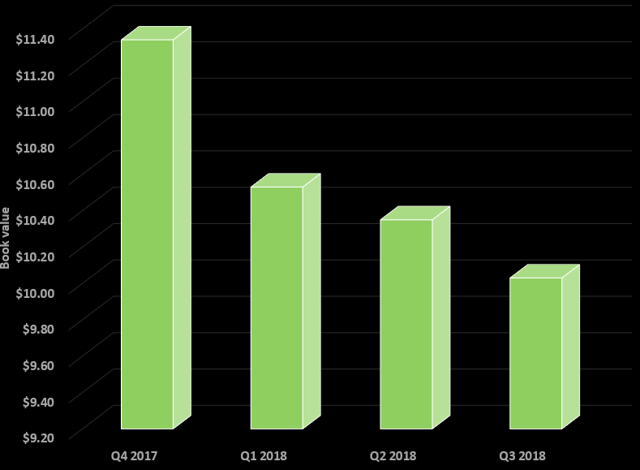 Source: Data from SEC Filings, graphics by BAD BEAT Investing
Book value continues to be volatile in the mREIT sector in the last year, along with the spreads and earnings power of the companies operating in this sector. While hedging is done to protect the portfolio, the reality is the situation has been dire for some time, but especially in Q3 2018.
The action in not just the spread but the value of the portfolio is really impacted by the motion in rates and a flattening yield curve. The yield curve is almost the flattest it has been since 2007, when it actually inverted during the early part of the year. Recall that mREITs were battered during those times. The flattening curve has caused net interest spreads to narrow across the sector, and is impacting the book value of the name.
Book value fell for Annaly in Q3 another 3% to $10.03, from $10.35 that it began the quarter at. It is also down from $10.53 in Q1 2018. Based on a $10.02 share price at the time of this writing, the stock is once again trading at fair value. The discount-to-book has been wiped out.
Thoughts going forward
Annaly continues to increase its hedge ratio and continues to selectively diversify into lower-levered floating rate credit assets, increasing its allocation to credit. By picking up MTGE Investment, the portfolio is further diversified with more credit. While these are positives, the sector is under immense pressure right now. While we have loved to see shares under $10, given the erosion in book value any discount is gone.
We like to buy quality names at a discount if we are going to play the sector. Right now, we are content to hold, but would caution new investors to wait. The trajectory of key metrics is very negative right now. Until rates are held by the Fed for a time, volatility will continue. The one positive is that we see the dividend still being maintained, but continue to urge caution and by that we mean staying on top of the company and its portfolio if you are invested.
Looking for rapid-return trade ideas? These are the final days of our Cyber Week special. Join a top performing service at 60% off, just 3 spots left at this price
Signup now, and pay 60% off the regular rate that big money traders pay for access to our team.
Just $1.08 per day. One trade pays for years of the service.
Find beaten-down stocks and profit from their reversals.
Defensive and speculative plays discussed in chat
2-3 swing trades a week, monthly deep value plays.
Guided entry and exits.
Oh, and it's Free to try for two weeks.
Disclosure: I am/we are long NLY.
I wrote this article myself, and it expresses my own opinions. I am not receiving compensation for it (other than from Seeking Alpha). I have no business relationship with any company whose stock is mentioned in this article.