This article has been written by Olivier Gelinas for Dividend Stocks Rock.
Green energy is a trendy utility attribute that investors often look at. Whether you're investing within PRI businesses or simply looking to add diversification to your portfolio, you might want to consider Eversource Energy (ES). The company perfected their approach to the energy sector with electric, gas and water needs in the center of their business model. Investors can also rely on a healthy 3% yield, and a well-armed business to sustain their payouts habits. This stock does need to be further analyzed.
Understanding the Business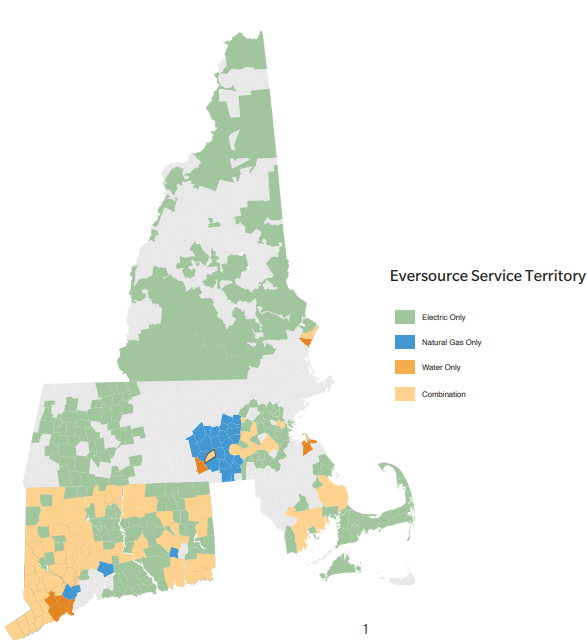 Source : Eversource's 2017 Annual Report
Eversource Energy does business in the generation, transmission and distribution of electric power as well as natural gas distribution. The company also operates a water utility, Aquarion Water Company, which they acquired back in 2017. Those segments come as one under the banner, which now serves nearly 4M customers for their electric, gas and water needs across Connecticut, Massachusetts and New Hampshire.
Needless to say their entire activities are based in the United States. From the $7,75B revenue figure of 2017, 72% came from electric distribution, 17% from electric transmission and the remaining from gas distribution. Last year, there were a little over 8,000 employees to contribute to the success of ES.
Growth Vectors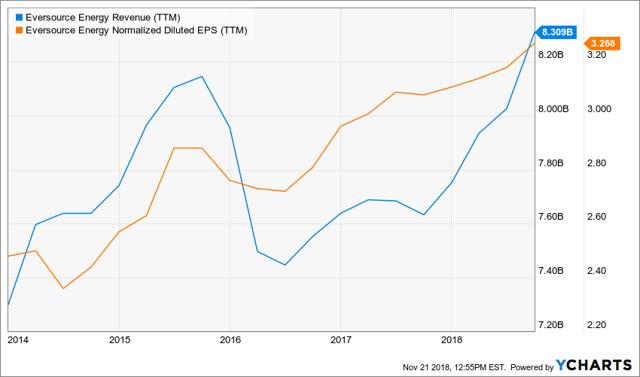 Source: Ycharts
Green energy is still one of the best bets for ES. With environmental laws getting stricter and opposition on possible environment harming projects rising, electricity seems to be paying off. Demand is also soaring; pulling up the figures in the statements, a 3.1% uptrend was noted from electric distribution and 5.2% from natural gas.
Showing healthy growth, mixed with organic and acquisition, the management knows how to position the company on the market to remain successful in the upcoming years. In late 2017, they have successfully completed the acquisition of Aquarion Water Company, which added around 230,000 customers to their solid base.
If you have noticed the 2016's dip in revenue, it is due to the opposition faced at the time of making their Northern Pass project, which is still not completely over.
Latest quarter in a flash
On November 1st, the company reported the following results:
Non-GAAP EPS of $0.91, +11% from last year, in line with estimates.
Revenue of $2.27B, beating estimates by $241.43M.
Dividend of $0.51/share declared and paid on September-end.
James J. Judge, president and CEO, seemed confident on those results:
"2018 continues to be a year of strong operational and financial performance for Eversource Energy, […].We are delivering reliable, efficient and responsive service to our customers, while continuing to be an attractive investment for our shareholders."
Dividend Growth Perspective
ES's dividend increased for 19 years straight now, with an annualized expected payout of $2.02 on 2018. Management expects to keep raising payouts between 5% and 7% annually for the upcoming years.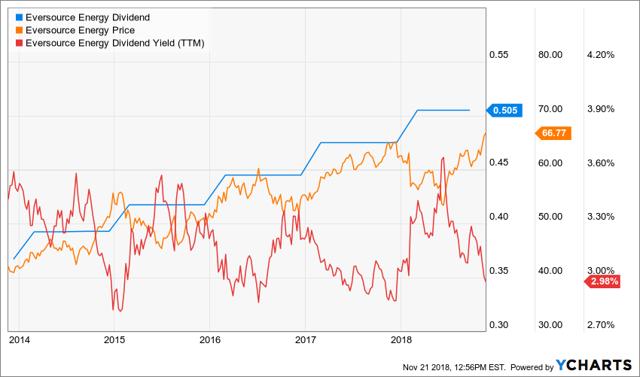 Source: Ycharts
Having a 3% dividend yield is, in my opinion, a benchmark a lot of investors look at and consider if they are to include it or not in their portfolio. While their industry average is just over 3%, investors should take into account their water distribution segment, which the average yield turns around 1.60%.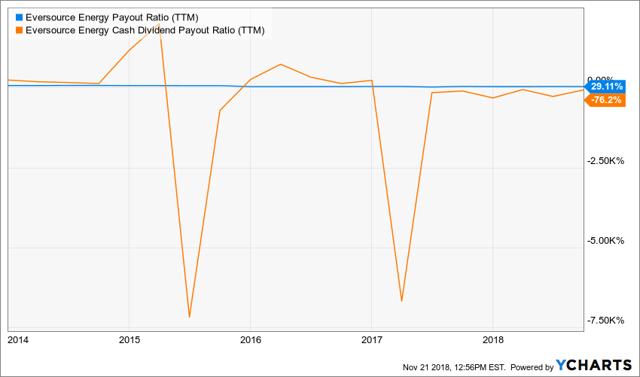 Source: Ycharts
Making investment decisions for a business is a big step towards growth and new market developments. Problem is, it puts a lot of stress on the FCF, which is clearly demonstrated in this chart. Lots of time and money went into the Northern Pass project, as well as the recent Aquarion acquisition.
Potential Downsides
Downsides, whilst limited, can have drastic consequences. Although ES operates in green energy, which is usually seen as good for the environment, they can face rough opposition. Just like it was recently the case with the Northern Pass, where New Hampshire rejected the proposition. Projects like this are time consuming and put in a lot of resources. Legislation can also have a marked impact on green energy projects, which is not a factor to overlook.
Valuation
ES's price to earnings is near 3x its current price. Taken only by numbers, it is dragging a bit behind its industry peers. But we will be using a DDM in order to find out if there is still a buying window.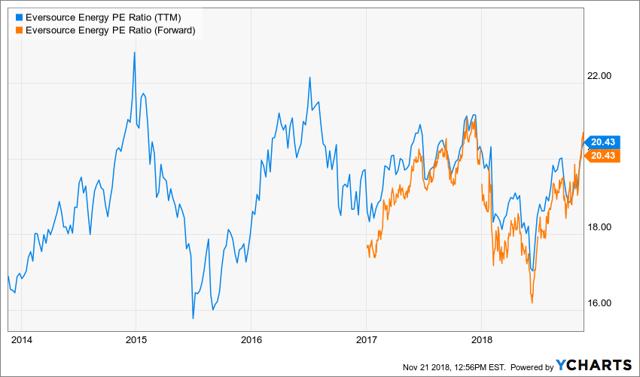 Source: Ycharts
The model factors in a 6% growth in short term and a 5% rate for the longer run. Latest annualized dividend of $2.02 and a standard discounting rate of 9%.
Input Descriptions for 15-Cell Matrix

INPUTS

Enter Recent Annual Dividend Payment:

$2.02

Enter Expected Dividend Growth Rate Years 1-10:

6.00%

Enter Expected Terminal Dividend Growth Rate:

5.00%

Enter Discount Rate:

9.00%

Calculated Intrinsic Value OUTPUT 15-Cell Matrix

Discount Rate (Horizontal)

Margin of Safety

8.00%

9.00%

10.00%

20% Premium

$92.28

$68.99

$55.03

10% Premium

$84.59

$63.24

$50.45

Intrinsic Value

$76.90

$57.49

$45.86

10% Discount

$69.21

$51.74

$41.27

20% Discount

$61.52

$45.99

$36.69
Please read the Dividend Discount Model limitations to fully understand my calculations.
Output given by the model shows intrinsic value of $57.50, which is almost $10 short of what the stock is currently trading at on markets. Investors should use caution when considering whether or not to make a move. Buying an overvalued stock can bring dead weight to the cost figures.
Final Thought
Eversource's business model and position in their industry really makes me optimistic on their future exercises. They have the facilities and utility diversification to sustain a long lasting business and help the nearby population with basic needs of everyday life.
Things get a bit rockier when looking through past figures. Even if acquisitions and reinvestments into the operations are good for growth, they do pose other challenges, such as limiting available cash on hand. I don't see this as an immediate problem, but capital structure is to be monitored. Income seekers should proceed with further analysis on this stock. Who knows, you might get a shockingly interesting result!
Seriously, if you made it this far, it's because you liked what you read. Don't be a stranger; leave a comment and tell me what you think! I'm asking you one more thing; click on "follow" button (it's orange, you can't miss it!) and you will get notified each time I write a great piece like this one.
Disclosure: We do not hold ES in our DividendStocksRock portfolios.
Disclaimer: The opinions and the strategies of the author are not intended to ever be a recommendation to buy or sell a security. The strategy the author uses has worked for him and it is for you to decide if it could benefit your financial future. Please remember to do your own research and know your risk tolerance.
Many investors focus on dividend yield or dividend history. I respectfully think they're making a mistake. While both metrics are important, aiming at companies that have and show the ability to continue raising their dividend by high single-digit to double-digit numbers will make your portfolio outperform others. When a company pushes its dividend so fast, it's because it is also growing their revenues and earnings. Isn't this the fundamental of investing – finding strong companies that will grow in the future? If you are looking for a great combination of dividend and growth, check out my picks at Dividend Growth Rocks.
Disclosure: I/we have no positions in any stocks mentioned, and no plans to initiate any positions within the next 72 hours. Business relationship disclosure: This article has been written by Olivier Gelinas for Dividend Stocks Rock.