In a series of articles, I have tried my best to show Seeking Alpha readers that these simple strategies outperform over the longest datasets we have available in U.S. finance. With this monthly update, I try and provide insight into the short-term drivers of relative performance.
This series uses different datasets that are more readily investable and have exchange-traded funds that replicate the benchmarks. The drawback is that these benchmarks date to 1989 at the earliest and many of the replicating funds have been around for less than a decade. As you can see from these indices though, the outperformance of these strategies versus the market benchmark is demonstrable over the past 10 and 20 years.

As mentioned previously, these indices are more investable than the longer academic datasets, but you still cannot invest directly in the underlying indices. Below I have listed the performance of exchange-traded funds that replicate these factor indices. Given the more recent inception dates of these funds, we do not have the full histories that we have for the underlying indices above, which is why I will show both in this series. These are certainly not the only ways to get exposure to these factors, and increasing competition in the realm of smart beta is likely to push down expense ratios in the industry going forward.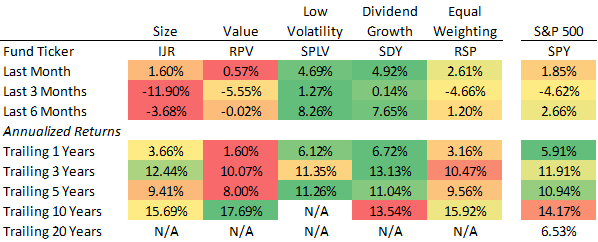 For these five factors and the S&P 500, I have also calculated the standard deviation of monthly returns. In this series, I am using this volatility measure as a risk proxy. While some buy-and-hold investors may counter that they have a long-term view and are not impacted by market volatility, unfortunately, many individual investors all too often can be whipsawed by market swings. Some investors may prefer strategies with less variability of returns like low volatility and dividend growth. We will also track this measure to ensure that these strategies are delivering on their promise of a smoother return profile.

Discussion Of Recent Performance
While equity markets rebounded in the last week of November to finish with positive returns, the S&P 500 (SPY) still finished behind the defensive Dividend Aristocrats (NOBL), (SDY) and Low Volatility (SPLV) stocks. (This monthly performance is visible in the first row of the first table in this article). Size (IJR) and Value (RPV) lagged in November, but still managed positive returns. Equal-weighting outperformed capitalization-weighting in part driven by the recent underperformance of the megacaps.
Low volatility and dividend growth have delivered on their historic defensiveness in risk-off environments. Over the last year, those two strategies have delivered higher risk-adjusted returns with lower variability of returns. The size factor, which delivered very strong returns over the first half of the year, saw a modest bounceback in November after its worst two month stretch since the market bottomed in 2009. The size factor has still delivered the worst absolute and risk-adjusted returns over the second half of 2018.
With the defensive sector grabbing the market leadership from momentum and growth, where do we go from here? It depends on your view of the business cycle. The stylized depiction below suggests where various factor tilts should outperform over the course of a business cycle.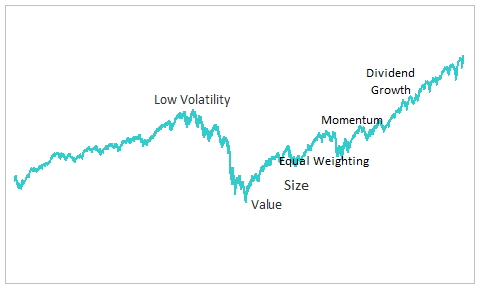 Low volatility (SPLV) (USMV) and dividend growth (NOBL) (SDY) are best during the late cycle period, offering lower drawdowns during recessionary periods. Value (RPV), size (IJR), and equal weighting (RSP) - a value cousin - are best in the early recovery phase after these stocks have corrected during the contractionary phase. Momentum (MTUM) is more of a mid-cycle phenomenon.
How do we know where we are in the business cycle? That is the trillion-dollar question, and one that makes markets. Each of the five factor tilts produced both absolute and risk-adjusted outperformance over the long datasets described at the beginning of the article. Your portfolio construction should reflect your view of the business cycle, risk tolerance, and investment horizon.
Disclaimer: My articles may contain statements and projections that are forward-looking in nature, and therefore, inherently subject to numerous risks, uncertainties, and assumptions. While my articles focus on generating long-term risk-adjusted returns, investment decisions necessarily involve the risk of loss of principal. Individual investor circumstances vary significantly, and information gleaned from my articles should be applied to your own unique investment situation, objectives, risk tolerance, and investment horizon.
Disclosure: I am/we are long IJR,PRV,SPLV,USMV,SDY,NOBL,RSP,MTUM. I wrote this article myself, and it expresses my own opinions. I am not receiving compensation for it (other than from Seeking Alpha). I have no business relationship with any company whose stock is mentioned in this article.