After experiencing one of the stormiest autumns of recent years, the storm clouds have lifted and stocks are poised to enjoy a productive December. In today's report, we'll discuss the reasons for this optimistic outlook as I explain why investors should expect the recent market recovery to accelerate in the weeks ahead.
Lately I've expressed the view that December should be constructive for stocks based on historical seasonal tendencies. Seasonal patterns alone aren't strong enough to guarantee a strong performance for the stock market in any given month. However, when corporate fundamentals are positive and there is at least some measure of forward momentum, a bullish seasonal tendency is more likely to manifest itself. This is especially true for the last month of the year when several important factors converge to make it easier for stock prices to rise. With that in mind, let's take a closer look at the historical pattern for the month ahead.
As it turns out, the month of December is one of the best months of the year for the S&P 500 and the Dow, with gains averaging 1.7 for the Dow and 1.6% for the S&P between 1950 and 2017. December has also been a good month for the Nasdaq and Russell 2000 indices. According to Jeffrey Hirsch of Stock Trader's Almanac:
Rarely does the market fall precipitously in December. When it does it is usually a turning point in the market – near a top or bottom."
In most years the stock market has a pronounced bullish bias in the final two weeks of the year as fund managers prune their portfolios in a final effort to improve their year-end statements. There's an old bromide that goes: "Bears may come to call if Santa doesn't come to Broad and Wall." A failure of the market to rally in late December is therefore often viewed as a harbinger of bad things to come in the New Year.
For example, the lack of a meaningful rally in late December 2007 was widely feared as a presage of the bear market that descended on Wall Street in 2008. The reason for this belief is that when the market is unable to rally in the final weeks of the year, it's usually because the market is experiencing some measure of internal weakness. December 2015 was another case in point, although to a far lesser degree. Both the Dow and the S&P failed to rally during that month, which heralded the broad market plunge in January 2016.
In most years, however, December is good to stocks and this is especially true when corporate fundamentals are strong. The last time stocks underperformed in December (in 2015), the forward 12-month earnings per share (NYSEARCA:EPS) for the S&P 500 was trending sideways-to-lower. Today, 12-month forward EPS is trending higher, and earnings growth in Q3 was reported at its highest levels since 2010. This provides the ideal backdrop for a continuation of the recent stock market rebound.
Although the market's fundamental backdrop is still sound, what about the technical backdrop? In previous reports I've made repeated reference to the need for stocks to show greater improvement internally. My primary indicator for measuring the incremental demand for equities is the daily number of stocks making new 52-week highs and lows on the NYSE. For the last few weeks, stocks making new lows have been above average and have outpaced the number of stocks making new highs on most days. This is a sign that the market's internal health is still in need of improvement. It's not a deal-killer for a December rally, though, as long as other technical factors are in place.
One of those factors is short-term internal momentum as measured by the rate of change in the new 52-week highs and lows. To that end, it should be noted that the 4-week rate of change in the new highs-new lows has been improving in recent weeks (below). This indicator is a good measure of the stock market's near-term path of least resistance and, assuming the rise continues, it will support a December rally.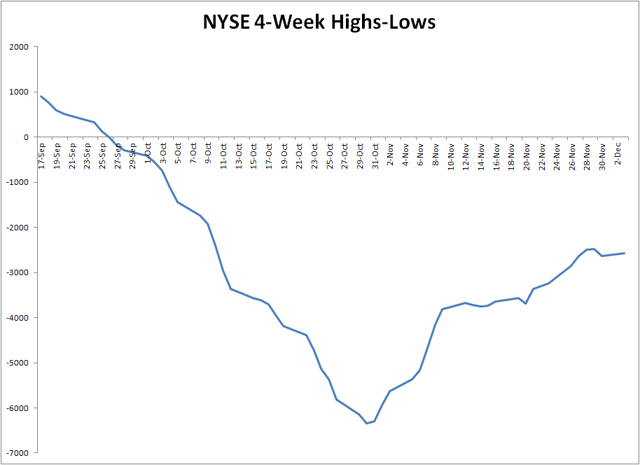 Source: WSJ
It should also be noted that the market is in a good condition entering December based on the price momentum of the S&P 500 Index (SPX). This is an important consideration entering the final month of the year. It's also the opposite of the market conditions which prevailed heading into December 2015, which preceded the early 2016 mini-bear market. At that time, the 20-day price oscillator for the SPX – my favorite measures for how "overbought" or "oversold" stocks are on short-term basis – hit one of its highest and most "overbought" levels in years. A drastically overheated market condition in November is one of several conditions that make it easy for the sellers to gain control of the market in December. At a minimum, an overbought market condition in December tends to limit the upside potential for the month.
This time around, by contrast, stocks are in a much better technical position according to the testimony provided by this indicator. Shown here is the aforementioned SPX overbought/oversold oscillator. The stock market became quite overheated a few weeks before the October meltdown, but the SPX oscillator eventually fell to its most "oversold" reading since the 2008 credit crash. This set the stage for the latest bottom and also makes it easier for the bulls to take charge this month. The latest oscillator readings are in line with a normal internal condition for stocks.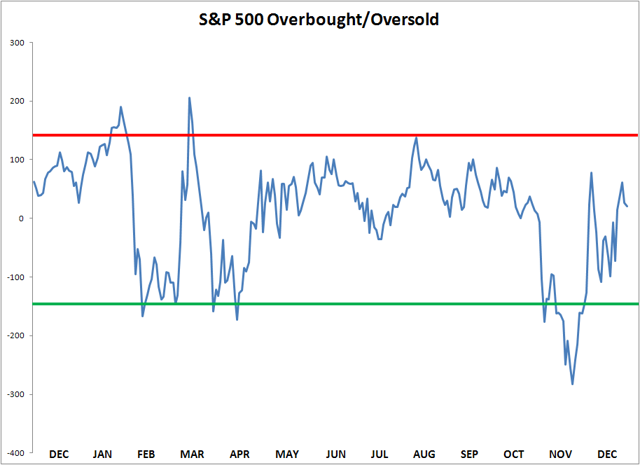 Source: WSJ
Another way of predicting whether December will be good or bad for stocks is by examining the recent stock price performance of two key transportation companies: United Parcel Service (UPS) and FedEx (FDX). If both stocks are showing weakness heading into December it tends to bode ill for the market. UPS and FedEx are not only leading indicators, but are prime gauges of the demand for shipping during the critical retail spending/holiday season. When both stocks are doing heading into December it's a safe bet that the market will follow their lead.
As the following graph shows, UPS is doing much better in recent weeks after plunging in September-October. Its 15-day moving average is also turning up, which reflects an improvement in the stock's immediate-term price momentum.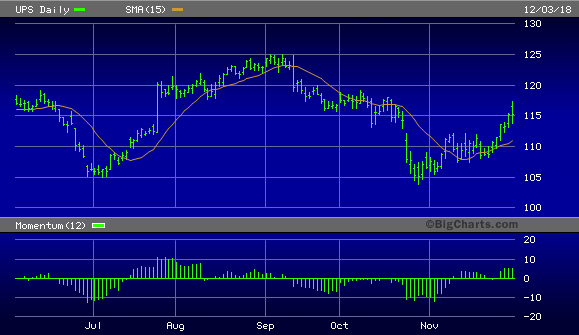 Source: BigCharts
FedEx meanwhile has recently confirmed an immediate-term bottom by re-establishing support above its 15-day MA after collapsing earlier this fall. FDX still has some lost ground to recover, but at least its stock price has established a series of higher highs and higher lows since the October bottom. This is the basis of an upward trend and can at least be cast in a positive light for the month of December if nothing else.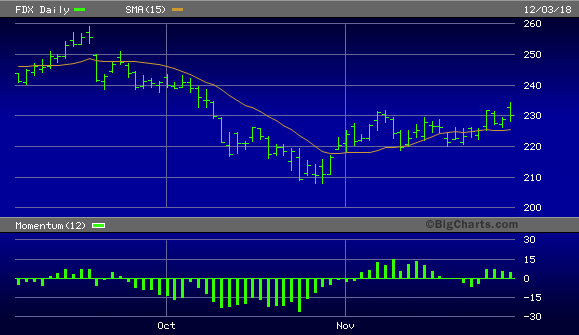 Source: BigCharts
The established Wall Street wisdom for December is that as long as a bear market hasn't already been established, the month usually ends up seeing nice gains for stocks in the aggregate. While there was a ~10% correction in the SPX in October, there is no sign that a bear market is underway. Hence, we can reasonably conclude that this month will treat investors kindly. There is moreover still enough technical evidence to support a December rally based on short covering, especially with Treasury yields declining (see 10-year Treasury Yield Index below). I continue to recommend participants focus mainly on the sectors and industries which are showing the most relative strength versus the benchmark S&P 500 Index.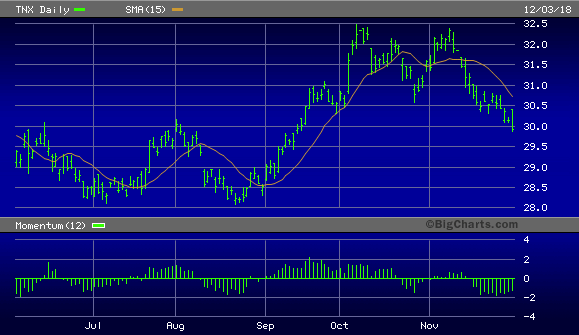 Source: BigCharts
Investors can also maintain longer-term investment positions to the stock market via ETFs and outperforming individual stocks in strong sectors. This includes, in particular, the consumer staples and healthcare sectors, which have shown relative strength versus the S&P 500 Index in recent months. With earnings growth still on a positive trajectory, the probability is strong that the large cap major averages will continue to trend higher in the coming six months.
Disclosure: I am/we are long XLP. I wrote this article myself, and it expresses my own opinions. I am not receiving compensation for it (other than from Seeking Alpha). I have no business relationship with any company whose stock is mentioned in this article.