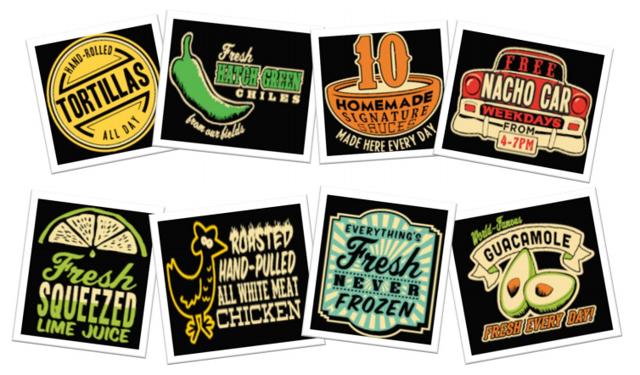 2018 has been a year of reckoning
Chuy's Holdings (CHUY) has been hammered thus far in 2018. Many restaurant chains – including this one – saw their stocks soar off of trough levels late last year, only to have the immense amount of optimism from investors turn quickly to pessimism. Chuy's has been overpriced in my view since it came public several years ago. But after the disappointment of another weak earnings report, shares are at near their lows for the year. Does that mean value investors will be sniffing around? Given the myriad problems this company has with earnings growth, I think the answer is pretty clear. Chuy's is still quite expensive and to me, it is still unequivocally a sell.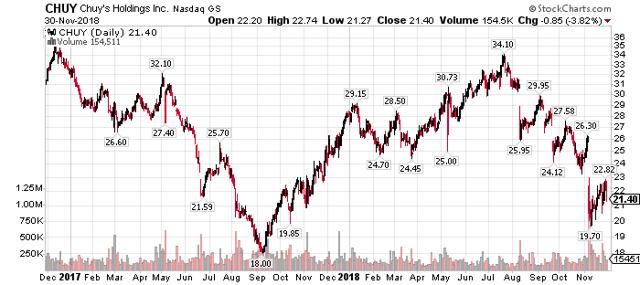 A lot to like, but it isn't enough
To be fair, it isn't like there is nothing to like when it comes to Chuy's. I've visited stores before; the atmosphere is fun and inviting, the food is value-priced, the portions are huge and most importantly, the food is quite good. The concept has grown enormously as well in recent years as the company has focused on opening new units, sometimes at the expense of focusing on the ones it already has.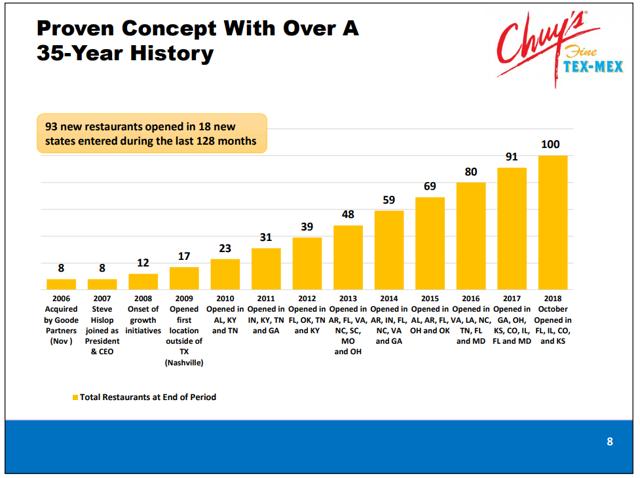 Source: Investor presentation, page 8
Just have a look at this unit growth over the past decade; the company ended 2008 with 12 units and now has 100. That is extraordinary unit growth and while it has helped the company boost the top line, profitability has suffered. This has been a key tenet of my bearishness throughout the time I've covered Chuy's as we should be seeing some form of operating leverage with explosive revenue growth, but we just haven't. I believe Chuy's will continue to open new units at high rates in the coming years as it is nowhere near saturation. That will lead to more and more top line growth but that alone is not a reason to buy the stock.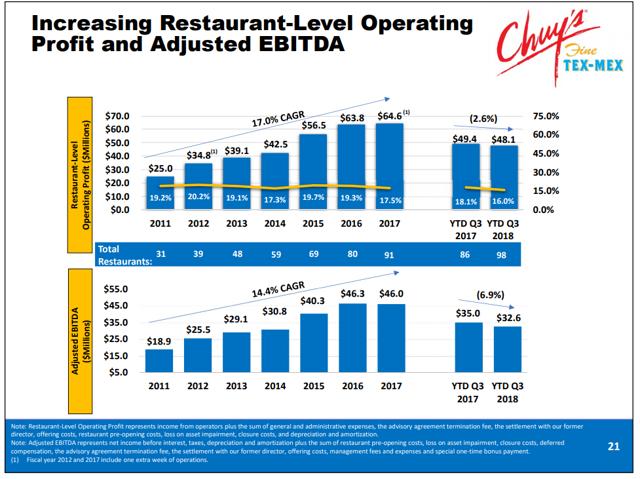 Source: Investor presentation, page 21
Indeed, this chart shows how the company's profitability has suffered in recent years despite its enormous growth. Unit-level operating margins were 19.2% in 2011 before peaking at 20.2% in 2012; those are good numbers in line with peers. However, operating margins fell to 17.5% last year and thus far in 2018, are just 16%. Those are not good numbers as Chuy's has suffered from inflated operating costs. Its cost of sales has actually remained quite steady throughout these years as the company has done a nice job of managing its significant commodity exposure. However, that simply hasn't proven to be enough and the results above speak for themselves.
The problem here is not just that operating margins have fallen, but that it isn't due to some transitory factor like high beef, chicken, or other commodity costs. Those costs can be almost ignored over the long term because at some point, commodity prices generally moderate. However, Chuy's has become victim to rent, wage and other costs that are semi-permanent or permanent and thus, it is very difficult to see improvement over time. In other words, those costs are largely locked in and thus, the outlook for margin improvement is dim in my view.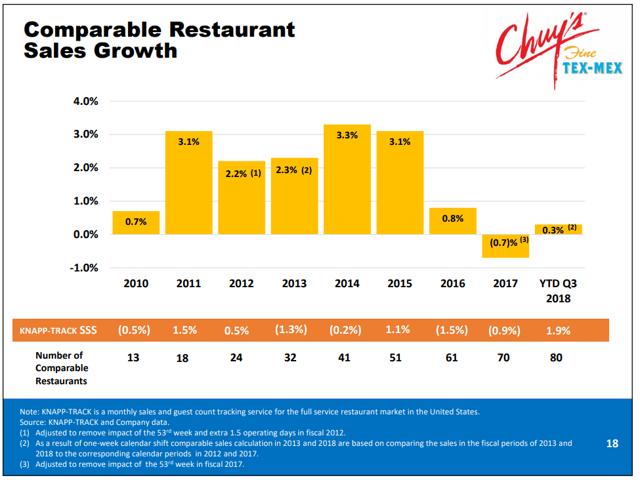 Source: Investor presentation, page 18
Another reason I've been cautious on Chuy's is that comparable sales haven't been befitting of a company with the earnings multiples Chuy's has been assigned in the past. While it has compared favorably to the industry – as seen in the orange line above – Chuy's valuations have been enormous and thus, we should be seeing huge outperformance over its peer group. Last year's full-year number was solidly negative, and this year isn't looking much better despite the industry-wide rebound we've seen in comparable sales this year. Indeed, Chuy's is now lagging its competitors rather significantly.
As the comparable base gets larger, there is an unmistakable trend of lower comparable sales and as the chain grows its unit count even more, I cannot imagine this is going to improve. One issue growing restaurant chains struggle with on a regular basis is this very thing and it certainly appears Chuy's has fallen victim as well. With the company clearly focused on growing the unit count, the comparable base has fallen by the wayside and it is hurting results.
Q3 was certainly not supportive of the bull case
Does this mean all hope is lost? Nope. In fact, as I said in the open, Chuy's has a lot going for it. However, the stock's valuation has been well in excess of even the rosiest projections for the company's profitability, and I believe it remains as such. Q3 showed 10% revenue growth again while comparable sales were up just fractionally. Keep in mind last year's Q3 contained hurricanes Harvey and Irma, which significantly disrupted traffic for chains in the southern part of the US. Chuy's has a heavy concentration in Texas and thus, saw a disproportionate negative impact from the storms. Still, it managed to only post a 50bps improvement in comparable sales off of what should have been a very low base, but wasn't.
Unit-level profits were actually lower in this year's Q3 despite the 10% gain in revenue, falling slightly to $14.2 million from $14.7 million in last year's Q3. Favorable commodity costs were more than offset by a host of other factors, including: labor costs from new stores and higher hourly rates, insurance costs, delivery charges, marketing expenses and rent costs. These are the semi-permanent or permanent costs I was referring to earlier and why I think Chuy's road to margin improvement is a steep, uphill battle. This year has shown what Chuy's future will look like from a profitably perspective, and it isn't pretty.
Management slashed its guidance from a midpoint of $1.11 to a new midpoint of $0.90 following Q3 results. The stock was crushed for it and rightfully so, but it still isn't cheap. Shares now trade for 24 times this year's earnings and that assumes the company will hit its goals for Q4. As we've seen thus far in 2018, that is by no means assured. That sort of multiple its typically reserved for restaurant chains that are growing revenue and profits at high rates; Chuy's has the first part down but is struggling enormously with the second one.
I don't see a quick way out and thus, I still think this stock is expensive. Unless Q4 is a blockbuster, I think Chuy's will continue to trade lower because it has had too long to fix its issues and hasn't. I think a multiple closer to 18 is appropriate at this juncture, implying a share price of $16 or so. That seems a long way down from here, but such is the disappointment of the company's performance; I rate Chuy's a sell.
Disclosure: I/we have no positions in any stocks mentioned, and no plans to initiate any positions within the next 72 hours. I wrote this article myself, and it expresses my own opinions. I am not receiving compensation for it (other than from Seeking Alpha). I have no business relationship with any company whose stock is mentioned in this article.