Summary
The G-20 summit outcome saw investors heaved a sigh of relief. The trade war is being put on pause for at least 90 days.
Although Trump is handing the markets a perfect time frame for a rally, a closer look at the world's leading economies doesn't spark a great sense of optimism.
Things look quite gloomy when it comes to growth, debt, and future economic outlooks. Even the US is showing signs of weakness.
The "MAGA" premise is being put to a real test. A test for Trump reputation personally, a test for the US economic growth and market rally.
Most of all, it's a test for the world, trying to make the whole greater than its parts. Investors, regardless of any political affiliation/agenda, should pray hard this pause is going to work/hold for more than 90 days.
From G-20 to G-7
A month ago, we suggested that it's time For President Trump to do the wise, not necessarily right, thing.
I'm not sure whether President Trump is following me on Seeking Alpha, but he did strike a (temporary) trade deal with Chinese Premier Xi, announcing a truce on the widely-watched trade war, for the next 90 days.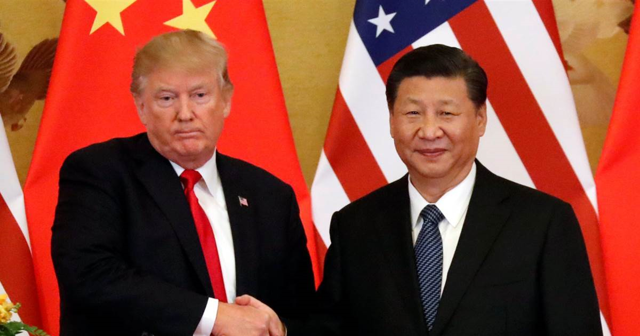 Photo: Jonathan Ernst/Reuters
I guess that the underlying-hidden message Trump is sending for investors is: "Guys, I give you enough time to facilitate an end of 2018 as well as a beginning of 2019 rallies".
Perhaps so. But then after, all bets (but not necessarily tariffs) are off.
Group of Seven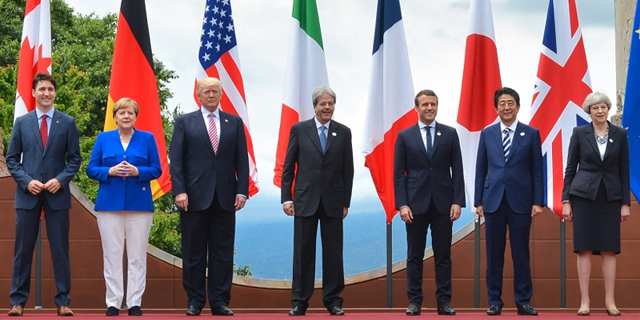 The G-7 is a group of seven leading economies: Canada (EWC), France (EWP), Germany (EWG), Italy (EWI), Japan (EWJ), the United Kingdom (EWU), and the United States (SPY, DIA, QQQ, IWM). These countries are considered to be the seven largest economies (of developed countries) in the world.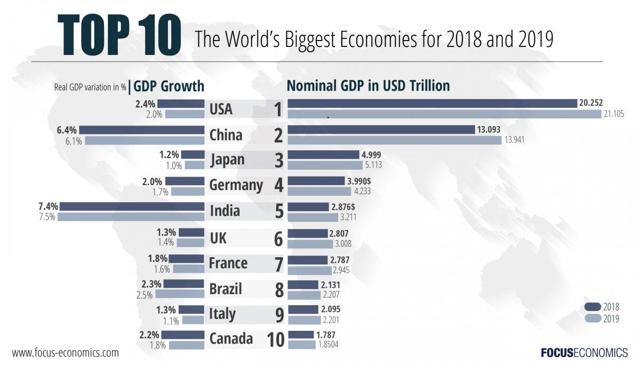 Emerging-markets ("EM") (VWO, IEMG, EEM) like China (MCHI, FXI), India (PIN, INDA), and Brazil (EWZ) - the world's 2nd, 5th, and 8th largest economy, respectively - aren't part of the G-7 club.
These seven countries represent ~58% of the global net wealth and ~47% of the world's GDP.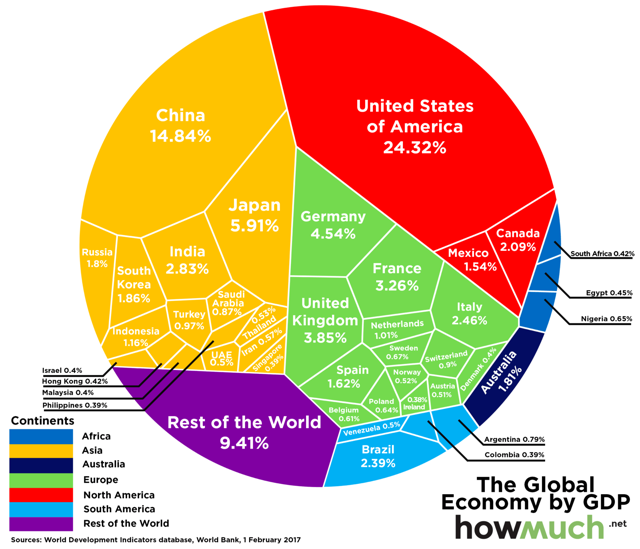 US President Trump promised China's Xi that he will hold off on additional tariff escalation slated for January 1, 2019, while the two sides continue their trade negotiations for a period of 90 days.
This means that things can still easily blow up. Taking into consideration where the world's leading economies are, one can only imagine where would (or will) we be, should the leaders haven't (or won't) decide on a permanent truce.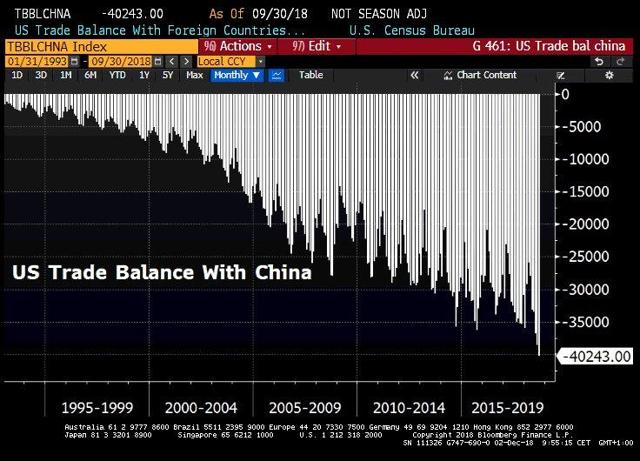 China
Although China isn't part of the G-7 such an article can't get published without us touching it as well.
China's Manufacturing PMI has fallen to 50, the lowest level since July 2016, suggesting further slowdown of the Chinese economy.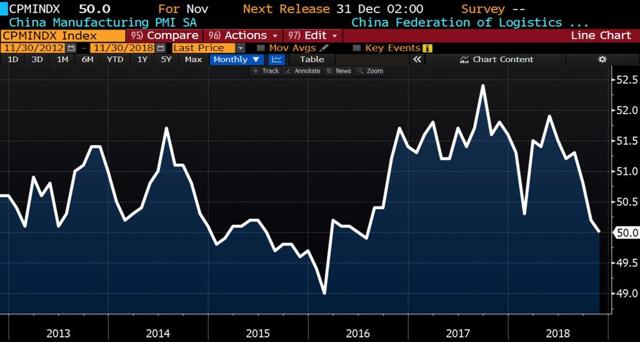 China is also preparing to end its $176B experiment with peer-to-peer lending. Alarmed by a surge in defaults, fraud and investor anger, regulators plan to close smaller P2P platforms.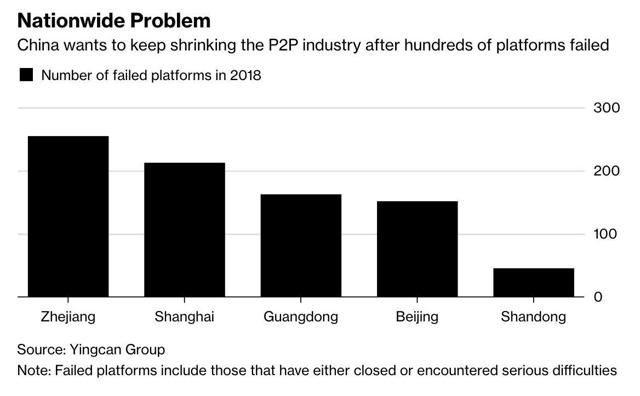 Junk-rated Chinese dollar bonds have sold off much more than their emerging market peers this year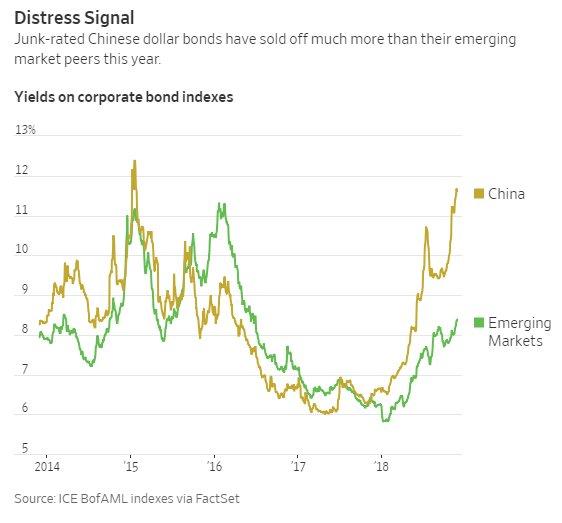 China imported zero U.S. oil in October for the first time since February 2017. Is it only a trade war tactics or is it (ALSO) a sign of a slowing economy?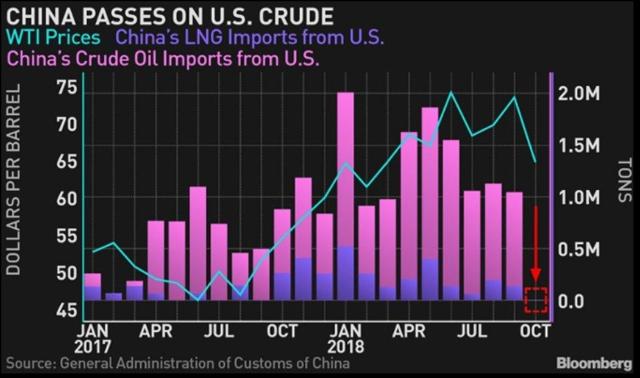 Finally, China's stock market should really stand out in term of diversification. It goes down when others go up, and vice versa.
Canada
First and foremost - here's the country's biggest problem right now: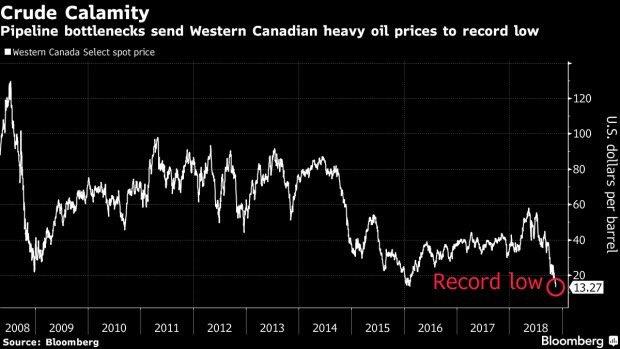 The spread between WCS to US oil prices (OIL, USO) is ridiculous but moreover - dangerous, harmful and devastating for the Canadian economy. The good news is that Alberta Premier Rachel Notley just announced (on Sunday night) that she will force the province's oil producers to curb production by 325,000 barrels per day, equivalent to 8.7% of total output.
Although household credit growth in Canada is slowest in 35 years, outstanding household debt stands at over 125% of GDP and individual debt is already 175% of disposable income.
Relative to cash holdings, non-financial corporate liabilities are the largest in Canada, India, and Mexico.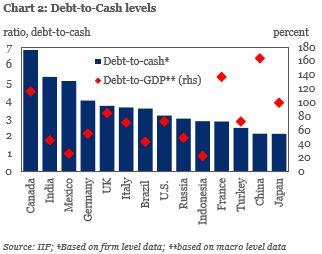 While Canada is still growing more than most of its counterparts, the economy is expected to slow down further in Q4, as per Paul Ferley, Assistant Chief Economist at RBC Capital Markets:
Canadian Q3 GDP growth moderated as expected to 2.0% from the 2.9% gain recorded in Q2 though with the details suggesting a further slowing in Q4.

The details in today's report are indicative of growth likely slowing further in Q4 closer to a 1% rate. This was in part conveyed by a disappointingly weak composition of Q3 GDP output with business investment unexpectedly declining by a sizeable 7.1%, reportedly weighed down by softer oil & gas investment.

The projected further weakening in Q4 will be abetted by the transitory downward impact from the recent postal strike.

The slump in oil prices could weigh on activity as well though with the duration a function of how long the slump persists. These developments imply a clear downside risk to the Bank of Canada's current forecast of Q4 growth bouncing back to 2.3%. Our expectation is that the central bank is still likely to move the current overnight rate of 1.75% to within its estimate of 'neutral' within a range of 2.50% to 3.50%. However, such will be dependent on indications that any slowing in Q4 proves transitory.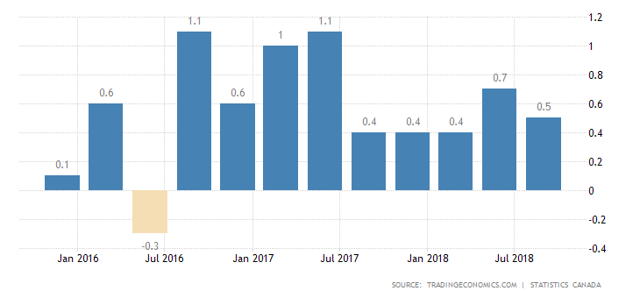 France
French manufacturing PMI signals weakest performance since September 2016, as growth slowdown is exacerbated by demonstration-related disruptions.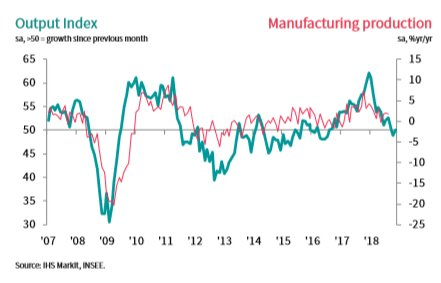 The second estimate of GDP showed that the French economy advanced 0.4% Q/Q during the third quarter, following a 0.2% growth in the second quarter and in line with the preliminary reading.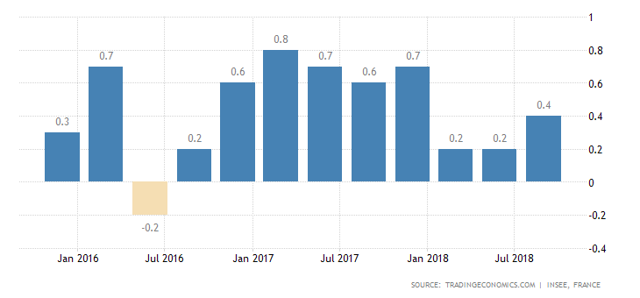 Nonetheless, OECD forecast for French growth in 2019 was revised down, and is expected to keep slowing in 2020: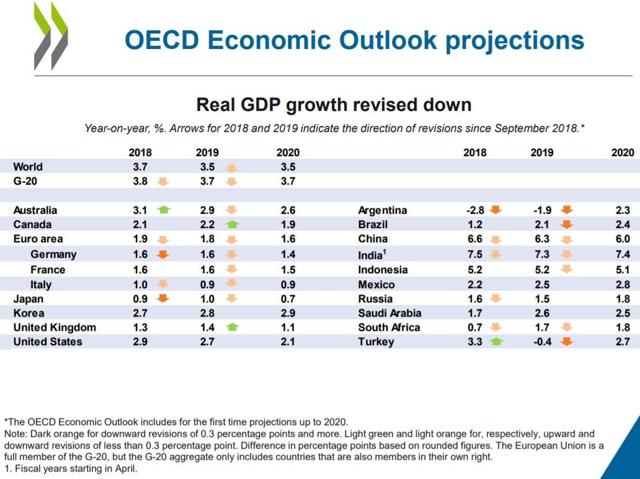 The down revisions include all three European countries that are G-7 members, as well as Japan.
Up revisions were given to Canada and the UK (both in 2019), with the US real GDP growth forecasts remain unchanged.
Germany
German IFO confirms economic softness. Headline of the business climate fell to 102.0 vs. a market consensus for a 102.3 reading.
The most significant part of the survey is expectations, which suggests that the lukewarm economic outlook is here to stay. Expectations fell to 98.7 in November vs. the expected 99.2 and 99.7 in the prior month.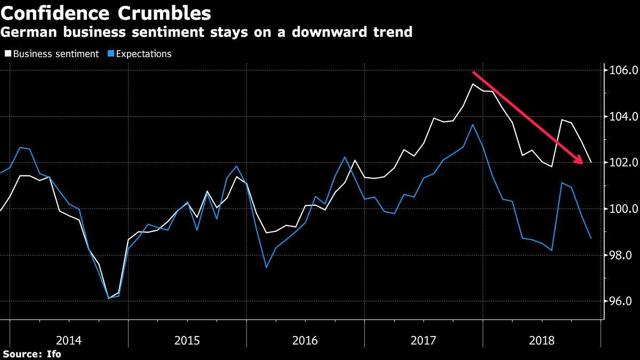 German Consumer Confidence also drops to 10.4 vs. 10.5 expected. This is the lowest level since June 2017, ahead of the run-up to all important Christmas.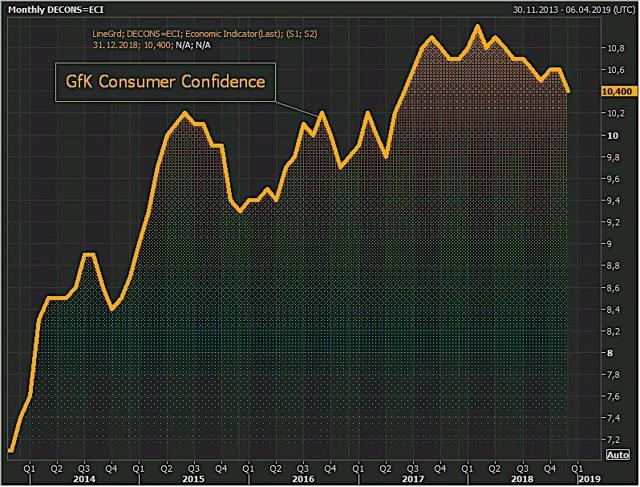 The country's inflation slows from a 10-year high, as the ECB is near its planned QE exit. Consumer prices (headline inflation) retreats to 2.3% in November from 2.5% in October.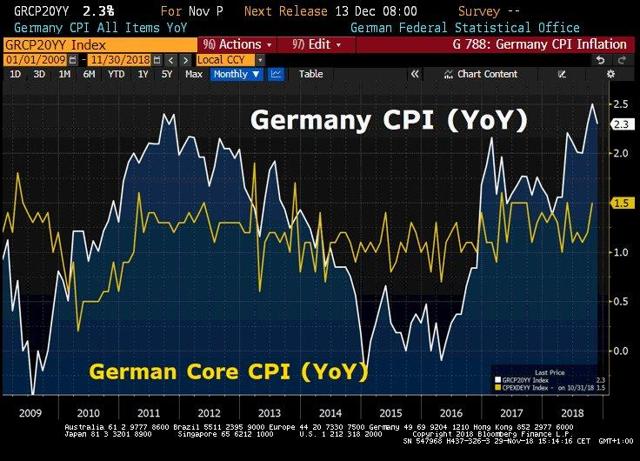 It's not only the German economic growth which is being downgraded. Estimates for corporate profits are also getting cut. Germany's DAX index continued to have the largest earning downgrades in Europe. EPS estimates are -1.9% in November, worsening from -1.1% in October and -0.8% in September.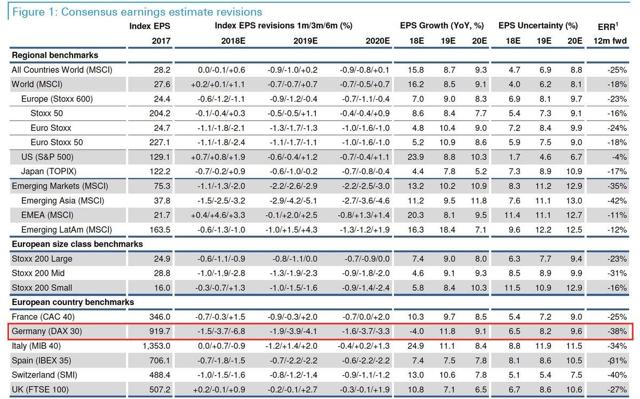 By the way, one of Germany closest allies, Switzerland (EWL) is also showing signs of weakness. Swiss GDP shrank 0.2% in 3Q/2018 vs. estimated growth of 0.4%. This is the first quarterly contraction since 2016.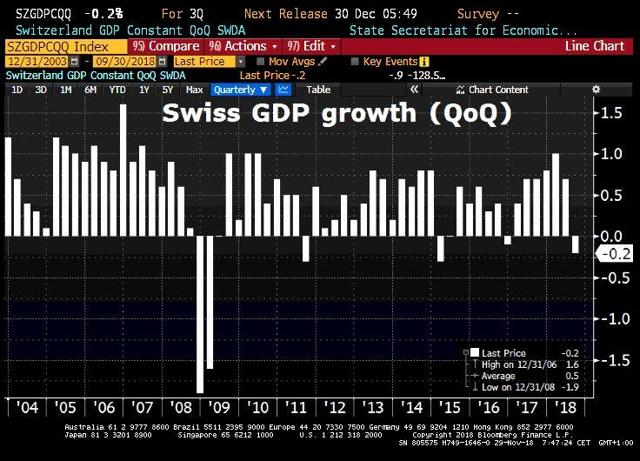 Italy
We covered Italy extensively over the past 24 hours, so there's no reason to repeat ourselves. One thing, however, that is worthwhile touching upon (again) is the economic growth, or more accurately - contraction.
Following a preliminary reading (on October 30th) that projected no change, the Italian economy has contracted 0.1% Q/Q in 3Q/2018, for the first time since Q2/2014.
This revision is likely to complicate the populist government's economic plans.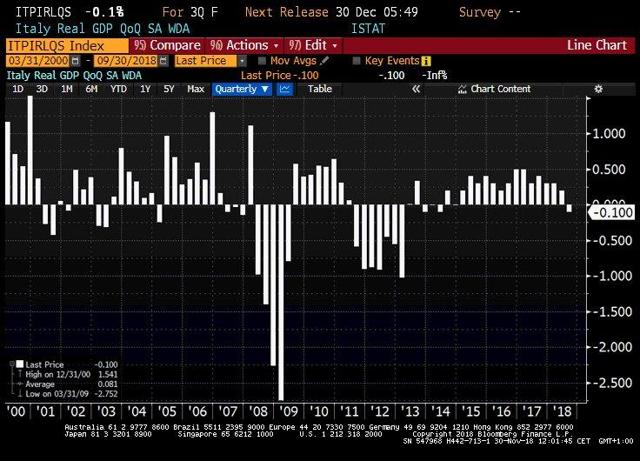 Japan
Debt-to-GDP at 240%. Say no more.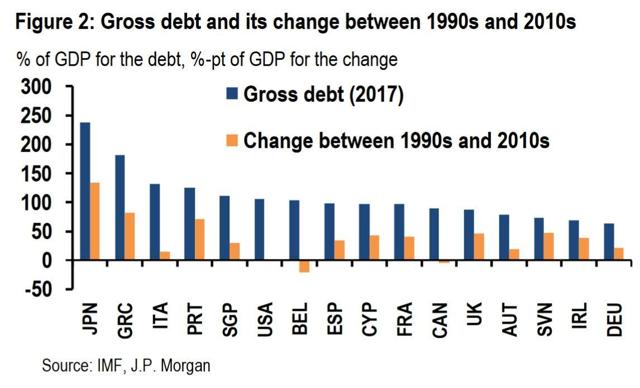 Bank of Japan's balance sheet now larger than country's GDP.
The BoJ has become the first among G-7 nations to own assets collectively worth more than the country's entire economy.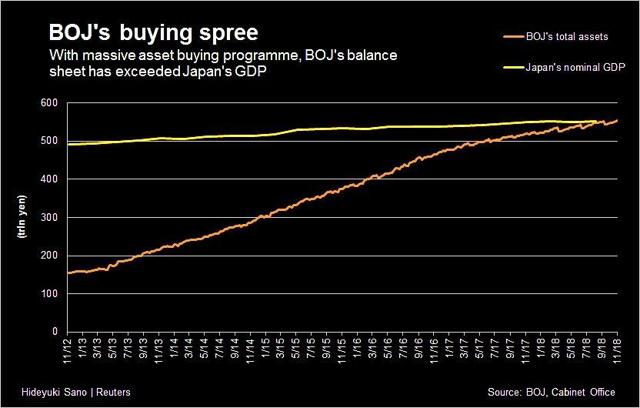 The synchronized slowdown continues, with Japan's Manufacturing PMI falling to 51.8 in November, the lowest reading over the past two years.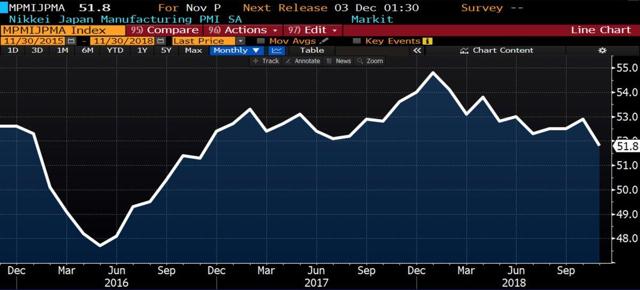 United Kingdom
In one word: Brexit.
Deal or no-deal? That's the question.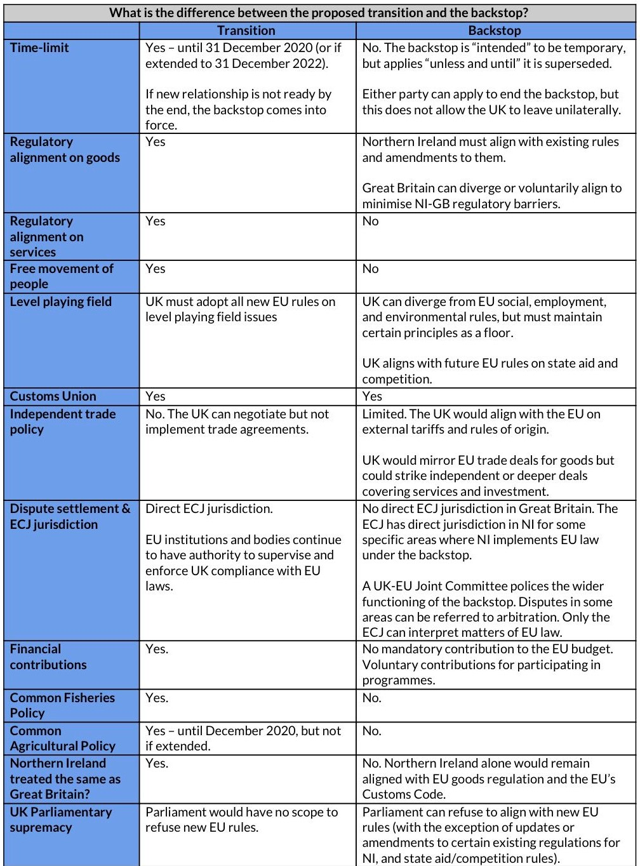 Source: Open Europe
The Bank of England has taken a long, hard look at what will happen if the UK crashes out of the EU with no ordinary Brexit deal in place.
You wouldn't be surprised to hear that it's ain't going be pretty.
Under a disorderly Brexit, the BoE estimates that unemployment rate will almost double to 7.5%, inflation will surge by 6.5% a year, the British pound (FXB) could drop as much as 25% and house prices will collapse up to 30%.
Meanwhile, the IMF expects that without a transitional trade deal the UK could see its GDP shrinking by 6%. That's the equivalent of £141B or about four years of economic growth.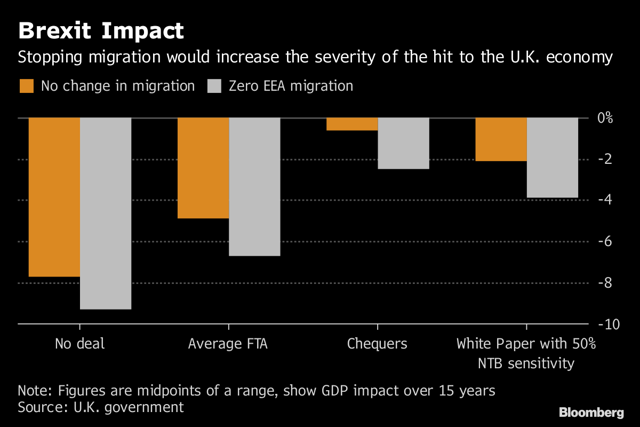 The London housing market is worse than it looks. Although the price of houses nationwide are still on the rise (though this rise is smaller and slowing), some parts of the capital city - especially in the most pricey/trendy ones, e.g. West End - have seen prices falling as much as 20%!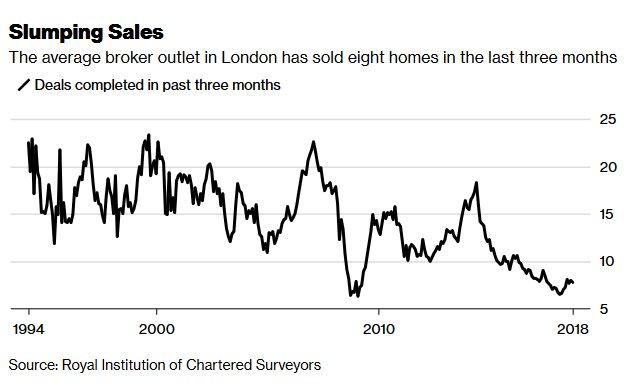 While Morgan Stanley (MS) believes that British stocks might be next year's winners, they certainly haven't looked that way over recent years.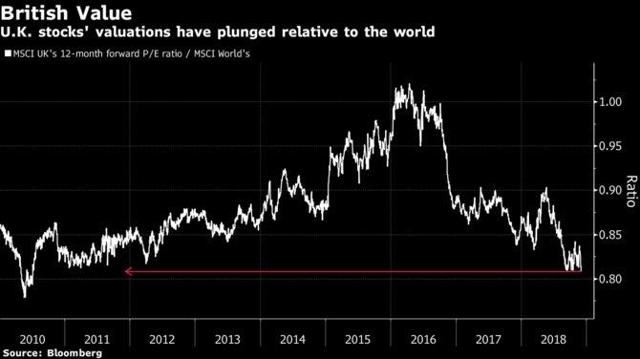 Will this time, i.e. 2019, be different?
United States
Land of the free, home of the brave.
In case you missed it, new home sales data last week were awful. Sales growth decelerated to -12% Y/Y in October from -6.3% Y/Y in September. The absolute level of new homes sold at 544K units, well below consensus at 575K units, reflecting the lowest level since March 2016.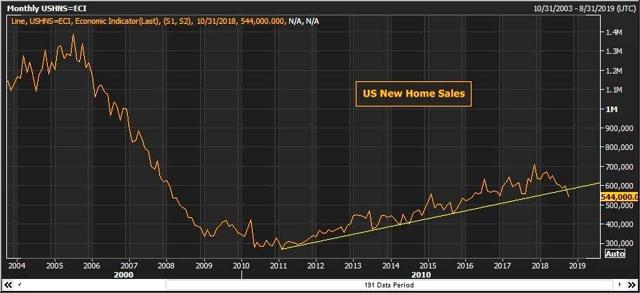 A recession ahead? The flattening yield curve just produced its first inversion. Spread between 3-, 5-year Treasury yields fall below zero.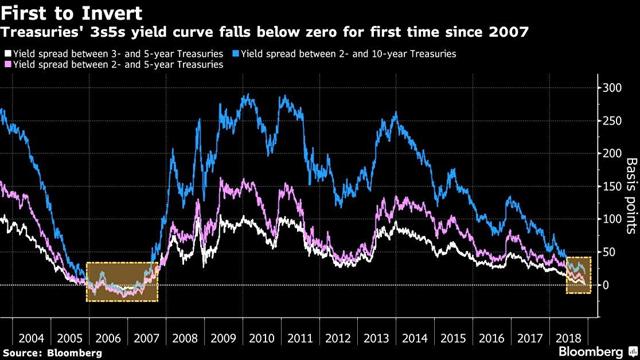 The more closely watched 2s/10s gap is at ~14bps, smallest since 2007.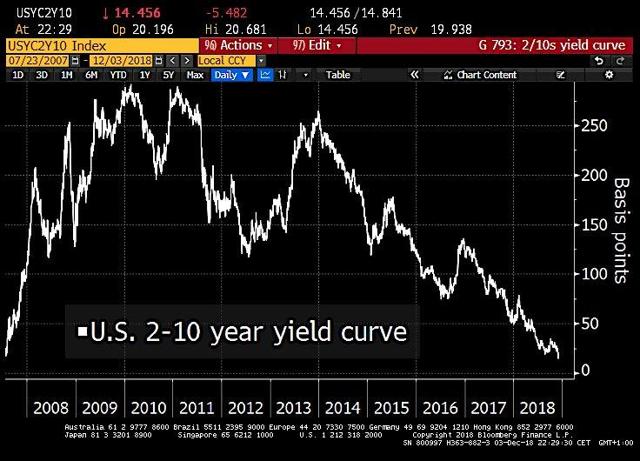 If the Fed moves ahead with its planned 25bp hike on 12/19, as is widely expected, the 2s/10s yield curve could easily outright invert.
Bottom Line
Despite recent events and decisions announced at the G-20 summit, expectations still point to the slowdown of major economies and the global economy in the coming years.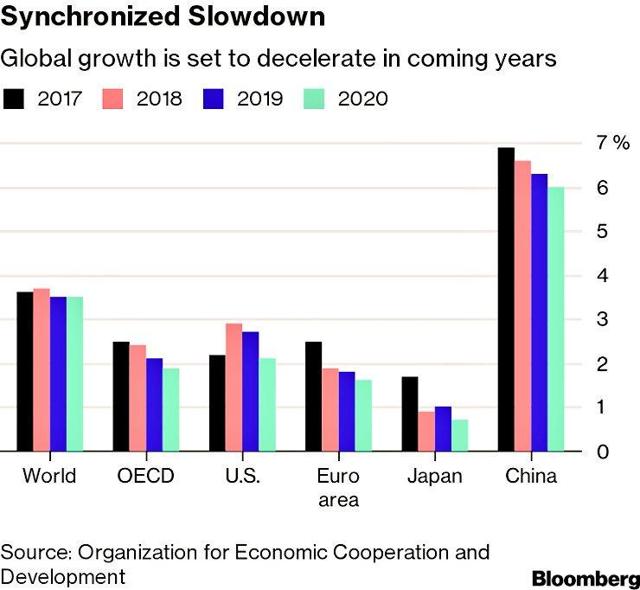 Moody's (MCO) also expects economic growth to decelerate among most G-20 economies in 2019.

This means that President Trump should be very minded of reaching a trade deal with Premier Xi. As tough as he may wish to play this, those are very delicate times and the global economy is looking quite fragile.
Much of Trump's reputation was/is built on the rising markets. Should that part in his campaign stop bearing fruits, the "economy is booming under my lead" premise may weaken significantly.
It seems to me that this is something Trump will do more to prevent that he would insist on preserving the trade war with China.
Call it a hunch, call it a wishful thinking.
It's clear that reaching a fair trade deal with China is not only in the best interest of the US economy/markets, but it's also in the best interest of President Trump himself.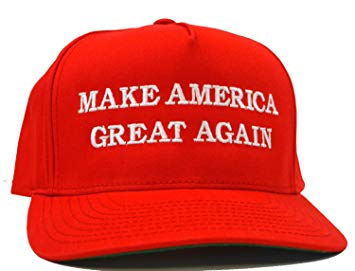 Author's note: Notifications about Blog Posts, such as this new one, are only being sent to those who follow an author in real time. In order to receive notifications for both articles and blog posts, go to Author Email Alerts, which lists all the authors you follow and turn on "Get e-mail alerts" (see below).
The Wheel of FORTUNE is one of SA Marketplace's most comprehensive services. You can now subscribe to it while taking advantage of our year-end bargain/deal, which includes significant discounts, mega prizes, and a two-week free trial.
We view our service as a "supermarket of ideas" with an emphasis on risk management and risk-adjusted returns.
We cover all asset classes: common stocks, preferred shares, public debts, baby bonds, options, currencies, and commodities.
Our monthly review for October, where you can find all suggestions since launch, is only one click away.
Take advantage of a rare, fantastic offer, before fees going up.
Disclosure: I/we have no positions in any stocks mentioned, and no plans to initiate any positions within the next 72 hours. I wrote this article myself, and it expresses my own opinions. I am not receiving compensation for it (other than from Seeking Alpha). I have no business relationship with any company whose stock is mentioned in this article.