AltaGas (OTCPK:ATGFF) is not having a great year. As they assimilated the most outrageously expensive acquisition of the bloatware formerly known as WGL, the stock did not take kindly to the big debt metrics. The generally hostile environment to Canadian energy names did not help either.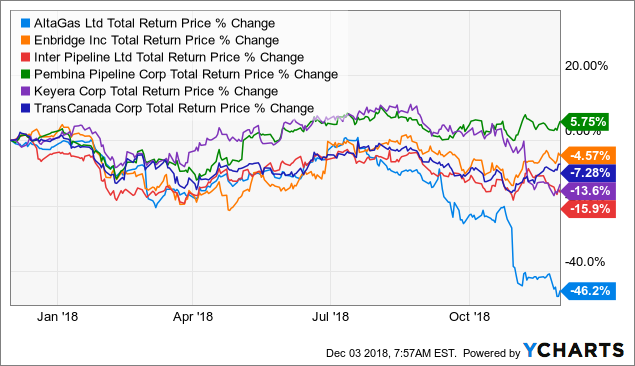 This has left AltaGas in a massive cycle of selling off assets to finance new projects including doing an IPO of AltaGas Canada. We have seen this cycle over and over again, where companies bored by 3-5% growth decide to launch into the unknown with a large purchase, only to find that they have chewed off more than they can swallow. This leads to selling of great assets which are now labelled as "non-core assets". The end result is that they struggle to make it back to square one.
What happens next
We felt that the dividend was not safe for a long time. AltaGas took some time getting that same message and gradually moved to that position as they cleared off the "growth in dividend" message. AltaGas has now announced that they will host a conference on December 13.
CALGARY, Nov. 29, 2018 /CNW/ - AltaGas Ltd. ("AltaGas") (TSX: ALA) announced today the timing of its financial and operational outlook conference call. To align the previously discussed "update call" to review AltaGas' 2019 outlook, capital plan and update on other strategic and operational items with the start date of the recently announced incoming Chief Executive Officer, Randy Crawford, AltaGas intends to host the conference call on Thursday, December 13, 2018.

This call, which will be led by Randy Crawford and Tim Watson, Executive Vice President and Chief Financial Officer, will discuss AltaGas' 2019 financial outlook and capital funding plan, with an update on key initiatives including dividend policy.
At this point there are very few people who believe that AltaGas is holding a conference call to reiterate that they will continue with the same dividend. However, many hope for a continuation of paying a high amount of dividends. In other words, they are hoping for a minimal cut. We explain why that is the wrong way to look at this.
The unbalanced sheet
AltaGas is so levered currently that the slightest missteps will make things fall apart.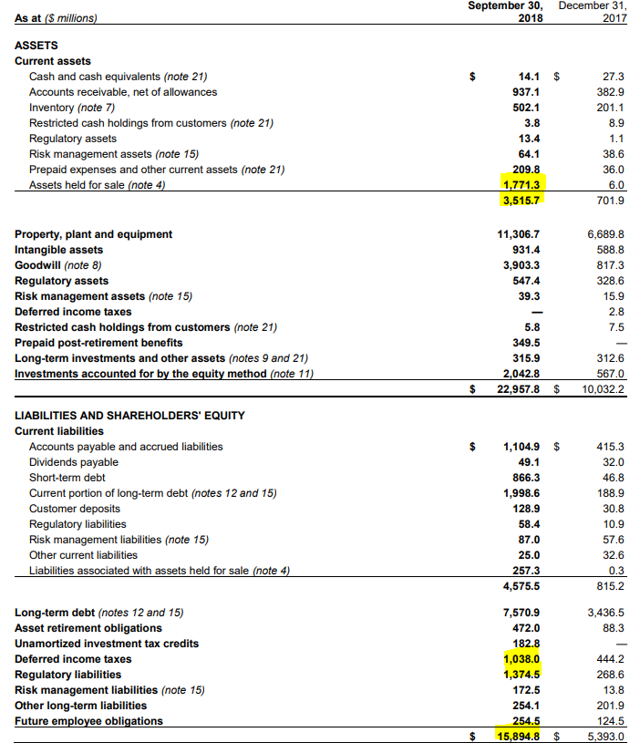 Source: AltaGas 10-Q Q3-2018
You can see above how the acquisition has increased total liabilities by over $10 billion. At a raw level, total liabilities less regulatory liabilities and deferred income taxes stands at $13.48 billion. Subtracting current assets from that, which include assets that were marked for sale at September 30, puts net real debt at almost $10 billion. In case you think we are being harsh, let's just look at what the company thinks its net debt was.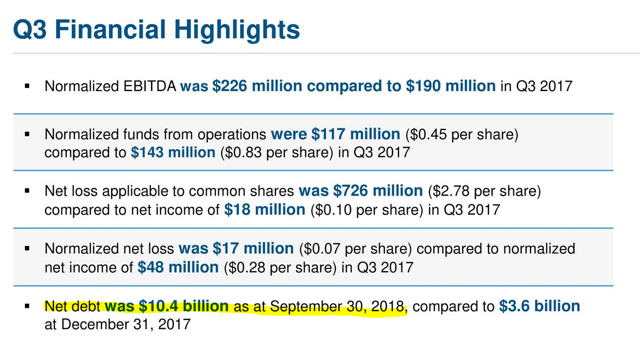 Source: AltaGas presentation
The first full quarter which included WGL produced a normalized EBITDA of $226 million.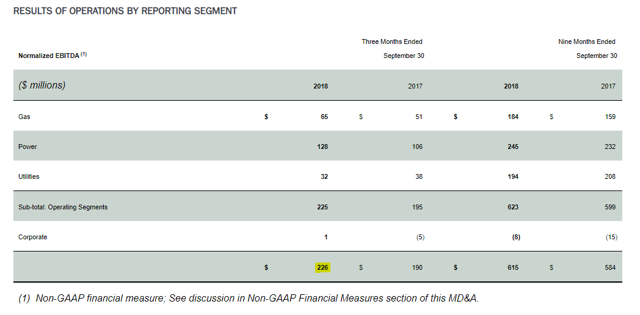 Source: AltaGas 10-Q Q3-2018
That as a stand alone is a debt to EBITDA of over 10X. Yes, there is some cyclicality to this number and it will improve in Q4. Also, AltaGas' new projects will help in 2019. On the flip side, this includes EBITDA from assets marked for sale in Q3-2018.
2019 Capex
For 2018 AltaGas will spend close to $1.4 billion in capex.
AltaGas' 2018 capital expenditure plan is expected to be near the high end of the revised $1.2 billion to $1.4 billion target range. In 2018, approximately 45 to 50 percent of the total capital is expected to be spent in AltaGas' Gas segment, on key projects including RIPET, Townsend 2B, Black Swan and the Central Penn and Mountain Valley Pipelines. Approximately 45 to 50 percent is expected to be spent in the Utilities segment on approved system betterment across AltaGas' utilities, accelerated pipe replacement programs in Virginia, Maryland and Washington D.C, as well as new customer additions. There is also some initial capital being spent to advance the Marquette Connector Pipeline in Michigan. Power will account for the remainder of the capital primarily driven by selected smaller investments in distributed generation projects across the United States.
For 2019 we expect this to hold over $1.4 billion again. While that may seem high, remember that the $1.4 billion in 2018 includes only half year of WGL spending. While analysts have a large range of estimates, pretty much nobody expects AltaGas EBITDA to be much higher than the capex for 2019.
EBITDA is of course prior to interest. Funds from operations (FFO) will optimistically come in the $900 million range if everything goes AltaGas' way. Thus the key issue is that AltaGas will have to keep selling assets to finance capex, before it pays a dime of dividends. This is extremely risky should the capital markets shut at any point.
Size of the cut
Even if we assume that AltaGas will only recover its spending on utilities and none of its cost of capital, it is trading at about 6X adjusted FFO (AFFO). That is a pretty silly valuation for a stock in our opinion. It also makes AltaGas ripe for a hostile acquisition. The last thing long suffering shareholders would want is someone to swoop in and pick this up at $18 CAD.
The best way in our opinion to avoid this, is to rapidly deleverage the balance sheet. Every dollar that can be used should be used. We do understand that investors "expect" a dividend, but at this point we should cheer for a larger cut as it frees up funds for AltaGas.
Conclusion
We expect a 70% reduction in dividends. We hope for a dividend elimination. AltaGas should be worth $25 in 3 years from now if they can deleverage and dodge any missteps. Risks are plenty including a substantial strengthening of the Canadian dollar which would make US EBITDA translate into less Canadian FFO. A recession cannot be ruled out either in that timeframe and we are not sanguine about AltaGas passing on large return on equity increases to replace its aging pipelines. We still own it and think there is potential to make good returns here. We hope AltaGas will eliminate the dividend as it will make our buy thesis even stronger. Bigger the cut, better the buy.
For more analysis such as this, along with real-time alerts on income stocks on both sides of the border along with option income ideas, please consider subscribing to our marketplace service, Wheel of Fortune.
About Wheel of Fortune

The Wheel of FORTUNE is one of SA Marketplace's most comprehensive services. You can now subscribe to it while taking advantage of our year-end bargain, which includes significant discounts, mega prizes, and a two-week free trial.
We view our service as a "supermarket of ideas" with an emphasis on risk management and risk-adjusted returns.
We cover all asset classes: common stocks, preferred shares, public debts, baby bonds, options, currencies, and commodities.
Our monthly review for October, where you can find all suggestions since launch, is only one click away.
Take advantage of a rare, fantastic offer, before fees going up.
Disclaimer: Please note that this is not financial advice. Investors are expected to do their own due diligence and consult with a professional who knows their objectives and constraints.
Seeking Alpha has changed its policies. Previously "following" someone required a ritualistic commitment and an offering of not less than 4 oxen or 3 breeding horses. Now all it takes is one click! If you enjoyed this article, please scroll up and click on the "Follow" button next to my name to not miss my future articles. If you did not like this article, please read it again, change your mind and then click on the "Follow" button next to my name to not miss my future articles.
Disclosure: I am/we are long ATGFF. I wrote this article myself, and it expresses my own opinions. I am not receiving compensation for it (other than from Seeking Alpha). I have no business relationship with any company whose stock is mentioned in this article.
Editor's Note: This article discusses one or more securities that do not trade on a major U.S. exchange. Please be aware of the risks associated with these stocks.