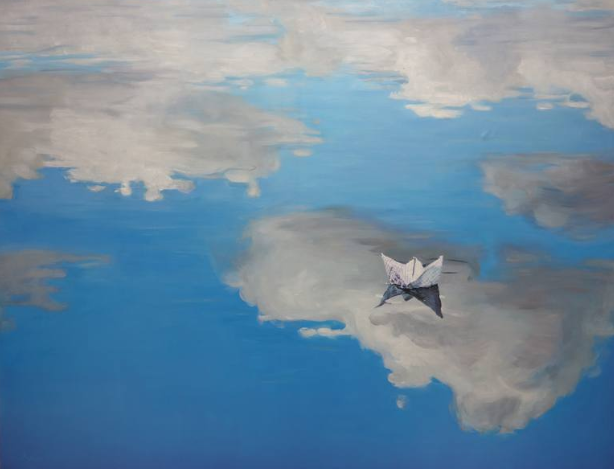 The Truce, Anatolii Varvarov (Saatchi Art)
Introduction
Welcome to my Gold Weekly.
In this report, I wish to discuss mainly my views about the gold market through the World Gold Shares SPDR Gold Minishares Trust ETF (NYSEARCA:GLDM). GLDM is directly impacted by the vagaries of gold spot prices because the fund physically holds gold bars in a London vault in the custody of HSBC bank.
To do so, I analyse the recent changes in speculative positions on the Comex (based on the CFTC) and ETF holdings (based on Fastmarkets' estimates) in a bid to draw some interpretations about investor and speculator behavior. Then, I discuss my global macro view and the implications for monetary demand for gold. I conclude the report by sharing my trading positioning.
Speculative positions on the Comex
The CFTC statistics are public and free. The CFTC publishes its Commitment of Traders report (OTC:COTR) every Friday, which covers data from the week ending the previous Tuesday. In this COTR, I analyze the speculative positioning, that is, the positions held by the speculative community, called "non-commercials" in the legacy COTR, which tracks data from 1986.
It is important to note that the changes in speculative positioning in the gold futures contracts do not involve physical flows because it is very uncommon for speculators to take delivery of physical on the futures contracts that they trade. Due to the use of leverage by speculators, the changes in speculative positions in gold futures contracts tend to be much greater than the changes in other components of gold demand like ETFs or jewellery.
As a result, the impact on gold spot prices tends to be relatively more important and volatile, which, in turn, affect the value of GLDM because the latter physically holds the metal in vaults in London and, therefore, have a direct exposure to spot gold prices.
Gold ETF positions
The data about gold ETF holdings are from Fastmarkets, an independent metals agency which tracks ETF holdings across the precious metals complex. Fastmarkets tracks on a daily basis a total of 21 gold ETFs, which represent the majority of total gold ETF holdings. The largest gold ETFs tracked by Fastmarkets are the SPDR® Gold Shares (NYSEARCA:GLD), whose holdings represent nearly 40% of total gold ETF holdings, and the iShares Gold Trust (IAU), whose holdings represent roughly 15% of total gold ETF holdings.
Thesis
Gold is off to a positive start to the week on account of a weaker dollar (UUP) following the trade war truce agreed by the US and China at the conclusion of the G-20 meeting last weekend.
The recent dovish turn of the Fed and the renewed weakness in the dollar against most EM currencies produce a favorable environment for gold prices.
With most market participants positioned negatively on the gold market, the likelihood of a strong short-covering by year-end is elevated, in my view.
I am bullish GLDM to play the appreciation in gold prices.
Speculative positioning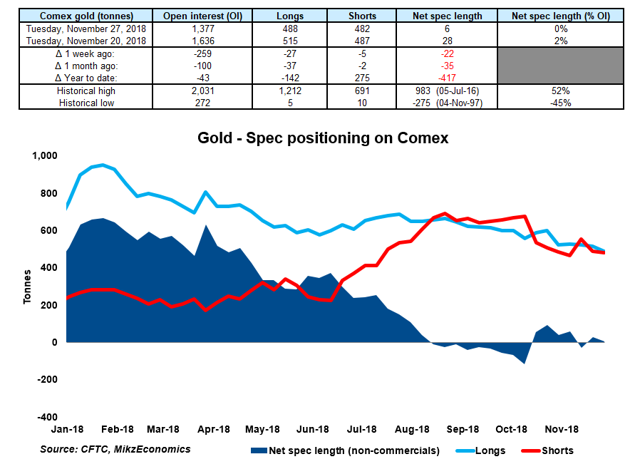 Source: CFTC
According to the latest Commitment of Traders report (COTR) provided by the CFTC, non-commercials slashed their net long position in Comex gold in the week to November 27.
The net spec length decreased 22 tonnes, moving from 28 tonnes (2% of open interest) on November 20 to 6 tonnes (0.4% of open interest) on November 27.
The deterioration in gold's spec positioning was exclusively owing to long liquidation (27 tonnes), marginally offset by short-covering (2 tonnes).
Gross longs cut their exposure for a third week in a row.
Gross shorts covered their positions for a second straight week.
Clearly, speculative sentiment toward Comex gold remains extremely weak. However, the recent rebound in Comex gold prices suggests that the speculative community has turned more constructive on the yellow metal.
From a historical viewpoint, it is clear that the current net spec length is too low and, therefore, warrants a normalization. This means a strong bout of speculative buying in favor of Comex gold is due, pushing Comex gold spot prices higher.
Bottom line: While it is hard to predict with exactitude the forthcoming normalization of gold's spec positioning, I am reasonably confident to hold that the net spec length should grow in the next 6 months, which will exert upward pressure on Comex gold spot prices. In turn, the value of the World Gold Shares SPDR Gold Minishares Trust ETF (GLDM) will increase.
Investment positioning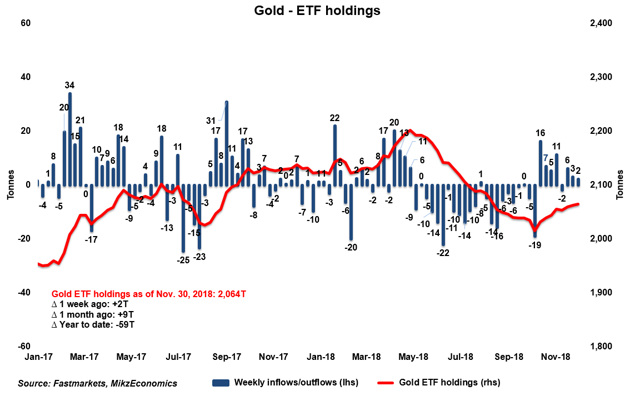 Source: Fastmarkets
ETF investors lifted their gold holdings in the week to November 30, according to Fastmarkets.
Gold ETF holdings rose a small 2 tonnes over November 23-30. This marked a sixth time of inflows over the past 7 weeks. Interestingly, GLD experienced some outflows of around 1 tonne over the period.
Investor appetite for gold has gradually slowed over the past few weeks.
Contradictory macro forces are at play. On one hand, global risk-taking appetite has recovered, prompting investors to reduce their demand for haven assets like gold. On the other, the dollar has come under renewed downward weakness, boosting investor demand for the yellow metal.
Bottom line: ETF inflows into gold should remain steady in the medium term because the positive impact from the weaker dollar should more than offset the negative impact from the temporary rebound in risk sentiment.
Trading positioning
To play a rally in gold prices, I propose the World Gold Shares SPDR Gold Minishares Trust ETF (GLDM).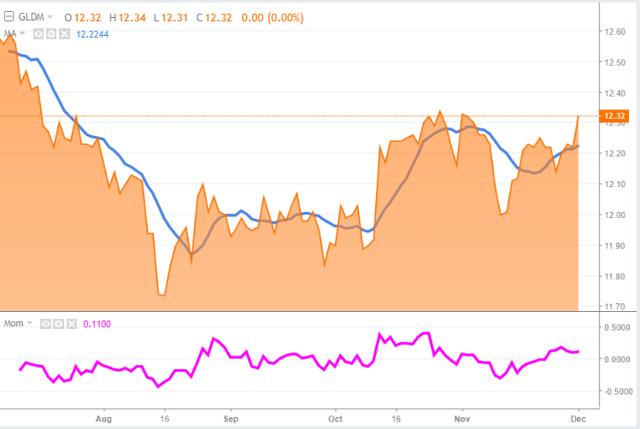 Source: Seeking Alpha
GLDM's technical indicators are bullish, thereby pointing to further strength in near term. The momentum indicator is in positive territory, and GLDM is above its stable 20 daily moving average. This suggests a positive swing in sentiment.
If GLDM manages to make a higher high and reach $12.34 per share, GLDM could enjoy a fast and furious rally into the year-end.
Bottom line: The risk-reward is betting for holding a long position in the long term. Ergo, I am bullish GLDM.
GLDM – GraniteShares - Review
GLDM is directly impacted by the vagaries of gold spot prices because the fund physically holds gold bars in a London vault and custodied by HSBC Bank. The investment objective of the fund is to replicate the performance of the price of gold, less trust expenses (0.18%), according to GLDM's factsheet.
The physically-backed methodology prevents investors from getting hurt by the contango structure of the gold market, contrary to ETFs using futures contracts.
GLDM is:
Easily Accessible: listed on the NYSE Arca
Secure: The shares represent fractional, undivided interests in the Trust, the sole assets of which are physical gold bullion and, from time to time, cash.
Cost Effective: The ETF allows investors to buy gold at a much lower cost than if they had to purchase, store and insure their physical gold by themselves.
GLDM offers the lowest expense ratio of just 0.18 among its peers. GLD, IAU, and BAR have an expense ratio of 0.50%, 0.25%, and 0,20%, respectively.
GLDM's average spread (over the past 60 trading days) is 0.08%, which is a touch lower than that of its competitor IAU, at 0.09%.
GLDM's average daily volume (over the past 45 trading days) is ~$4.5 million, which is much lower than that of IAU, at ~$126 million.
As of November 29, 2018, GLDM's assets under management (AUM) totalled $309 million, with 25 million shares. GLDM's gold holdings were at 7.2 tonnes. In contrast, IAU's assets under management amounted to $10.7 billion, with 911 million shares. IAU's gold holdings were at around 271 tonnes.
For the sake of transparency, I will update my trading activity on my Twitter account.
Final note
Dear friends, if you enjoy reading my research, thank you for showing your support by clicking the "Follow" orange button beside my name on the top of the page and sharing/liking this article. I look forward to reading your comments below.