I've been watching Lionsgate (LGF.A( (NYSE:LGF.B) for a while now, but the valuation has always looked expensive especially compared to its peers. Recently, as the stock price has continued to decline, its valuation finally started looking reasonable based on an EV to Revenues ratio, and I decided to buy a small position.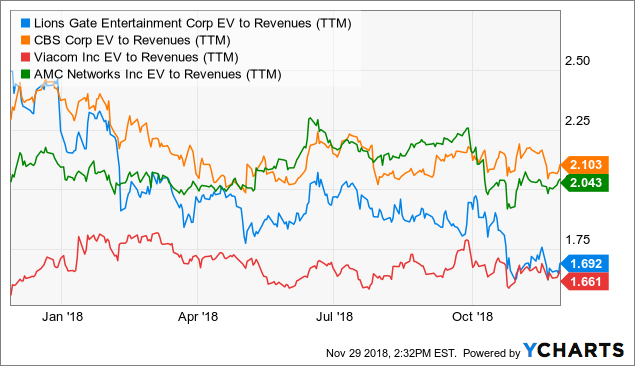 But, upon further review, I've become concerned with its high debt levels and significant legal liabilities resulting from its merger with Starz. The company has traded at a premium due to takeover speculation. But with the company's motion picture segment struggling and large outstanding debt, it's hard to see a deal happening soon at a big premium. I wouldn't rule out the possibility though.
Starz is growing subscribers and increasingly expanding internationally using its differentiated original content. It has had success with originals like Outlander, Power, and American Gods, but Lionsgate's volatile film business and lack of distribution has meant its profit margins lagged behind many of its competitors.
Starz has been helping to change this, but it still doesn't provide the majority of revenue. Due to these concerns, I've decided to sell my position in the stock. If the stock declines another 25% from current levels, I may re-establish a position.
Deteriorating Studio Results
It's always going to be an uphill battle to compete with the major studios, and Lionsgate has only been around since 1997, so the film business will continue to be volatile.
While it has been a record year at the box office, Lionsgate's movie slate has been weak with no movies grossing more than 55 million in 2018 and its expensive remake of Robin Hood currently bombing at the box office.
Lionsgate sold off most of the risk before the film went to theaters, but its movies need to succeed to capture any upside. The next quarter doesn't look promising as Robin Hood struggles and no exciting new releases coming soon.
The motion picture segment is still over a third of revenue, and the next quarter will have a tough comparison due to the global success of the movie Wonder in the third quarter of fiscal 2018.
The company has had mixed results establishing reliable franchises. The Hunger Games was a huge success, but Lionsgate has struggled to replace it. The Divergent franchise started off strong but the third movie struggled, and the company didn't finish off the story with a final fourth movie.
The John Wick movies have done pretty well, and the third installment is set to be released in 2019. A new Hellboy movie and several potential hits like Chaos Walking and Starsky are also coming in 2019, so it should be a much better year.
Balance Sheet Concerns
While I don't think Lionsgate is at risk of getting into serious financial trouble, the company will struggle due to its significant debt load. There's a reason it stopped paying a dividend and hasn't done any buybacks recently.
Its market cap is a little over 4 billion and it's nearly 2.5 billion in debt creating an enterprise value under 6.5 billion. While its EV to Revenue ratio is only around 1.5, its profit margins are razor-thin, so it will have a tough time paying down its debt without a rise in margins. If it had comparable margins to its peers, this wouldn't be a problem.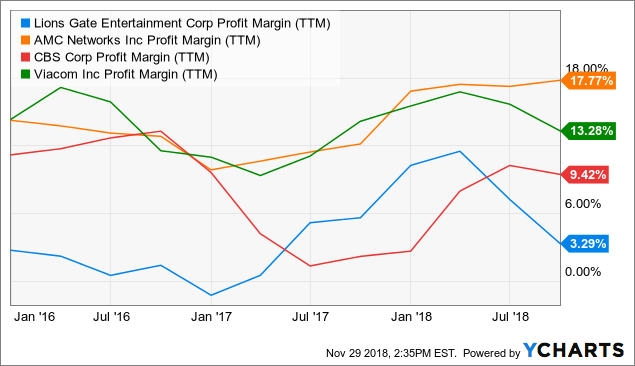 Starz's rising profitability is not enough though. The company will need blockbuster hits to help margins recover enough. With its most promising movies not coming until the spring/summer of 2019, it's going to take a while. TV production, while having solid growth potential, will likely never be a high-margin segment.
Disconcertingly, the company has been subject to appraisal litigation from its acquisition of Starz in 2016. On November 8th, 2018, the company entered into a settlement agreement dismissing the litigation in exchange for a payment of approximately $961 million. The settlement was lower but it has been accruing interest, as it is still subject to final court approval.
The "Dissenting shareholders liability" dwarfs the $372.2 million in cash the company has on hand. This has caused its current ratio to decline to an alarming .7. Here is the formula for the current ratio.
Current Ratio = Current Assets - Current Liabilities.
A current ratio less than one indicates the company's debts that need to be repaid in less than one year are greater than its assets. Debt is set to increase significantly, as the company plans to settle these claims using excess cash and its undrawn revolver. With its current ratio where it is, the company doesn't have much cash to spare.
The dissenting shareholder liability of $961 million is a huge expense. That liability alone is nearly 15% of its total enterprise value. Its valuation is not nearly as attractive as I initially thought.
This and the fact it has over 2.4 billion in debt and little profitability makes me concerned. The interest rates on most of the debt is tied to the LIBOR rate, which has been steadily rising.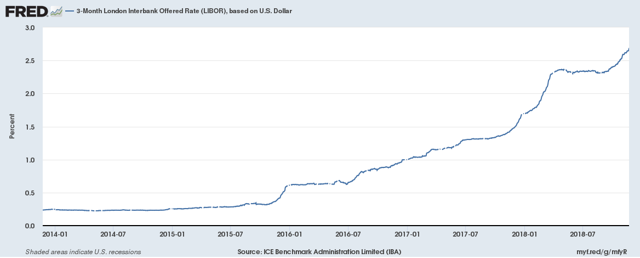 Source: Federal Reserve Economic Data | FRED | St. Louis Fed
While the company looks primed to return to revenue growth in 2019, this is not a certainty. There is a lot of risk for not a lot of upside.
Starz Strength
Starz's continues to be the most attractive segment of the company. Subscribers continue to grow and profits are growing faster than revenue growth. By establishing a more direct relationship with consumers, Starz is positioned to capture more value.
During the year, we made significant progress on all fronts. Internationally, we accelerated Starz's rollout by partnering with Amazon Prime Video to launch platforms in the U.K. and Germany and teaming with Bell Media to bring the Starz brand to Canada, while our Starzplay Arabia venture has become a leading subscription video-on-demand (SVOD) platform in the Middle East and North Africa.

By retaining worldwide rights to nearly all of our content, we're well positioned to continue this rapid international growth as a partner of choice for Amazon and other leading digital platforms as they expand their services around the world.
Importantly, Starz is not dependent on advertising like most of its competitors. TV Advertising will likely continue to be under pressure with the domination of Facebook and Google altering the competitive landscape.
Its TV production is a growth business for Lionsgate, but if the company wants to be relevant long-term it can't rely on making content for Netflix and Amazon. It has to give Starz the best content even if it means generating less revenue in the short-term which management seems to understand.
One of our Television Group's highest priorities is to supply our Starz platform with premium programming. The supernatural thriller The Rook, our first series for Starz since the acquisition, is currently shooting in London in collaboration with our partner Liberty Global. It will air on our Starz platform next year. The John Wick TV spinoff The Continental enters production later this year as part of a growing slate of Lionsgate television properties for Starz.
Takeaway
While I'm excited about Starz, there's just too much risk to justify investing in the company at its current valuation. Other companies in the media space trade at depressed valuations and don't have the same debt/liability concerns and have better distribution with more stable profits. The volatile motion picture segment could rebound in a big way in 2019, but there's no guarantees that will happen. I've researched its upcoming movies, and the concepts seem more promising than Robin Hood but that's just my opinion. For now, I'll keep monitoring the company hoping to get a more attractive opportunity.