Introduction
Things appear to be going well at Axon Enterprises (AAXN) this year; margins were up 750 basis points to 62.6% in the most recent quarter, and earnings per share have increased over 300% from $0.14 in Q1 to $0.47 in Q3. Despite these figures, shares are trading at $45.32, which is down over 40% from its 52 week high of $76.45, and in Axon's case it is the baby that has been thrown out with the bathwater in the face of the broader market's decline. Long term investors should take a closer look at the stock and consider adding shares at today's prices as the growth thesis remains intact.
Today's Axon – Just Getting Started
Most investors associate Axon with its TASER product, which put it on the map as a company and was the company name until it rebranded to Axon in 2017. While the presence of the device is not new, the company just released the TASER 7 with improvements allowing for a more effective deployment of the probes and greater accuracy. In addition to its TASER line, Axon is also known for its body cameras and recently released the BODY 3 – its first connected body camera. The BODY 3 allows real-time streaming back to command along with the ability to upload and preview critical evidence without having to dock the physical device and also has gunshot detection and automatic alerting features.
These improvements in both TASER and BODY devices have allowed Axon to introduce a new pricing model for its customers who desire these features and offers a promotion of five free years of Axon Records, its records management system (RMS), to any agency that purchases the TASER 7 bundled with the Axon Body 3 on the Officer Safety Plan through 2019. At first glance it may not seem wise to give away its most profitable segment for free – but the stickiness and switching cost it will create is priceless.
Another, lesser-known segment of its records segment is the company's "Axon Fleet". First announced in 2015, Axon Fleet began shipping in 2017, and as of Q2 had grown 125% year-over-year. This product is in the early stages of growth – but with agencies likely utilizing Axon's record management system for the BODY and TASER lines the hope is that agencies will want more of their data in the same place for simplicity and efficiency.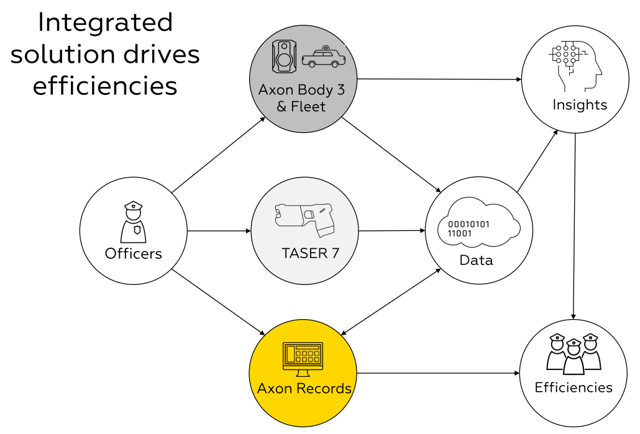 Source
Thesis – Buy Tomorrow's Axon
Axon is committed to research and development of its products as it not only improves the company's position in the market but also allows it to increase revenues and margins through new pricing structures.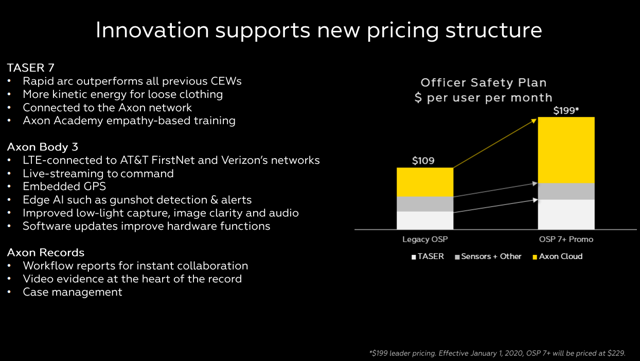 Source
In addition to the new pricing levels, Axon is also changing the way record management systems are purchased by bundling as outlined below. This takes the complexity and confusion out of the process of purchasing record management systems for agencies who are seeking a single and comprehensive solution.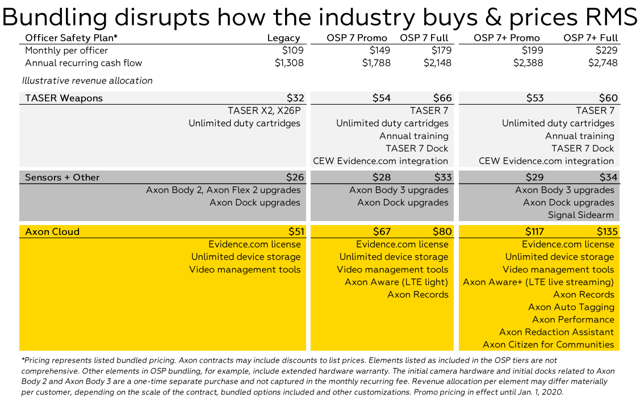 Source
The key driver in determining the success of Axon's future will be the adoption of its cloud services for data management. This segment is the most profitable and most important to ensuring the long-term success of the company as it is projected to be the vast majority of the company's growing total addressable market - both today and in the future.
In the most recent quarter, Axon Cloud sales grew 47% year over year to $23.9 million and had a gross margin of 73.9% up from 77.8% in the prior quarter. Axon predicts the total addressable market for its Axon Cloud segment to be over $5.7 billion – meaning today's market share is reaching less than 1% of the total addressable market.

Source
While revenue growth of 16% in the most recent quarter may not give the impression of a high-growth investment, the need that Axon meets will never go away and the market's need for their products is far from met. These two factors will contribute to many more years of double digit growth, which will quickly compound several years from now making today's price a bargain. Since 2014, revenues have grown by double digit percentages every quarter and those revenues have been reinvested into the company to set it up for future success – with 23.3% of the first three quarters being spent on R&D to provide offerings that are in demand and can be priced competitively.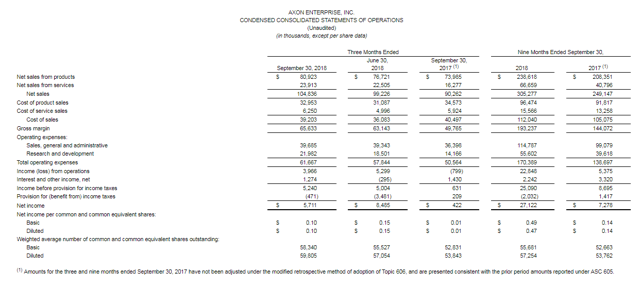 Source
Risks
The most notable risk to this of course is the failure of the company's cloud sector – which seems highly unlikely as I doubt Axon would allow their products to interface with other software or systems that would compromise their ecosystem. An additional risk could be that the company loses out on near term revenues with promotions and the customers drop the service after the promotional period – with Axon having lost years of lucrative revenues on the deal and nothing to show for it.
Conclusion
By traditional valuation metrics there is no way to paint Axon as a cheap stock – even at these prices. PE is near 98 and forward PE is over 55. The need for security products is one that will not go away anytime soon – if ever – and this investment must be viewed through a lens of long-term growth over the coming years. I believe that Axon is capable of continued, strong growth that more than justifies an investment at today's prices despite the high valuation metrics. Axon is a market-leader that continues to improve upon its offerings will continue to lead its market – with much of it untapped. Couple this with the introduction and likely adoption of its cloud services further bolstering income and earnings which provide a moat due to high switching costs due to multiple functions being served by one platform. Axon is a BUY.
Disclosure: I am/we are long AAXN. I wrote this article myself, and it expresses my own opinions. I am not receiving compensation for it (other than from Seeking Alpha). I have no business relationship with any company whose stock is mentioned in this article.