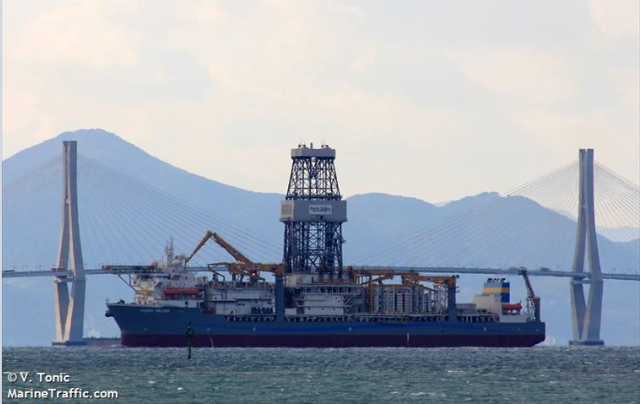 Pacific Meltem
Pacific Drilling (OTCPK:PACDD) (formerly (PACD) and (OTCPK:PACDQ)) and has just emerged from bankruptcy and published its third-quarter earnings report and fleet status report. It turned out that these reports contained major news so, without further ado, let's take a look at them.
First of all, I'd like to note that the company has not yet adopted fresh start accounting. In this light, taking a close look at Q3 balance sheet is not a useful exercise. At the same time, the company provided basic financials for the day it exited bankruptcy: "Upon emergence on November 19, 2018, we had approximately $401 million of cash, including $8.5 million of restricted cash, and excluding escrow funds set aside to settle professional fees incurred upon or prior to our emergence from our Chapter 11 proceedings. Total outstanding principal amount of debt was $1.024 billion".
These numbers are not a surprise to anyone who followed the company during the restructuring process. Pacific Drilling significantly de-leveraged itself in bankruptcy and now has enough runway to try and make itself a profitable business or sell itself to a competitor: "Following our emergence from Chapter 11, our balance sheet is substantially improved, with no debt maturities until late 2023, giving us the financial strength to compete in the global market. We will be disciplined in use of cash and approach to the market as we pursue new contract opportunities".
The important development for investors and traders interested in offshore drilling stocks is that the company has applied for its common shares to be re-listed on the NYSE. I'd expect the company to trade under its former ticker, PACD.
While the company's earnings report was without surprises (I believe that fresh-start accounting report will be more interesting for investors), the fleet status report contained major news. Pacific Drilling started its new life after emergence from bankruptcy with bad news: the previously announced letters of award for drillships Pacific Khamsin and Pacific Meltem have expired.
As a reminder, both rigs were set to work in the U.S. Gulf of Mexico for two years at a dayrate of $160,000 (you can read my article on previous fleet status report here). The work was scheduled to begin in early 2019. The dayrates were far from stellar but we haven't seen any progress on the dayrate side since the time the letters of award were announced.
These contracts would have kept the rigs hot and ready to win contracts in 2021 when the drillship dayrates are widely expected to improve. I think that this is a major negative for Pacific Drilling and a negative factor for the whole industry as now two modern rigs will be competing against others in search of contracts. Here's how Pacific Drilling's fleet status looks like after this development:
Drillship Pacific Bora (2010) is drilling for Eni (E) in Nigeria. The job began on November 30, 2018. The contract has one firm well with two option wells, with each well taking about 60 days of work. The dayrate is $150,000.
Drillship Pacific Sharav (2014) is drilling for Chevron (CVX) in the U.S. Gulf of Mexico until September 2019 at a dayrate of $551,000.
Drillship Pacific Santa Ana (2011) is warm stacked in Las Palmas but has a contract with Petronas in Mauritania to complete a plug and abandonment project that is expected to commence in mid-2019 with an estimated duration of 360 days. The dayrate on this contract is $296,000 and includes an integrated services package.
Drillships Pacific Scirocco (2011), Pacific Mistral (2011), Pacific Khamsin (2013) and Pacific Meltem (2014) are warm stacked in Las Palmas and are searching for work.
Pacific Drilling is off to a challenging start. For practical purposes, I'd wait for the shares to appear at NYSE before making any moves. The news on the expiration of the letter of award for two drillships highlights the challenging state of the industry - investors and traders in other offshore drilling stocks should take notice of this development. Despite the contracting problems, Pacific Drilling remains an interesting player with exclusively modern fleet. Stay tuned.
If you like my work, don't forget to click on the big orange "Follow" button at the top of the screen and hit the "Like" button at the bottom of this article.
Disclosure: I/we have no positions in any stocks mentioned, and no plans to initiate any positions within the next 72 hours.
I wrote this article myself, and it expresses my own opinions. I am not receiving compensation for it (other than from Seeking Alpha). I have no business relationship with any company whose stock is mentioned in this article.
Additional disclosure: I may trade any of the above-mentioned stocks.