Investment thesis
Ferroglobe (GSM): We think that much of a more protracted downturn has already been priced into the share price. We think operational performance isn't likely to deteriorate much more, as a series of temporary setbacks will expire and the company has embarked on a series of measures to cut cost and save cash.
Only a deep slump could alter this picture, but on the other hand, if much of the Q3 slump is transitional there is considerable upside in the shares. We therefore like the risk-reward ratio here.
How about this for a crash: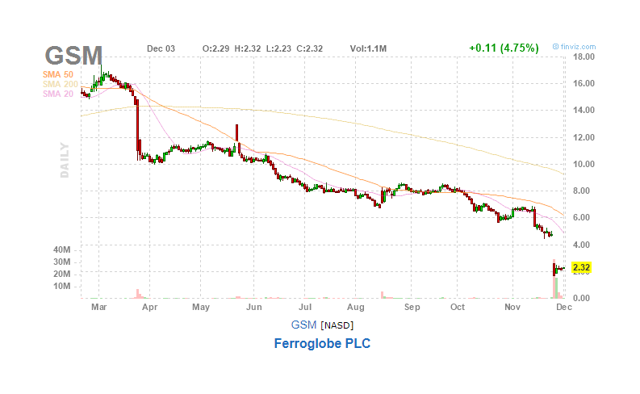 The company is Ferroglobe and we're wondering whether investors should take advantage of the sale here.
Ferroglobe is a commodity provider with some of its own mines. The company has three primary product categories:
Si Metal (35%-40% of the business)
Si Alloys
Mn Alloys
The crash in the share price isn't that surprising considering the following (from the Q3 earnings deck):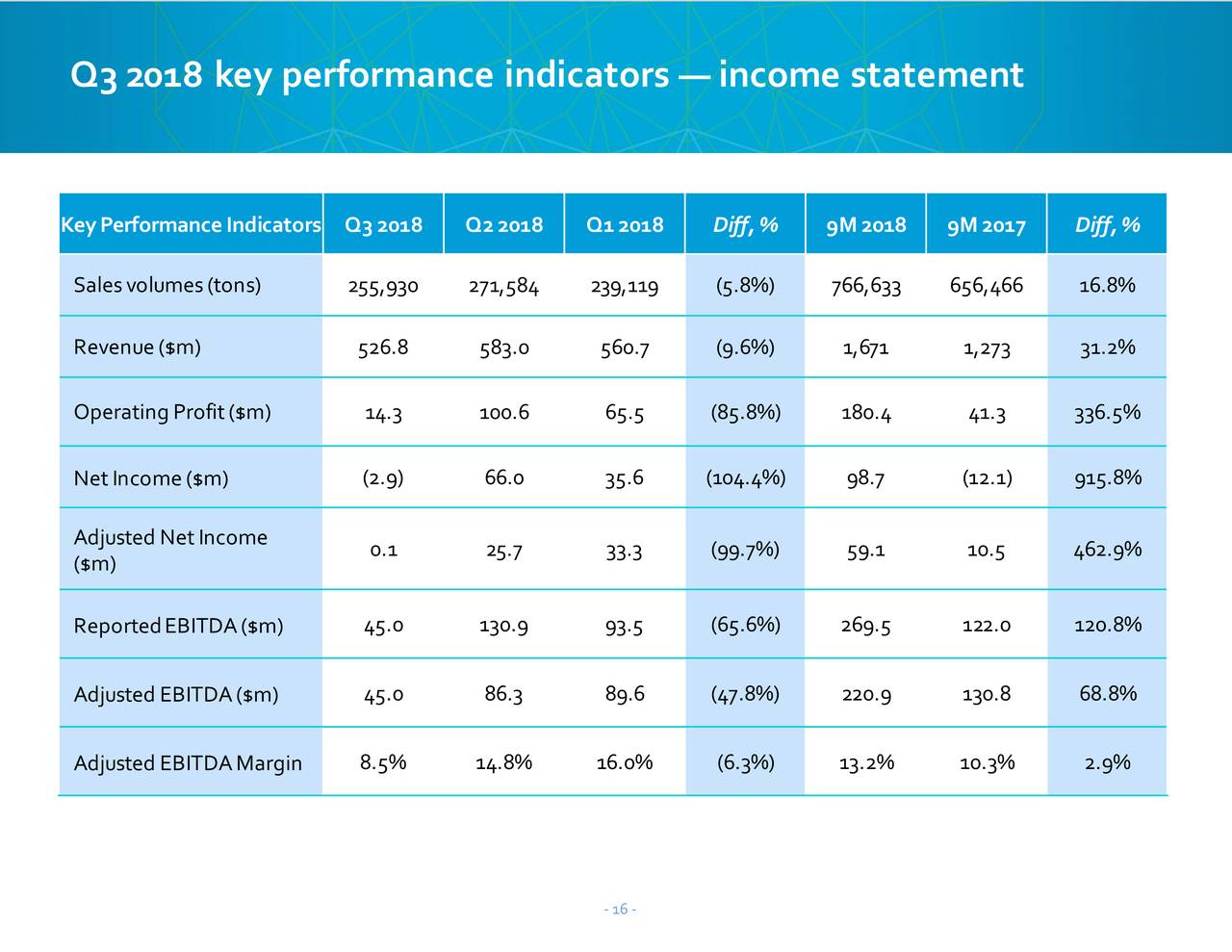 This is what happens when price and volumes move down in tandem, basically. Here you see how the segments evolved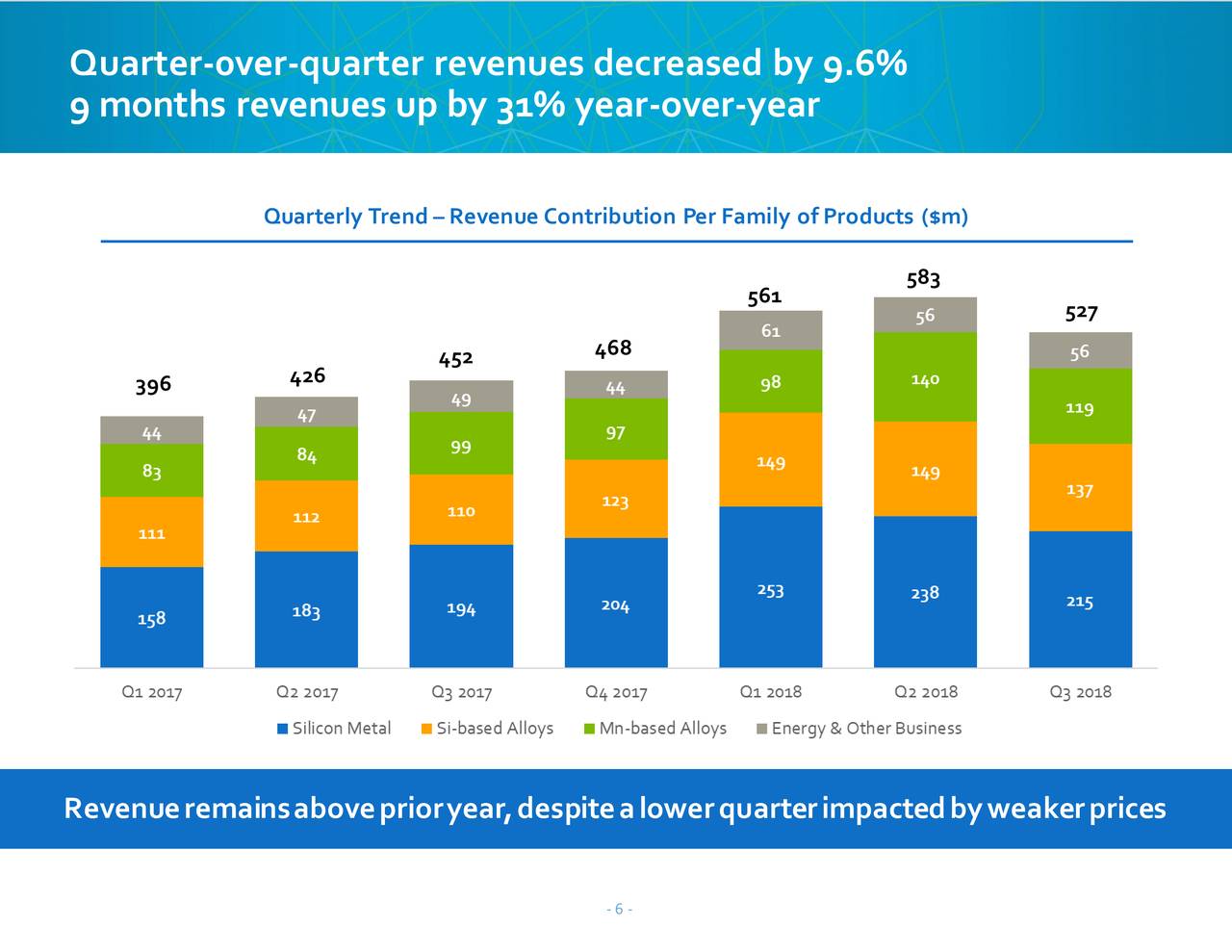 You also see what the problem is, revenue declined sequentially by 9.6% largely due to price declines in all products but also some volume reduction: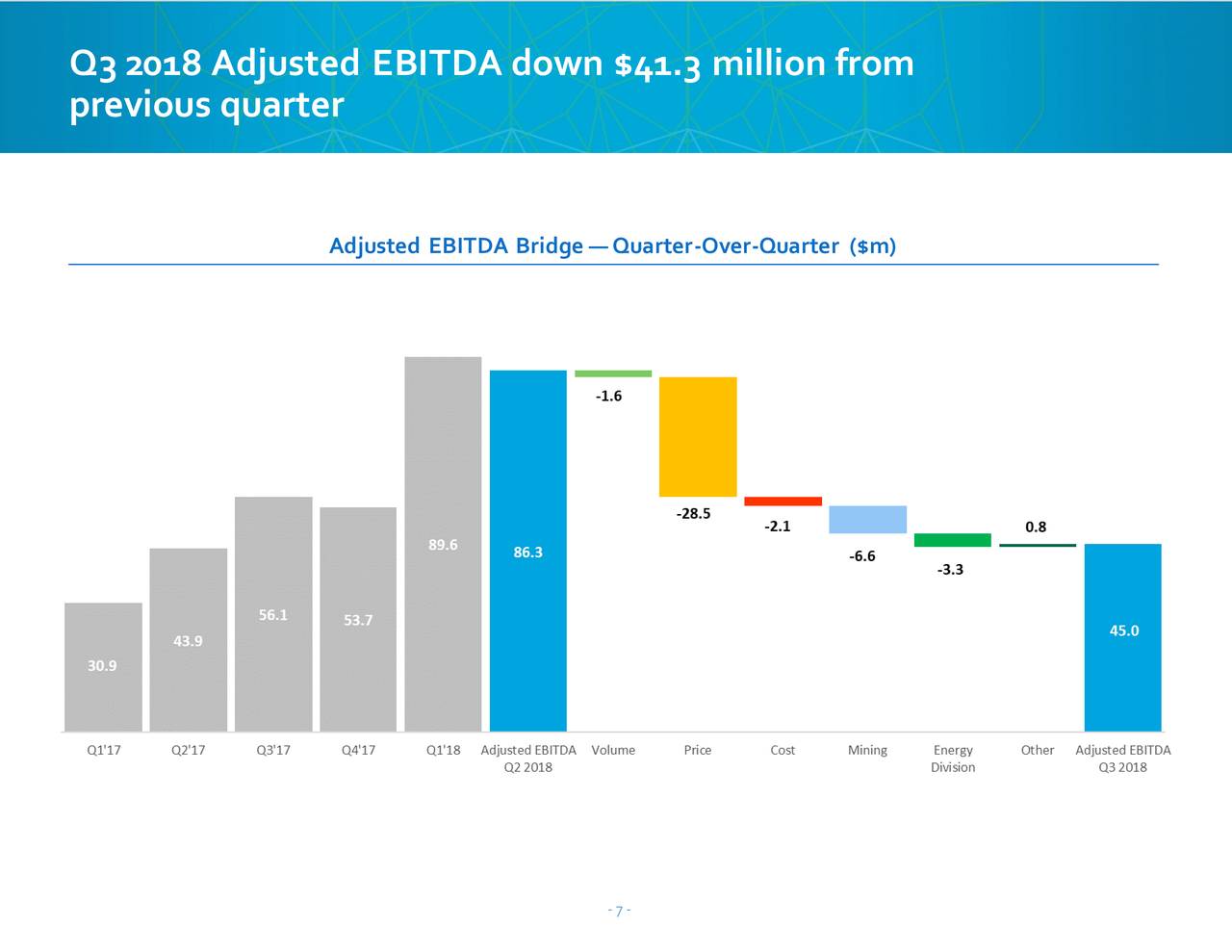 The Silicon metal is mainly influenced by inventory build-ups in anticipation to tariffs. Even the increased availability of aluminium scrap is caused by the 25% Chinese import tariff: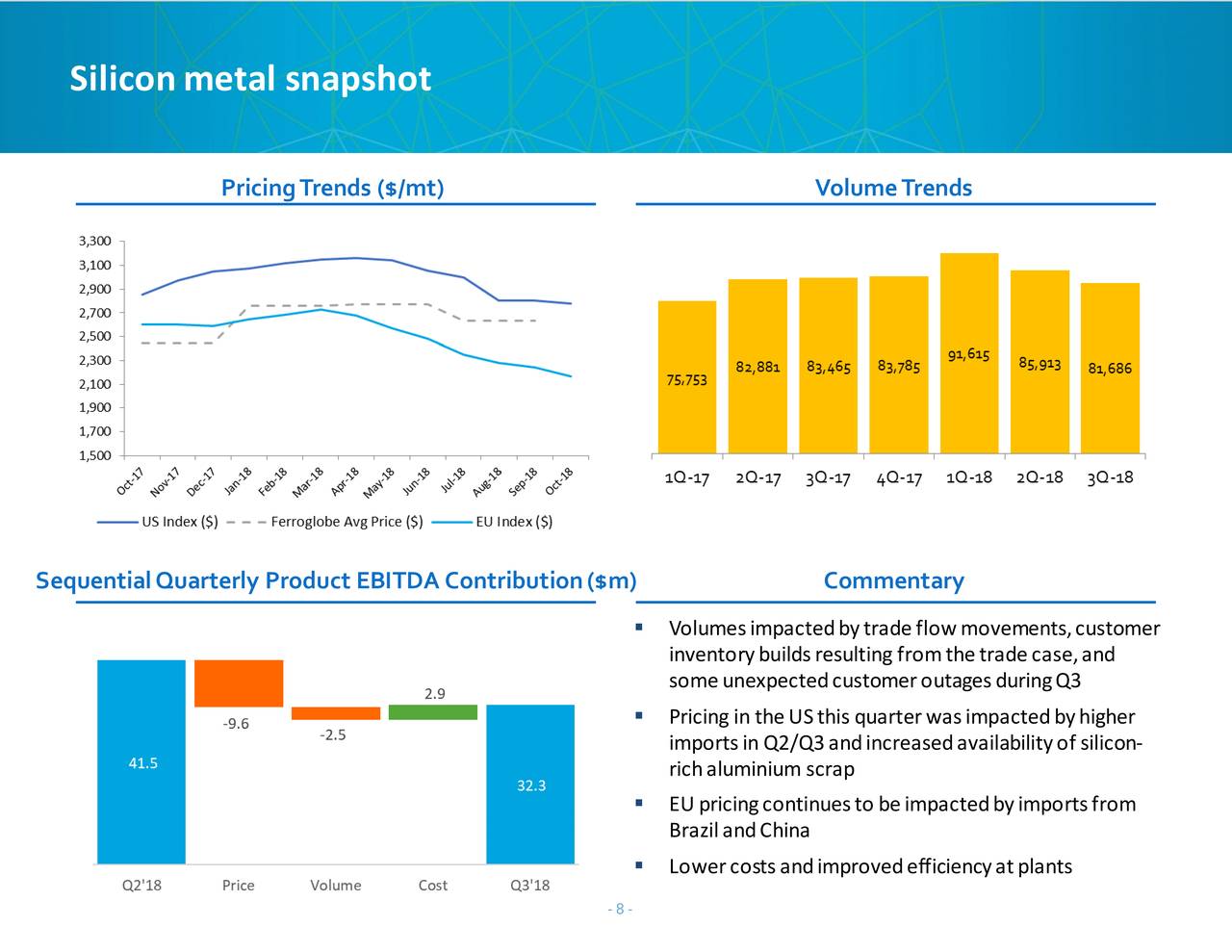 Silicon alloys fared a little better as demand from steel production is still very firm. Foundry products (roughly 1/3rd of their silicon alloys demand) remained firm and these are not commodities: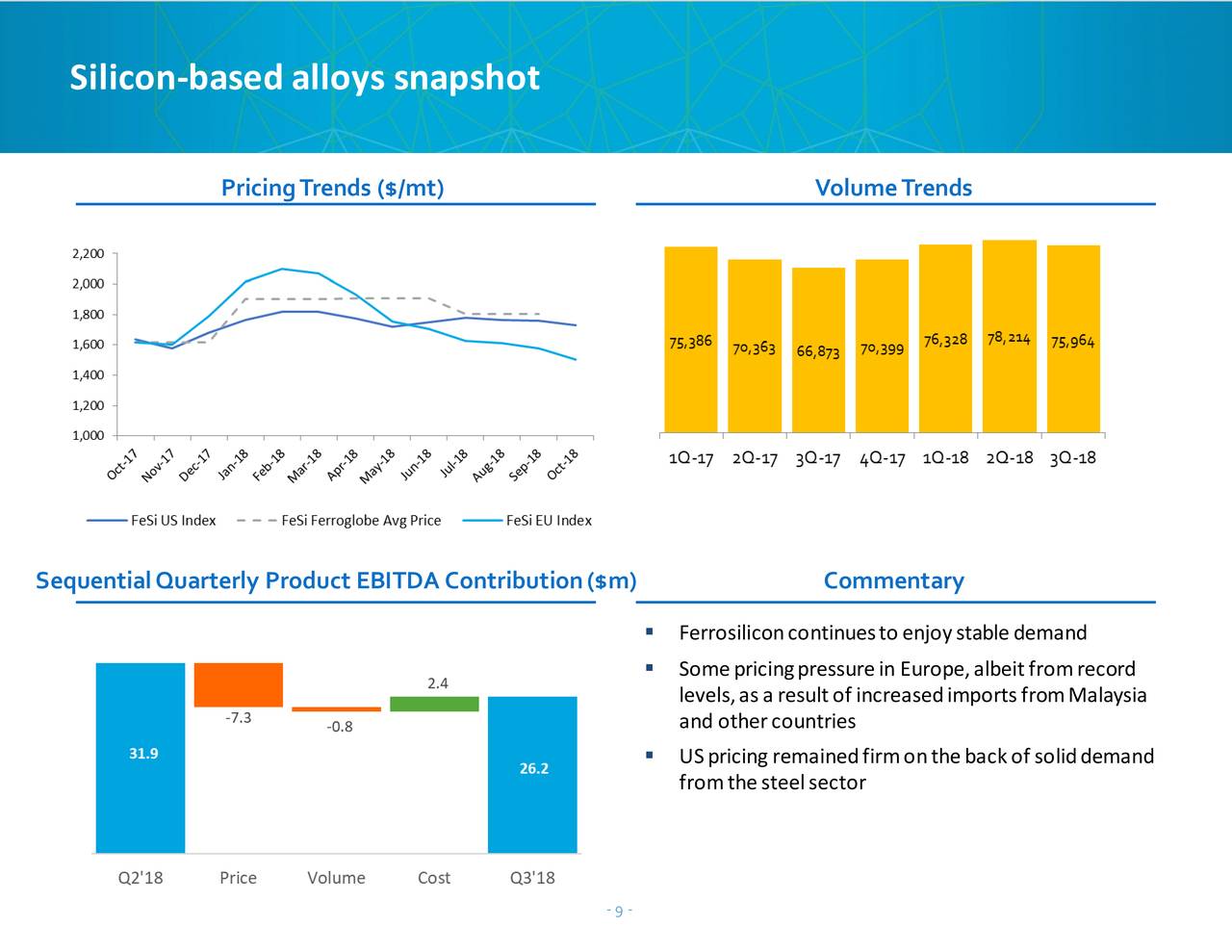 Manganese alloy prices started to decline earlier and the company has some specific problems here: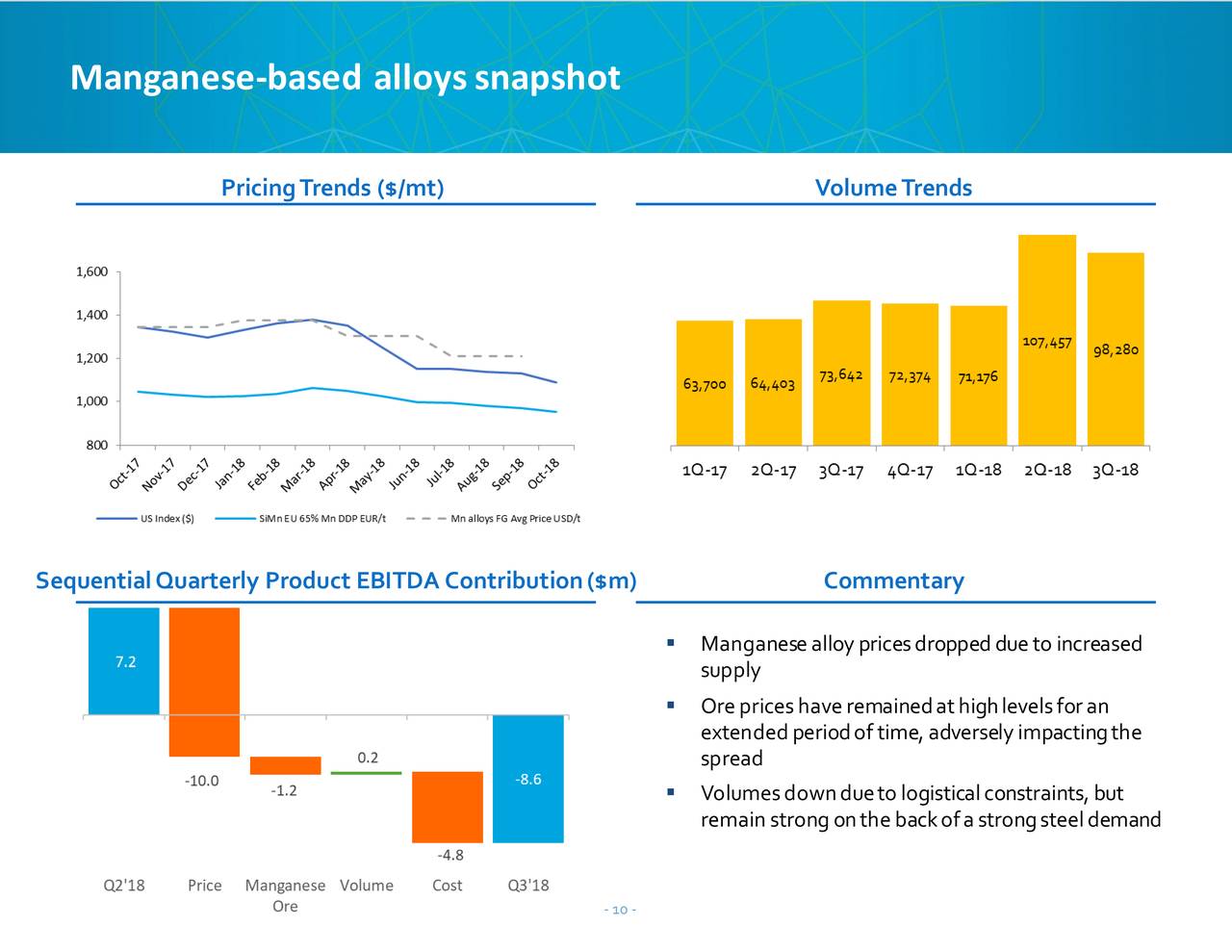 But some of these are temporary:
The logistical problems should be resolved.
There was a substantial inventory write-down of $5.8M.
Management also sees a turn-around in the ore prices which should, with time favorably affect the spread as it is a bit of an anomaly that the prices have not risen with the ore.
Energy prices (coke and power prices in Spain) have also hit the business, but management believes these are also temporary.
End markets
The company has added a level of detail about its end markets on the CC we have rarely seen before, summed up in the following slide: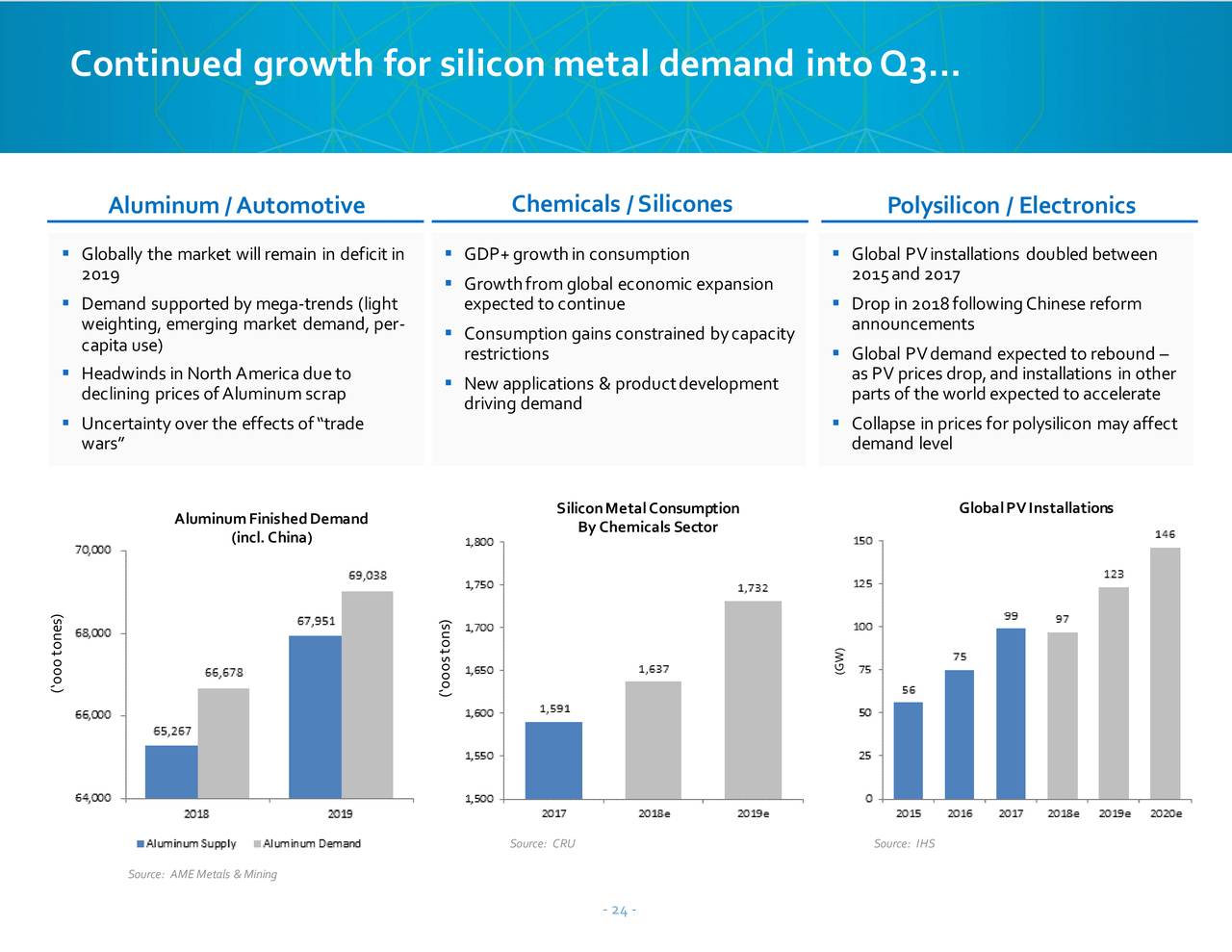 That is, end markets are healthy except demand for polysilicon, on the Chinese solar tariff cutback. But even that is considered to be a temporary setback given the price fall of solar panels and demand elasticities outside China. Some other takeaways:
Chinese exports of Silicon Metal is trending down (despite increasing production), a positive.
The market is now running at fairly high capacity, also a positive.
But there are near-term headwinds as inventories have run up and there is a surplus of silicon-rich aluminium scrap in the US.
Demand for manganese alloy is strong in Q4 and there are tentative signs of some price recovery.
Global steel demand is set to be a record in 2019, benefiting the company's ferro-silicon and manganese alloy segments.
Manganese alloy, despite strong demand, hasn't contributed to EBITDA due to cost increases of ore and energy but the ore prices should return to their historical relationship with prices, increasing the spread but it will take some time to materialize as additional ore capacity is expected to hit the market next year.
Uncertainty about oversupply and cost is having an effect on contract negotiations and management sees customers "bottom fishing" despite strong fundamentals in silicon metal.
To sum the outlook up: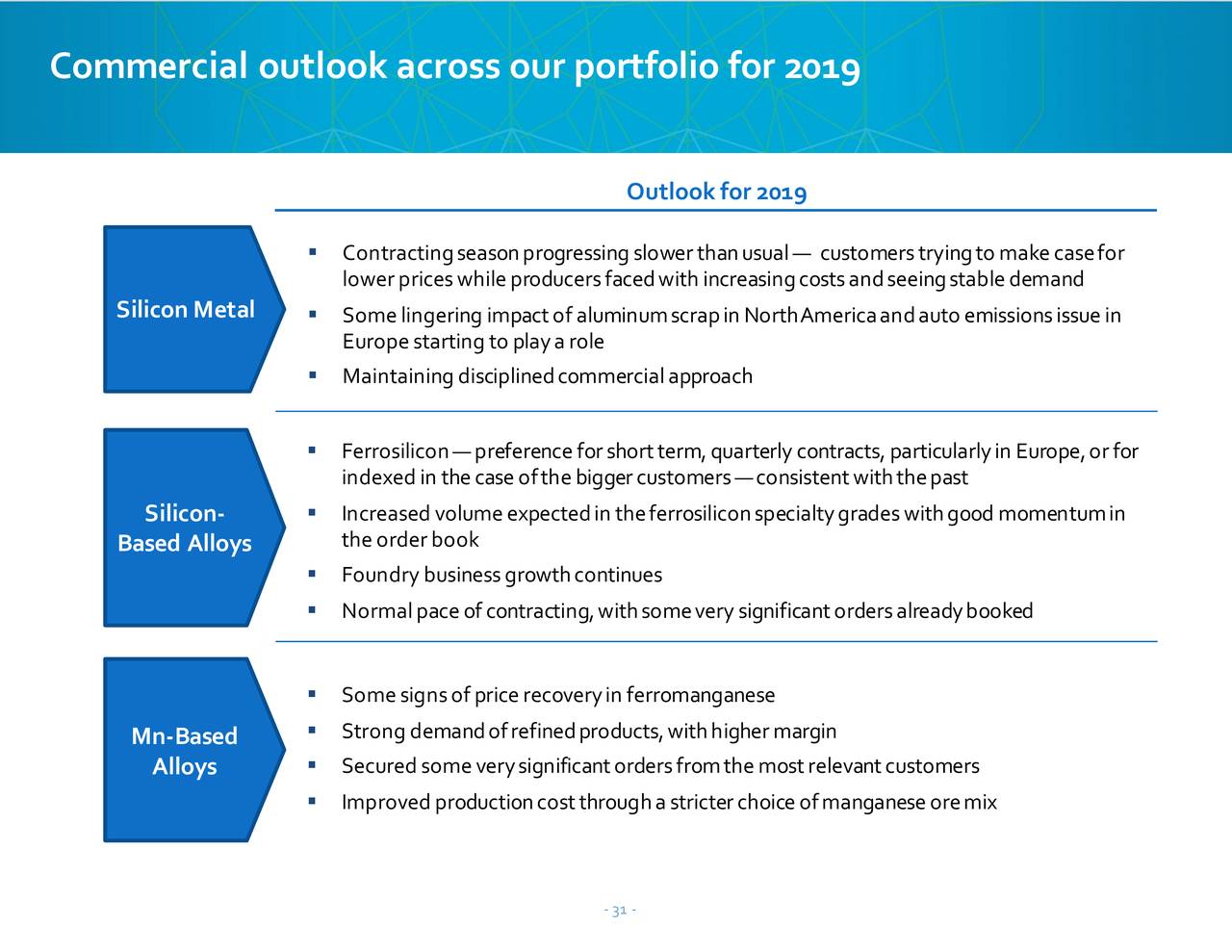 Company measures
What measures is the company taking to deal with the situation. Their top priority is on generating cash flow and deleveraging the company.
It is cutting production in silicon metals and manganese alloys.
The company is shifting production globally to take advantage of currency shifts. For instance, it's shifting production of silicon metal to South Africa from curtails in Europe and the US (see below).
The idled factories in Europe (France) and the US will be partly used to increase the production in other products (like calcium silicon, foundry products and ferro-silicon as silicon alloys are still produced to capacity).
The company is also decreasing manganese alloy production by around 17% of capacity, although this might not last, given the signs of market improvement.
Cash-saving measures (see below)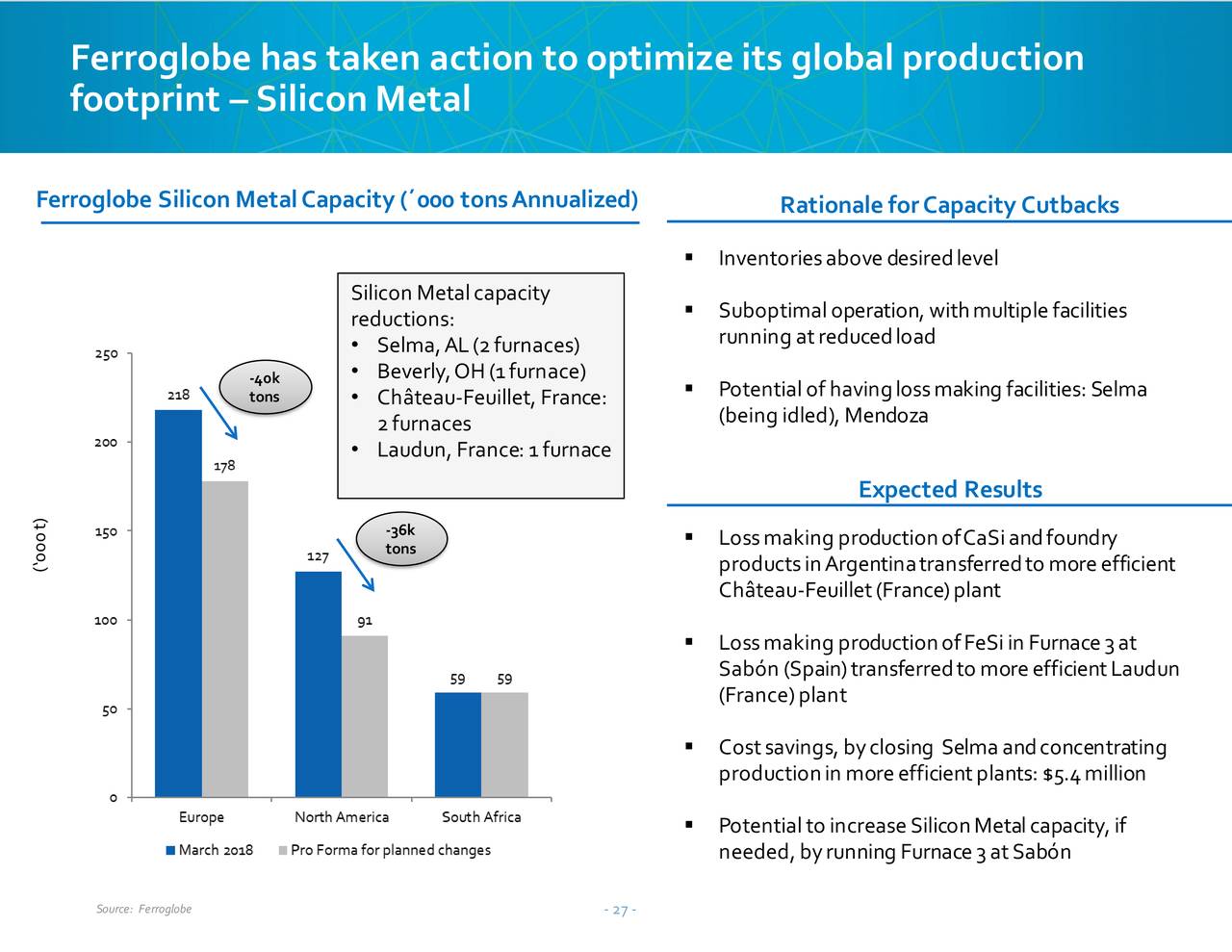 Margins
Margins have been squeezed by the trifecta of lower prices and volumes, and higher cost. Here is the cost component: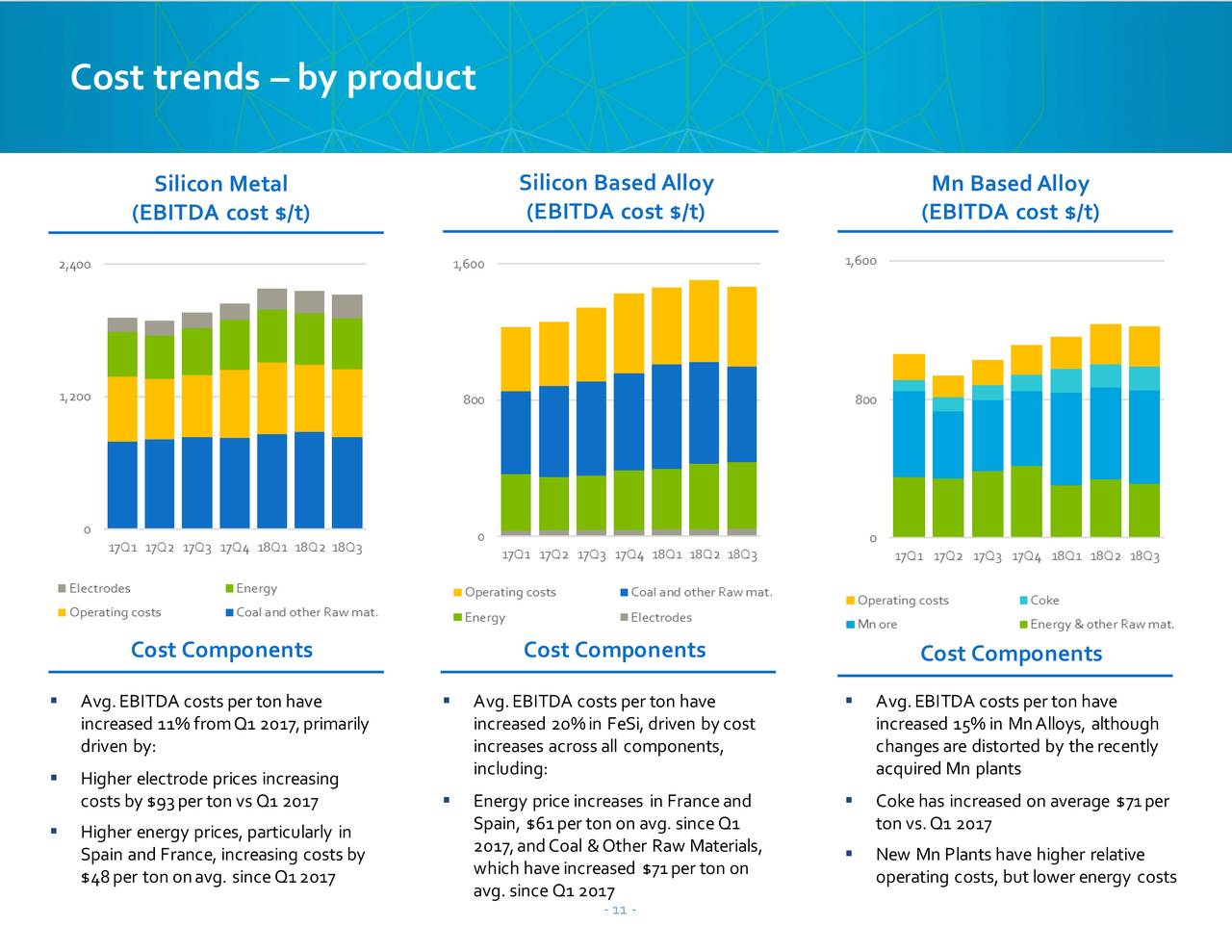 How have the margins developed: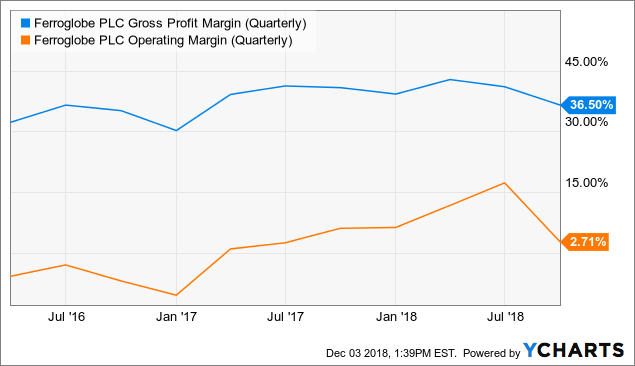 In fact, they're not out of whack historically, the market seems to be pricing in a substantial deterioration. Management summed up the cost effects in the year to date (Q3CC):
we're saying that the total cost deterioration year-on-year is $133 million. Power in Spain in almost $24 million, electrode is almost $21 million, met coke is almost $17 million, coal is $9 million, so all those factors are in total around $70 million.
Manganese ore prices had a $27.4M negative impact on adjusted EBITDA so far this year. Here is what management argues will happen to some of these components that have misbehaved in Q3:
Management is certain the manganese ore will get into line with sales price development and the spread will return to normal, even if this can take a while (well into next year).
Electrode cost will be stable to slightly up due to existing contracts, but are likely to go down when these expire.
International coal prices are declining, which is a positive.
Coke, which had a "very significant impact on manganese alloys" is going down, but with uncertainties.
From the Q3CC:
we do feel inputs such as manganese ore and power in Spain are poised for a price decrease next year. Other costs such as electrodes, particularly graphite electrodes, will remain high into 2019.
Another problem is the considerable increase in working capital, more specifically inventories: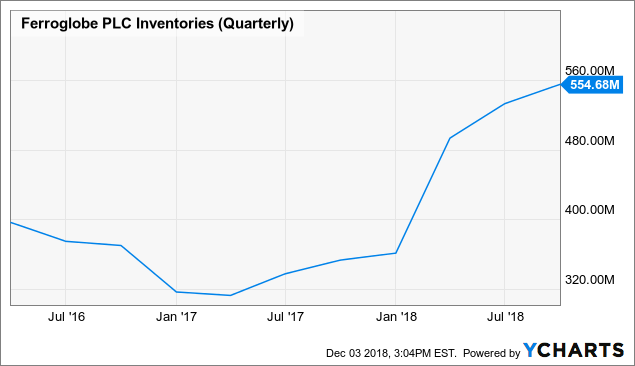 These were caused by the declining sales volume but also one-offs like (Q3CC):
recently acquired plants at $95 million and the build in the existing assets of $68 million. These are not normal working capital builds and would not be expected to recur in 2019.
Cash flow
Considering all that happened cash flow could have been significantly worse especially given the inventory build-up: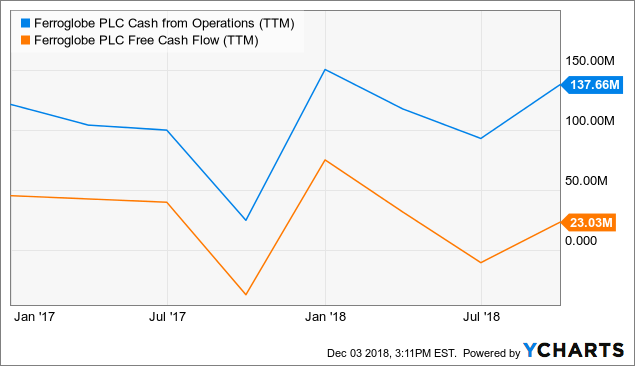 The figure is a bit deceptive though as the 12-month free cash flow figure is boosted by a bumper Q4 2017. Free cash flow is actually negative for the year ($111M). The 9-month net income was $99M, corrected for non-cash items of $224M and investments in working capital and other cash expenses (Q3CC):
the working capital build in the recently acquired manganese plants and the finished inventory build, interest payments of $39 million, income tax payments of $29 million, and payments due to property, plant and equipment of $78 million. This resulted in a negative free cash flow for the first nine months of $111 million.
Management does argue that Q4 will be free cash flow positive even if the overall 2018 goals set earlier in the year are now a stretch. Simply running down inventories should achieve most of this (in Q4) as for instance manganese alloys have $100M of inventories above normal levels.
There are also (earlier announced) other cash-generating initiatives:
Refinancing their 9.375% 2022 senior notes, not yet successful.
CapEx will return to more normal levels in 2019 (equal to the first 9 months of 2018).
An increase in the A/R securitization program targeting $35M in liquidity, $20M has been drawn with no further plans.
Reducing $20M worth of manganese ore inventory, on target to be reached in Q4.
Divest $20M of non-core assets, on target for Q4.
Forfeiting its interim dividend to save cash.
Reducing overhead cost (by $18.5M in Q3 or 4.1% sequentially).
Scaling back the speed of their solar plant build-out, reducing cash outflows by 20M euros in 2018 and 12M euros in 2019.
The company ended the quarter with a net debt level of $511M.
Valuation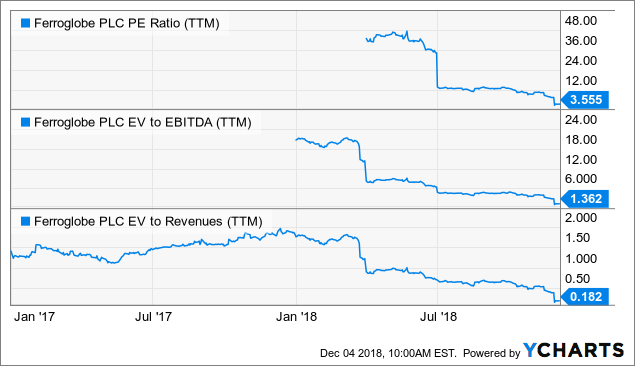 Valuations have collapsed. Despite the Q3 problems, analysts still expect earnings to hit $0.64 per share in 2018, rising to $0.69 next year although there is a considerable difference of opinion on the latter, with estimates running from $0.37 to $0.85.
That is, nobody is actually expecting a loss. The company also trades for less than 0.4x book value.
The valuation is such that the company could be taken private. It's noteworthy that majority (55%) shareholder Grupo Villar Mir just refinanced, greatly increasing its firepower.
Risks
The main risk is that the unexpected Q3 price declines could be the start of a more protracted downturn. While we think some of that is actually already priced in, if this plays out there is little chance for the shares to recover materially for some time and the company will likely be forced into more cost-cutting.
Conclusion
There are many moving parts. We try to distill the main elements:
The company has strengths through its global presence which enables it to shift production as circumstances change.
The fear is that the unexpected price declines in Q3 is the start of a more protracted downturn.
By curtailing capacity, management hasn't quite dispelled these fears even if they stress that end markets are healthy.
The bulk of the EBITDA deterioration was from manganese alloys, but if spreads recover (ore prices falling to more normal levels) this could rapidly improve.
However, the shares trade at less than 0.4 times book value and it could even be taken private by Grupo Villar Mir.
So investors are stuck between an upside scenario where demand remains strong and the temporary factors depressing EBITDA and the cost-cutting measures to pay off in 2019 to deliver a considerable recovery in performance, but on the other hand, the slump can be more prolonged.
But even in the latter case, cost-cutting and the phasing out of temporary headwinds would produce limited downside, in our view. We therefore think this is a level where one could start accumulating the shares.
Disclosure: I/we have no positions in any stocks mentioned, but may initiate a long position in GSM over the next 72 hours.
I wrote this article myself, and it expresses my own opinions. I am not receiving compensation for it (other than from Seeking Alpha). I have no business relationship with any company whose stock is mentioned in this article.