The latest headlines have caused the market to run away from Canadian equities. That provides an investor the opportunity to find those Canadian equities that are doing much better than the headlines suggest. Then all the investors has to do is wait for the market to realize the company's profit potential and future.
Yangarra Resources (OTCPK:YGRAF) is a Canadian producer that has margins wide enough to be a Permian producer in the midst of all that Canadian turmoil. Production just increased 36% from the second quarter to the third quarter. The fourth quarter should bring another decent jump in production.
Management just raised the capital budget again. Yet, management still expects the annualized fourth quarter cash flow to about equal long-term (probably net) debt.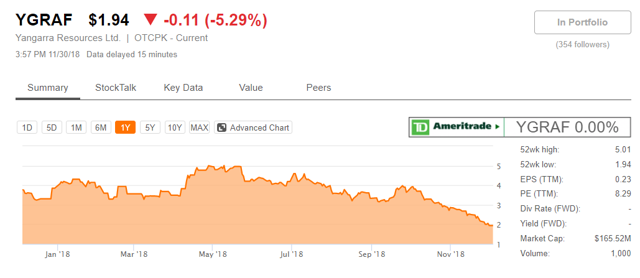 Source: Seeking Alpha Website, December 3, 2018
In the meantime, the stock price headed South as shown above. The stock price suggests that the company is facing some serious financial headwinds. But so far management has navigated the treacherous Canadian oil industry headwinds smoothly enough. That makes this stock unusually cheap even by Canadian standards. Plus, the oil produced by this company is relatively light oil. Much of Canada needs light oil to mix with heavier and thermal oil to get it to flow through the pipelines.
With several proposed pipeline projects underway, the demand for light oil will only increase. In fact, as often as not, Canada imports light oil to mix with the heavier oil. This enables light oil producers like Yangarra to avoid the fate of many competitors. The future of this company is very bright. So the pullback shown above is probably an opportunity to purchase more stock or initiate a position in this fast growing producer.
(Canadian Dollars Unless Otherwise Stated)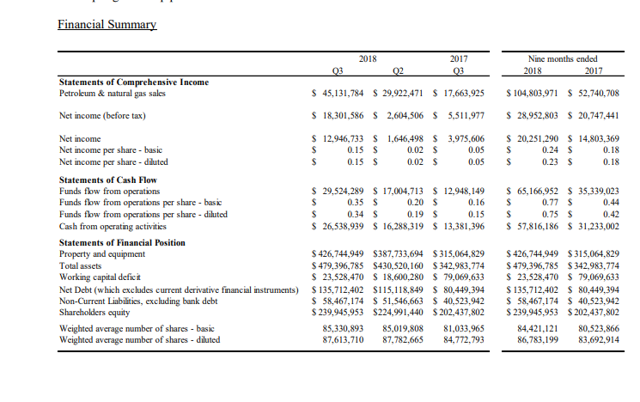 Source: Yangarra Resources Third Quarter 2018, Earnings Report Press Release
As shown above, funds flow from operations hit a new record at C$.35 per share. This Alberta producer had a banner third quarter. Revenue increased by more than 50% from the second quarter. More than half that revenue became cash flow from operations. This company has one of the widest cash flow margins in the industry.
If the third-quarter cash flow is annualized, then that annual figure would be slightly greater than the net debt shown. The cash flow from operations-to-long-term debt is roughly 1:1. There is no need to run to EBITDA to assure investors of a conservative ratio. That ratio is similarly one of the more conservative in the industry. The company is well positioned to withstand the next cyclical oil price downturn as a result.
(Canadian Dollars Unless Otherwise Stated)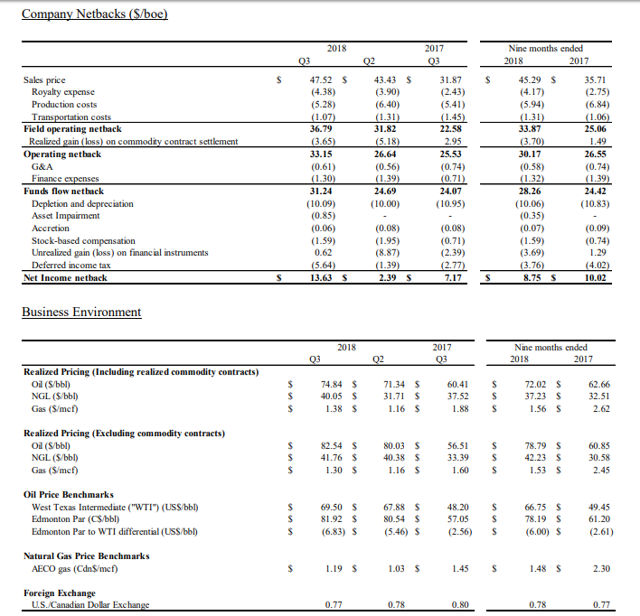 Source: Yangarra Resources Third Quarter 2018, Earnings Report Press Release
Similarly, this company has a great Canadian selling price for its production as shown above. While many competitors reported contracting margins and revenue (especially per barrel) due to lower selling prices, this company's profit margins and selling price expanded from the second quarter (to what are probably record highs).
The net income netback is as large as a few competitors' operating netbacks. The net income is in excess of 25% of the selling price! More importantly, breakeven costs are below C$30 per BOE produced. The weakness of the Canadian dollar compared to the United States dollar makes that breakeven one of the cheapest in the entire North American oil producing industry.
(Canadian Dollars Unless Otherwise Specified)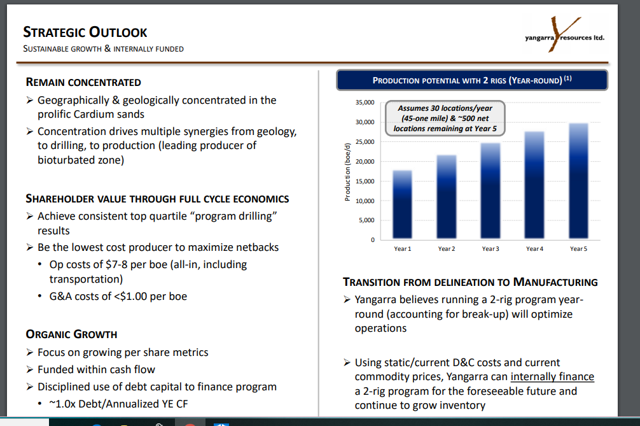 Source: Yangarra Resources November 2018, Corporate Presentation
Cash flow grew rapidly this year. Given that cash flow growth, the two-rig program will probably be financed from cash flow from now on. The growth shown above will still be substantial for some time without adding a third rig. Continued strong pricing should enable management to justify a third rig.
The only quarter where drilling and development activity is restricted is usually the third quarter. Spring Breakup in Canada generally restricts activity until early summer. This year the idle part of the year was unusually short. That provided the company the opportunity to grow faster with less downtime costs.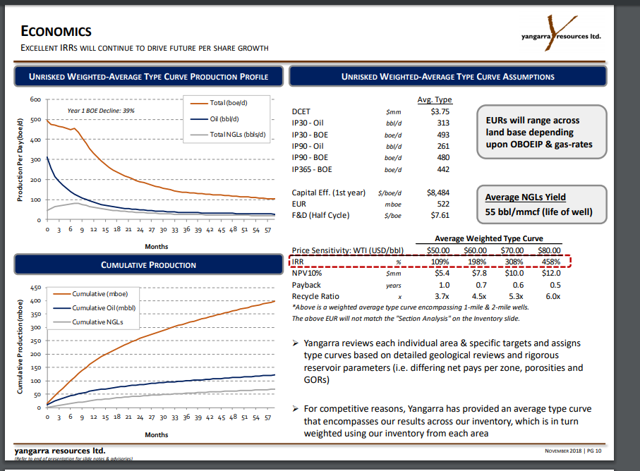 Source: Yangarra Resources November 2018, Corporate Presentation
Current oil prices allow these wells to pay back within a year. Any company with costs this low will thrive under some very hostile industry conditions during the inevitable oil price downturns. The management of this company continues to experiment with well designs and other innovations to further improve operating results. Therefore, the already low costs are likely to drop further in the future. The economics shown above are seldom seen outside the Permian. This company practically has a license to print money (in relative terms).
In the third quarter, the company announced the completion of the first 5-well pad. That particular design saved about C$400K per well. Those type of savings will ensure continued generous cash flow at considerably lower oil prices than the current level. Continuing design enhancements ensure that the flow rates shown above will continue to increase for the foreseeable future. This company has an excellent pushback against widely publicized rising service and materials costs.
Summary
The slide below shows just how cheaply this company is valued compared to the latest quarterly cash flow.
(Canadian Dollars Unless Otherwise Stated)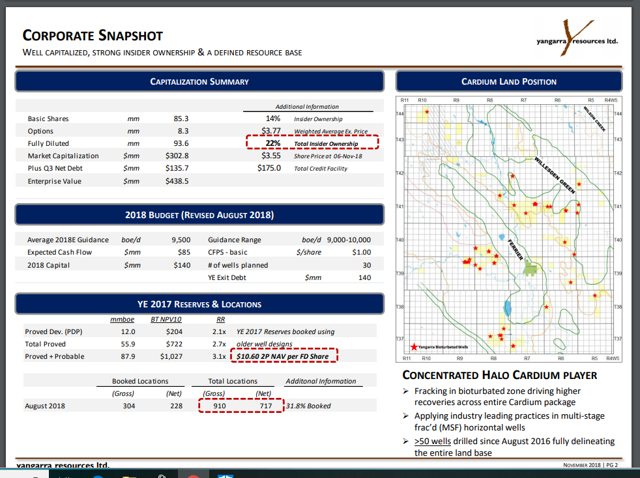 Source: Yangarra Resources November, 2018, Corporate Presentation
The latest quarterly cash flow is roughly C$30 million. When compared to the enterprise value shown above, that enterprise value is less than 4 times the annualized cash flow of the third quarter. Plus, that quarterly cash flow will likely significantly increase again in the fourth quarter. In the meantime, the market value of the stock has dropped considerably since the presentation was created.
The only quarter to show weak quarterly comparisons is typically the second quarter. Spring Breakup almost always slows the quarterly growth in the second quarter to either single digits or even negative growth. Third-quarter growth can swing wildly from year to year because the length of Spring Breakup varies (it is definitely weather related).
(Canadian Dollars Unless Otherwise Stated)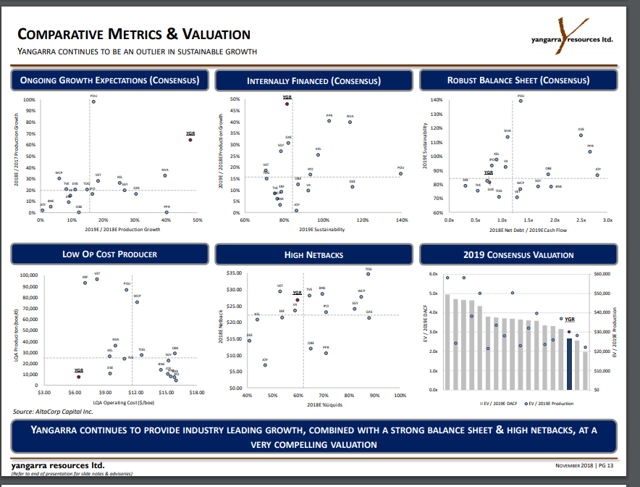 Source: Yangarra Resources November 2018, Corporate Presentation
Any time a company compares itself to competitors, expect that company to find the best comparisons possible. This management with its low costs and high profitability does not have to look very hard. Just about any competitor will do.
As shown in the lower right hand corner of the slide, this company's stock is very cheap. A company registering the growth rate of this one should trade at about 10 times the latest quarterly cash flow. If the company stays with a two-rig program, then growth will inevitably slow. Expect management to add another rig to the program if oil pricing remains relatively strong.
The latest oil price correction still leaves oil pricing far above company breakeven levels. That means that the latest oil price correction will not slow the drilling and completion program. Should prices head back up as many expect, then this company may accelerate development of its leases.
The bank has been very accommodating by increasing the credit limit almost at management's will. Even with the rapid debt limit increases, the latest quarterly cash flow appears to more than cover the net debt amount. There appears to be considerable room based on the latest cash flow to increase the debt limit far more if management desires to increase the debt limit.
In the meantime, the stock price is less than half the value it should be, given the current levels of cash flow. Continuing rapid growth probably means that the stock is trading at about 2 times the exit rate of 2019 fourth-quarter annualized cash flow, provided oil prices remain strong. This stock will probably at least double from the current pricing over the next twelve months.
The extremely low cost nature of the company's operations probably means this stock can be held through oil industry cycles as a long-term growth vehicle. However, small stocks tend to be volatile. 50% price variance due to normal volatility in a calendar year are not that uncommon. But the continuing rapid production growth and extremely generous cash flow margins ensure a bright long-term future for this stock. This company could in fact be a long-term home-run stock.
Disclaimer: I am not an investment advisor, and this article is not meant to be a recommendation of the purchase or sale of stock. Investors are advised to review all company documents and press releases to see if the company fits their own investment qualifications.
I analyze oil and gas companies like Yangarra Resources and related companies in my service, Oil & Gas Value Research, where I look for undervalued names in the oil and gas space. I break down everything you need to know about these companies -- the balance sheet, competitive position and development prospects. This article is an example of what I do. But for Oil & Gas Value Research members, they get it first and they get analysis on some companies that is not published on the free site. Interested? Sign up here for a free two-week trial.
Disclosure: I am/we are long YGRAF. I wrote this article myself, and it expresses my own opinions. I am not receiving compensation for it (other than from Seeking Alpha). I have no business relationship with any company whose stock is mentioned in this article.
Additional disclosure: I may buy more YGRAF at any time.