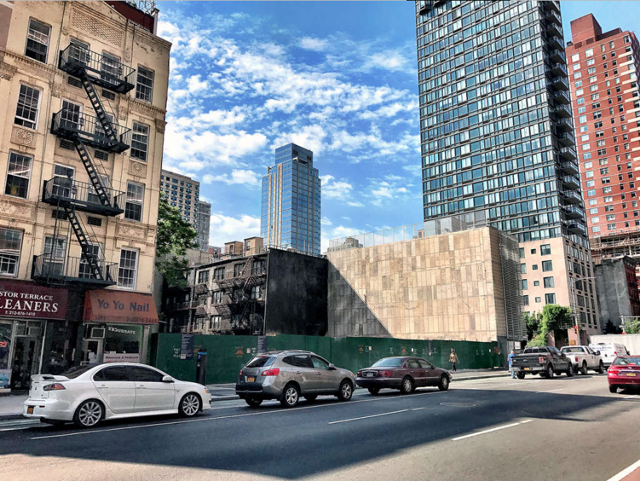 The site of OHI operator Maplewood Senior Living's new Manhattan retirement home (Photo via City Realty).
OHI: In Rude Health
I've written in the past about how Omega Healthcare Investors (OHI) had failed one or the other of Portfolio Armor's two screens to avoid bad investments. On October 9 of last year, I noted that it had failed both preliminary screens and, consequently, was not healthy enough for my system. Here's how OHI performed over the next six months, taking into account its dividends.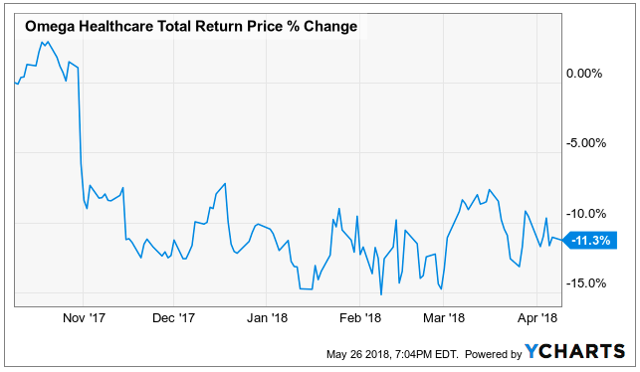 In May, I wrote that the stock passed both of my site's screens. Since then, the REIT has climbed by nearly a third.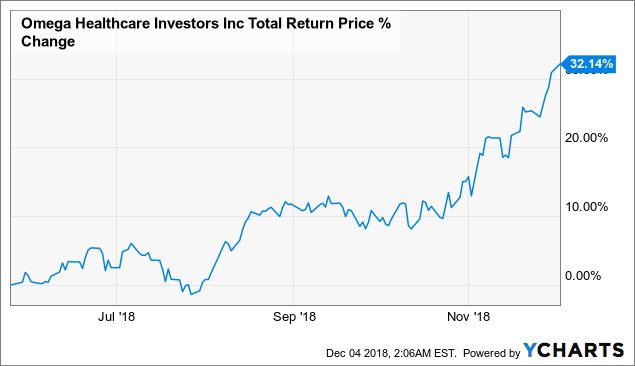 Recently, though, Seeking Alpha contributors Achilles Research and Dividend Sensei have written about taking some of their OHI chips off the table. In light of their warnings, and the accelerating run-up over the last month, I've posted two updated ways OHI bulls can stay long while limiting their risk. Following that, I have updated Portfolio Armor's current take on the REIT.
An Ounce Of Prevention For OHI
Let's assume, for the sake of these examples, that you own 1,000 shares of OHI and can tolerate a 20% drawdown over the next several months, but not one larger than that. Here are two ways you could protect yourself (the screen captures below are via the Portfolio Armor iPhone app).
Uncapped Upside, Positive Cost
As of Friday's close, these were the optimal, or least expensive, put options to hedge 1,000 shares of OHI against a >20% drop by late June.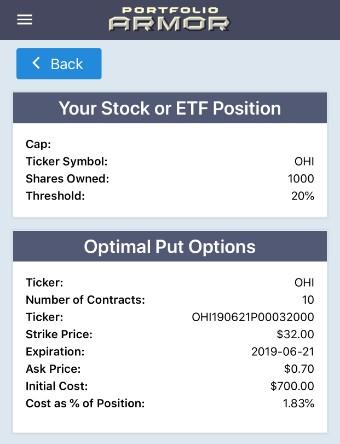 As you can see above, the cost of this protection was $700, or 1.83% of position value (calculated conservatively, using the ask price of the puts).
Capped Upside, Negative Cost
If you were willing to cap your possible upside at 7%, this was the optimal collar to give you the same level of protection as above over the same time frame.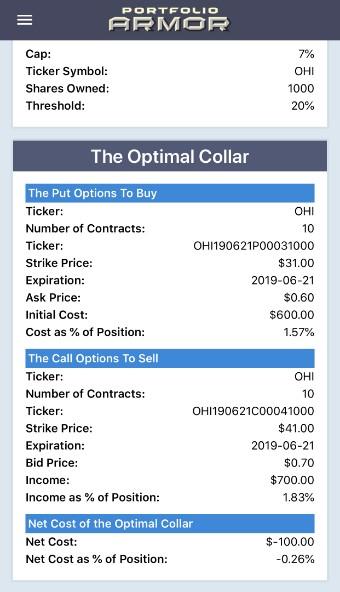 After an iterative process taking into account the net cost of the collar, the hedging algorithm was able to use less expensive strike for the put leg, one where the cost was $600, or 1.57% of position value. But the income generated by selling the call leg was greater than that: $700, or 1.83% of position value (calculated conservatively, using the bid price of the calls).
So, the net cost was negative, meaning you would have collected $100 when opening this hedge, assuming you placed both trades at the worst ends of their respective spreads. Now let's look at Portfolio Armor's current take on OHI.
Portfolio Armor's Current Take On OHI
As you can see in this screen capture from Portfolio Armor's admin panel below, everything is still coming up Milhouse for OHI.

Here's a close-up of the more relevant parts for our purposes: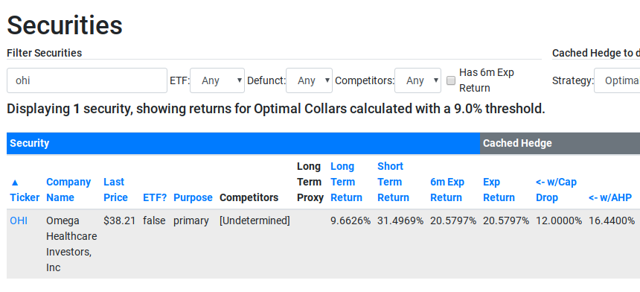 Portfolio Armor's first preliminary screen is for the mean of the most recent six-month return (labeled "Short Term Return" above) and the average six-month return over the last 10 years ("Long Term Return") to be positive. In OHI's case it's ~31.5%, where it appears under the "6m Exp Return" and "Exp Return" columns.
The second screen is a gauge of options market sentiment. The site attempts to hedge OHI against a greater than 9% decline over the next several months using an optimal collar capped at the mean of its short- and long-term returns: ~20.58%. It wasn't possible to find an optimal collar using those parameters, so Portfolio Armor lowered the cap until it could find an optimal collar. It found one using a cap of 12%, so 12% appears in the "w/Cap Drop" column.
Ordinarily, that 12% figure also would have been Portfolio Armor's potential return estimate for OHI over the next six months. But the stock also passed a third test, in that it was also possible to hedge it against the same >9% decline over the same time frame using optimal puts.
Historically, only about 20% of the securities that pass Portfolio Armor's two preliminary screens pass this "AHP" ("Also Hedgeable with Puts") test, and the ones that do outperform the ones that don't by 37% over the next six months. Because of that, the site boosts OHI's potential return by 37%, as you can see in the "w/AHP" column below.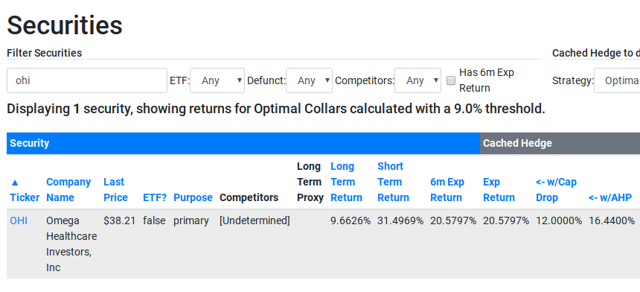 The Big Picture
Portfolio Armor's universe consists of practically every security (stock and exchange-traded product) with options traded on it in the U.S. That's about 4,500 names, out of which 1,398 passed the two preliminary screens on Monday (the number that passes both screens varies based on market conditions - only about 700 passed both screens during the correction in early 2016, for example). Of the 1,398 names that passed both preliminary screens, OHI was ranked No. 234 by potential return, net of hedging cost, as you can see in the screen capture from Portfolio Armor's admin panel below.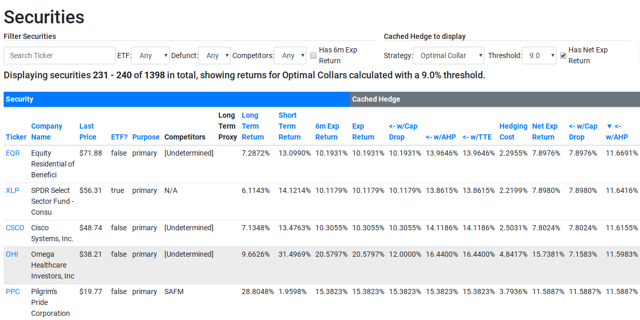 So, it's unlikely to appear in one of the top 10 names or one of the hedged portfolios I present to subscribers this week. But OHI longs should be encouraged that it passed the two initial screens and the additional AHP test nonetheless, as that suggests it's more likely to have a positive return over the next six months as well. Of course, in the event it doesn't, one of the hedges shown above will limit your downside risk.
To be transparent and accountable, I post a performance update for my Bulletproof Investing service every week, even when the results don't look good, as was the case with the latest one: Performance Update - Week 52.
Disclosure: I/we have no positions in any stocks mentioned, and no plans to initiate any positions within the next 72 hours. I wrote this article myself, and it expresses my own opinions. I am not receiving compensation for it (other than from Seeking Alpha). I have no business relationship with any company whose stock is mentioned in this article.