Although the equity market's undulations in October have certainly been the talk of Wall Street, what has been much more surprising is the unbelievable outperformance of Clorox (CLX) in comparison to both its peers in the consumer staples indices and the broader S&P 500.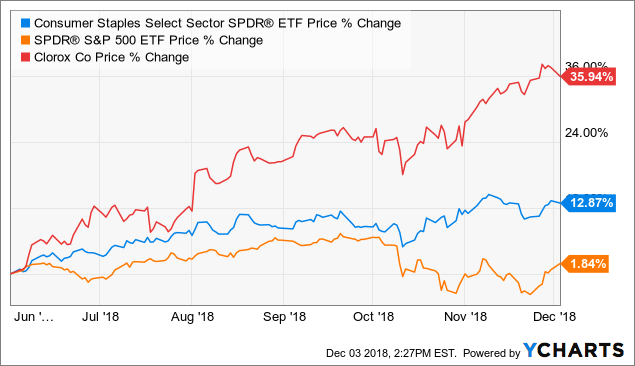 The fortunate investor in Clorox should see this recent price action for what it is: an absolute gift of an opportunity to sell an already overvalued stock for a substantial amount more than it's worth, no matter the market conditions.
There are three reasons why Clorox is a sell today:
It is vastly overvalued to other equities and itself on a historical basis, with no improvements in the underlying business to justify this.
Clorox will be hammered if the markets recover.
If the markets tank, Clorox will similarly be no better off.
Clorox is vastly overvalued on both a historical and relative basis
As seen below, the enterprise value to EBITDA ratio of Clorox has now reached truly unfathomable heights, having eclipsed 18x; as recently as June of this year, it traded below 14x.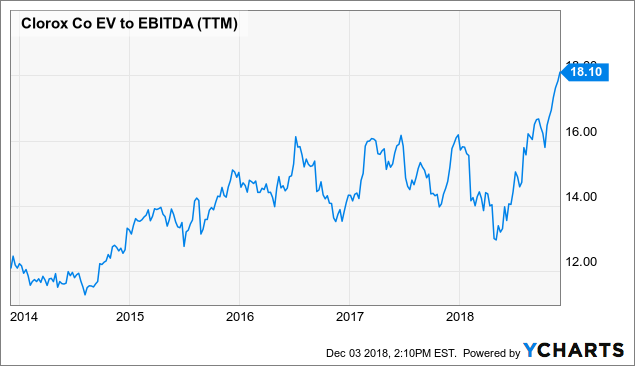 Of course, multiple expansion (on top of already generous valuations) is to be expected in businesses which are performing well, so I dug into Clorox's recent financial statements to understand what was so enticing about the business. What I found was truly baffling. Below is the historical earnings of Clorox (before taxes, since the tax reform bill has substantial effects).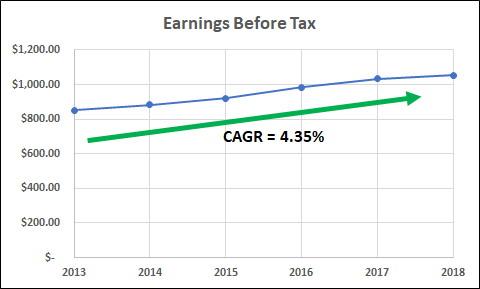 Here we can see that over the past 5 years, Clorox has grown earnings at an anemic CAGR of less than 4.5%. Indeed, even this year's results leave little improvement, with earnings before taxes and operating cash flow actually decreasing from Q3 2017 to Q3 2018, the same time period where we see the enormous multiple expansion of Clorox. Meanwhile, the stock of Clorox is currently valued at richer multiples than companies like Microsoft (NASDAQ:MSFT) (growing its pre-tax earnings 28% year over year) or Apple (NASDAQ:AAPL) (with an EV/EBITDA of ~ 10), which leads me to my next point.
If the markets recover, the stock of Clorox will be pummeled
As the markets have become more valuable, we've seen stocks like Clorox (and the broader consumer staples sector) become the recipient of a "flight-to-safety" trade, due to their steady business during economic downturns. However, this necessitates the opposite as well: if markets begin to take a "risk-on" flavor, investors will again leave Clorox for much more attractive growth names, like the aforementioned tech sector blue chips.
Typically, this wouldn't be too great of a worry, but with a high-flying valuation (and one greater than the index at large) Clorox could fall quite substantially. Even the dividend yield of Clorox would be fairly unattractive in such a scenario; with 10-yr US treasuries hovering around a yield of 3%, Clorox's dividend yield of 2.3% seems paltry by comparison.
Indeed, the investor base for Clorox in a "risk-on" scenario is vanishingly small: dividend investors can achieve greater yields with less risk in the bond market, while growth investors can achieve much greater earnings growth at cheaper multiples with other equities. In a bull market and a roaring economy, earnings growth is much more important (and desirable) than a meager but stable growth rate.
If the markets continue to plunge, Clorox will not escape unscathed
With investors fleeing "growth" names and the tech sector carnage to pile into consumer staples like Clorox, it is tempting to assume that the equity of Clorox will escape the price action of the broader market. However, I believe this to be poor logic for two reasons. First, we can inspect how Clorox performed during the last great bear market: in mid-2008, Clorox fell 29% from peak-to-trough, starting from a much lower valuation than today. With a higher ledge to fall from, I predict that a major market plunge will see Clorox fall much closer to 50%.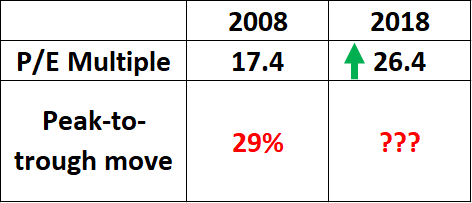 Secondly, Clorox does not afford any advantages over bonds as far as yields or over other equities in regards to earnings. With Clorox yielding much less than even a 2-year treasury, there is little incentive for traders or investors to own Clorox stock rather than treasuries in the event of a prolonged downturn. Also, a position in stable companies like Clorox is usually worth paying a slight premium over other, more risky names. However, offering to pay 80% more for Clorox (on an EV/EBITDA basis) than a quality blue-chip company like Apple seems to be a stretch.
Conclusion
Clorox is overvalued, in comparison to its own historical norms and the broader market. Although it has been a safe refuge for investors and traders over the past few months, this is by no means guaranteed to continue; whether the market goes up or down, I predict that returns for Clorox will not be better than the market at large, and I believe that investors can find better opportunities today in either more growth-y names (like Apple or Microsoft), better-yielding consumer staples (like Altria (NYSE:MO) or Procter & Gamble (NYSE:PG)), or even 10-yr US treasuries.
Disclosure: I am/we are short CLX. I wrote this article myself, and it expresses my own opinions. I am not receiving compensation for it (other than from Seeking Alpha). I have no business relationship with any company whose stock is mentioned in this article.