2017 was a great year for electric vehicle [EV] metal miners with many doubling or more in price, especially in Q4 2017. This left the sector a bit stretched by January 2018. Since then, 2018 has seen a continued smashing of the EV metal miners due to oversupply fears (mostly unfounded) and trade wars (China slowdown fears). Given China produces and sells about 50% of the electric vehicles sold, this is understandable in the short term.
However, when digging deeper, we can see this does not make sense mid to long term, as most fundamentals have improved in 2018 while EV metal miner stock prices have plummeted.
Note: The main EV metals referred to are lithium and cobalt; however, graphite and nickel are also important EV metals.
Lithium and cobalt prices
The chart below shows the global contract price for lithium has steadily been increasing in 2018. This shows there is no lithium oversupply.
Note: The China spot price fall was always a bubble expected to pop and should soon recover.
Lithium China Spot and global contract prices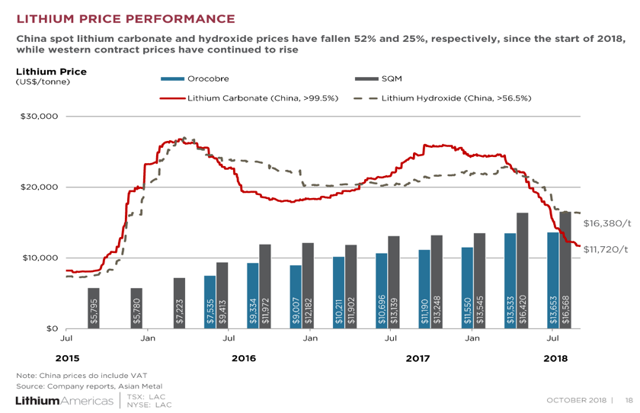 Source: Lithium Americas October 2018 company presentation
The chart below shows the 1-year spot history for cobalt is still close to late 2017 levels, despite a rise above US$40 in April 2018. Given cobalt quadrupled from US$10 to US$40 in 2016-2017, the sell down to about US$25 is not a big surprise given some new supply from the DRC. My view is cobalt prices will rise back towards US$30/lb or higher on very strong demand in late 2018 and beyond.
Cobalt spot prices - 1-year chart - USD 24.95/lb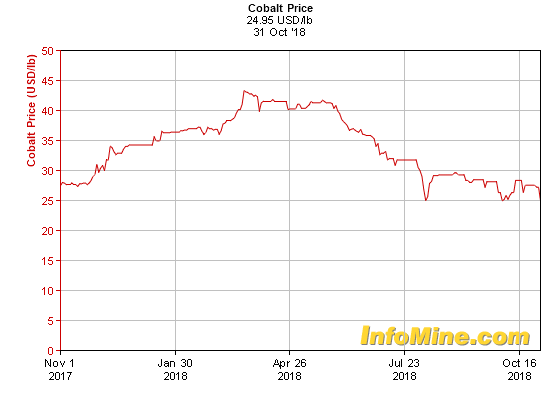 Source: InfoMine.com
EV sales and Energy Storage [ES] are booming - These are very strong tailwinds to the EV metal miners
EV sales
Global electric car sales continue to be robust - up 58% in 2017, up 68% YTD (end September) in 2018. Lithium and cobalt producers are also making record profits.
H2 2018 electric car sales are booming. From my EV monthly news (October 2018):
October saw several sales records broken for September sales. We saw a new record sales figure by far for global electric car sales in September, shattering the previous record (174,000 units, in December '17). USA and China also had record sales in September. The sales surge was driven by Tesla Model 3 and continued strong China sales. Tesla also delivered positive earnings, well above expectations. What a month!

Global electric car sales finished September 2018 with over 200,000 sales for the month, up 61% on September 2017, and the best month ever. Year to date sales are up 68% on last year, with 2018 year to date sales at ~1.3m and market share at 1.8%, with three months left to be reported on. It is now looking like 2018 global electric car sales will be approaching 2m and over 2% market share.
Put very simply - Electric car sales are smashing records every month. The fundamentals are superb.
Meanwhile, the supply chain is gearing up for an even much larger boom in EV sales as the Benchmark Minerals megafactories tracker now stands at 50.
We were the only company at the time tracking these super battery plants. Today we are at 50 megafactories worldwide. We do not expect this battery arms race to slow down anytime soon..... This is an incredible situation that is having a profound impact on the key battery raw materials of lithium, cobalt, graphite anode and nickel. It has ushered in a new era for 21st century commodities.
Source: Courtesy Benchmark Minerals and Cobalt27
The number of lithium-ion megafactories was at only three back in Q1 2015.
The chart below gives a peek at what is quite possible in the next 2 decades. Essentially, the Bloomberg forecast below would mean electric car sales increase 10 fold from end 2017 to end 2025, 27 fold from end 2017 to end 2030, and 54 fold from end 2017 to end 2040. Given that lithium and cobalt are very small markets already, the demand pull is extraordinary. Graphite and nickel will also experience a large impact from this.
Forecast annual electric vehicle sales - 30m by 2030, 60m by 2040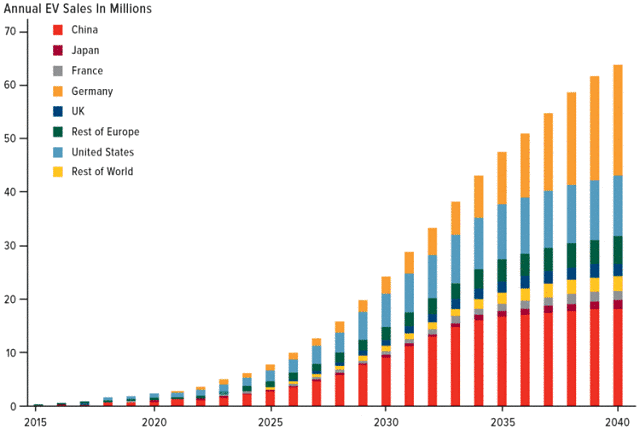 Source: Bloomberg
Energy Storage boom just getting started
Bloomberg New Energy Finance forecast:
The global energy storage market will double six times between 2016 and 2030, rising to a total of 125 gigawatts/305 gigawatt-hours.
Global cumulative storage deployments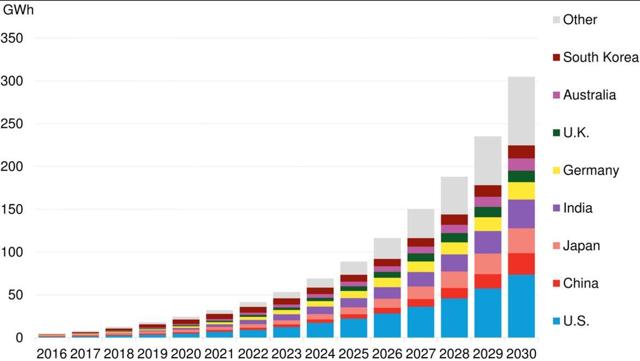 Governments support EVs - The need to solve crippling air pollution
In addition to the list below, numerous cities are encouraging EVs and banning internal combustion or diesel engines. Below is my list, as well as a separate publication.
The list of countries and cities banning (or planning to ban) petrol and diesel vehicles include at least - Norway (2025), Netherlands (2030), China (?2030/2035), Germany (?2030), Israel (2030), UK (2040), France (2040), Japan (2050), Paris (2030), London, Stuttgart, Mexico City, Madrid, and Athens. Added to this are countries pushing hard to become 100% EV - Norway and India (30% by 2030).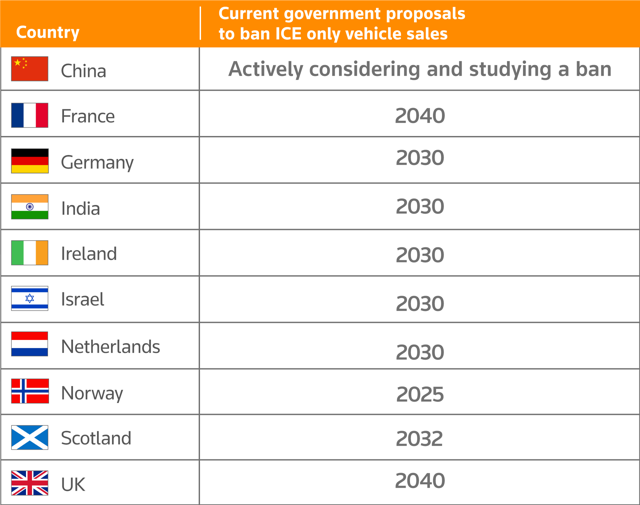 EV metals demand is strong, and generally supply is struggling to keep up
Whilst a supply response has begun in the EV metals area, there is always a time lag to bring on new supply, and there can be issues with funding for new projects that mean less supply than is expected comes on each year.
Meanwhile, demand for EV metals continues to surprise to the upside. A recent Sam Jaffe quote hints at the strength of demand:
Global market for lithium-ion batteries will double by 2020. Jaffe said he expects that by the end of the year about 130 GWh of lithium-ion batteries will have been shipped, but by 2020 that's going to go up to almost 300 GWh. "Already in the next two years batteries are going to double in growth."
Note: From 130GWh to 300GWh is actually a 2.3 fold increase for the 2 years 2019 and 2020.
Cobalt demand
For the cobalt market in 2018, at least 50% or 75,000 tonnes of cobalt will go into batteries in 2018. If we increase 75,000 by 2x (less than 2.3x due to lower cobalt chemistries), then we get a 150,000 tonnes increase in cobalt demand by end 2020 just from batteries alone. This means the total cobalt demand should be at least 225,000 tonnes pa by end 2020 (my model is forecasting ~200,000 tonnes demand).
The doubling of cobalt demand in batteries over two years is actually similar to reports stating a 40% increase in cobalt demand in 2018.
Demand for cobalt in vehicle battery materials is expected to grow over 40 percent in 2018, according to U.K.-based cobalt trading firm Darton Commodities.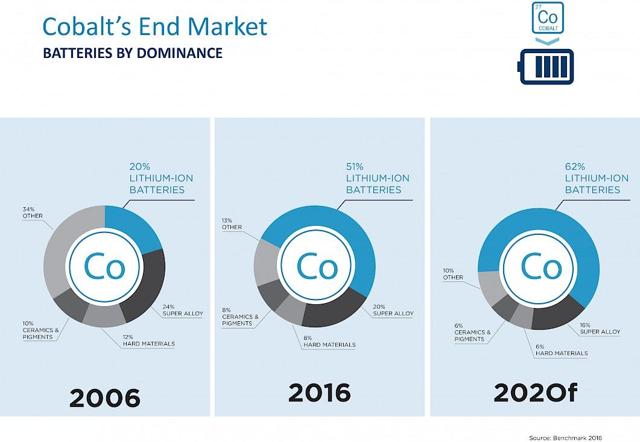 Lithium demand
Lithium demand is forecast to grow between 3 and 6 fold from end 2017 to end 2025. My forecast is 5.7 fold. According to UBS, lithium demand is forecast to grow at a CAGR of 17% from 2015 to 2025, with batteries being the main driver of growth.
UBS lithium demand forecasts to 2025 - 17% CAGR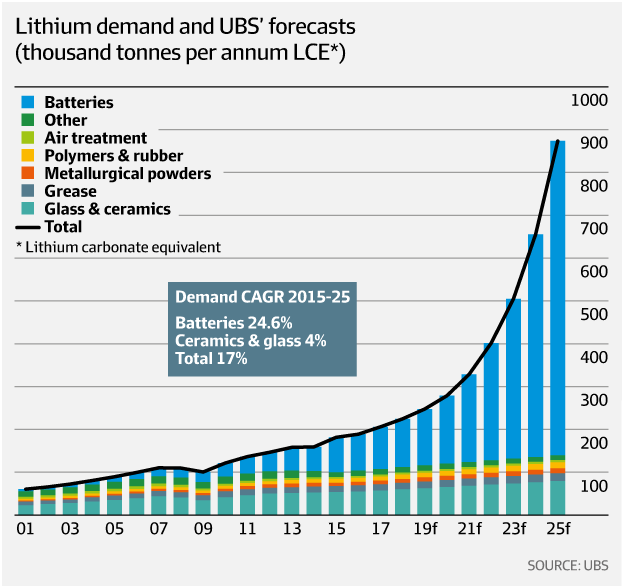 The chart below shows in a hypothetical 100% EV world we can expect a ~29 fold increase in lithium demand (from 2017 levels) and a ~20 fold increase in demand for cobalt. This level of demand pull is unprecedented.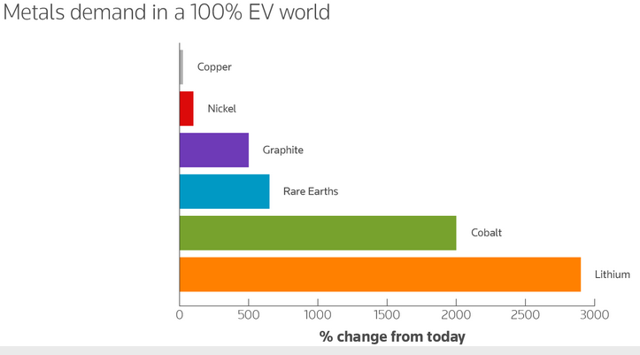 The conclusion is that if we assume a strong growth rate in EVs and ES, then the demand picture, especially for cobalt and lithium (and potentially for graphite and nickel), will mean demand should continue to stretch supply. This will mean we continue to get strong pricing for key EV metals, and the EV metal producers will be very profitable.
The EV metals rout has been overdone and sentiment will soon change to match the strong underlying fundamentals.
Expert's views
Simon Moores (October 24, 2018) stated:
#Lithium and #cobalt prices have felt negative sentiment despite short, medium and long term demand pile up," says @sdmoores at #Benchmark2018.

Cobalt and nickel aren't going away anytime soon. No matter aggressive or conservative adoption of new cathodes, there is upside for cobalt and nickel way out into the future.
In an October Cobalt 27 publication: "Cobalt 27 Q&A with Simon Moores, Managing Director, Benchmark Mineral Intelligence." A key quote was:
In Q1 2015, we had three battery megafactories in the pipeline according to Benchmark Mineral Intelligence's Battery Megafactories Tracker - we were the only company at the time tracking these super battery plants. Today we are at 50 megafactories worldwide and have surpassed 1TWh of capacity in the pipeline. This is an incredible situation that is having a profound impact on the key battery raw materials of lithium, cobalt, graphite anode and nickel. It has ushered in a new era for 21st century commodities. Over half of this new capacity is located in China, with Europe emerging as the second most popular jurisdiction in recent years as Germany's Auto OEMs seek cell supply security. 2018 has seen a record number of plants being announced with Benchmark Minerals' latest data standing at 24 plants end-September. This could easily surpass 30 by the end of the year and we do not expect this battery arms race to slow down anytime soon. This shift energy storage both in electric vehicles and in ESS is a megatrend that will define the next 100 years.
Andrew Miller (October 22) stated:
Developments in battery #technology are being made but #graphite will remain a central component of advanced #lithium-ion chemistries for at least the next 5 to 10 years," says @amiller_bmi at #Benchmark2018 @benchmarkmin.

Demand outlook for graphite is very strong," says @amiller_bmi at #Benchmark2018 @benchmarkmin.
Note: Graphene coated silicon is a possible graphite replacement.
Chris Berry (August 16, 2018) stated:
With the long term demand story still fully intact, I've never seen a larger disconnect between investor perception and reality in my career.

November 1, 2018 Investing News Video - Chris Berry: There Are Some Enormously Cheap Opportunities in Lithium Right Now
Bernstein stated:
With this development, EVs will sooner or later reach the price/quality ratios that make them competitive with fossil-fuel alternatives," Berntsein adds. "When that happens, the market will tip into a new direction quickly."
Eurasian Resources Group stated:
Eurasian Resources Group forecasts a strong metals price recovery. Our view that commodities have fallen foul of wider macroeconomic concerns and the changing geopolitical landscape was confirmed at this year's LME Week. One of the issues that came up repeatedly was the fact that global politics is impacting business as never before. This means that metal prices, which weakened significantly over the summer, do not accurately reflect underlying fundamentals. Instead, market fundamentals indicate strong conditions in the physical market as evidenced by heavy destocking (in copper, nickel, aluminium, zinc and steel), and rising physical premiums.
Risks
Sentiment - The US-China trade war has dragged down EV metal miner stock prices. The trade war outcome is a big influence as China is a huge consumer of EV metals, and a China slowdown may ultimately hurt the sector if EV and ES sales were to stagnate.
Oversupply and EV metal prices falling - If the EV and ES growth were to disappoint, new supply may overwhelm demand. We may get some lithium spodumene oversupply in 2019 affecting spodumene prices negatively.
New battery technologies removing the need for key EV metals. Most experts say this is unlikely for a decade. Graphite may come under some pressure from silicon in the anode if new graphene/silicon anodes take off.
Mining risks - Exploration risks, funding risks, permitting risks, production risks, and project delays.
Management and currency risks.
Sovereign risk - Especially, in Africa [DRC], with the new onerous tax and royalty scheme.
Stock market risks - Dilution, lack of liquidity (best to buy on local exchange)
Further reading
Conclusion
A series of poor market sentiment events (oversupply fears, trade war, US equities fall in October) in 2018 has led to a very large EV metal miners sector sell off over the year. Yes, valuations of some stocks were a bit frothy back in January after a great H2 2017. By comparison, valuations and prices are now very cheap, especially given the demand growth ahead for the sector.
What many are missing is the enormity of the demand surge for EV metals that is just beginning now. As Sam Jaffe says "the global market for lithium-ion batteries will double by 2020", and Simon Moores "50 megafactories are coming." This will be one of the largest demand pull events in the history of metals, especially for cobalt and lithium given their small market size. Beyond 2020 demand may even accelerate as EVs become cheaper and more accepted. And if Bloomberg's forecasts are anywhere near correct we can expect a 54 fold increase in the number of EVs between 2017 and 2040. Often forgotten is also the electrification across the entire transport sector (bikes, trucks, buses, trains, ships, etc), and the rise of energy storage using lithium-ion batteries.
Risks remain due to very poor sentiment and the outcome and length of the US-China trade war. Risk also lies around the assumption and speed of EVs and ES taking off, as well as funding risks for junior miners.
Reward is very high given the potential strong demand tailwinds, and should we get a US-China trade deal then a very significant recovery is to be expected.
Investors should ride the current storm and sit tight to reap the rewards that will come as these powerful trends play out over the next two decades.
As usual, all comments are welcome.
Disclaimer: The information in this article is general in nature and should not be relied upon as personal financial advice.
Trend Investing
If you want to go to the next level, sign up for Trend Investing, my Marketplace service. I share my best investing ideas, latest trends, exclusive CEO interviews, chat room access to me, and to other sophisticated investors. You can benefit from the work I've done, especially in the electric vehicle and EV metals sector. You can learn more by reading "The Trend Investing Difference", "Recent Subscriber Feedback On Trend Investing", or sign up here.
My related Trend Investing articles are:
Disclosure: I/we have no positions in any stocks mentioned, and no plans to initiate any positions within the next 72 hours.
I wrote this article myself, and it expresses my own opinions. I am not receiving compensation for it (other than from Seeking Alpha). I have no business relationship with any company whose stock is mentioned in this article.
Additional disclosure: This article first appeared on Trend Investing on November 2 2018; therefore all data is as of that date.