Back in December 2017, I wrote an article titled 'My Top Sleep Well At Night REITs For 2018' in which I "purposely filtered out 10 SWANs within my Intelligent REIT Lab," ranking them "based on their overall cheapness attributes." I explained "selecting stocks with a significant margin of safety remains that value investor's definitive precautionary measure," which simply means I picked 10 of the most highly defensive REITs that were likely to generate the best overall returns.
I've just finished up the December edition of my newsletter which includes my several model portfolios, including my 'FANG-like' REIT Index referred to as DAVOS (stands for Digital Realty, American Tower, Ventas, Inc., Realty Income, and Simon Property Group). What's interesting is the DAVOS Index has returned 9.3% year-to-date.
I always remind investors that DAVOS is merely an index, and because the basket of stocks is limited to just 5 REITs, I discourage folks to put all their hard-earned capital into only 5 REITs, regardless of how popular they are. But regardless of the limited diversification, that DAVOS Index has come to life, and certainly out-performed the bellwether REIT ETF, Vanguard Real Estate (VNQ) ETF, as I explained a few days ago on Forbes.com,
"But given the under-performance of VNQ year-to-date, shares have declined -2.3%, and I told the crowd that VNQ may not be a bad bet right now. When comparing REIT returns with the S&P 500, we can see that REITs are still trading at a wider discount, with room for multiple expansion."
Now, almost 12 months after my "Top SWANs for 2018" article, I must provide readers with a report card, comparing the year-to-date performance for each of the hand-picked SWANs, in an effort to validate the concept of value investing. Many investors (and subscribers) rely on our research to "sleep well at night," and as they say, it's now time to see if there's "proof in the pudding."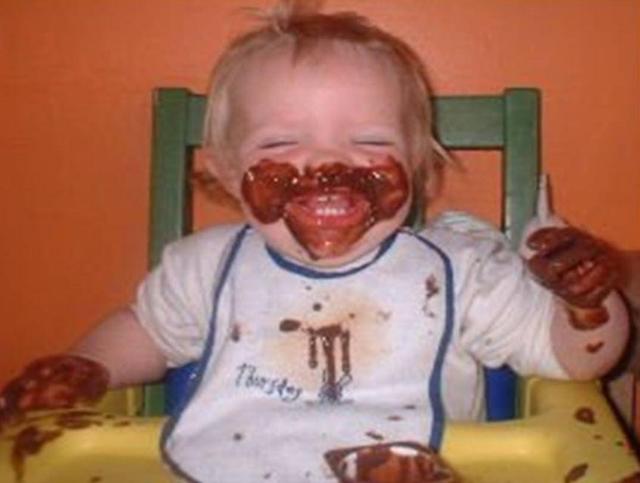 In case you're wondering, that's not me as a kid, or any of my kids. I just thought it was a cool picture, that I sourced HERE.
The Top SWAN Picks of 2018
Before getting started, we decided to rank these 10 REITs based on their worst to best year-to-date performance. Then, at the end of this article, we included a recap of the 10-pack SWAN portfolio. In a few days, we plan to put together a similar "SWANs for 2019" portfolio, based on similar value-based screening.
SWAN Pick #1: Tanger Outlets (SKT)
Tanger Outlets was selected as my top SWAN pick for 2018 and despite steady fundamental performance, the pure play outlet REIT has not been able to generate consistent NOI growth. In the most recent quarter (Q3-18), Tanger's adjusted funds from operations (AFFO) was $0.63 per share, in line with Q3-17. The company also increased occupancy by 80 basis points since the end of Q2-18, to 96.4% (of consolidated portfolio). Also, Tanger's sales per square foot (on an NOI weighted basis) was $409 per square foot in the trailing 12 months, up 2.3% from the prior year period.
In a recent article I explained that Tanger's "leasing spreads appear to be stabilizing" and "the magnitude of rent adjustments and their impact on spreads compared to what the company experienced in the first half of 2018 is moderating and returning to a more normalized historical level." Tanger has also maintained steady dividend growth since going public (in 1993), with a more recent dividend increase of 2.2% in 2018 (current payout is $1.40 per share).
Tanger's year-to-date total return is -6.0% and we maintain a Strong Buy on the shares, which yield 5.9%. The company maintains a strong balance sheet (BBB+ rated by S&P) with ample cash flow (payout ratio is 56%). One of the best bargains at Tanger is the price, with the company's P/FFO multiple at 9.8x, well below the 5-year average P/FFO of 15.6x.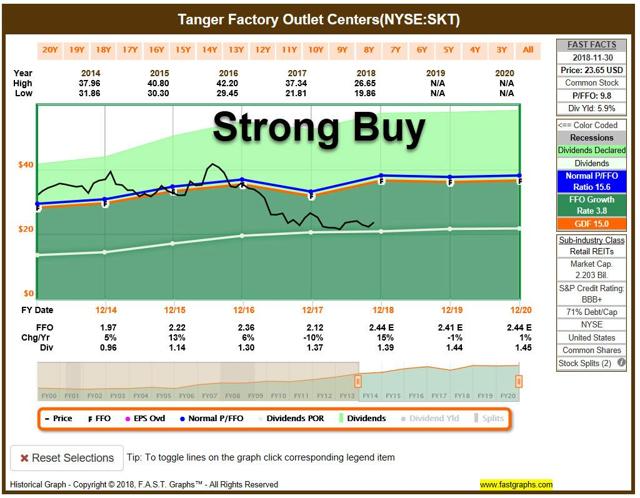 Source: FAST Graphs
SWAN Pick #2: Regency Centers (REG)
Regency Centers is a shopping center REIT that invests in grocery-anchored properties. We consider Regency a "wide moat" model due to its focus on gateway markets, evidenced by the company's grocer sales average of $650 PSF annually, versus the national average of $400 PSF. It's a testament to the locations, relevance of grocers, and enduring quality of these shopping centers.
A necessity, service, convenience, and value focus is increasingly critical in today's retail landscape, along with resistance to store rationalization from disrupters, including e-commerce. Amidst store rationalization and bankruptcies, Regency's asset quality and demographic profile mitigate downtime, while allowing for merchandising upgrades typically at accretive rents.
Regency's year-to-date total return is -5.0% and we maintain a BUY recommendation on the shares, which yield 3.5%. Regency also maintains a strong balance sheet (BBB+ rated by S&P) with one of the lowest payout ratios (around 59%) in the shopping center sector.
Although Regency has under-performed year-to-date, we believe physical stores remain a critical component of a multi-channel strategy – on the Q3-18 earnings call, CEO Stein noted, "Publix continues to heavily invest in both new and existing locations with plans to redevelop over 130 stores this year as part of their $1.5 billion capital plan."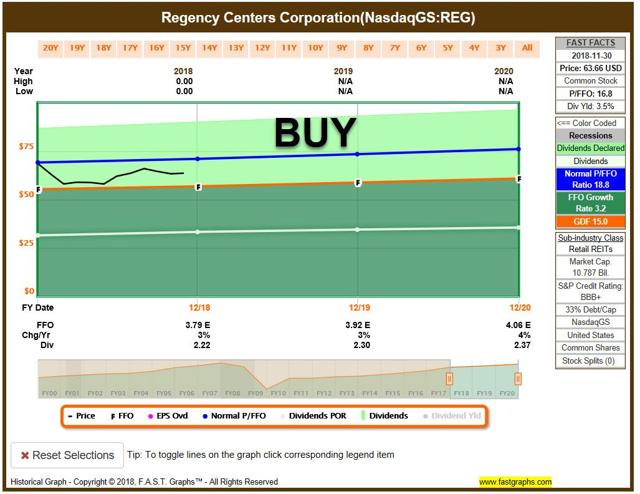 Source: FAST Graphs
SWAN Pick #3: Kimco Realty (KIM)
Kimco Realty generates ~80% of ABR (annual base rent) from its major metro markets (76% are coastal and sun belt markets), with most located in coastal markets. Over the last few years, Kimco has been focusing on recycling its portfolio, reducing its fleet from 816 centers (in 2010) to 437 (as of Q3-18).
As Kimco continues its recycling initiatives, in Q3-18 the company sold 10 shopping centers for $154 million (KIM's share). Kimco has sold 49 centers year-to-date with total proceeds of approximately $722 million, exceeding the bottom end of the guidance range of $700 million to $900 million provided at the beginning of the year.
Kimco's balance sheet and liquidity position are in excellent shape (rated BBB+ by S&P). The company's consolidation weighted average debt maturity profile is now 10.7 years - one of the longest in the REIT industry. We maintain a Strong Buy on the shares, which yield 6.9%. The company's P/FFO multiple is 11.2x, well below the 5-year (P/FFO) average of 15.0x.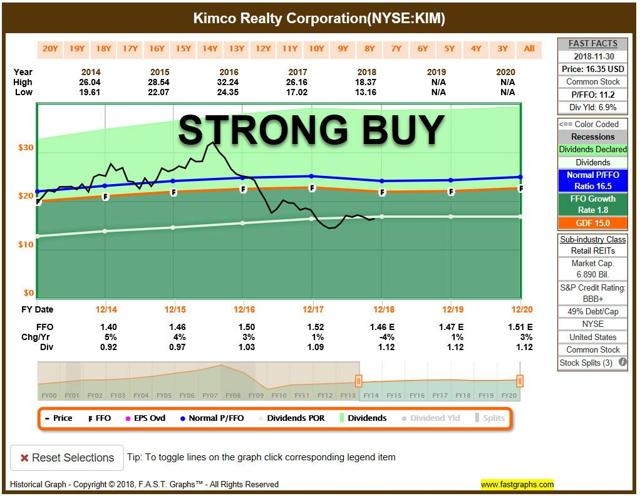 Source: FAST Graphs
SWAN Pick #4: W.P. Carey (WPC)
W.P. Carey is one of the largest owners of net lease assets and among the top 25 REITs in the MSCI US REIT Index. The Net Lease REIT has a highly diversified portfolio by geography, tenant, asset type and tenant industry. The company recently expanded after closing on its strategic $5.9 billion merger with CPA:17 (non-traded REIT) which improves W.P. Carey's earnings quality, enhances diversification, and increases size and scale. Carey also exited its non-traded retail fundraising, which will ultimately lead to more stable and predictable earnings.
W.P. Carey acquires "mission-critical" assets essential to a tenant's operations and many of the leases have upside through escalations and credit improvements. Carey's properties are located primarily in the U.S. and Europe (30% exposure). To mitigate the international risk, Carey has been investing for 20 years, primarily in western and northern Europe.
W.P. Carey has returned +3.8% year-to-date and shares are yielding 6.1%. We have a BUY recommendation on the company, and believe shares remain attractive based on the 12.6x P/AFFO multiple, below the company's 5-year (P/FFO) average of 13.1x.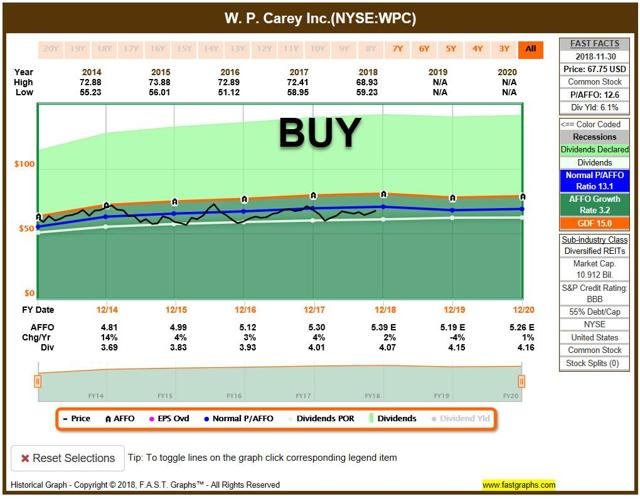 Source: FAST Graphs
SWAN Pick #5: American Campus Communities (ACC)
American Campus is now the only "pure play" campus housing REITs, after Education Realty reached an agreement to be purchased by Greystar in a $4.6 billion deal. The strong demand for campus housing is driven by an increase in the number of students attending college, and the fact that many college students take longer than four years to finish college. American Campus' current market share is 5%, suggesting the company has substantial opportunity to grow the platform.
One of the reasons that we like American Campus is because the company is a very good capital allocator. The credit rating agencies also support that thesis, based on the BBB (S&P) rating. American Campus has been selling some of its properties and recycling capital to help fund the company's 2019 and 2010 development pipeline, estimated to be $650 million.
American Campus has returned +10.9% year-to-date and shares now yield 4.2%. We are maintaining a Buy recommendation on the company and we find shares attractive, based on the 19.0x P/FFO multiple and projected FFO growth of 5% in 2019.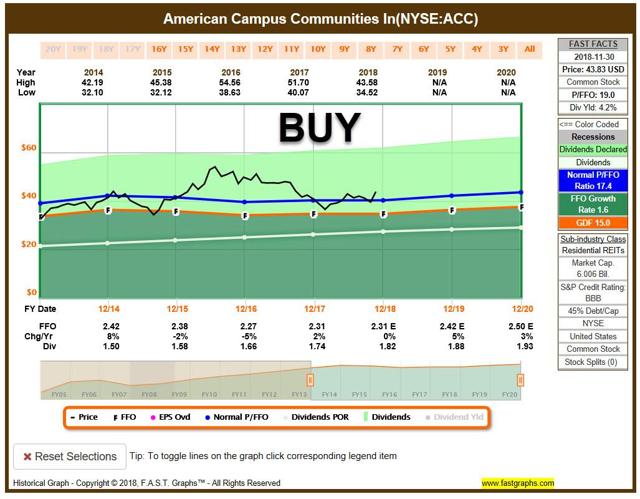 Source: FAST Graphs
SWAN Pick #6: LTC Properties (LTC)
LTC Properties is a healthcare REIT that invests primarily in senior housing and long-term healthcare property types, including skilled nursing properties, assisted living properties, independent living properties and combinations thereof. With a portfolio of 199 properties, LTC is much smaller than Ventas (VTR) and Welltower (WELL), and we believe this tactical investment strategy is paying off.
Because of its size, LTC does not have an investment grade rated balance sheet, but the management maintains strict discipline, evidenced by the $500 million available under its line of credit, $80 million under its shelf agreement with Prudential, $184 million under its ATM program, and liquidity of around $764 million of liquidity (all as of Q3-18).
LTC's conservative capital allocation thesis has served it well and the company plans to maintain this philosophy going forward. The long-term debt to maturity profile remains well-matched to projected free cash flow, helping to moderate future refinancing risk, with no significant long-term debt maturities over the next five years. LTC has returned +11.4% year-to-date and the shares yield 4.9%. Previously we had a Strong Buy on LTC, but we downgraded to a Buy after the shares began to appreciate in value. LTC's P/FFO multiple is 15.3x, in-line with the 5-year average of 15.4x.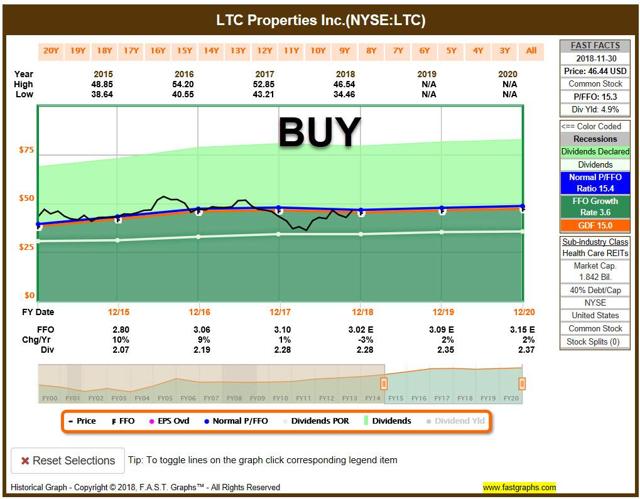 Source: FAST Graphs
SWAN Pick #7: Simon Property Group (SPG)
Simon Property Group is a best-in-class mall REIT that owns or held interests in over 234 retail properties totaling over 190 million square feet located across North America and Asia. Additionally, the company has an expanding footprint in Europe with its 21.2% interest in Klepierre (OTCPK:KLPEF) (a leading European mall operator based in France).
Simon has two primary differentiators: First, the company owns the highest quality malls with dominant traffic and sales. In Q3-18 the Mall and Premium Outlets sales per square foot was $650, compared to $622 in the prior year period per foot, an increase of 4.5%. Also, in Q3-18, Simon's occupancy at the end of the quarter was 95.5%, an increase of 80 basis points for Q2-18 and an increase of 20 basis points compared to prior years.
Secondly, Simon has a fortress balance sheet with debt ratings among the best unsecured debt ratings in the entire REIT industry, and this underscores the balance sheet strength. Simon's balance sheet continues to be industry-leading, with net debt to EBITDA of 5.4x, well below the peer group - and fixed interest coverage was 5x, well in excess of peers. Simon's current liquidity is $7 billion and the company continues to have excess cash flow, which it can reinvest in the business.
Simon has returned +12.3% year-to-date and shares yield 4.3% today. We continue to maintain a Strong Buy as the company trades at 15.4x, well below the company's 5-year (P/FFO average of 18.1x).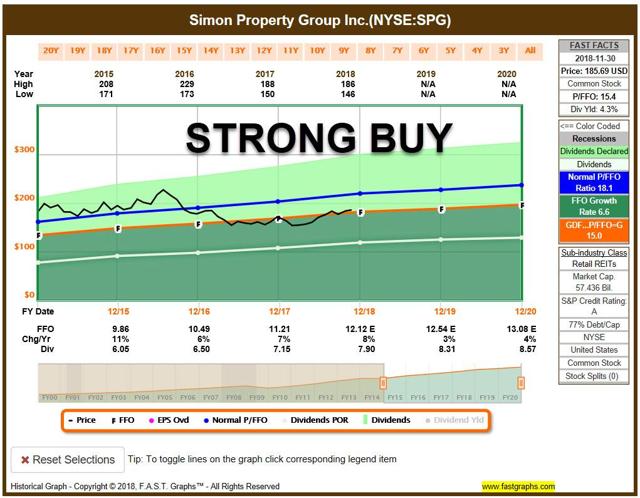 Source: FAST Graphs
SWAN Pick #8: Realty Income (O)
Realty Income, aka "the monthly dividend company," has a long history of dividend growth. The company has declared 581 consecutive common stock monthly dividends throughout its 49-year operating history and increased the dividend 98 times since Realty Income's public listing in 1994 (source: here). The 'secret sauce' to Realty Income's dividend growth history has been its (1) diversification, (2) low cost of capital, and (3) strong balance sheet.
Realty Income owns over 5,694 properties (leased to 260 commercial tenants in 48 industries) located in 49 states and Puerto Rico. This stalwart REIT has incredible scale, well-diversified by tenant, industry, geography, and - to a certain extent - property type. No tenant represents more than 6.6% of revenue.
Also, Realty Income's cost of capital advantage is one of the lowest in the net lease REIT sector. In Q3-18 the company continued to maintain a conservative capital structure, which contributed to the S&P upgrade to "A-" earlier this year. The company has similar ratings with Moody's (and is one of only seven REITs with at least two A ratings). Recently, Realty Income announced the expansion of its $3.25 billion unsecured credit facility.
Realty Income has returned +16.6% year-to-date and yields 4.1%. We consider the current price (of $64.09) a tad rich and we recommend waiting on a pullback before purchasing today (we maintain a "pull back" buy). Realty Income's P/AFFO is 20.1x and the 5-year average is 18.7x.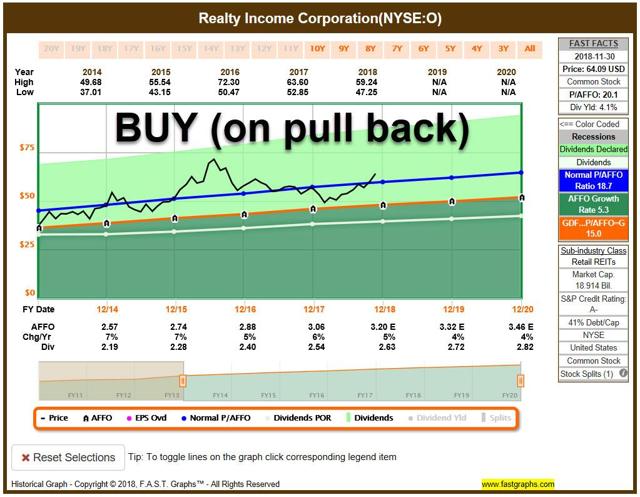 Source: FAST Graphs
SWAN Pick #9: Store Capital (STOR)
Store Capital has been our second-best SWAN pick in 2018. As you may recall, we upgraded shares in the net lease REIT, back in May 2017, from a Buy to a Strong Buy. Subsequently, in June 2017, Berkshire Hathaway invested around $377 million, to own 9.8% of Store's shares outstanding (18.6 million shares). Berkshire's investment served as a catalyst that has driven Store's price to around $30.00 per share.
Like Berkshire Hathaway, we are bullish as it relates to Store's unique middle market platform that serves as a real estate bank for many franchise-based credits. Although Store does not lease to many investment grade rated companies, the firm takes a more tactical approach by focusing on the highly fragmented sub-sector that addresses the long-term capital needs of middle-market and larger unrated companies.
Store has proven that it can generate robust earnings and dividend growth, while also maintaining strict discipline in capital markets. Uniquely, 97% of Store's leases require the delivery of property-level financial statements, which is unprecedented and enables such disclosure. Since lease contracts always determine risk, Store's contract disclosure gives investors a window into the portfolio investment quality and performance trends that are unavailable anywhere.
Store has returned +19.6% year-to-date and the shares yield 4.4% (very safe payout ratio of less than 60%). We downgraded shares from a Strong Buy to a Buy, given the price appreciation year-to-date, but we are excited to maintain an over-weight position given the company's very predictable growth profile. The company's P/AFFO multiple is 16.5x, compared to the 4-year average of 15.3x.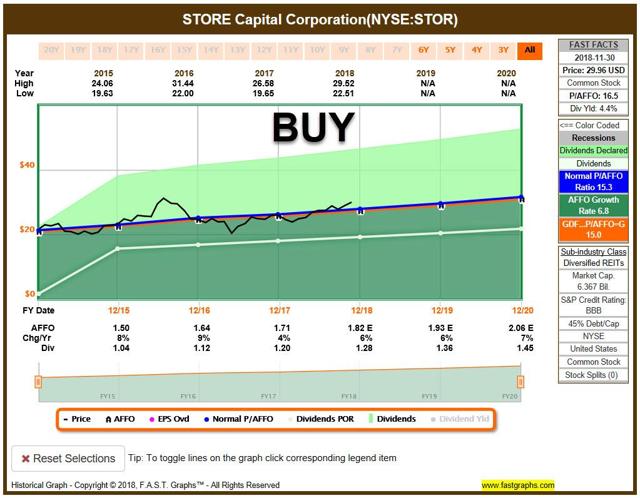 Source: FAST Graphs
SWAN Pick #10: Omega Healthcare Investors (OHI)
Omega Health Investors has been the top SWAN pick of 2018 and although we downgraded the company's "sleep well at night" status earlier in the year, we have maintained the Buy rating throughout the year. Back in February we explained, "I'm sticking with Omega… because I'm a value investor. That simply means that sometimes I have to go against the herd and even risk being called a dummy."
Maybe I should write an article called, "Who's the Dummy Now," but that may seem a bit arrogant, even though I find this top pick to be a somewhat textbook example of being an "intelligent REIT investor." As I explained in March, "buying stocks when they are cheap has been the best way to build wealth in the stock market, and companies that are on sale reap the highest returns."
Omega is now seemingly expensive, based on a variety of metrics, and although we are maintaining exposure, we have begun to "trim" shares recognizing that the year-to-date returns of +46.6% are somewhat generous. Omega now yields 7.0% and the P/FFO multiple is 12.6x, compared with the 5-year average of 11.6x.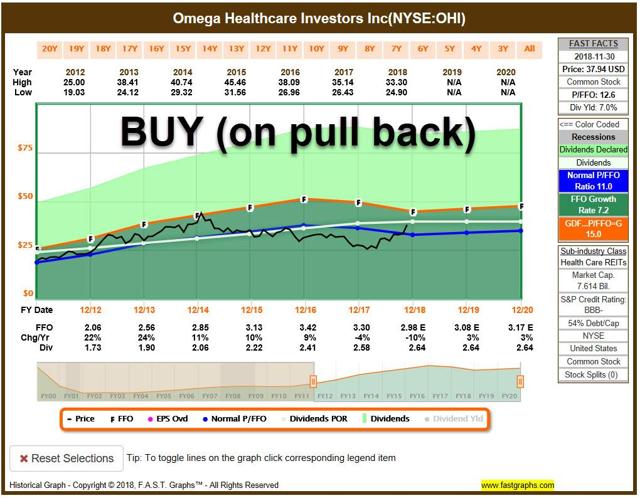 Source: FAST Graphs
Summary: As you can see below, these 10 SWANs returned an (equal weight) average of 10.6% year-to-date, beating ALL of our model portfolios (in the newsletter), as well as the DAVOS Index (+9.3% YTD).
Interestingly enough, we targeted our portfolios to return between 9-10% in 2018, and with just 30 days left in the year, it appears that our REIT recipe was just about right. Regarding our SWAN picks - and to quote Warren Buffett - "Your premium brand had better be delivering something special, or it's not going to get the business." Indeed. Happy SWAN Investing!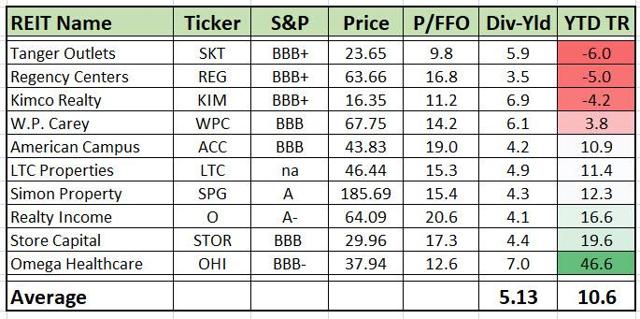 Source: Rhino Real Estate Advisors
Author's note: Brad Thomas is a Wall Street writer and that means he is not always right with his predictions or recommendations. That also applies to his grammar. Please excuse any typos and be assured that he will do his best to correct any errors if they are overlooked.
Finally, this article is free, and the sole purpose for writing it is to assist with research, while also providing a forum for second-level thinking.
Brad Thomas is one of the most read authors on Seeking Alpha, and over the years, he has developed a trusted brand in the REIT sector. His articles generate significant traffic (around 500,000 views monthly) and he has thousands of satisfied customers who rely on his expertise.
Marketplace subscribers have access to a growing list of services, including weekly property sector updates and weekly recommendations. Also, we are now providing daily early morning REIT recaps, including breaking news across the entire REIT universe. Take charge!
Disclosure: I am/we are long SKT, KIM, WPC, ACC, LTC, SPG, O, OHI, STOR. I wrote this article myself, and it expresses my own opinions. I am not receiving compensation for it (other than from Seeking Alpha). I have no business relationship with any company whose stock is mentioned in this article.