Editor's note: Seeking Alpha is proud to welcome John B. Rogers as a new contributor. It's easy to become a Seeking Alpha contributor and earn money for your best investment ideas. Active contributors also get free access to the SA PRO archive. Click here to find out more »
At current price levels, shares of Fluor (NYSE:FLR) offer investors a compelling opportunity, with the potential to double over the next years as financial results rebound from current depressed levels.
A Difficult Stretch for E&C Weighs on Share Price
Fluor Corporation, one of the largest global providers of engineering and construction services has been through a rough stretch. Revenue, earnings per share and stock price returns have all declined sharply over the past five years (down 30%, 50% and 37%, respectively). These losses reflect the impact of falling demand for some of the large global construction projects which Fluor has engineered, built and managed over the past century. Are these recent declines part of long-term and continuing trend or do they present an opportunity for investors?
The global E&C industry, while notoriously cyclical, has been extremely difficult in recent years. The largest providers of services for large scale oil/gas, industrial, power, infrastructure, government and other projects faced falling demand, increased competition and rising costs. The largest public E&C companies at the beginning of the decade including Fluor, McDermott (MDR), Jacobs (JEC), Quanta (PWR), Foster Wheeler, URS, AECOM (ACM), KBR (KBR), SHAW and Chicago Bridge & Iron, substantially underperformed the market and a majority lost value over the past five years.
The specific causes of the financial difficulties vary for these businesses, but generally come down to fewer opportunities and executions issues on projects which were awarded in a highly competitive environment. With fewer attractive opportunities contractors tend to reach outside of their sector of expertise and/or are more willing to take on greater risk or lower margins. The biggest project issues typically arise with fixed-price or lump sum contracts where contractors are obligated to deliver a completed project for a specified price and profit/losses are determined by the variance in cost from this price. Many of the most notable recent project losses in the industry were on projects awarded several years ago during a weak market environment and appear to reflect mistaken assumptions about capabilities, costs, customer support and/or over reaching by managements' seeking to preserve or slow the decline in revenue.
Internal Focus Positions Company for Recovery
For Fluor, the most recent cycle began in 2003, with substantial growth in new project awards, which drove backlog, revenue, margins and earnings higher. These gains began to level off in 2010 when bookings reached $25 billion and peaked in 2014 at $28 billion as did EPS at $4.48 per share. The stock peaked in late 2013 at slightly over $80 per share.
By 2017 new award bookings were at the lowest level since 2006, $13 billion. Worse, many of the projects Fluor added to backlog at the end of the cycle carried higher risk/lower margin opportunities for the company. Eventually as work progressed, many of these bad projects became apparent and led to project charges and substantially reduced profit margins. Contractors are required to realize project losses or revisions to previous earnings immediately, further adding to earnings volatility.
While most of the company's peers have pursued major acquisitions or mergers in recent years to add revenue opportunities, which also increased financial leverage and/or diluted shareholders, Fluor has largely focused on internal investment such as low cost modular construction and an investment in small scale nuclear power and also the repurchase of 20% of outstanding shares since. Currently the company maintains a solid balance sheet with moderate debt ($1.7 billion compared to $3.0 of equity and $1.9 of cash and securities). The company also pays a reasonable annual dividend of $0.84, current yield of 2.1%.
Cycle and Prospects Begin Turning Up
While it is difficult to surmise when a cyclical recovery is full underway, and for investor's particularly as they need to be involved early, there are signs the future is brightening for Fluor, competition is declining, new orders are rising and the financial outlook has improved.
The large project construction industry has consolidated. Four of the ten largest firms at the beginning of 2010 having been absorbed into other companies. Furthermore, many companies have withdrawn or announced plans to pull back from some market segments over the past two years including, Aecom, Jacobs, KBR, McDermott and Skanska (OTCPK:SKBSY).
Fluor's new work bookings have very recently improved after a multi-year decline, supporting backlog growth and prospects for financial improvement. After 6 quarters of low bookings ranging from $2 to $4 billion which led to the run-off of backlog, orders have recently surged. The company added $5 billion of new awards in Q2 2018 and over $9 billion in Q3, with a similar level expected in Q4 based on recent project awards. According to recent comments from management, new awards for all of 2018 are expected to exceed $25 billion, doubling from 2017. Of course, award timing is extremely volatile particularly on a quarterly basis and not all awards offer similar return potential, but a rising trend is a good indication of improving market conditions and company prospects.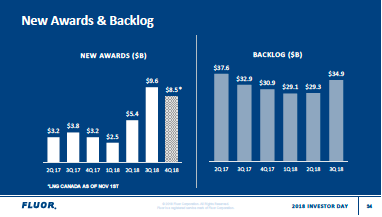 Substantial Financial Improvement Potential
As previously noted revenue and margins tend to follow new orders trends. Orders in backlog provide visibility for future work and revenue. With less competition, contractors like Fluor can bid for work with higher embedded margins and operate more efficiently. Accordingly, as work from recent bookings is executed and recognized as revenue, profit margins should also improve.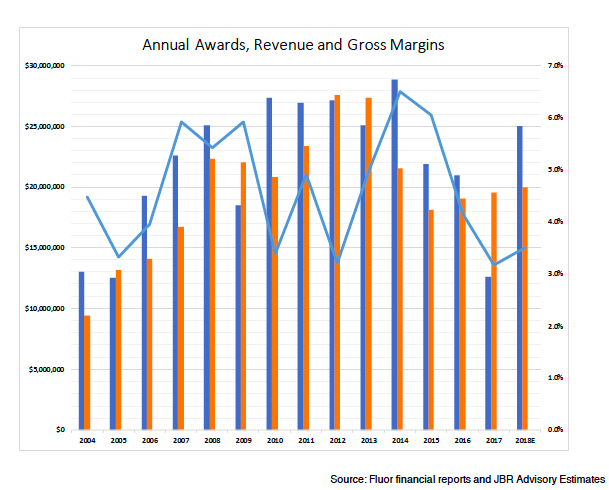 With recent margins below long-term historical averages, Fluor generated gross profit margins of 3.2% in 2017 compared to an average of 5.0% in the previous decade, a return to norms would yield a substantial earnings improvement. We calculate a 100 basis point improvement in gross margins could add nearly $1.00 per share to annual EPS.
The macro environment, including fears of slowing economic growth, rising interest rates and a recent pull-back in commodity prices does raise some concerns. However long-term growth in North American oil/gas production, increased cost advantages for downstream producers, changing power market sources, infrastructure demand and increase usage of sophisticated project engineering and large-scale modular construction does create opportunities for Fluor. Management recently shared some of these near term prospects in a presentation to Wall Street.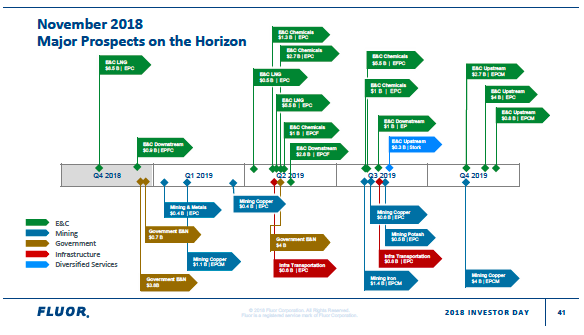 Consensus expectations call for earnings to rebound to over $3 per share in 2019 and $4 in 2020 from $1.85 in 2018. While earnings forecasts in recent years have proved optimistic, the underlying business trends now seem to support a recovery. Of course management will also have to execute.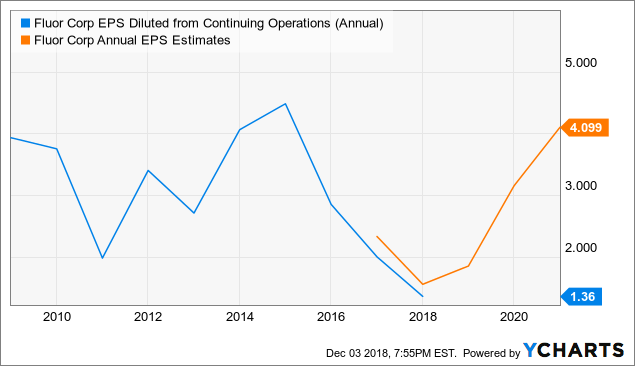 Attractive Price Opportunity
Trading at the low end of its historical valuation norms, amidst early signs of improved growth prospects and less competition, Fluor shares appear worth a look. Based on consensus projections for 2019, Fluor's shares are trading below 13X earnings, below recent historical averages of 25X and below our estimate of long-term P/E values of 15X to 20X mid-cycle earnings. With a recovery to previous higher end margins over the next several years, we estimate Fluor's earnings potential could exceed $5 per share, supporting a valuation of $80 or more.