A 60:40 allocation to passive long-only equities and bonds has been a great proposition for the last 35 years… We are profoundly worried that this could be a risky allocation over the next 10."
Sanford C. Bernstein & Company Analysts (January 2017)
Bull markets are born on pessimism, grow on skepticism, mature on optimism, and die on euphoria"
Sir John Templeton
Life and investing are long ballgames."
Julian Robertson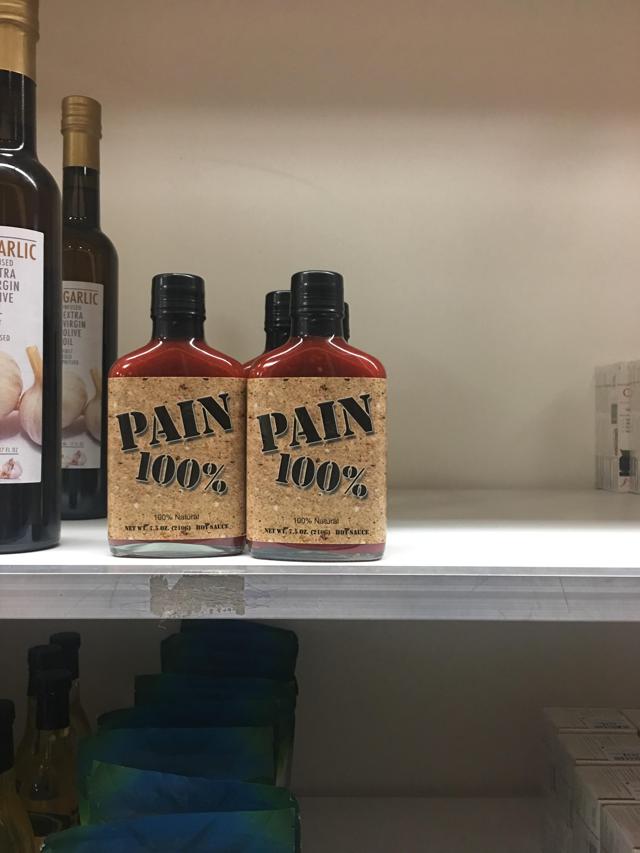 (Author's Photo)
Introduction
Prior to the waterfall price declines in October and in November, crude oil prices had risen in 10 of the 13 past months.
The recent price plunge in oil prices was so severe, however, that a majority of the price gains over the prior year were given back.
For the month of November alone, $WTIC crude oil prices fell -22.0%, $BRENT oil prices fell -21.3% and the United States Oil Fund (USO) fell -22.2%, and these severe price declines occurred in addition to large October declines in oil prices.
In contrast, the United States Natural Gas Fund (UNG) rose 41.4% in November and gained in October too.
Why has sentiment shifted with respect to crude oil prices and what lies ahead?
Oil Prices Cascade Lower
After making new highs only nine weeks ago, $WTIC oil prices lost -22.0% in November, after falling -10.8% in October. $BRENT oil prices had a similar fate, declining -21.3% in November, after their -8.8% fall in October.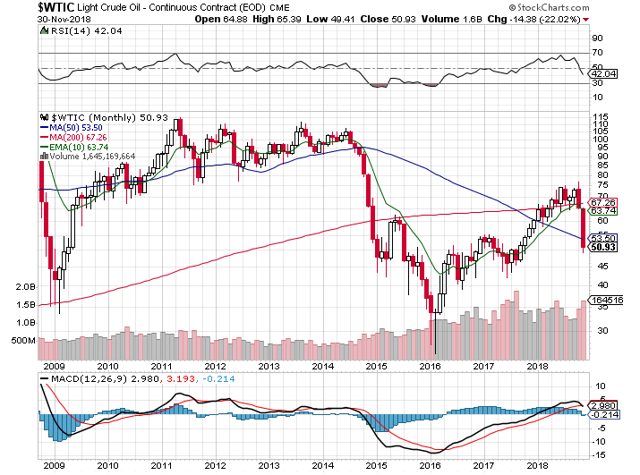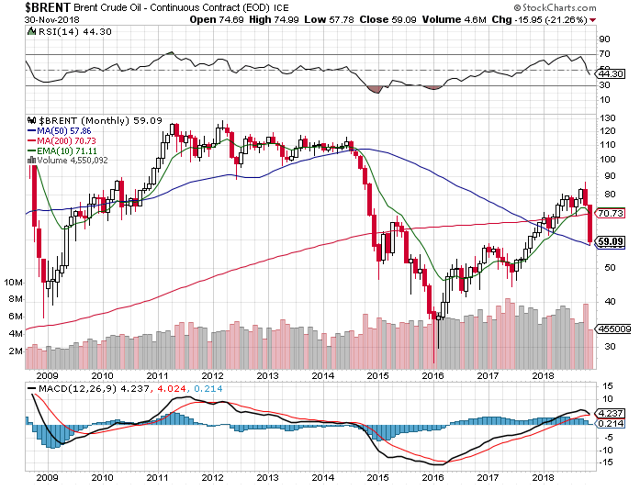 (Source: Author, StockCharts.com)
The United States Oil Fund, which had benefited for a majority of 2018 from a backwardation in crude oil prices fared even worse in November, losing -22.2%, as oil futures prices shifted from backwardation to contango.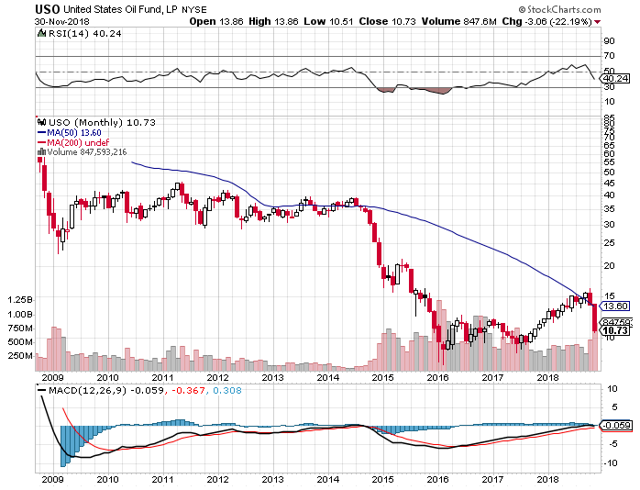 (Source: Author, StockCharts.com)
Looking at the charts above, it is easy to see that oil prices have given back a significant portion of their 2016-2018 gains.
Sentiment Shifts
The following graphic highlights the sudden shift in sentiment.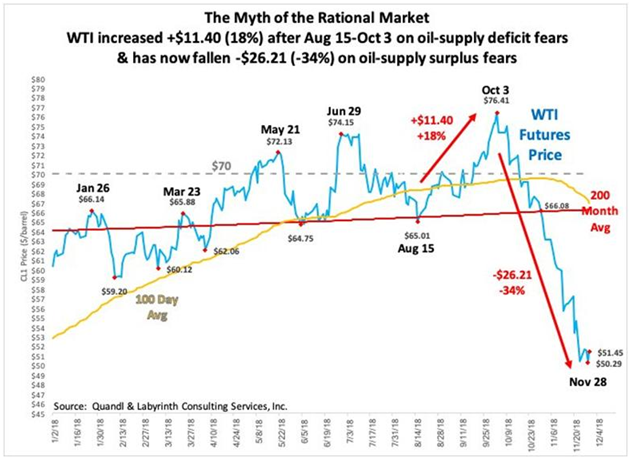 (Source: Quandl & Labyrinth Consulting Services)
The headline in the chart says it best:
The Myth Of The Rational Market: WTI increased +11.40 (18%) after Aug15-Oct3 on oil-supply deficit fears & has not fallen -26.21 (-34%) on oil supply surplus fears.
What could cause such a sudden shift in sentiment over the span of a couple months?
From my perspective, it was a combination of three things. First, a global sell-off in almost all risk assets in October directly impacted oil prices. Second, crowded trades have been unwound on a serial basin in 2018. Third, oil supply has increased as higher crude oil prices have provided an incentive for producers, particularly U.S. shale producers.
A Supply Glut
Fellow Seeking Alpha author Brian C. Nelson had a terrific article published on November 27, 2018, titled, "The Uptick In The Rig Count Has Hit A Brick Wall", that was a follow-up to his prior article, published on August 15, 2016, titled," The Uptick In The Rig Count Has Just Begun, And We Have A Long Way To Go".
In his more recent article, Brian made the following astute observation:
On July 7, 2016, when US crude production was ~8.6 MMbo/d, the EIA released its Long-term Energy Outlook (LTEO) and forecast (see chart below) that US crude production would not eclipse 10 MMbo/d for 14 years in 2030. Even in its "high" oil price case, the EIA forecast that US crude production would not reach 12 MMbo/d until 9 years in 2025. I am sure there are a few exceptions, but most of the large investment banks, market pundits, "experts" on CNBC, etc. were forecasting something similar, and the phrase "Lower for Longer" seemed to be the mantra of the masses.
As we all know, with the benefit of hindsight, U.S. oil production has jumped to over 10 MMbo/d in 2018 and is on pace for over 12 MMbo/d in 2019, so the EIA was off by over 12 years in their base case scenario in July of 2016 and off by over 6 years in their high oil price scenario.
This jump in crude oil supply ahead of expectations, which has become apparent with the acceleration of U.S. oil production over the past several months, has been the primary factor responsible for the price declines in oil.
In addition to U.S. production increases in 2018, OPEC, at least until their upcoming December meeting, and the rest of the world have increased oil supply too.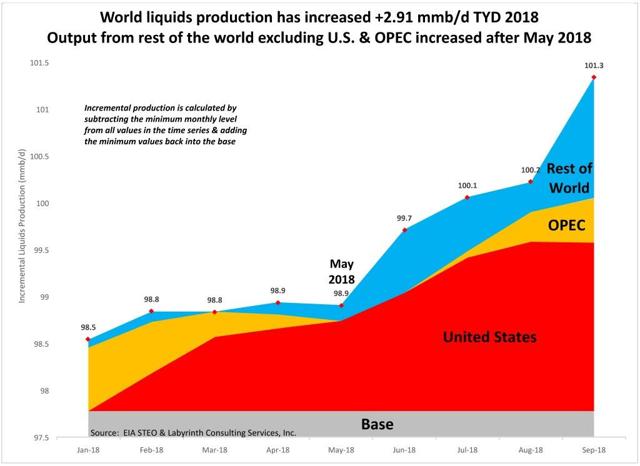 (Source: Quandl & Labyrinth Consulting Services)
The end result has been a glut of crude oil supply, which ultimately exceeded both prior expectations, and demand growth, which has combined with a risk-off global equity market to torpedo crude oil prices.
Large-Cap Producers Have Held Up Better
While USO, $WTIC oil, and $BRENT oil declined -22.2%, -22.0%, and -21.3% respectively in the month of November, the Energy Select Sector SPDR Fund (XLE), which is dominated by large-cap companies like Exxon (XOM), Chevron (CVX), and ConocoPhillips (COP), only declined -1.6% in the month of November.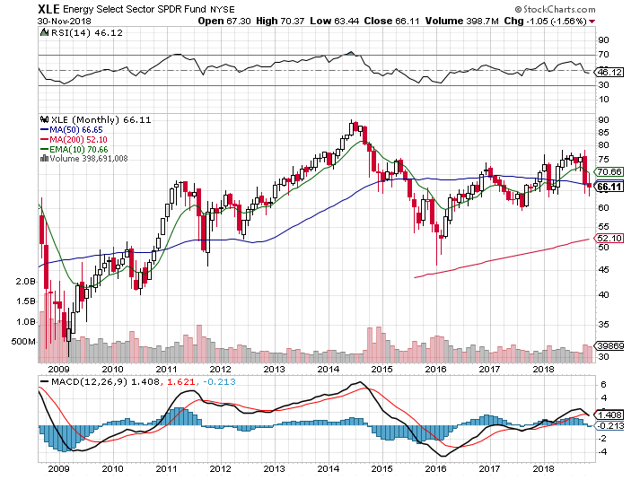 (Source: Author, StockCharts.com)
The price performance of XLE, in contrast to USO, $WTIC, and $BRENT, was boosted by the gains in the broader equity market, with the SPDR Dow Jones Industrial Average ETF (DIA) rising 5.2% in November, and the SPDR S&P 500 ETF (SPY) rising 4.6% in the month of November. As I write this post, XLE is down -4.5% year-to-date, ahead of the declines in the United States Oil Fund (down -6.2% YTD benefiting from backwardation in the majority of 2018), $BRENT oil (down -7.8% YTD), and $WTIC oil (down -12.4% YTD).
Building on the narrative, with USO down the aforementioned -6.2% YTD, Exxon, Chevron, and ConocoPhillips have seen their share prices rise 1.1%, 0.1%, and 28.2%, respectively, year-to-date.
Thus, there clearly has been a positive divergence in performance between the larger capitalization oil equities and oil, particularly over the month of November.
Oil Service Stocks Hold The Key
While large capitalization energy stocks have positively diverged from oil prices, particularly in November, oil service stocks, as measured by the VanEck Vectors Oil Services ETF (OIH) have not fared as well, closing below their 2016 price lows.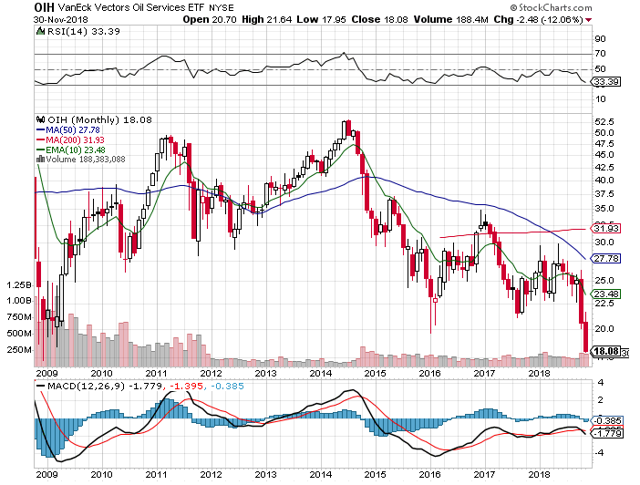 (Source: Author, StockCharts.com)
Leading oil services company Schlumberger (SLB) is down -29.8% in 2018, epitomizing the negative divergence in oil service equities.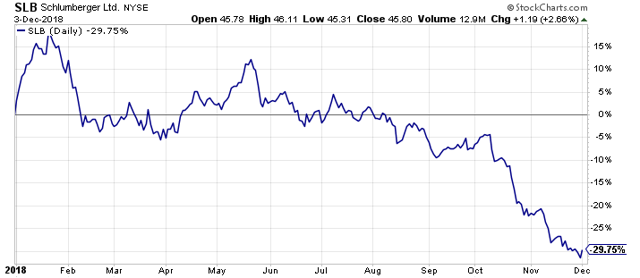 (Source: Author, StockCharts.com)
Why are the oil services companies faring so poorly?
The glass half full vantage point would suggest that perhaps exploration and production companies have gotten more efficient, seeking better return of capital metrics, while focusing on free cash flow generation.
The glass half empty view would be that the efficiency gains in production were seen first by the oil services companies, and they foretold the glut of oil that was on its way.
Closing Thoughts
Oil prices have certainly crashed over the past two months, steepening their October declines into a free fall in November.
Catalysts for the severe price decline in oil included a sharp sell-off in risk assets in October, an unwind of crowded trades, and most importantly, a surge in crude oil supply.
This decline in prices has shifted the oil futures price curve from backwardation to contango, potentially benefiting firms that benefit from oil storage, like Teekay Tankers (TNK) or Macquarie Infrastructure (MIC).
Larger capitalization energy equities have outperformed, particularly in November, potentially a positive leading sign for crude oil prices, however, oil service stocks have been crushed and remain below their 2016 lows.
In summary, there are many crosscurrents in the oil market right now. With oil prices extremely oversold, at least a short-term bounce is likely in my view, and if this happens, the United States Oil Fund should head higher alongside higher oil prices, unless OPEC does not cut production at its upcoming meeting.
However, until supply growth is curtailed, particularly from the U.S., there is going to be a cloud that hangs over the oil market, in my opinion. Canada's recent curtailment helps, however, the market was already solving that issue, with low Canadian oil prices encouraging a pullback in production, and of course, the upcoming OPEC meeting looms over the entire energy complex.
While there is a cloud over the oil market, there are certainly energy companies that are trading below their 2016 lows, with oil prices much higher, and now natural gas prices higher too, and a select group of these companies that are trading below their 2016 lows offer an interesting contrarian opportunity, in my opinion.
Building on this narrative, the best opportunities, from my vantage point, in the energy sector are in undervalued oil growth stories like Chesapeake Energy (CHK), which I authored a public profile on here, who benefits from favorable basin pricing and natural gas exposure, and from more natural gas-focused equities, including Southwestern Energy (SWN), which I shared a deep-dive on here.
For both of these companies, natural gas price exposure, which has been the redheaded stepchild in the energy sector for a long time now, as more oil-focused companies have curried investors favor, could be beneficial, instead of a hindrance.
What about you reading this article? Where are your favorite energy equities today?
On that note, thank you for taking the time to read this article.
To close, even though it has been a very difficult stretch for energy investors, I think we are about to enter a golden age for active investors, and the energy sector will be at the forefront of this opportunity.
Disclaimer: Every investor's situation is different. Positions can change at any time without warning. Please do your own due diligence and consult with your financial advisor, if you have one, before making any investment decisions. The author is not acting in an investment adviser capacity. The author's opinions expressed herein address only select aspects of potential investment in securities of the companies mentioned and cannot be a substitute for comprehensive investment analysis. The author recommends that potential and existing investors conduct thorough investment research of their own, including detailed review of the companies' SEC filings. Any opinions or estimates constitute the author's best judgment as of the date of publication and are subject to change without notice.
For further perspective on how the investment landscape is changing, and for help in finding under-priced, out-of-favor equities with significant appreciation potential relative to the broader market, consider joining a unique community of contrarian, value investors that has thrived in 2016 and weathered the storm in 2017 to become closer as a collaborative team of battle-tested analysts. Collectively, we make up "The Contrarian," my premium research service.
Disclosure: I am/we are long CHK, SWN. I wrote this article myself, and it expresses my own opinions. I am not receiving compensation for it (other than from Seeking Alpha). I have no business relationship with any company whose stock is mentioned in this article.