The catch with Castle Brands (ROX) is the same as it's been for some time: ROX really isn't cheap. The stock looks like it should be cheap: ROX shares have dropped 60% from (admittedly brief) June 2017 highs. Tuesday's price of $0.87 - just off a 21-month low - seems to suggest a potential opportunity in a micro-cap stock where traders and investors have lost patience.
But even near the lows, ROX remains rather expensive. An EV/revenue multiple of 2.15x is cheap for the space - but there are structural reasons for a discount to larger players. (The two most obvious are Castle Brands' much smaller size and its general lack of production capabilities.) EV/EBITDA on a trailing twelve-month basis still is about 24x. GAAP net income remains modestly negative; free cash flow is deeper in the red.
There is an interesting story here, and room for ROX to grow into its valuation. Multi-year performance has been strong. It seems reasonably clear that management and the board see a sale as the endgame, which means incentives should be aligned. Even with those positives, however, ROX still doesn't look quite cheap enough, particularly after two quarters that look somewhat disappointing.
The Jefferson's Problem
The qualitative story for ROX over the past couple of years really has had two legs. First, the company's Jefferson's bourbon has proven to be a winner. Per the Q1 FY19 release, Jefferson's is a top-five premium small batch bourbon - and the only one not owned by one the industry majors. Castle continues to see success with the product, including a 48% increase in Q1. (Castle fiscal years end in March.)
The second driver was the Dark 'n' Stormy cocktail. The drink is made with rum and ginger beer - both of which Castle markets under the Goslings brand. That drink, along with 'mules' (which use ginger beer and lime juice), has shown increasing popularity of late, and to increase sales Castle has marketed the Dark 'n' Stormy itself, including at sailing's America's Cup.
Those three products have driven most of the growth here: liqueur revenues have risen, but those gains are more than offset by steady declines in vodka. And on a consolidated basis, Castle Brands' multi-year performance has been quite good: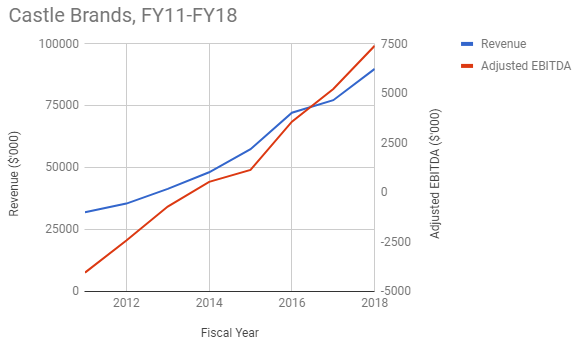 source: author from Castle Brands filings and press releases
The performance has continued into the first half of FY19, with revenue up 11% and Adjusted EBITDA climbing 25%+.
Of late, however, a potential problem is emerging: Castle's seemingly strong performance is being driven by Jefferson's, and little else. Rum growth has stalled out the last two fiscal years; sales are up 1.3% year-over-year in the first half with cases down 3.9%, per the 10-Q.
Ginger beer's performance has been eye-popping: roughly $2.5 million in revenue in FY12, and $26.5 million in sales six years later. But revenue actually declined year-over-year in Q1; even after a much better Q2, revenue is up 5.5% (against 32%+ for full-year fiscal 2018) on the back of 3.9% case growth. It's possible that entire category is slowing: Reed's (REED), maker of Reed's Ginger Brew, has seen flat growth in calendar 2018 after sharp declines in 2017. Its CEO said on the most recent conference call that growth had slowed down for the space's major players - including Goslings.
Liqueurs revenue is down 2.5% in the first half, and that category has been stable for years now (~1% CAGR the last six years even with a strong FY18). The only good thing to say about vodka and tequila is that, at 1.6% of total first-half revenue, the headwinds caused by their declines are almost gone.
Even in the whiskies beyond Jefferson's, growth looks weak. Castle disclosed in the Q1 release that Jefferson's revenue was $7.8 million vs $5.3 million the year before. That in turn suggests a roughly 5% decline in Irish and Scotch whisky sales - despite last year's launch of Arran Malt Scotch - and just ~$1.7 million in non-bourbon whiskey sales in the quarter, or about 7% of total revenue. Both Arran and Clontarf sales declined y/y in the first half, according to the Q, though the Knappogue Castle Irish brand did grow.
Neither Q1 nor Q2 looks notably disastrous on their own - but combined, they do raise concerns. Adjusted EBITDA actually declined year-over-year in Q2, due in part to gross margin compression driven by higher bourbon costs. It's possible ginger beer's weakness in Q1 was a one-off issue - but its first-half deceleration takes away what was the #1 growth driver on a dollar basis the last two fiscal years. And with rum now stagnant for ten quarters, liqueurs ~flat for 6+ years, and little apparent movement in non-bourbon whiskies, it is increasingly difficult to model in a driver beyond Jefferson's and ginger beer. That's a problem for the bull case - even at the lows.
The M&A Problem
Commentary from Castle Brands management is somewhat limited - the company doesn't hold conference calls - but it seems reasonably clear the endgame here is a sale of the company. Controlling shareholder Dr. Phillip Frost owns about a third of the company, and has lent another $20 million. (The SEC allegations against Dr. Frost likely added to some of the recent selling pressure on ROX; at this point, however, I don't see them as material to the investment case here.) In investor presentations, Castle Brands has called out industry comparables, and in 2016 highlighted the acquisition of Angel's Envy bourbon by Bacardi. The logic here long has seemed to be to roll up attractive, smaller brands; grow them with the help of shared distribution and marketing; and cash out.
But the long-running issue remains: this is an unwieldy portfolio and an unwieldy business. The rum business isn't owned: Castle owns 80.1% of a partnership that controls exclusive distribution rights. The ginger beer is manufactured by privately held Polar. The company has to buy whiskey for Jefferson's, which continues to pressure free cash flow (which is nearly -$10M over the last twelve months). Acquiring Castle would be a reasonably complex move for a larger company, requiring rewriting (or perhaps re-negotiation) of distilling and distribution contracts, and bringing on a portfolio with multiple brands.
Is Castle really worth it? Diageo (DEO) has an enterprise value pushing $100 billion. Constellation Brands (STZ) (STZ.B) is over $50B. Both companies have slimmed down their portfolios, with Diageo selling off 19 brands last month. Is either company going to add Boru vodka - with $1.3 million in sales? Arran, which generated $1.2 million in FY18 revenue, per the K? Even the Pallini and Celtic Honey liqueurs, which do maybe $4 million-plus apiece a year?
Meanwhile, Brown-Forman (BF.A) (BF.B) is having success in small-batch bourbon: Woodford Reserve case shipments in 2017 were six-plus times those of Jefferson's, according to figures from a Castle Brands presentation. And there really aren't many mid-tier potential buyers (privately held Sazerac, perhaps, who bought the aforementioned 19 brands from Diageo?)
The deceleration in ginger beer, in particular, makes the M&A case even more difficult. Jefferson's no doubt has value. But it's worth noting that Constellation paid $160 million for High West in 2016 - which distilled 100,000 cases the next year. Jefferson sold 70,000 cases in calendar 2017, per the recent presentation, a figure which case growth (13% in FY17, 21% YTD in the broad whiskey category) suggests probably 80-85K cases this year.
Castle still has an enterprise value over $190 million - and High West came with two owned distilleries. Without value coming from the rest of the portfolio - and in fact more work required for a deal - it's tough to see Castle even a similar price. Even that ignores the pivot of Constellation - and potentially other beverage companies - into cannabis.
How This Plays Out
In the past, I've targeted $1 as a rough level where ROX might get interesting. But performance of late - and I thought Q4 was disappointing as well - and the sector's potential turn to cannabis both lead me to back off that target.
Truthfully, I'm not sure at what level ROX looks enticing at this point. Jefferson's is a real brand, with real value. It might be too early to write off ginger beer, though the mule/Dark 'n' Stormy trend does seem to be fading. (It appears, though I'm not entirely in the loop, that gin might be the trendy liquor at the moment - but that's one category where Castle has no presence.)
But the rest of the portfolio is basically stagnant - and it's tough to see an endgame here. Debt remains reasonably concerning, at over 5x trailing twelve-month EBITDA, and over half of the borrowings owed to an affiliate of Ares Management (ARES). Free cash flow is negative - and the company is along way from getting that figure positive while still growing Jefferson's. Castle Brands seems, for lack of a better term, stuck.
And the company simply needs another growth driver. Barring a re-acceleration in ginger beer, it's tough to see from where that comes. 24x EBITDA isn't a terrible price, given Jefferson's probably can drive some profit growth going forward (there too Q2 is a concern). But it's not cheap - and without a real cheap price, it's simply tough to get too excited about ROX.
Disclosure: I/we have no positions in any stocks mentioned, and no plans to initiate any positions within the next 72 hours. I wrote this article myself, and it expresses my own opinions. I am not receiving compensation for it (other than from Seeking Alpha). I have no business relationship with any company whose stock is mentioned in this article.
Editor's Note: This article covers one or more microcap stocks. Please be aware of the risks associated with these stocks.