Shares of Aldeyra Therapeutics (NASDAQ:ALDX) have gained only 10% since I initially brought this one to readers' attention in September of 2017. The stock has risen nearly 35% since my February post stated it had several reasons to run higher as dry eye data loomed. In the interest of full disclosure, in the Marketplace service ROTY we held the stock through dry eye and mesothelioma readouts and sold on the spike which came after.
Now that the valuation has settled back down and additional readouts loom in 2019, I'm looking forward to revisiting.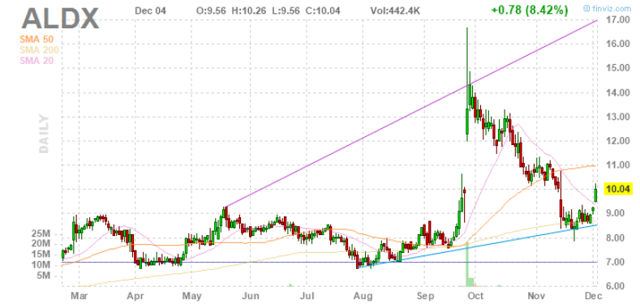 Figure 1: ALDX daily advanced chart (Source: Finviz)

Figure 2: ALDX 15-minute chart (Source: Finviz)
When looking at charts, clarity often comes from taking a look at distinct time frames in order to determine important technical levels to get a feel for what's going on. In the first chart (daily advanced), we can see the stock trading in a range for much of the year until its data-inspired spike in October. From there, shares retraced back below the $10 level. In the second chart (15-minute), we can see the stock ¨waking up¨ due in part to an analyst initiation (remains to be seen if the move has legs).
Overview
When I provided a recap of the Q4 conference call, I noted the following keys to the bullish thesis:
The valuation of the company paled in comparison to the sheer size of the opportunity being targeted in the Dry Eye Disease market ($1.8 billion in prescription sales in 2016). The lengths that Allergan (NYSE:AGN) went to try to protect IP for its blockbuster eye treatment Restasis was proof enough of how valuable the DED market is.
Topical ocular candidate ADX-102 generated encouraging data in a mid-stage study in patients with dry eye disease, with significant improvements recorded across a variety of measures (high statistical significance). Improvements in signs and symptoms of the disease were clear within the first week of therapy and a dose response was observed, with activity increasing throughout the time patients were being treated. A potential point of differentiation as compared to other approved dry eye treatments was that ADX-102 reduced levels of pro-inflammatory aldehyde mediator malondialdehyde in patients' tears.
I noted that there was more to this story than dry eye disease, as a pivotal study of ADX-102 in allergic conjunctivitis was in the works following feedback from regulatory agencies. The drug could address inadequate response to antihistamines, which affects around one-third of allergic conjunctivitis patients (worldwide prevalence of 20% to 40% of population). Also, results from its Phase 3 program in noninfectious anterior uveitis were not too far off in addition to preliminary results from a pivotal study in Sjögren-Larsson Syndrome (no FDA approved therapies for the latter).
I mentioned a ¨hidden asset¨ in the form of HSP90 inhibitor ADX-1612, being studied in the MESO‑02 investigator-sponsored clinical trial for malignant mesothelioma in combination with pemetrexed and cisplatin or carboplatin. Clinical results were expected at the International Association for the Study of Lung Cancer Conference September 23-26 and I noted that despite the asset's troubled past, management commentary was bullish including the possibility of shooting for Breakthrough Therapy Designation should data prove promising.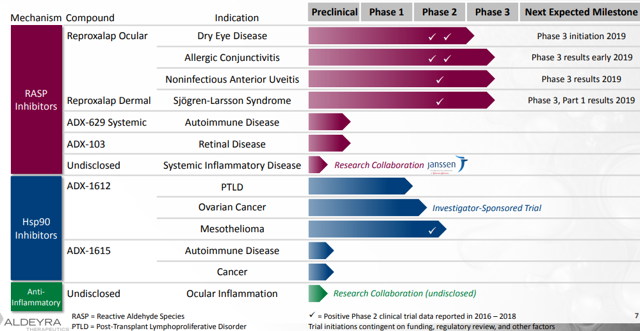 Figure 3: Deep pipeline with several milestones in 2019 (Source: corporate presentation)
At first glance, the market capitalization of around $250 million ($150 million enterprise value or EV if cash is backed out) looks quite cheap compared to its innovative pipeline with several irons in the fire and critical milestones approaching.
Recent Developments
On September 25th, the company announced positive results for the MESO-2 investigator-sponsored Phase 1/2 trial of ADX-1612 (ganetespib) in combination with standard of care pemetrexed and platinum therapy in patients (n=26) with pleural malignant mesothelioma. Response rates significantly exceeded historical data for standard of care, with 96% of patients showing stable disease or clinical response and overall response rate of 61% (7 patients with over 50% reduction of tumor burden) contrasting sharply to historical ORR of 20% to 40%. In patients with epithelial histology efficacy was even better with ORR of 76%. Importantly, the drug candidate appeared to be well-tolerated although there were 3 patients with dose-limiting toxicities in the highest dose group.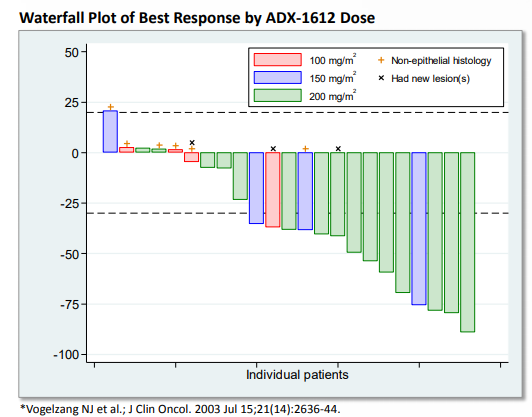 Figure 4: ADX-1612 data compares favorably to standard of care (Source: corporate presentation)
In what I like to call a "1-2 punch," the next day the company followed up with another promising data set. The Phase 2b trial (randomized, vehicle-controlled, double-blind design) evaluated topical ocular reproxalap in dry eye disease patients utilizing both 0.1% and 0.25% concentrations. As compared to patients treated with vehicle, those on the higher dose of reproxalap experienced substantial reductions in Four-Symptom Ocular Dryness Score (p<0.05) and the Overall Ocular Discomfort Symptom Score (p<0.05).
Importantly, there was significant differentiation versus currently approved treatments as observed in early onset of symptomatic improvement (as soon as 2 weeks after starting on therapy) and reductions in ocular fluorescein staining score (statistically superior vehicle patients) was also observed. A clear dose response and solid tolerability/safety profile were also encouraging.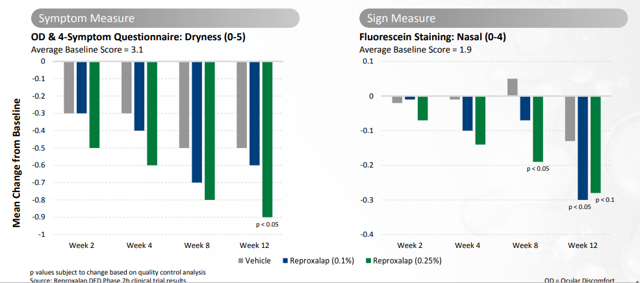 Figure 5: Improved eye-dryness and ocular staining versus vehicle, bodes well as co-primary endpoints in Phase 3 trial (Source: corporate presentation)
Soon after management wisely took advantage of the run-up in stock price, accessing funding in a secondary offering by selling over 5 million shares at a price point of $137.75 per share (gross proceeds of roughly $67 million). Investment banks involved included Citigroup and Cantor Fitzgerald.
Other Information
For the third quarter of 2018, the company reported cash and equivalents of $35.1 million (doesn't include proceeds from October's secondary offering). Net loss doubled to $10.8 million, while research and development expenses also rose significantly to $7.9 million. On the conference call, management guided for an operational runway into the end of 2020 (through top line data of Phase 3 dry eye study and late-stage readouts for other programs).
As for future catalysts of note, in early 2019, we can expect Phase 3 results from the ALLEVIATE study evaluating reproxalap in allergic conjunctivitis. From there, Phase 3 data from the SOLACE study in noninfectious anterior uveitis is expected in the second half of the year (along with results from the first part of the RESET study in Sjögren-Larsson Syndrome).
As for trial initiations, the Phase 3 dry eye study should get underway at some point next year (as will a mid-stage study evaluating ADX-1612 in mesothelioma). ADX-1612 will also be the subject of studies in ovarian cancer (initiated later this year) and post-transplant lymphoproliferative syndrome (start up in 2019). ADX-629 will be the subject of an early-stage trial in systemic autoimmune disease (initiate in 2019).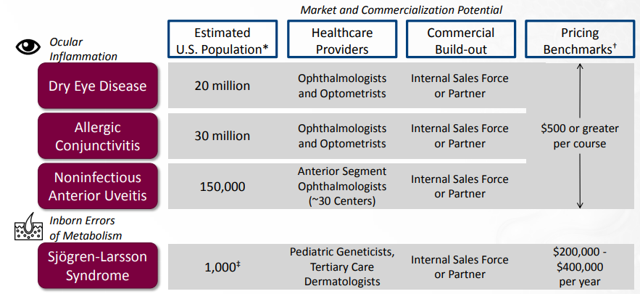 Figure 6: Substantial market opportunities with late-stage reproxalap indications (Source: corporate presentation)
As for institutional investors of note, Perceptive Advisors owns over 3 million shares.
Final Thoughts
To conclude, with a bolstered cash position and several pivotal readouts expected in the near to medium term, I expect investors to do well here in 2019. Keep in mind that the company has an ongoing research collaboration with Janssen and another with an undisclosed firm (will be interesting to see what comes of them). Even if a single readout doesn't fare well, I like the fact that the company has multiple irons in the fire where prior data is supportive.
For readers who are interested in the story and have done their due diligence, I suggest establishing a pilot position and patiently accumulating dips. For those who are more conservative, consider establishing a partial position presently and waiting to add until after allergic conjunctivitis data.
Risks include disappointing data across pivotal readouts, as well as setbacks in the clinic especially in regards to delayed timelines. Due to competition or other factors certain studies could have trouble recruiting patients and I would like to see the dry eye Phase 3 program get underway in an expeditious manner. Additionally, management had alluded before to the potential to apply for Breakthrough Therapy Designation for the mesothelioma indication, so we'll see if that comes to pass. Certain indications (especially ocular) are high competition (including generics) so product launches could stumble out of the gate.
Author's Note: I greatly appreciate you taking the time out of your day to read my material and hope you found it to be helpful in some form or fashion. If you're willing, I look forward to interacting with you in the Comments Section. Whether bull, bear or simply a skeptic, we all typically have something worth saying and feedback (plus community-driven due diligence) is one of the reasons I enjoy writing. Have a good one!
Disclaimer: Commentary presented is NOT individualized investment advice. Opinions offered here are NOT personalized recommendations. Readers are expected to do their own due diligence or consult an investment professional if needed prior to making trades. Strategies discussed should not be mistaken for recommendations, and past performance may not be indicative of future results. Although I do my best to present factual research, I do not in any way guarantee the accuracy of the information I post. I reserve the right to make investment decisions on behalf of myself and affiliates regarding any security without notification except where it is required by law. Keep in mind that any opinion or position disclosed on this platform is subject to change at any moment as the thesis evolves. Investing in common stock can result in partial or total loss of capital. In other words, readers are expected to form their own trading plan, do their own research and take responsibility for their own actions. If they are not able or willing to do so, better to buy index funds or find a thoroughly vetted fee-only financial advisor to handle your account.
About 'ROTY or Runners of the Year'
ROTY is a 500+ member community which provides a welcoming atmosphere where due diligence and knowledge are generously shared. Subscription includes access to our 10 stock model account, exclusive write-ups on my favorite setups, Idea Lab, Catalyst Tracker, a very active & focused Live Chat and much more at an affordable price point ($25/month or $200 annually).
Disclosure: I/we have no positions in any stocks mentioned, and no plans to initiate any positions within the next 72 hours. I wrote this article myself, and it expresses my own opinions. I am not receiving compensation for it (other than from Seeking Alpha). I have no business relationship with any company whose stock is mentioned in this article.