Reed's (NASDAQ:REED) reported in November, its results for Q3, 2018. Below, I will share some parts from the earnings conference call along with my comments and highlights. The article is a little long due to all the included quotes but you can skip the quoted parts if you like without missing anything significant. If you want to revisit my original thesis on Reed's click here.
The company is marching forward with its reorganization and they are making good progress. Reed's continues to expand and in Q3 it added its new Virgil's Zero Sugar product to 1,100 new stores.
Val Stalowir - Chief Executive Officer

[...] During the third quarter, we finalized laying the groundwork for our sales and brand building activities. Having completed our brand refresh work for both Virgil's and Reed's and are preparing to bring new product news and innovation to the craft category. We have yet to fully turn on these investments to impact sales but will begin to ship our refreshed packaging and exciting new product offerings over the coming months. [...]

We continue to see excellent retailer and consumer response to our Virgil's Zero Sugar launch. We added 1,100 new doors during the quarter and are now gearing up for the launch of Reed's Zero Sugar in bottles and cans, which should begin to ship during the first quarter of 2019.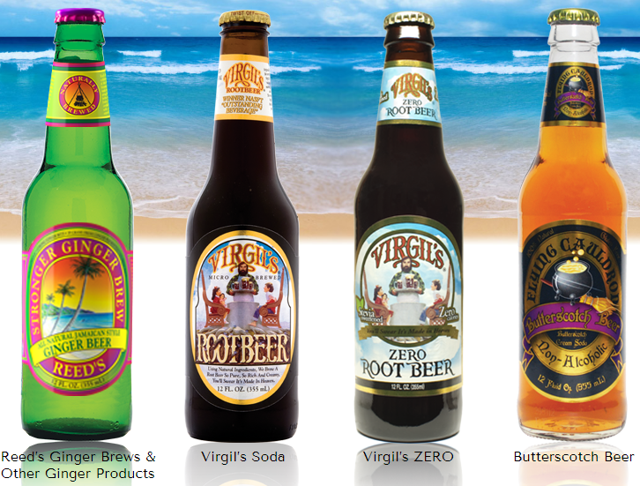 Source: Reed's website
However, the company has yet to sell its Los Angeles manufacturing plant. This is crucial as it will allow the company to improve its liquidity and complete its transition to a flexible, more scalable, capital-light business model. And keep in mind that idle plant charges were $1.1 million just this quarter. Unfortunately, while this was supposed to be completed in Q3 there have been some complications and the sales process started anew.
Management seems confident that the deal can close before the end of the year. In case it doesn't they have a plan B that can yield similar results albeit with a little more work and time. And they are adding another co-packer in the West Coast so as to not be 100% reliable on this facility for the region after the sale. This is a good thing, as it makes the company's supply chain more robust.
Val Stalowir - Chief Executive Officer

Before I dive into our sales, marketing, and new product strategies, let me discuss our progress on our transformation plan. As I mentioned, we have just one item left to complete which is the exit from our Los Angeles Manufacturing facility. Exiting manufacturing will complete our transition to an asset-light sales and marketing organization and reduce our idle plant charges which were $1.1 million this quarter.

We are in the final stages of the process and expect to complete our transition by year-end. [...]

From the Q&A:

[...]Now we have a competitive process, we have more than one bidder and we are coming down to the final strokes. We have a draft, definitive documents and we expect to sign something more definitive this week and then drive to close in short order before the end of the year. And the terms are similar to what we had reflected in the 2017 financials. And there's even upside in terms of toll fees being more attractive than what we had thought in terms of the first round.

So what's taken us long is when we went down the road pretty deep with the first bidder, and then the terms changed pretty significantly, we kind of regrouped and started over and attracted different competitive set. So that is why it's taken as long as it has. It's a little -- its definitely complex process because there's a discrete amount of potential interested buyers and what this facility is. And we are also trying to attract the right partner to be a solid and dependable co-packer for our core brand on the West Coast. Now the good news is we are adding another co-packer on the West Coast which we will announce fairly shortly. So we won't be 100% dependent on the LA plant producing everything we need.

[...] If we don't get a deal done, the good news is that we have an option to buy the plant, and the plant's value has actually appreciated. And so we've hired a commercial firm to do an appraisal and right now there is a good chance that we could buy and sell this property without a lot of out-of-pocket investment in getting that done and extinguish the lease obligation, and then we would sell all the new equipment and everything else to bring in cash. Again, it would be in the range of what we would expect to bring in versus selling the facility -- selling the beverage business. So from that standpoint Plan B is not that bad. It's just more work. But obviously, the preferred option is to find a partner and exit to them, which right now I'm pretty confident that's going to happen.
The good news is that the company's product initiatives seem to gain track and most of the transformation work is done. Management is now focused on expanding distribution, rolling out the new can packaging and further building the company's brands.
Val Stalowir - Chief Executive Officer

[...] We are very pleased to have most of our transformation efforts behind us, so we can now fully focus on the second phase of our value creation plan which is to invest in sales and brand building activities in order to expand our leadership position in two of the fastest-growing categories in beverage.

[...] As I've already noted, we continue to gain distribution for Virgil's Zero Sugar. We had 1,100 doors this quarter including regional chain such as Stop & Shop Market Basket, Tops, Big Y, King [Cole] [ph] in the Northeast, National chain such as Wegmans and Giant Carlisle and several natural food accounts including Earth Fare.

These gains add to our second quarter distribution gains including Target and Kroger where Virgil's Zero Sugar is doing well with volumes continuing to build and measured velocities approaching similar levels as some of our more established SKUs. We will continue to invest in trade programs to drive further awareness, trial and repeat purchase on our Virgil's Zero Sugar line.

During the third quarter, we also ran a successful mix-and-match roadshow program featuring Virgil's Zero Sugar product in a western Costco region and our goal is to expand this roadshow program to additional regions in 2019. Our launch of Virgil in cans and next year's introduction of Reed's in cans will be a compelling new addition to this program and the club channel in general.

Turning to Reed's, we've completed our brand refresh work and development of Reed's Zero Sugar offerings and have begun the sell in-process to major retailers. [...] We expect to be shipping the refreshed bottles, cans and zero sugar line in the first quarter of 2019 with product on shelf by the second quarter.

During the third quarter, we also continued to add sales, broker and distributor resources. We partnered with Advanced Solutions to enter the convenience store channel and already launching our first regional C store test. For the on-premise channel, we've partnered with Young's Market, a leading distributor of wine and spirits with reach into 10 western markets.

We are initially launching in California and already have our first orders in the fourth quarter. Success in California will be followed by expansion to additional markets and regions. In parallel, we've had productive conversation with similar sized wine and spirit distributors in major markets and initial reactions have been very positive. Interest is especially high on the Reed's can product offerings.

We are also making solid progress in adding new bar liquor store accounts daily in the three major test markets where we've invested in experienced on-premise field sales personnel.[...]
Net sales for Q3 were decreased by 1% in Q3 as the company reduced the number of its offerings but its core brands sales increased by 3%. However, the company had a phenomenal gross margin increase from 19% to 25% or 29% excluding a $500k one-time charge. And they remain confident that they can increase gross margins to about 35%.
Iris Snyder - Chief Financial Officer

[...] Net sales decreased 1% to $10.8 million during the third quarter while our core brands generated 3% of growth. The net sales decline reflects last year's SKU reduction, a sales shift of private label this year from Q3 to Q4 as well as the impact of our sliding investments for Virgil's Zero Sugar which are netted against sales.

The combination of higher revenue per case and a 9% decline in cost of goods sold on a per case basis, contributed to a 30% increase in gross profit. Gross margin as a percentage of net sales increased 590 basis points over the prior year to 25%. Excluding approximately $500,000 of discrete accruals in inventory revaluation related to the planned exit of the company's manufacturing operations, the gross margin would have been 29% this quarter.

[...] As Val mentioned, we remain confident with our gross margin trajectory and opportunity for incremental improvement. Delivery and handling costs increased 25% to $1.4 million or 260 basis points higher as a percentage of net sales compared to the prior year. This increase reflects an industrywide increase in freight rate, transition charges from and to new warehouse partners, and the effects of the initial ramp-up of can production on the East Coast.
Marketing spending increased significantly as part of the new strategy and the company performed better even with this increased spending. However, better is a relative term, as Reed's still had a $2.1 million quarterly operating loss. Keep in mind though that about $800k of that were one-time items related to relocation and the planned exit from manufacturing.
Iris Snyder - Chief Financial Officer

Selling and marketing costs increased 66% to $1.4 million during the quarter. The 520 basis point increase as a percentage of net sales versus prior year, reflects the company's strategy to enhance brand value and reaccelerate growth of the core brand. The investments focus on and marketing infrastructure, brand refresh work, and support of new product launches.

[...] The third quarter operating loss narrowed to $2.1 million from $3 million in the prior year and was negatively impacted by the $500,000 of discrete accruals in inventory revaluation related to the planned facility exit and $300,000 of relocation expense, both of which are nonrecurring.
One of the most positive things Reed's has going for it is financing. Management replaced the existing credit with a lower cost asset-backed loan that will save the company $1.5 million annually in interest expense. The total size of the new loan is $30 million which should be more than enough for the company's needs going forward.
Iris Snyder - Chief Financial Officer

[...] Moving to the balance sheet and cash flows we ended the third quarter with $0.2 million in cash and cash equivalent. While we had an approximately $3 million of availability on our credit facility on September 30, we were managing our cash position to limit our borrowings on our previous credit facility prior to refinancing, which occurred shortly after the quarter ended.

As we announced last month on October 4, we successfully refinanced our credit facilities with Rosenthal & Rosenthal, strengthening our financial profile and significantly reducing debt service and borrowing costs. The $30 million asset-based loan replaced our previous credit agreements with PMC. Based on current interest rates our annual debt service is expected to be reduced by approximately $1.5 million.
On the Q&A the CEO made clear that it doesn't make much sense for Reed's to experiment with CBD until it becomes legal on the federal level.
Val Stalowir - Chief Executive Officer

The other piece here, David -- I'm sorry, David. The other piece is when you take a look at some of our major retailers, they're not going to distribute anything that is still federally illegal. CBD right now until the farm bill passes, as is, that's when CBD will no longer be considered illegal substance. There is no way Whole Foods or any of the other major retailer partners that we have would bring anything on that is still officially federally illegal to carry.
Also, he gave a nice overview of Reed's competitive space and I urge you to read it in whole:
David Bain

Thank you. I'm wondering if you could take a step back and speak to the CSD competitive space a bit. I mean, you mentioned the CSD growth number industry followers see that as well and I'm wondering if it's leading to new entrants of note that you're viewing out there or since you put in your new products with Virgil's have you seen any sort of defense coming out of your competitors in terms of discounting or anything else?

Val Stalowir - Chief Executive Officer

That's a good question. So in the Ginger Beer category, the playing field is pretty set. There have been no significant entrants in that space. All of them are kind of growing and Bundaberg -- I would say Bundaberg, Fever-Tree, Gosling's are still the major players there and continue to be. So there are no real new entrants there. And some of them had actually slowed down in their growth and ACV expansion. And we feel pretty confident in our ability to compete given our product superiority in terms of organic ginger root and our formulas and the content in the flavors that we use. In terms of the craft soda space, that also has been kind of a quiet category. Zevia is doing very well. That's really the star of that category. Its growing both ACV and sales and we have what we believe is a 2.0 in terms of taste on Zevia because we are using a proprietary blend of natural sweeteners as opposed to stevia alone. And so that is the major, let's say, competitor that we are looking and they have taken steps in terms of discounting more aggressively. They know we are coming. They're at our next booth over and over again last --earlier this year. And so I think that's going to be sort of the fight for the consumer who really wants all-natural great taste, we believe we're the natural evolution of that offering. And we are excited to get on shelves and have that comparison made. There are a couple of other players, I think DRY Soda is also starting to get their tail in this space as well. But I can't say that there is any major new entrants in this space, the sort of full sugar category is still dominated by a sort of ingredient challenged products like IBC and Stewart's. So there's no -- like the 27% growth coming from what I define is "better-for-you-specialty-craft". That was really the zero sugars. And that primarily has been driven by Zevia.
Wrapping it up
My overall take for Reed's so far is that it is too soon to see the full effects of management's initiatives on the company. There are definitely some good steps that have mitigated immediate concerns for dilution but at its current levels of $2.43/share, the risk/reward is not good enough.
I like this company and will continue to follow it closely in the coming quarters. The key improvements I want to see to go in on the stock are profitability (even marginal), completing the plant sale, and a better entry point around $2/share. If these pan out I am probably going to start building a position.
Cheers!
Editor's Note: This article covers one or more microcap stocks. Please be aware of the risks associated with these stocks.