It has been a rough 12 months for Innovative Food Holdings (OTCQB:IVFH) shareholders.

The stock peaked at around $1.30 a year ago and has been on a downward spiral ever since. The decline began with the abrupt resignation of a board member, Mr. Nathaniel Klein, a mere two months after his appointment. With the company amending its bylaws the day before to permit the dismissal of a board member by a simple majority vote, it was pretty obvious that a majority of the board had major disagreements with Mr. Klein and wanted him gone. A few days later the company announced the acquisition of igourmet, an online direct to consumer retailer of specialty food items. I think it is safe to assume Mr. Klein was probably not on board with this purchase. Both the abrupt reversal of the shareholder friendly board expansion and the pivot towards online B2C specialty food distribution led to a pretty major selloff on high volume in late January.
The rest of the year brought disappointing quarterly results, which led to additional declines in the stock price. Sales growth in 2017 was exceptional, as the company's US Foods business drove strong results and solid profitability. As the company lapped those results in 2018, it disappointed investors, as net income fell and organic sales growth (ex-igourmet) fell off a cliff.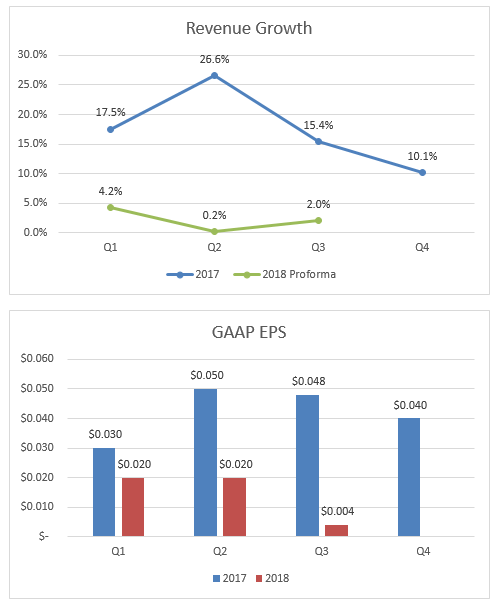 Source: earnings press releases and quarterly/annual reports
Through the first three quarters of 2018, profitability is down 66%. The growth in the US Foods business is gone (flat sales in Q3). What happened? It is difficult to say since the company does not provide any additional details on the relationship. However we do know (per the 10-K) that the agreement between the two parties was renegotiated at the end of 2017 and the cap on renewals was removed. It now provides for an unlimited number of additional 12-month terms unless either party notifies the other in writing, 30 days prior to the end date, of its intent not to renew. Did IVFH have to give up some economics to get these new terms? Or has IVFH been priced out of high growth product offerings due to additional competition? Again, it is difficult to say given the lack of disclosures.
So as of today, the only business line still growing is igourmet. However it is a highly seasonal business, with ~40% of sales made in the fourth quarter. It also has a lower margin profile. With the acquisition and integration costs piling up, it remains to be seen if igourmet was a good use of capital. It will likely only be profitable (it at all) in the fourth quarter, given the preponderance of sales occurs around the holidays.
With the organic sales growth of 2016 and 2017 now a distant memory, investors that did not already bail are rightly concerned. Can the core business rebound? Will the bets on igourmet and more recently mouth.com start to bear fruit in Q4? Clearly the market doesn't have much confidence in the company, as evidenced by the stock sitting near a 52-week low. Because of all this, I have often wondered if/when an activist would attempt to influence change at the company. My previous article touched on what is missing at the company in terms of corporate governance. Clearly there are many ways in which this company can be more transparent and shareholder friendly. With the poor stock price performance over the past year, the cries for change have become louder.
White Knight Approaching?
Last week JCP Investment Partnership filed a Schedule 13D with the SEC, indicating that they now own 5.1% of the company. A quick look at their website gives investors a clue as to what motivation JCP has in taking a stake in the company. There are many examples of activism in the microcap space – in the food industry in particular. It seems pretty clear that JCP did not take a stake in IVFH to be a passive investor. I'm pretty confident we will soon hear from JCP as it attempts to affect some sort of change at the company. This is what everyone has been waiting for, right?! Time to finally give independent shareholders a voice within the company!
Cause for Concern
I am concerned about JCP making waves at IVFH. The most important thing that an activist needs to consider is the company's relationship with US Foods (USFD). While the growth in this business is non-existent so far in 2018 and the margins have slipped a bit, it is clearly still the profit engine of IVFH. Without it, the investments and new ecommerce push would not be possible (IVFH bought both igourmet and mouth.com in distress at rock bottom prices because they were struggling, after all). US Foods represented 63% of total sales in Q3! That is a major consideration for any activist strategy and something that needs to be deeply considered before attempting any major leadership change.
How dependent is the USFD relationship on the continued involvement of the company's executive leadership, Sam Klepfish and Justin Wiernasz? How loyal is Justin to Sam? If Sam leaves as a result of a proxy battle, does Justin follow him out the door? What does that mean for the USFD relationship? Let's recall that Justin worked at USFD for 13 years prior to joining IVFH. Sam has previously spoke (back when the company still did earnings calls) about the great relationship with US Foods, with direct access to the C-suite. But we know that sales through USFD are now flat – and margins have slipped. We also know the company is looking to diversify away from its USFD business and that the terms of the Agreement between both parties has recently changed. The bottom-line is that USFD did over $24B in sales last year. It does not need IVFH to be a success but clearly IVFH needs it to survive. If I was an activist thinking of replacing the current leadership, I would want to be certain that any changes made did not put the USFD relationship in jeopardy.
JCP Investment Management is run by James C. Pappas. He has a history of activism in the food/restaurant space. His father and uncle run Luby's (LUB), a long-time cafeteria style chain (amongst other fast casual concepts) based in Houston. He is only 37. Does he have enough experience to successfully navigate a complicated situation like IVFH? That remains to be seen. Any activist campaign that does not first address the USFD relationship could end up being disastrous for shareholders. Without that business, profitability would take a severe hit. That is why I am hesitant to embrace any calls for change at the company. Management may already be so far entrenched that shareholders have little (if any) hope for improved corporate governance and increased transparency. I would love to hear your thoughts – post a comment! Best of luck to all.
Disclosure: I/we have no positions in any stocks mentioned, and no plans to initiate any positions within the next 72 hours. I wrote this article myself, and it expresses my own opinions. I am not receiving compensation for it (other than from Seeking Alpha). I have no business relationship with any company whose stock is mentioned in this article.
Editor's Note: This article covers one or more microcap stocks. Please be aware of the risks associated with these stocks.