In this article, we want to shed light on a new Preferred Stock issued by Enstar Group Limited (ESGR).
Our main goal is purely to inform you about the product while refraining ourselves from an investment recommendation. Even though the product may not be of interest to us and our financial objectives, it definitely is worth taking a look at.
The New Issue
Before we submerge into our brief analysis, here is a link to the prospectus.

For a total of 4.4M shares issued, the total gross proceeds to the company are $110M. You can find some relevant information about the new preferred stock in the table below:
Enstar Group Limited 7.00% Perpetual Non-Cumulative Preference Shares, Series E (ESGRO) pay a qualified fixed dividend at a rate of 7.00% and has a par value of $25. The new preferred stock is expected to be rated a BB+ from Standard & Poor's and is callable as of 03/01/2024. Currently, the new issue trades below its par value at a price of $24.60 has a 7.11% Current Yield and a 7.43% Yield-to-Call.
Here is the product's Yield-to-Call curve:
The Company
As per Reuters:
Enstar Group Limited (Enstar), incorporated on August 16, 2001, is a holding company. The Company is an insurance group that offers capital release solutions and specialty underwriting capabilities through its network of group companies in Bermuda, the United States, the United Kingdom, Continental Europe, Australia and other international locations. The Company's segments include Non-Life Run-Off, Atrium, StarStone, and Life and Annuities. The Company focuses on acquiring and managing insurance and reinsurance companies in run-off, and the acquisition and management of portfolios of insurance and reinsurance business in run-off.
Below, you can see a dividend and profitability information about the common stock, ESGR: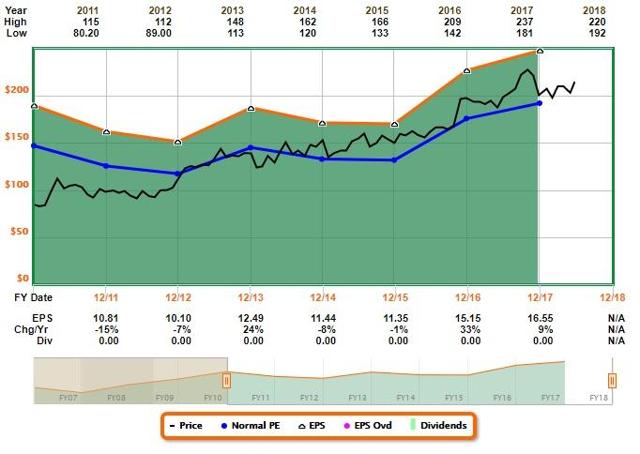 Source: FastGrahps.com
... and the market opinion: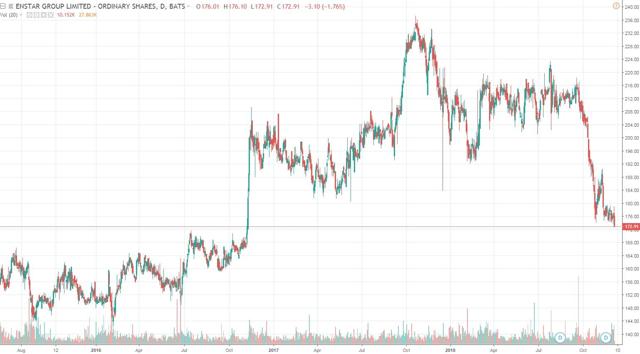 Source: Tradingview.com
As per Enstar's 2017 Annual Report:
We do not intend to pay a cash dividend on our ordinary shares. Rather, we intend to use any retained earnings to fund the development and growth of our business. From time to time, our board of directors will review our alternatives with respect to our earnings and seek to maximize value for our shareholders. In the future, we may decide to commence a dividend program for the benefit of our shareholders. Any future determination to pay dividends will be at the discretion of our board of directors and will be limited by our position as a holding company that lacks direct operations, the results of operations of our subsidiaries, our financial condition, cash requirements and prospects and other factors that our board of directors deems relevant. In addition, there are significant regulatory and other constraints that could prevent us from paying dividends in any event. As a result, capital appreciation, if any, on our ordinary shares may be your sole source of gain for the foreseeable future.
In addition, ESGR has a market capitalization of around $3.76B.
Capital Structure
Below you can see a snapshot of Enstar Group Limited's capital structure as of the time of its last quarterly filing in September 2018. You also can see how the capital structure evolved historically.

Source: Morningstar.com
As of Q3 2018, ESGR had a total debt of $394M ranking senior to the newly issued preferred stock. The new Series E preferred shares rank junior to all outstanding debt and equal to the all other issued preferred shares with a market cap of $400M.
The Enstar Group Family
Enstar has one more outstanding preferred stock: Enstar Group 7.00% Depositary Shares Non-Cumulative Fixed-to-Floating Series D Perpetual Preferred Shares (ESGRP):
ESGRP also pay a qualified fixed dividend at a rate of 7.00% before 09/01/2028 but then switches to paying a floating rate interest at a rate of the Three-month LIBOR plus a spread of 4.015%. It also bears a BB+ Standard & Poor's rating and is callable as of 09/01/2028. With a price of $24.85, the "older" preferred stock has a Current Yield of 7.04% and YTC of 7.11%.
If we have to compare ESGRP with the newly issued preferred stock, we can easily notice that ESGRO have a slightly better Yield-to-Worst, at the rate of 7.11% (equal to its Current Yield). The two issues pay the same nominal yield and the new one is trading at a small discount. However, ESGRP has some rate hike protection with its floating component, which gives it some advantage. Still, this protection occurs after a long 10 years, while ESGRO is callable in 5. After all, it is very hard to make a sustainable analysis between the two securities, so I'll leave it in that way.
Furthermore, the company has one outstanding Corporate Bond: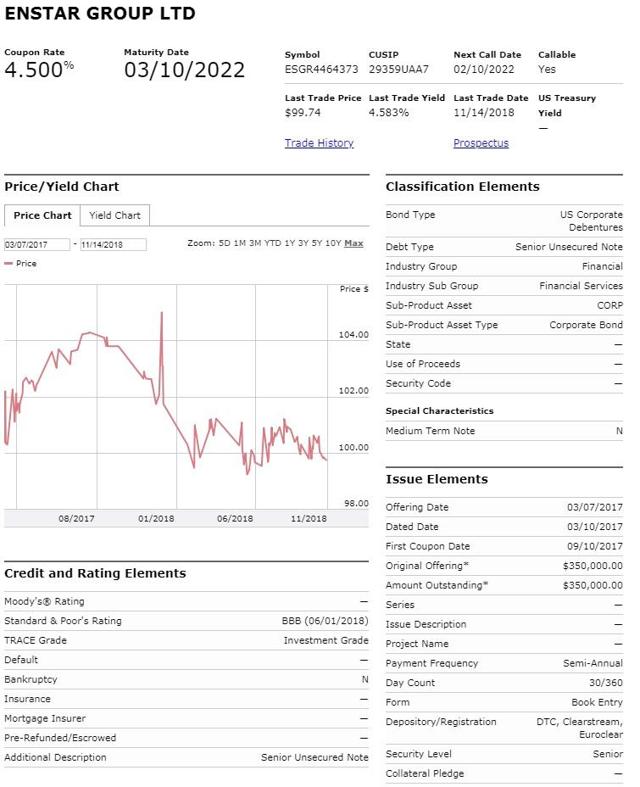 Source: FINRA
ESGR4464373 (as it the ticker symbol in FINRA) has two years closer maturity date than the call date of ESGRO, 03/10/2022. It is rated by Standard & Poor's with a BBB rating and has a Yield-to-Maturity of 4.583%. This should be compared to the 7.43% Yield-to-Call of ESGRO, but when making that comparison, remember that ESGRO's YTC is the maximum you could realize if you hold the preferred stock until 2024. This result is a yield spread of 2.8% between the two securities.
Sector Comparison
The chart below contains all preferred stocks in the Property & Casualty Insurance sector (according to Finviz.com) that pay a fixed dividend rate and has a par value of $25, by their Yield-to-Call and Current Yield. The preferred stocks issued by AFSI and MHLD are excluded as these companies are in a turmoil currently.
Let's take a closer look at the main group:
All BB+ Preferred Stocks
The last chart contains all preferred stocks that pay a fixed dividend rate, have a par value of $25 and a BB+ Standard & Poor's rating.

Source: Author's database
Special Considerations
As per the FWP Filing by Enstar Group:
The Preferred Shares represented by the Depositary Shares are not redeemable prior to March 1, 2024, except in specified circumstances relating to certain tax events or corporate events or within 90 days following the occurrence of a 'capital disqualification event' or the occurrence of a 'rating agency event' (at such prices set forth and as each term is defined in the preliminary prospectus supplement). On and after March 1, 2024, the Preferred Shares represented by the Depositary Shares will be redeemable at the Issuer's option, in whole or from time to time in part, at a redemption price equal to $25,000 per Preferred Share (equivalent to $25.00 per Depositary Share), plus any declared and unpaid dividends. No redemption may occur prior to March 1, 2024, unless (1) the Issuer has sufficient funds in order to meet the Bermuda Monetary Authority's (the 'BMA') Enhanced Capital Requirement (the 'ECR') and the BMA (or its successor, if any) approves of the redemption or (2) the Issuer replaces the capital represented by the Preferred Shares with capital having equal or better capital treatment as the Preferred Shares under the ECR.

Use Of Proceeds

The net proceeds from this offering are intended to be used for general corporate purposes, including, but not limited to, funding for acquisitions, working capital and other business opportunities
Addition to the S&P preferred stock index
With the current market capitalization of the new issue of $108M, it is a potential addition to the S&P U.S. Preferred Stock iShares Index (NYSEARCA:PFF). If the average monthly volume of ESGRO after its first six months trading on the Nasdaq is more than 250,000, it would be eligible to be included in the S&P U.S. Preferred Stock Index. With fewer than six months of trading history, issues are evaluated over the available period and may be included if available trading history infers the issue will satisfy this requirement.
Conclusion
This is an informational article about the new preferred stock, ESGRO. With this kind of article, we want to keep you informed of all new preferred stock and baby bonds IPOs. If I have to give an opinion, I think that the new issue and its "older brother," ESGRP, offer good returns when compared to the other preferred stocks in the sector and the other ones rated a BB+ from Standard & Poor's. Moreover, it is hard to find such a nice 7% qualified preferred stock out of such a well-capitalized company.
Trade With Beta
Coverage of Initial Public Offerings is only one segment of our marketplace. For early access to such research and other more in-depth investment ideas, I invite you to join us at Trade With Beta.
Disclosure: I/we have no positions in any stocks mentioned, and no plans to initiate any positions within the next 72 hours. I wrote this article myself, and it expresses my own opinions. I am not receiving compensation for it (other than from Seeking Alpha). I have no business relationship with any company whose stock is mentioned in this article.