Introduction
I can remember my first time using a can of WD-40. I was probably 10 or 11 years old and I had gotten a ton of dirt on the chain of my bicycle. It caused all sorts of nasty sounds when I rode it and I knew that I had to get it fixed or bad things were going to happen. Just by sheer luck I happened to grab a can that my dad had laying around on his workbench and sprayed it all over the chain, cleaning it right up. I felt super proud of my accomplishment and felt a lot smarter than I actually was, especially since this was never the intended use of WD-40. In fact it was really intended to be used by aerospace contractor Convair to protect the outer shell of the Atlas Missile from rusting. As it turns out there are over 2,000 different uses of WD-40, one of which I just recently had to use as one of my little ones decided to put crayons in the dryer without me knowing (worked really well for what it's worth). So I was delighted to see that they were a publicly traded company and thought this would be a great opportunity to buy a well known and valuable brand. This is where the the story becomes conflicting and I have to make sure that as an investor, I must maintain discipline.
The Good: A Brand With Value
WD-40 is a powerful brand and it shows its sticking power as it is estimated since 1993 that 4 out of 5 households have at least one can of WD-40 and is used widely amongst professionals. While the formula hasn't deviated since its inception, there have been several innovations to the cans that are used to give us this ultra versatile chemical. One of my biggest gripes about the can itself was that little tiny red straw-like tube that came with the can. It was the one that always seemed to get lost and you were stuck with a wide spray pattern whether you wanted it or not. So in 2005 they came up with what they call the Smart Straw, which permanently attached the straw to the can, insuring you never lost that little straw again.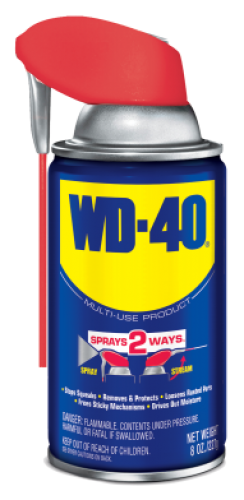 As if that wasn't enough they further improved this product and gave us something that was meant for those really hard to reach places. In 2015 they released the EZ-Reach straw that can get to those hard to reach places.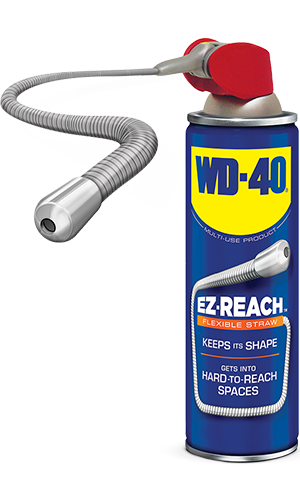 The focus on making the can itself as versatile as the product allows WD-40 to be a staple in the home.
While WD-40 can be a useful catch all for a multitude of purposes, there still was a need for specialized products that had a more focused use and approach. So in 2016 and 2017 they began releasing a specialized product line that focused on more industrialized and high temperature uses, and even on motorcycle and cyclist, further broadening their target users and product line. If you want the full history of their product line you can see it here.
The Story Going Forward
Management has been focused on tapping into the markets abroad and has provided great guidance for where they would like to be in the next 7 to 8 years.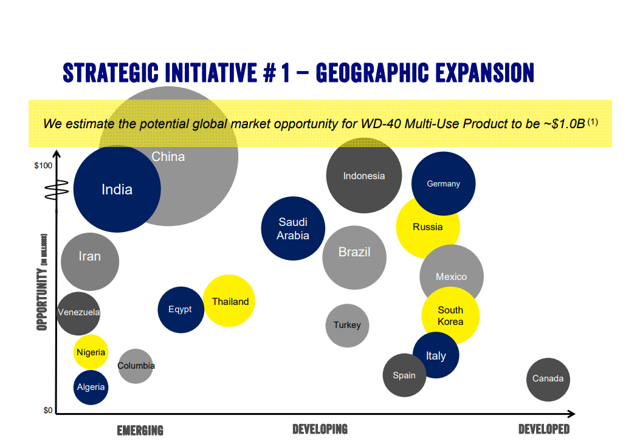 (Source: WD-40 Company Investor Presentation)
Based on their most recent 10-k, revenues have started to level off in the Americas region at around 1% from the prior year. While the Asia-Pacific region has grown by about 14% year over year and is their second largest region that they currently serve.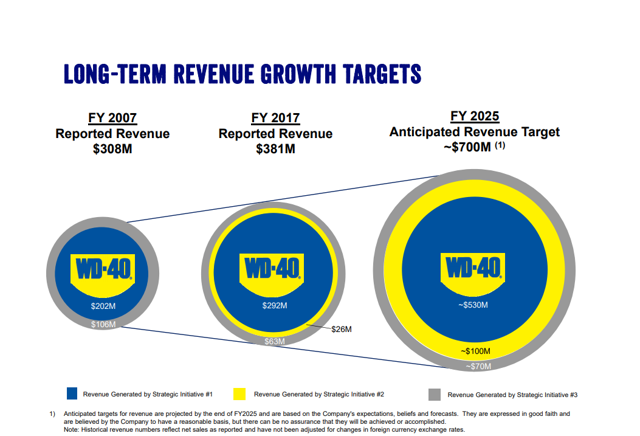 (Source: WD-40 Company Investor Presentation)
With their overseas growth starting to take a hold, they are in essence guiding that their overall growth will be about 8% a year. This is what I will use for my valuation of the company going forward as I believe that they could reach these levels if they remain focused on growing their brand overseas.
The Valuation And Takeaway
In general, whenever I look to value a company I tend to approach the process in a methodical and almost automated way and then I do more in depth analysis to see if things need to be added or changed. When I do a DCF I tend to stick to a three stage model consisting of a high growth, declining growth, and stable growth periods. I decided for this particular instance, since management has offered a pretty clear picture of where they would like to be, I decided to extend my high growth stage to get their target revenues of about $700M in year 2025. Below I will detail out each assumption I made in my DCF and then present my model with the value I come up with for the WD-40 Company.
I will assume that they will be able to get their goal of about $700M in revenues by 2025, which will give me a high growth period of about 7 years with a growth rate of about 8% over that time period.
Their margins have been steadily rising and face no real margin pressure from competitors as it stands and thus I assume that their margins will steadily rise for the next 10 years to about 23%
Since they are in the midst of their current growth initiative, I will assume that their reinvestment will grow along with their revenue growth and that they will be similarly efficient with their investments. I use the sales/capital ratio to determine this reinvestment which is about 3.5. This number includes things like net CapEx and change in working capital.
I will use a bottom up beta to determine their cost of capital, which based on Aswath Damodaran's data is about 0.91 for the beta. For the equity risk premium, since their revenues come from different regions such as Europe, the Middle East, Japan, Pacific Asia, and the US, I estimate their equity risk premium to be about 6.8%.
Their post tax cost of debt is estimated to be about 3.19%. Since they are not rated I had to use an interest coverage ratio to estimate their future cost of raising debt. This gives me a total cost of capital of about 9.05% based on the current 10 year treasury note being 2.9% as of writing this.
For the terminal value I expect that since they will continue to expand globally, their cost of capital will remain around 8.5% but due to their brand naming having lasting competitive advantages, I assume that they will continue to create value in perpetuity and will have a return on investment of about 15%
Their current tax rate is about 13.25% and due to the fact that they will be expanding outside of the US, their tax rate will continue to rise to the global average of about 25% over the next 10 years.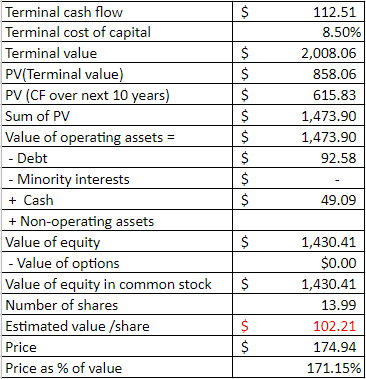 When I input all of my assumptions, I end up with a value of about $102.21 per share which represents about a 71% premium to my current valuation. This is where the story gets to be the most conflicting for me. I just cannot justify paying such a high premium no matter how good the company may be performing or how much I love their product. While markets can do strange things at times, I cannot really wrap my head around why the market is currently pricing in such a high premium as it stands other than it is perceived as a safer bet.
Conclusion
I often find myself having to make sure that my emotions are not getting the better of me and it looks like I have to use that check here with the WD-40 Company. I really like the company's management and their vision for the company going forward. I love that their product is one that I use often and can be used for a multitude of applications. I love that they have a recognizable brand and that over 80% of American households have at least one can of WD-40 in it. I just hate the price. While the story for the WD-40 Company is far from over, I just do not believe that they are in a point in their lifecycle where such growth is going to occur. Maybe in another correction or recession there might be a great buying opportunity for me, but my feelings aside, at this price I just cannot invest in them quite yet.