After being relegated to a narrow trading range for the last few months, gold now has its best chance in a while at decisively breaking out of this range. As I've emphasized in recent reports, gold's safety factor usually doesn't kick in until the psychological trauma induced by headline fears has faded. To that end, the gold price is poised to benefit from the diminishment of tariff-related stress. In today's commentary we'll go over the mounting evidence that supports an intermediate-term bullish outlook for gold.
Over the weekend, investors were given a reason to feel relieved. After weeks of suffering from a case of the jitters over the U.S.-China trade tariff dispute, some good news came out of Saturday's G-20 summit meeting. It was reported that both the U.S. and China had mutually agreed to halt additional tariff increases while trade negotiations continue. This provided a much-needed boost to investor confidence which was clearly manifested in Monday's comprehensive rally in stocks, bonds, and commodities.
The gold futures price rose 0.84% in the latest session and approached the upper boundary of its 4-month trading range ceiling. Constructively, the gold price has kept above its 15-day moving average on a weekly closing basis and has established a lengthy base from which to launch a turnaround of intermediate-term (3-6 month) proportions. Record high prices in palladium have also stimulated residual interest in other metals, including gold.
The missing ingredient to launch the gold price out of its August-November trading range has been a lack of sustained safe-haven demand. Of course there has been no paucity of reasons for investors to seek the safety of gold in recent months. But as I've explained in previous reports, gold's safety factor usually kicks in only after a major fear hanging over the market has been pushed out of the way. Fear in and of itself only motivates investors to raise cash levels while avoiding all categories of assets, including gold. This can be seen in the strength in past months in the U.S. dollar index (DXY). However, once fear has dissipated from the market investors will normally turn to the safest assets first as they seek to put their cash back to work.
While the latest U.S.-China trade war truce has already stimulated investors' appetites for risk assets, gold should also benefit from this in the coming weeks. The high level of short interest in the gold market increases the odds of a major short-covering rally at some point this month, especially if the news headlines on the foreign trade front continue to be positive. Even more encouraging, from a contrarian perspective, is the news which suggests that speculators are becoming even more bearish on gold. Speculators raised net short positions in gold by 8,464 contracts to 51,828 contracts last week, according to the latest CFTC data. A breakout above the $1,240 level in the gold futures price (below) – which serves as the trading range ceiling – would almost certainly serve as one such catalyst for additional short covering, forcing nervous bears to quickly exit their positions and catapulting the gold price even higher.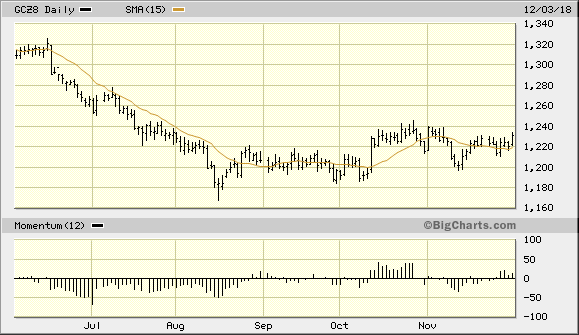 Source: BigCharts
Another element that is helping to boost gold's appeal among retail investors in particular is the recent drop in U.S. Treasury yields. After Fed Chairman Jerome Powell last week gave investors a reason to expect the coming end of Fed interest rate increases, there has been a greater urgency for Treasury bond yields to fall. T-bond yields peaked in early October, apparently in anticipation of a less hawkish Fed stance toward rates. Since then bond yields have declined steadily, which has relieved a great deal of selling pressure in rate-sensitive securities. This in turn has given investors less reason to be defensive and is encouraging them to put some cash back to work. With gold prices near their lowest levels in almost two years, value-oriented participants will have another reason to give the metal a closer look.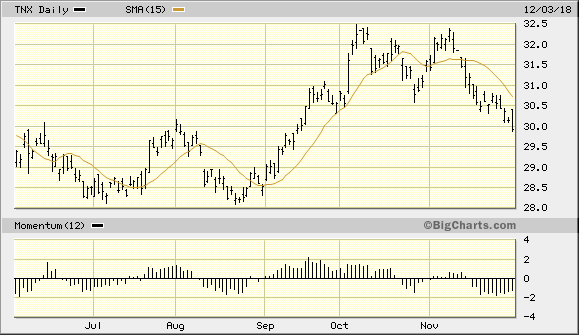 Source: BigCharts
After weeks on end of waiting for a breakout catalyst, gold investors should soon have their patience rewarded. The gold market is still consolidating and building its strength back after tumbling hard between April and August, but a well-defined base of higher highs and higher lows is visible in the gold chart shown above. Moreover, the technical and fundamental factors that typically support a buoyant intermediate-term gold trend, mentioned above, are gradually falling into place.
Only one final thing remains in order for gold to enjoy an uninhibited rally: a pullback in the U.S. dollar. A drop below the 96.50 level in the dollar index (below) would snap a 2-month rising trend for the greenback. It would also pave the way for a decisive breakout above the $1,240 trading range ceiling for gold, since this would result in a corresponding strengthening of gold's currency component.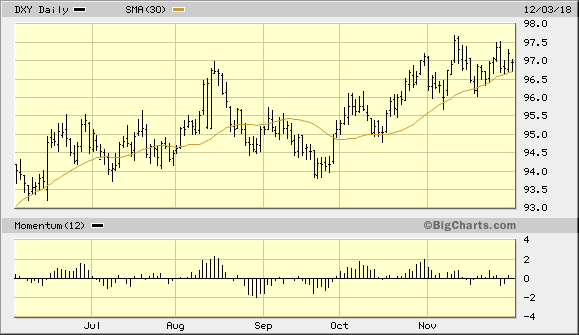 Source: BigCharts
Let's now turn our attention to the gold ETFs. After technically confirming an immediate-term speculative buy signal, the iShares Gold Trust (IAU) still remains a buy and appears still to be in strong hands. IAU recovered late last week to finish above both its 15-day and 50-day moving averages on a weekly closing basis, which is technically positive. As previously mentioned, a close above the late Oct. 26 high at $11.92 would confirm a trading range breakout for IAU and would likely result in some serious short covering. I still recommend using an intraday stop-loss at the $11.37 level (the Aug. 23 closing low) for this open trading position. IAU is clearly trying to establish a stair-stepping pattern of higher lows, which suggests that the ETF is laying the groundwork to eventually reverse its April-August decline.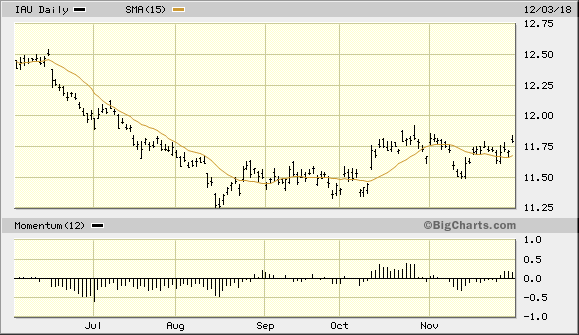 Source: BigCharts
While the intermediate-term outlook for gold is looking brighter by the week, patience is still in order. For now, investors should continue to walk slowly and expect a continuation of the lateral range in the gold price until the dollar index drops sharply. In the meantime, traders can remain long the gold ETF mentioned above, while long-term investors should hold off on initiating new long positions in gold until the dollar shows greater weakness.
Disclosure: I am/we are long IAU. I wrote this article myself, and it expresses my own opinions. I am not receiving compensation for it (other than from Seeking Alpha). I have no business relationship with any company whose stock is mentioned in this article.