New Authors Weekly - 12/7/2018
Dec. 07, 2018 10:30 AM ET
Summary
Every week, new authors join our community.
Below is a selection of work from recently established authors.
Please check out the articles below and share your thoughts on their analysis.
New Authors Weekly
Every week, the Seeking Alpha community welcomes new authors into our forum. After an author has taken the first steps to establish themselves on the site, we share some of their recent work in our weekly digest. Enjoy the work of our new authors below and follow your favorites. Please feel free to share your thoughts in the comments.
If you are interested in our onboarding process, please see the brief discussion at the end of this digest.
Company Research / Value / Growth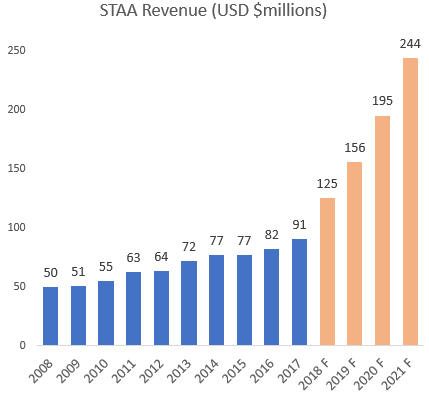 STAAR Surgical Deserves Its Eye-Watering Valuation Premium
Manufacturer of "implantable contact lenses" is posting revenue growth of +40% with firming profitability.

Still early stage of expansion with multiple opportunities for growth including pipeline of new products.

Recent share price pullback of 30% from highs set in September represent a buying opportunity.
Profile:
Independent trader/ investor. Over a decade of experience working at a number of global financial institutions within capital markets and investment management.
PGTI Is Growth Opportunity With 30% Upside
Its business benefits from increased frequency of weather calamities.

It has ability to meet challenges created by raising interest rate/tariffs.

It has attractive valuation.
Profile:
Portfolio manager pursuing total return strategy aimed to produce market exceeding performance.
Company Research / Dividends / Retirement
Buy Verizon For The Retirement Portfolio
Verizon is the leading wireless telecommunications company in both market share and network utility.

The 5G roll out will reinforce Verizon's network dominance.

Cost and debt reduction actions are in full gear.

Is Verizon appropriate for the retirement portfolio?
Profile:
GrayBeard Retirement uses 20 years of investing experience helps retirees and near retirees with portfolio allocation and find income from appropriate investment vehicles.
Seeking Alpha Onboarding
New authors have to undergo a period of establishment on Seeking Alpha. Assuming an author is able to communicate their ideas clearly, they enter a period of close observation and additional training, if necessary.
In this period, we carefully review an author's work, probe for errors, and give tips for their development. In addition, we closely monitor the reaction of our community to new authors. Once we believe we understand the author's strengths and weaknesses, the author enters our normal editorial channels. If you have any suggestions for our process, we are always happy to hear them.
Interested in becoming a contributor? Find out more here.
This article was written by
New Authors Weekly is a weekly newsletter for Seeking Alpha PRO and PRO+ subscribers. Currently written by SA PRO Editor Marc Pentacoff, the weekly newsletter highlights some of the new authors that have joined Seeking Alpha with commentary on their initial work. The newsletter helps orient subscribers to new authors they may want to follow. Subscribers can follow this account to receive the newsletter in their inbox.