Preparing For The End Of The Cycle: November Update
Summary
A few weeks ago, I started my series covering high-quality companies which aren't a good investment yet due to overvalued stock prices.
A central premise is a declining US stock market because otherwise these high-quality companies probably won't reach the preferred entry point.
With the yield curve flattening, the weekly initial unemployment claims rising, and valuations still extremely high, it seems like the end of the cycle is near.
Out of the five companies - Moody's, Mastercard, 3M, Tencent, and Facebook - the last seems to be the most interesting and is closest to our entry price.
As I promised in my article about Facebook (FB), I will provide regular (monthly) updates on the stocks and companies I covered in my series "Preparing for the end of the cycle" so far. As you probably expected, these articles will include an update on the stocks and new information about the different companies that might alter our investment thesis, intrinsic value, or preferred entry point. But I will also include an update on the general (US) stock market - represented by the S&P 500 (SPY) and the macro factors.
Macro Economy And Stock Market Overview
As I mentioned several times in my articles, this whole series is covering exceptional great companies that often trade at a premium and have to decline sometimes 50% or more in order to reach my preferred entry point. And cutting the market capitalization of these companies in half seems highly unlikely without some kind of scandal or a deep fundamental change in the business (in that case, we have to question if the company can still be a part of our "exclusive" list of high-quality companies). What could also drive these companies down is a bear market combined with panic and bearish sentiment, which is dragging even great companies down to the fair value or even to a state of undervaluation. Therefore, a deeper analysis of the general stock market is important for our series.
When you read my articles about the US stock market and macro economy, you probably know that I was not necessarily bearish during the last two years (in the sense that a stock market decline has to happen right away or that shorting was a good idea), but I was very cautious and skeptical how long the bull market can last. In the meantime, I have learned that bull markets might go on longer than expected and that overvaluation by itself is no reason for the cycle to reach its peak. Despite the lesson about bull market duration, stock market rallies still won't last forever.
Like I pointed out in my last macro article, we already have seen a small sentiment shift. In 2017 and even during the first two months of 2018, it seemed like only some absurd outsiders (including myself) have been cautious, while the wide majority seemed to be convinced there was no reason to worry as the bull market still has a long way to run. But, in the last few months, it seemed like commentators and analysts got a little more cautious and an often-heard argument was that there might be a recession, but not before 2020 or 2021 and people should stay invested for now and there is no reason to worry.
Just to remind you - stock market valuations are still absurd (despite the decline in October). I am aware that due to the low interest rates and the loose monetary policy of the FED, stocks can reach extremely high valuation levels, but in the long run, valuations will matter and it won't be different this time. With a current P/E ratio of 31.1, the stock market 114% above regression (see chart below) and abnormally high valuation levels during the past two decades that are not representative for a long-term average (like I demonstrated in a previous article), we have every reason to be cautious about investing in the US stock market.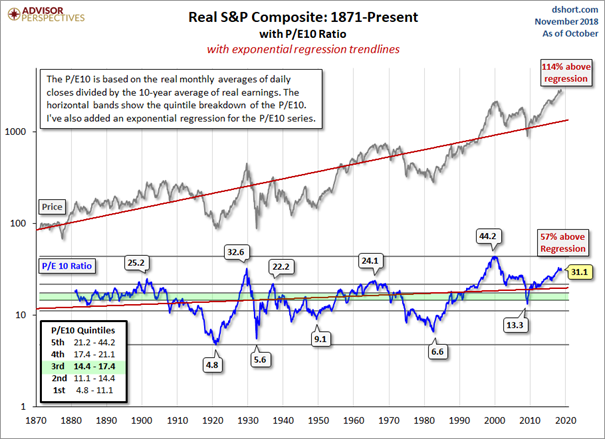 When looking at some early indicators like the weekly initial unemployment claims (seasonally adjusted numbers) we see the number increasing from 204,000 at the beginning of September to 234,000 at the end of November. Numbers haven't been that high since May 2018. I still wouldn't read too much into that numbers as it could just be a normal fluctuation but will keep a close eye on the weekly numbers.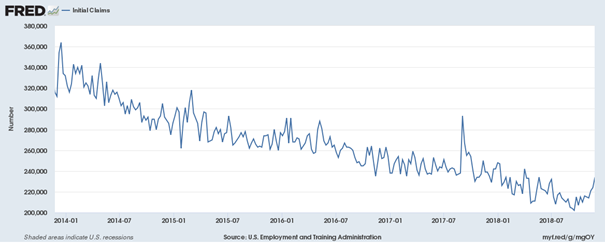 (Source: Initial Claims)
Aside from the weekly unemployment claims, the yield curve is flattening and in the case of the last seven recessions, the yield curve was always flat (or even inverted) before a recession. And once again, the spread between the 1-year treasury (or the 2-year treasury) and the 10-year treasury are close to zero and are signaling the beginning of a recession in the next few quarters. Similar to the weekly unemployment claims, the spread between the 2-year treasury and the 10-year treasury is not telling us that a recession has to come right away, but is definitely a warning sign.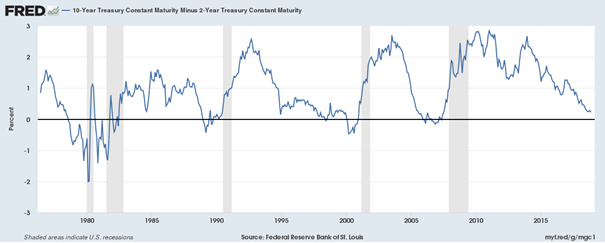 Looking At The Individual Stocks
After looking at the general market and a few leading indicators, that could signal a recession ahead of time, we now will look at the individual stocks in my series. I covered five different companies that appear to be superior in (almost) every dimension - high growth rates for revenue, EPS and free cash flow, high return on equity as well as high return on invested capital and margins that are not only stable or improving but are also above average. And mostly due to their superiority, these stocks usually trade for a premium (which can sometimes be justified) but are not available at the intrinsic value I came up with.

(Source: Own Work)
The social media platform Facebook and the conglomerate Tencent (OTCPK:TCEHY) declined the most so most and are closest to what I came up as intrinsic value. Therefore, I will mostly focus on Facebook (and Tencent) as these stocks are not only trading close to the intrinsic value, but are also the most interesting due to the current media attention and discussion (especially about Facebook).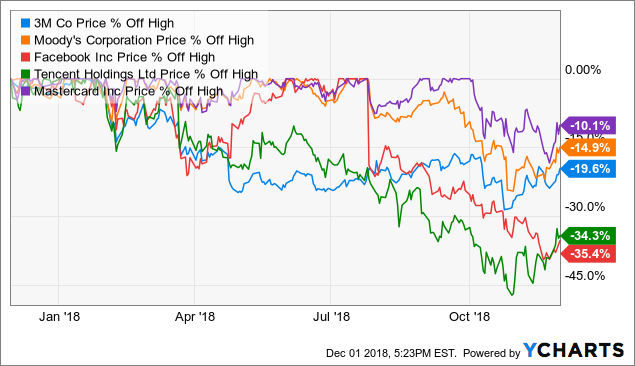 Tencent already started declining about a year ago, Facebook dropped after the Cambridge Analytica scandal but could reach new highs after that and started declining again in summer 2018. 3M (MMM) also started declining a few quarters ago but managed to stay more or less stable during the last months. Moody's (MCO) and Mastercard (MA) only declined in the last few months.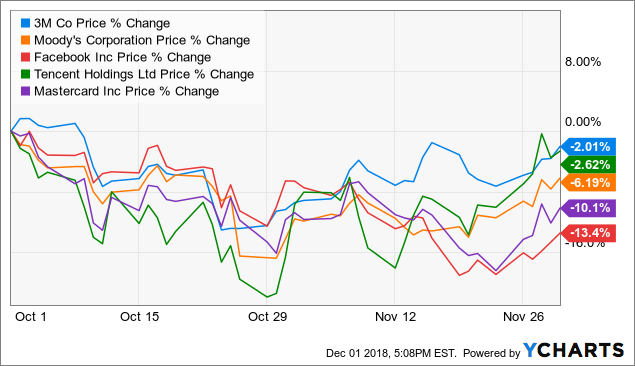 Facebook
Among the five companies, Facebook is the one that is closest to being a buy (and at least according to my intrinsic value calculation it is already undervalued), but the high uncertainties, as well as the sentiment, have kept me from buying so far (we come back to that point). In the meantime (since my last article), Facebook has released its third quarter earnings and while Facebook is still reporting impressive growth numbers that would make most other companies envious, there are reasons to be cautious. Revenue still increased 33% compared to last year's quarter and revenue growth was distributed over all four geographic regions with Europe growing 33.5% and the Asia-Pacific region even growing 37.6%. The number of DAUs grew only 9.3% and growth came solely from the Asia-Pacific region (+17.9%) and the rest of the world (+8.5%) while Europe and North America were stagnant. Revenue growth still stems mostly - like in the quarters before - from the growing average revenue per user. While revenue is still growing at high rates, the operating margin declined further to 42% (but this had to be expected as Facebook warned us in the last conference call). As a result of the higher costs, diluted earnings per share grew "only" 10.7%.
In my intrinsic value calculation, I used 15% growth for the next decade and came up with an intrinsic value of $218.42. One of the bigger risks for investors when dealing with growth companies like Facebook is calculating with too high and therefore unrealistic growth rates. This is also a common problem with younger growth companies: as it is very difficult to assess the realistic future growth rates and investors often tend to be too optimistic, we are dealing with extremely high P/E ratios and problems of overvaluation (which sometimes leads to a bubble).
One of the uncertainties I mentioned above is the risk of a recession. As Facebook is generating almost all of its revenue from advertisement, we can expect revenue growth - and as a consequence also EPS growth - to shrink in such a scenario. It is also possible that revenue and free cash flow will decline. The fact, that we have no data how Facebook performed during past recessions (the company only lived through one), is also increasing uncertainty. I think 10.7% EPS growth is not representative for the next decade, but we can call it at least a warning sign to be not too optimistic. One or two years of 0% growth or a free cash flow decline (yes, that is possible) and Facebook has to grow much more in the remaining eight years to reach 15% growth on average for the next decade.
A second risk mentioned above is the negative sentiment, which seems to be getting more and more extreme. Usually, a stock reached its bottom when there is blood in the streets, but, in the case of Facebook, I think we haven't reached that stage yet and that is what keeps me from buying. From a fundamental standpoint, Facebook is surrounded with risks and uncertainties, but it trades well below its intrinsic value and even with a huge margin of safety, the stock would be a buy. However, I think it might decline a little further and therefore I am waiting (as usual, with the risk of missing out on an already good buying opportunity).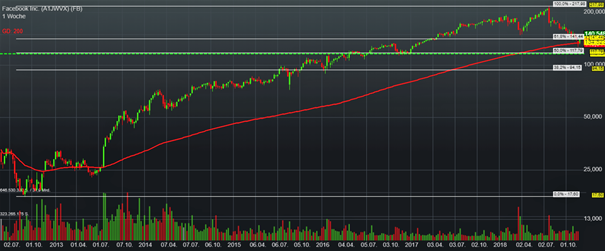 (Source: TraderFox Trading-Desk - 8.000 Aktien und Realtimekurse weltweit in Echtzeit!)
A second company that is very similar to Facebook is Tencent Holdings Ltd. and Tencent also reported third quarter results recently. Revenue increased 24% compared to last year, net profit increased even 31% and what would be extraordinarily good numbers for any other company is rather a disappointment for Tencent as the company could report growth rates of 50% not too long ago.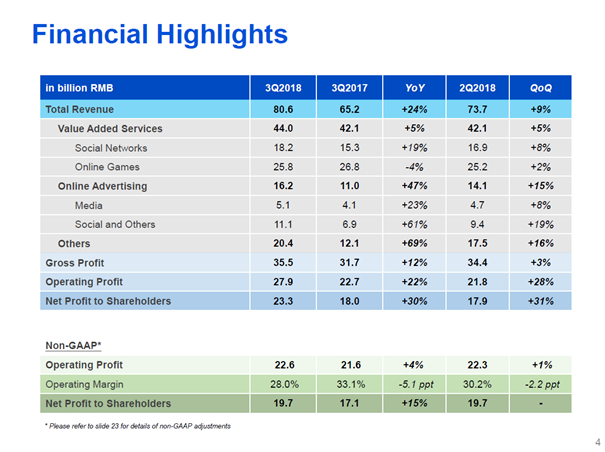 (Source: Tencent Investor Presentation)
Revenue from "Online Games" decreased 4% compared to the third quarter of 2017. Although this was expected and didn't come as a shock to investors (the Chinese government didn't approve any new games since the spring of 2018), it is still a (temporary) problem for Tencent as online games are among the biggest drivers of revenue and growth. We can expect, that Tencent will have to adapt to stricter rules regarding child/youth protection (limited hours of playing for example), but overall, revenue growth from online games will return to the double digits (not as high as before) in 2019. Right now, however, the highest reported growth rates come from the fintech and mobile payment segment, which is still published as "Others" - in the last quarter 69% was the impressive growth rate Tencent could report.
Similar to Facebook, I also used 15% annual growth for the next decade in my intrinsic value calculation. When also assuming that Tencent will grow 5% for perpetuity, the stock is currently fairly valued, but the current price is not reflecting any margin of safety. And similar to Facebook, it only needs one or two mediocre years and the company has to grow much more than 15% in the remaining years. However, I am more optimistic for Tencent to grow 15% annually than I am for Facebook (especially as Tencent is less dependent on revenue from advertising) which is probably also reflected in the stock price as Tencent still seems to be valued higher than Facebook.
Conclusion
Aside from Facebook and Tencent, the other three companies will stay on our watch list. The conglomerate 3M and the financial company Mastercard are still way overvalued. The credit rating agency Moody's Corporation is rather close to its intrinsic value, but still way above our preferred entry point and therefore not a buy. And as there was no newsworthy development, we maybe take a closer look at these three companies in our next update. In the case of Facebook, I might open a first position in the next few weeks - depending on the stock price development. But if Facebook drops to $115, I think I will pull the trigger.
This article was written by
Part-time investor and contributor for Seeking Alpha since 2016. My analysis is focused on high-quality companies, that can outperform the market over the long-run due to a competitive advantage (economic moat) and high levels of defensibility. Focused on European and North American companies, but without constraints regarding market capitalization (from large cap to small cap companies). My academic background is in sociology and I hold a Master's Degree in Sociology (with main emphasis on organizational and economic sociology) and a Bachelor's Degree in Sociology and History.I also write about investing, economy and similar topics on Medium: https://medium.com/@danielschonberger
Analyst's Disclosure: I/we have no positions in any stocks mentioned, and no plans to initiate any positions within the next 72 hours. I wrote this article myself, and it expresses my own opinions. I am not receiving compensation for it (other than from Seeking Alpha). I have no business relationship with any company whose stock is mentioned in this article.

I own derivatives which are profiting from a declining Nasdaq-100 and Dow Jones Industrial Average.
Seeking Alpha's Disclosure: Past performance is no guarantee of future results. No recommendation or advice is being given as to whether any investment is suitable for a particular investor. Any views or opinions expressed above may not reflect those of Seeking Alpha as a whole. Seeking Alpha is not a licensed securities dealer, broker or US investment adviser or investment bank. Our analysts are third party authors that include both professional investors and individual investors who may not be licensed or certified by any institute or regulatory body.