Continental Resources (CLR) saw record production again in the third quarter, up 5% quarter over quarter and, consequently, earnings were strong as net income came in at $314 million. The company has switched its drilling operations to achieve 95% crude oil-weighted growth, which should continue to have a dramatic impact on earnings since crude oil pricing comes with better margins than natural gas.
The fourth quarter should also be strong, especially when considering that 40% of CLR's Bakken wells, which have a higher percentages of oil cuts, will be put on production during this time. This is a large percentage of production for one quarter.
Infrastructure buildouts and technology advancements in SpringBoard, for example, have also occurred to the point where it will allow more production from CLR and other E&Ps in North America. This is all coming at a time when an oil super cycle, according to CLR, is firmly underway. New wells have also been identified by CLR to drill that will allow for 100% rate of returns at $65-WTI prices, for 20 years out.
As a result of these developments, and a more than 20% pullback in share prices from recent high's, CLR is giving investors a gift by finally allowing an entry point with a favorable risk/reward setup.
Production Exceeded Guidance
To reiterate, CLR saw record production in the Bakken, producing about 304,000 barrels of oil equivalent per day, which was a 22% year over year increase. The SCOOP and STACK plays for CLR are also outperforming their unit type curves by a whopping 75%, which set a record for the industry.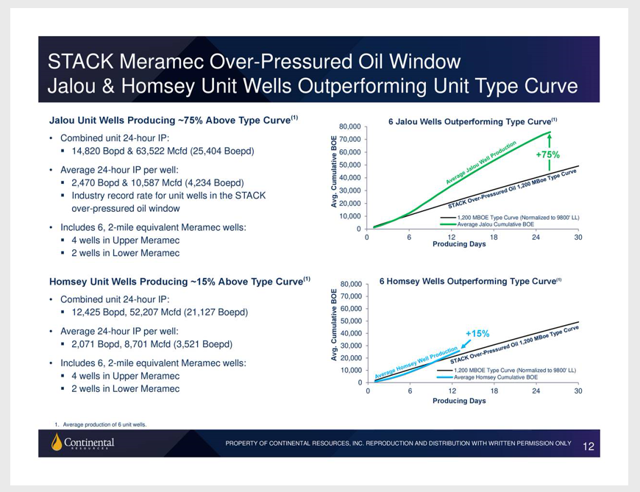 Source: Continental Resources
Various efficiencies and technology, such as quicker drilling times, new steering equipment to fight through well contours, cheaper local sand, and 100% piped water, oil, and gas, are some of the causes for record setting performance, which we commented on in the previous quarters. CLR's water is also now being recycled, which lowers costs significantly. In fact, not only are costs lowered through these initiatives, but differentials improved to under $2 a barrel in SpringBoard, for example, due to takeaway infrastructure being built out in the area.
To some readers, it may sound like a broken record hearing about the constant efficiencies companies like CLR are achieving. So another point worth focusing on is the fact that CLR found more wells to drill in the Bakken with staggering rates of return, which should put fears to rest that investors have about the sustainability of fracking.
More Wells Identified
Whiting Petroleum (WLL) already identified a new runway of premium wells on their previous conference call, and Continental Resources confirmed this discovery. According to the North Dakota Industrial Comission, 50,000 wells of high quality inventory are awaiting to be put on production, which equates to about 30 billion to 40 billion barrels of oil that can be ultimately be exported over seas (up from the previous 20 billion estimate made in 2011).
This seems like an unrealistic number, but technology has now been developed enough to unlock the previously-known oil deposits in the ground. Originally, E&Ps have known for years that an abundance of shale oil exists in complex rock formations beneath the ground, but no one knew how to bend the pipe.
Now that the technology to bending the pipe has been found, the next step, among many, was to figure out how to steer around contours and stimulate the rocks better. Thankfully for CLR, these problems have been solved.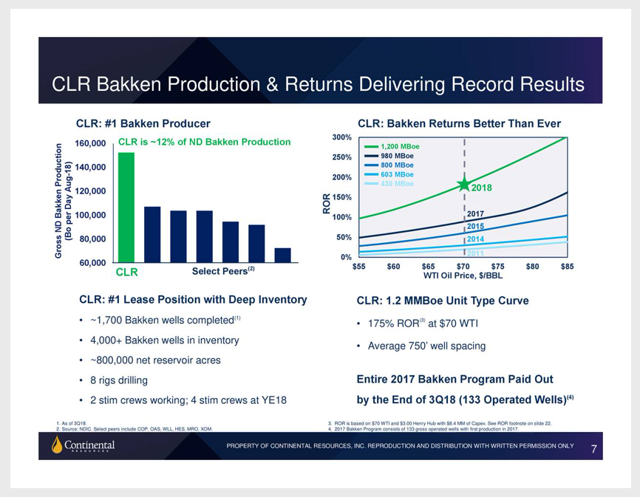 Source: Continental Resources
As a result, 15% to 20% more oil is now being extracted, and is providing the company with a 20 year-window to drill at 80% to 100% rates of return per well at $65 WTI and $3 Nat Gas prices. This comes assuming that CLR operates its 4,000 wells in inventory with a 10-rig drilling program. The SCOOP and STACK areas also have attractive break evens (seen above). So, there is plenty to look forward to out of both the Bakken and SCOOP and STACK plays, for CLR and its investors.
Continental Snapshot
To be sure that Continental is at an optimal risk/reward entry point, first we must analyze the company's valuation. At first sight, CLR's P/E multiple of 18 (seen below) seems high. But with production growth of 22% year over year, this makes CLR's peg ratio low.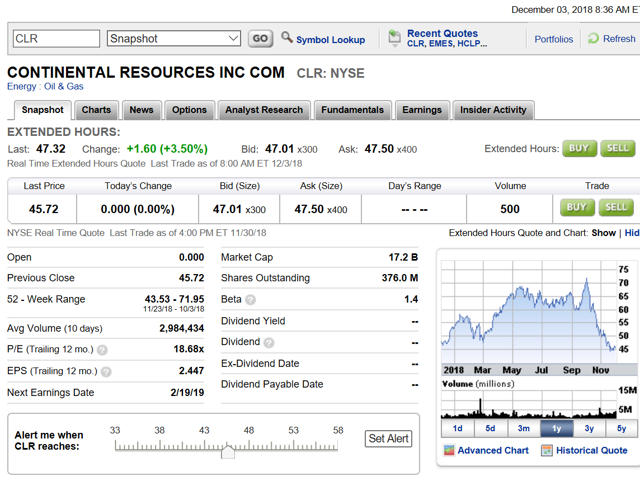 Source: E*TRADE
Not only is CLR's valuation attractive, but its stock price has now fallen to more acceptable levels of around $45, which is a far cry from the former highs of $70.
Risks Remains Somewhat High Without Hedges
Continental's debt levels have come down to $5.94 billion, or 1.5x debt to EBITDAX, which is more manageable now and a major improvement from 2014 levels. This debt number is expected to fall to $5.5 billion by year-end, and below $5 billion, ultimately, in 2019 to reach just 1 times debt to EBITDAX. Free cash flow is also expected to reach $1 billion in 2018, and 2019 projections are even more bullish than 2018.
Differentials are also less of a risk for CLR, which we have reported on in previous articles, since they operate in less crowded areas that have adequate takeaway infrastructure. In fact, 50% more processing capacity is coming to the Bakken, as well as an expansion of DAPL by Energy Transfer Partners (ET), which should benefit CLR greatly.
So now that CLR has deleveraged its balance sheet and is generating robust cash flow, the real risks to worry about are hedging. It shouldn't matter that oil prices are falling below $55 a barrel at the moment, since CLR can still generate strong rates of return at these levels. Margins will be affected though, and hedges would help offset this risk. However, CLR is choosing to remain unhedged.
They believe that they were vindicated in not hedging in 2018, as oil prices strengthened. They expect 2019 to be no different, as more production will come offline. About 800,000 barrels from Iran should be removed from supply due to sanctions, and aging oil fields world-wide should continue to decline. This events, combined with governments needing cleaner CO2 emissions, should validate CLR's decision to stay unhedged.
Conclusion
Continental has always been a best of breed player, and now the company is building upon that success.
With production growing steadily each quarter, breakevens falling through efficiencies gained, and 50,000 new wells being found to allow the company to drill uninterrupted for 20 years at almost triple digit rates of return (at $65 oil), CLR is surely in no risk of losing their dominant position over peers.
As a result of these bullish developments, and its attractive valuation, CLR has finally reached a good enough risk/reward level for investors to warrant starting a long position in its stock.
Disclosure: I am/we are long GUSH. I wrote this article myself, and it expresses my own opinions. I am not receiving compensation for it (other than from Seeking Alpha). I have no business relationship with any company whose stock is mentioned in this article.