A Man And His Mission
Roger Penske knows what there is to know about racing and racecar driving. He is also an eponymous winner at business with his wealth estimated to top $1B. Investors will also win buying shares in his Penske Automotive Group (NYSE: PAG), especially while PAG languishes at $43.60 per share. The current market price is lower than Mr. Penske paid for more than a million shares one year ago. That's near its 52-week low of $41.74 and down from a high of $54.83.
PAG is all about road transportation. Penske Automotive, headquartered in Bloomfield Hills, Michigan, is a diversified international transportation company operating automotive and commercial truck dealerships principally in the United States, Canada, and Western Europe. The business community recognizes PAG for steady management, smarts and tenacity naming the company a member of the Fortune 500 and Russell 2000. PAG is ranked among the World's Most Admired Companies by Fortune Magazine 2018.
In addition to these accolades, Penske Truck Rental received a 3-star rating from Move.org this year for the following reasons: it maintains newer trucks increasing reliability and boosting customer satisfaction. The company offers more truck options than competitors increasing flexibility in rental choice. The company outshines competitors when it comes to offering multiple discounts including discounts to AAA members, military and college students.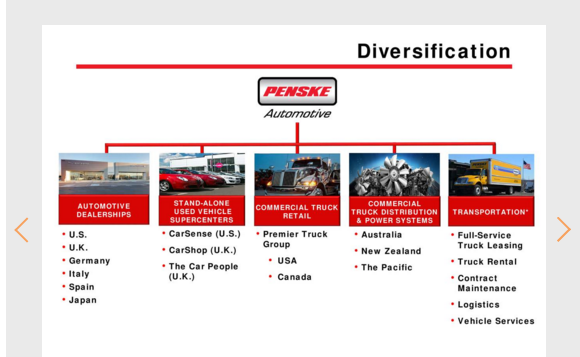 Source
PAG distributes commercial vehicles, diesel engines, gas engines, power systems, and related parts and services principally in Australia and New Zealand. PAG
Employs more than 26,000 people worldwide
Operates 279 retail automotive locations including
14 standalone used car supercenters & 265 auto dealerships
21 N.A. commercial truck dealerships
342 OEM franchises
38 collision centers
Owns a 28.9% investment in Penske Truck Leasing
Distributes power systems & commercial vehicles in Australia & New Zealand
Reasons To Buy
There are five reasons for my BUY recommendation. First, PAG is experiencing an upward trajectory in revenues and margins. PAG's Q3 '18 financial highlights reported in October are record income increases attributable to diversification:
For the three months ended September 30, 2018, income from continuing operations attributable to common shareholders increased 38.0% to $130.1 million, and related earnings per share increased 39.1% to $1.53 when compared to the same period last year. Total revenue increased 2.4% to $5.7 billion, while same-store retail revenue increased 0.2%. Excluding foreign exchange, total revenue increased 2.9%, while same-store retail revenue increased 0.5%... Adjusted income from continuing operations increased 25.7% to $118.5 million, and related earnings per share increased 27.3% to $1.40 for the three months ended September 30, 2018…. For the nine months ended September 30, 2018, total record revenue increased 8.5% to $17.3 billion, with a 5.0% increase in same-store retail revenue. Record income from continuing operations attributable to common shareholders increased 31.5% to $372.7 million and related earnings per share increased 32.4% to $4.37 when compared to the same period last year.
Second, Penske Truck Rental and Leasing Corporations are bound to benefit from the booming US economy and strengthening job market. Americans used to move every five years on average. The tendency came to a grinding halt with the economic turndown. Senior demographer Kenneth Johnson observes, "That kind of frozen-up migration that wasn't happening during the recession is making people, especially millennials, much more footloose than they were before…spreading out a bit to other parts of the country more than they were before."
The company added commercial truck leasing to its portfolio of services. As a former small business owner with five delivery trucks, I know first hand, truck leasing preserves cash for inventory, salaries and operations expansions. I expect good news forward from the leasing division.
The third and fourth attractions to PAG for retail investors are that insiders hold 58% of shares. Dividend Yield (fwd) is currently around 3.4%. All the stakeholders depend on PAG's growth and stability. And fifth, my target share price is a comfortable $58 with revenues and margins continuing to escalate. Furthermore, look at the direction recommendations are leaning:

Source
Caution And Diligence
There is some downside too. Investors need to be aware and not give these matters short shrift. PAG has a low Gross Margin of 15.02% and Net Margin of 3.09%. These numbers are a drag on profits but they are better than in the recent past. Except for a dip in Gross Margin during mid-2016, it has been steady during periods of revenue expansion.
In 2017 and 2018, the Gross Margin rose from below 14.7% to its current level. Operating Margin and Pre-tax Margin are both on the upswing over the past few years. Net Margin was flat below 2% for years, increased in mid-2017, and has continuously climbed to above three percent by the Q3 '18 report. This upward trajectory adds to the investment attractiveness.
Another concern is the aging of management and the advantages more diversity will bring, i.e., women and others. Mr. Penske (81 years old) took the reins as Chairman and CEO in 1999 and has been Chairman of the Board of the truck leasing company since 1982. The Group President has been with PAG in some capacity for more than two decades.
Pithy Observations
Overall, PAG is a bit risky but a company with good character and references forged by a well-recognized personality dear to fans who admire and trust "The Captain." Management knows the businesses and offers a firm hand, direction and stability to the Group in its diversification and expansion operations.
In October 2017, Mr. Penske purchased +1M shares reportedly at ~$45 each, and Penske Corp. purchased an equal number of shares. Insiders dominate the stakeholders, so there is a personal commitment to making the company and its investors prosperous. The management seems to take to heart the caveat once offered by Benjamin Franklin, "Drive thy business or it will drive thee."
Disclosure: I/we have no positions in any stocks mentioned, and no plans to initiate any positions within the next 72 hours. I wrote this article myself, and it expresses my own opinions. I am not receiving compensation for it (other than from Seeking Alpha). I have no business relationship with any company whose stock is mentioned in this article.