Seuls les poissons morts suivent le courant' - Only dead fish follow the current" - Mike Bodnar
Today, we look at a small bank stock that is trading near 52-week lows but has seen some recent insider buying.
Company Overview:
Malvern Federal Bancorp, Inc. (MLVF) is a Paoli, Pennsylvania based bank holding company for Malvern Bank, which recently converted to a national bank charter in February 2018. With a market cap of ~$160 million, this bank has been servicing the Philadelphia area for over 131 years. With ~$1.1 billion in assets, Malvern employs ~81 people at its ten locations in the greater Philadelphia area and two private banking offices in Delaware and Florida. The company recently executed a secondary offering, raising net proceeds (assuming the green shoe is exercised) of ~$27.2 million at $21 per share. It operates on a fiscal year ending September 30th.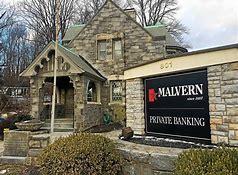 Like most banks, Malvern makes the majority of its revenue from net interest income, which is the spread between what it earns in interest from loans and what interest it pays out on deposits. Because of the magic of fractional reserve banking, the banking system can make (under most circumstances) up to nine times - and in some instances more - the amount in loans than it has on deposit. At the end of its fiscal third quarter ending June 30, 2018 (3QFY18), the company's loan portfolio consisted of $477.6 million of commercial real estate loans (or 53% of total loans); $192.9 million (21.4%) of residential real estate loans; $140.1 million (15.5%) of commercial and industrial loans; $55.4 million (6.1%) of construction and development loans; and $35.8 million (4.0%) of consumer loans. Of the bank's $901.8 million portfolio, only $4.5 million were 30 or more days past due. Deposits totaled $787.9 million as of June 30, 2018.
Significance Of Charter Change:
Since its founding in 1887, Malvern had been a federally-chartered savings bank. In February 2018, the holding company converted its charter to a national bank to better align with its business plan. The significance of this transition is two-fold. First, Malvern is no longer bound by the thrift lender test, which stipulates that 65% of an institution's portfolio assets consist of certain housing and consumer-related assets on a monthly average basis in nine out of every twelve months. Owing to Malvern's relatively large exposure to commercial real estate loans, the bank was in violation of this standard at YE16, making it apparent that it should convert to a national bank charter. Second, one of the primary benefits of a national charter is the broad federal preemption of state laws that it offers, making it easier to operate in multiple states. Even though with the enactment of the Dodd-Frank Act, many of these preemptions have disappeared, it is still a step towards a growth-through-acquisition strategy.
After its October 4, 2018, secondary offering, the company stated that it may use a portion of the proceeds for future acquisitions, although it currently has no present deals on the table. This would appear to be the primary use of these funds given that the bank is in solid position with respect to its regulatory capital requirements. The balance of the funds will be deployed as part of a strategy to grow loans by 20% in 2019.
3QFY18 Results:
For its quarter ending June 30, 2018, Malvern reported fully-diluted earnings of $0.35 per share on net interest income of $6.98 million, representing 30.5% and 9.1% increases over 3QFY17, respectively. For the nine months ending June 30, 2018, the company earned $0.72 per share on net interest income of $19.9 million, representing ~20% and ~13% increases over the nine months ending June 30, 2017. Loan loss provisions for the prior nine months ending June 30, 2018, were $829K, down from ~$2.3 million in the prior year period. Non-performing assets were 0.32 percent of total assets at June 30, 2018, compared to 0.19 percent at June 30, 2017. In the quarter, net loan portfolio growth was $56.8 million, with commercial real estate loans accounting for ~75% of the new loans, which totaled $105.3 million. Malvern's ratio of shareholders' equity to total assets increased to 10.25% at June 30, 2018, compared to 9.93% a year prior. Book value per common share amounted to $16.42 compared to $15.28 at June 30, 2017.
Balance Sheet & Analyst Commentary:
Malvern exited 3QFY18 with $47.4 million in cash and ~$150 million of debt, consisting mostly of borrowings from the Federal Home Loan Bank of Pittsburgh to supplement the company's liquidity position and $24.4 million of subordinated debt. Adding weight to the belief that the secondary offering was to finance a spending spree was the status of Malvern's regulatory ratios at the end of 3QFY18. Tier 1 Leverage (CORE) Capital to average assets was 10.21% versus 5% necessary for capital adequacy purposes and Total Risk Based Capital to risked weighted assets stood at 16.17% versus 8% for capital adequacy purposes. In short, the company is in good financial standing; thus, the belief that management will look to grow through acquisition.
The two analysts who follow Malvern have somewhat divergent opinions on the company's prospects. Keefe Bruyette & Woods (NYSE:KBW) lowered its rating (from outperform to hold), price target (from $29 to $23), and 2019 earnings estimates (from $1.76 to $1.63), citing the dilutive effect of the secondary, expecting rather the bank would have worked down its capital to a more normalized level before increasing it for opportunistic growth purposes. By contrast, Sandler O'Neil upgraded the stock on the back of the secondary from a hold to a buy and maintained its $24 price target. It should be noted that Sandler O'Neil was the lead underwriter on the secondary.
Five insiders agree with Sandler O'Neil's assessment based on their purchases on the secondary. The CEO, CFO, an EVP, a SVP, and a director collectively purchased slightly more than 37,500 shares.
Verdict:
The stock is down some 30% from recent highs. With its recent capital raise, this is a case of a bank with some excess capital to deploy, or at the very least, a strong balance sheet. It expects to grow loans by 20% and with the favorable tailwinds of an easy regulatory environment for acquisitions. Malvern would appear to have a favorable risk/reward profile at these beaten down levels. The recent sell-off in the sector provides a good entry point to pick up a 'watch item' position within a well-diversified portfolio.
Paris is a woman but London is an independent man puffing his pipe in a pub." - Jack Kerouac, Lonesome Traveler
Bret Jensen is the founder and author of articles on The Biotech Forum, The Busted IPO Forum, and The Insiders Forum. To receive these articles as published on Seeking Alpha just click the appropriate link and hit the orange follow button
Disclosure: I/we have no positions in any stocks mentioned, but may initiate a long position in MLVF over the next 72 hours. I wrote this article myself, and it expresses my own opinions. I am not receiving compensation for it (other than from Seeking Alpha). I have no business relationship with any company whose stock is mentioned in this article.