I consider BlackRock TCP Capital (TCPC) to be one of the most undervalued business development companies ("BDCs"), given its history and potential dividend coverage, supported by a higher quality portfolio and management as discussed in this article.
BDC Buzz & Insider Purchases
Over the last three months, the average BDC stock price declined by over 10% likely due to investors seeking higher yields on non-investment grade debt as discussed in previous articles. As shown below, BDCs started to rally as many reported strong Q3 2018 results, followed by another decline that could have been partially due to tax-loss harvesting and could keep prices lower through mid-to-late December (see discussion at the end of this article).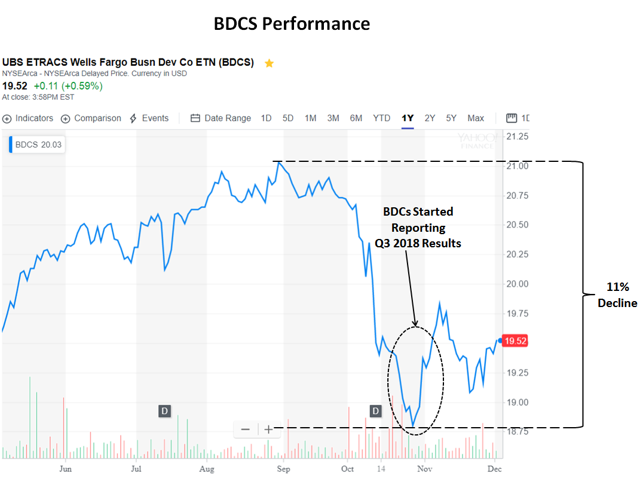 Also, there is a good chance that investors are continuing to discount TCPC's stock price due to the potential for a combination with BlackRock Capital Investment (BKCC) and was discussed on the recent call:
Q. I just wanted to ask does BlackRock seem to take into account the overhang TCPC stock seems to be primarily around the uncertainty surrounding what might happen in the future with BKCC, has there been any discussion about this, do they seem inclined to make an announcement on the future of what they want to do with this vehicle?

A. BKCC is a separate distinct legal entity and they make their own announcements and have their own independent board and investment committee. So I think it might be appropriate to direct that comments to them. We are getting organizational synergies on deal flow and with our exemptive order, but as of today the entities are distinct.

Q. I understand. I guess maybe a better way to phrase it is, does BlackRock see that, TCP's stock price is, really under a lot of pressure, despite the company's performance being, still, very strong and understanding that there's something outside of the performance that's weighing on that.

A. So we will share your comments and invite you to do the same.
Source: TCPC Q3 2018 Earnings Call
I have recently exchanged emails with CEO Howard Levkowitz, and hopefully, BlackRock will provide investors with guidance on the potential for a merger of the portfolios at some point.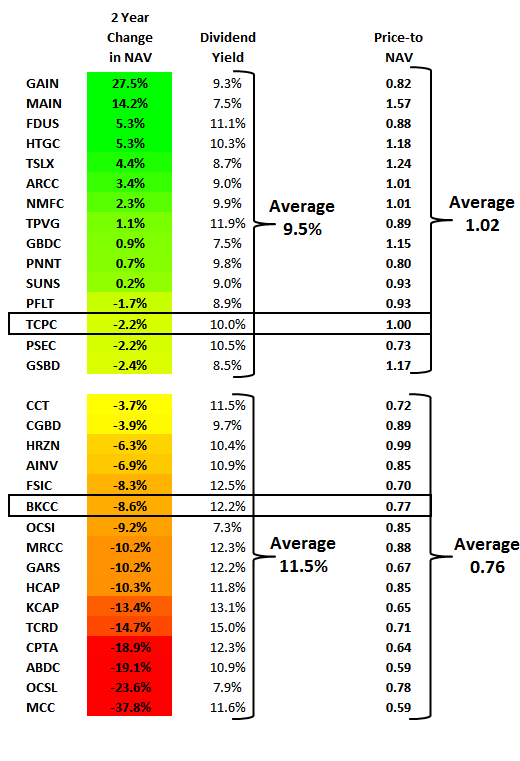 Source: SEC Filings and www.bdcbuzz.com
As subscribers of my service are well aware, I have been taking advantage of these lower prices making multiple purchases of higher quality BDCs, including TCPC on October 16, 2018, at an average price of $14.00, and its relative strength index ("RSI") was near 30 indicating oversold conditions. As shown below, many insiders purchased additional shares on the same day but at slightly lower prices: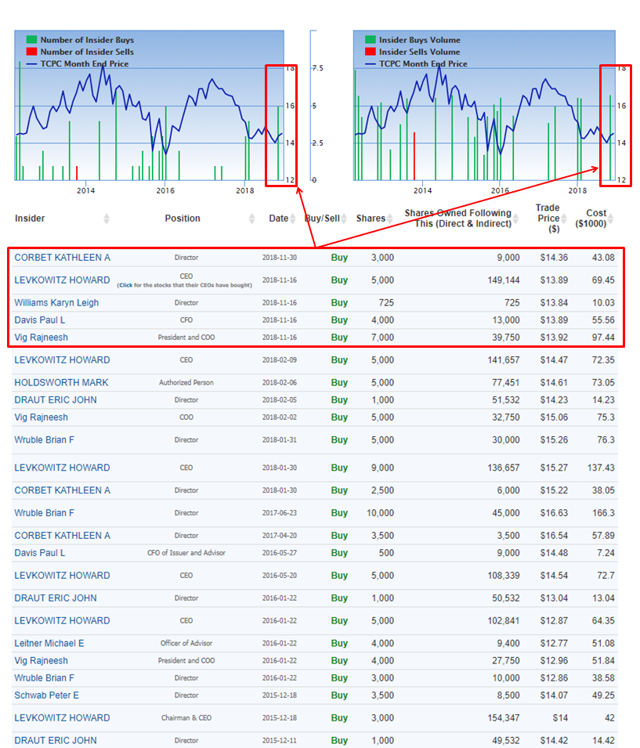 Source: Gurufocus
TCPC Leverage & Growth Capital
Previously, I was expecting an upcoming equity offering, but on November 7, 2018, the Board approved "the application of the modified asset coverage requirements", allowing the company to increase its regulatory debt-to-equity over 1.00 effective on November 7, 2019. However, the company is seeking shareholder approval at a special meeting on February 8, 2019, and will likely be approved.

Source: SEC Filing
I view this as a positive for shareholders for many reasons, including:
Increased financial flexibility, including less need for equity offerings and reach for yield
Quality management that will maintain underwriting standard and conservative leverage as well as credit ratings (see following discussions)
Reduced incentive fees (see below)
Higher returns on equity and increased portfolio diversification
The company will reduce its management fee to 1.00% on assets financed using leverage over 1.00, reduce its incentive fees from 20.0% to 17.5%, and hurdle rate from 8% to 7% as well as "continue to operate in a manner that will maintain its investment grade rating":
Subject to and at the time of the effectiveness of the Asset Coverage Ratio Election and subject to required approvals, including shareholder approval, the Company will reduce its management fee on total assets (excluding cash and cash equivalents) financed using leverage over 1.0x debt to equity from 1.5% to 1.0%, d by any net unrealized losses) from 20% to 17.5%, and its cumulative total return hurdle from 8% to 7%. The Company intends to continue to operate in a manner that will maintain its investment grade rating.
Source: SEC Filing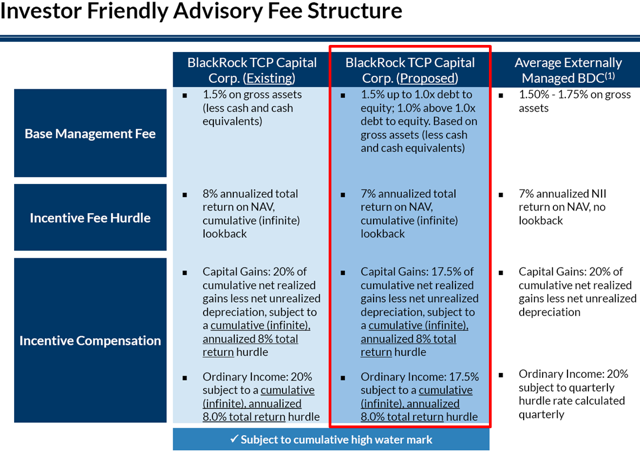 Source: TCPC Q3 2018 Earnings Call Slides
The table below was provided by the company showing the ability to continue its current dividend policy at differing levels of leverage (debt-to-equity) and credit losses by comparing the company's dividend yields for the twelve months ended September 30, 2018, to illustrate annual returns on equity ("ROEs") under various scenarios: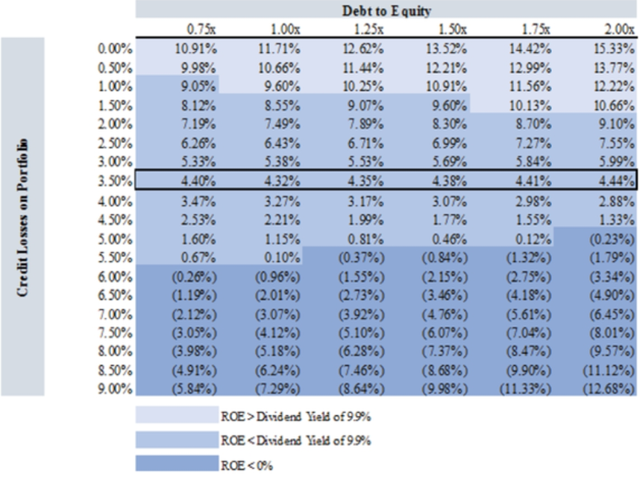 Source: SEC Filing
As of September 30, 2018, available liquidity was $260 million, comprised of $223 million in available capacity under our leverage program and $90 million in cash and cash equivalents, and approximately $53 million in net outstanding settlements of investments purchased.
We closed the quarter with total liquidity of $260.3 million. This includes available leverage of $223 million, and cash and cash equivalents of $90.3 million, and is net of pending settlements of $53 million. Outstanding draws on our $150 million SBA program remained at $98 million. Regulatory leverage at quarter end, which is net of SBIC debt, was 0.79 times common equity on a gross basis, and 0.75 times net of cash and outstanding trades.
Source: TCPC Q3 2018 Earnings Call

Source: TCPC Q3 2018 Earnings Call Slides
Previously, TCPC received an additional $75 million commitment from the SBA, increasing the total SBA commitment to $150 million. The company has been prudently ramping its SBIC borrowings with $98 million of the $150 million allowable with its first license and potentially up to $350 million allowed with three licenses, giving the company access to low cost longer term borrowings exempt from typical BDC leverage ratios.
TCPC Dividend Coverage Update
TCPC consistently over-earns its dividend growing its undistributed taxable income to almost $32 million spillover or $0.54 per share.
We earned net investment income of $0.42 per share in the third quarter out-earning our dividend by $0.06 and extending a record 26 consecutive quarters in which investment income exceeded our dividend. On a cumulative basis, we have out-earned our dividends by an aggregate of $32 million or $0.54 per share based on total shares outstanding at quarter end.
Source: TCPC Q3 2018 Earnings Call
Management indicated that the company will likely retain the spillover income and use for reinvestment and growing quarterly NII and NAV per share that will likely result in an increase in its regular dividend rather than special dividends:
Q. I was just curious I mean you are beating the base dividend almost every quarter and -- but you haven't had a special dividend since 2014. Does that reflect a difference in philosophy or is that just - can you comment on that?

A. As you point out, we used to do special dividends with some frequency. As we talked with shareholders we reached the conclusion although opinions weren't universal on this that most people didn't seem to value them that much and we thought that retaining the spill-over income seem to be better received and in fact even when we did have there seem to be some confusion in some quarters and some of the reports around it and dividend coverage. So that's why we haven't done it. It is something we do continue to look at as we discuss our dividend policy with the board there.
Source: TCPC Q3 2018 Earnings Call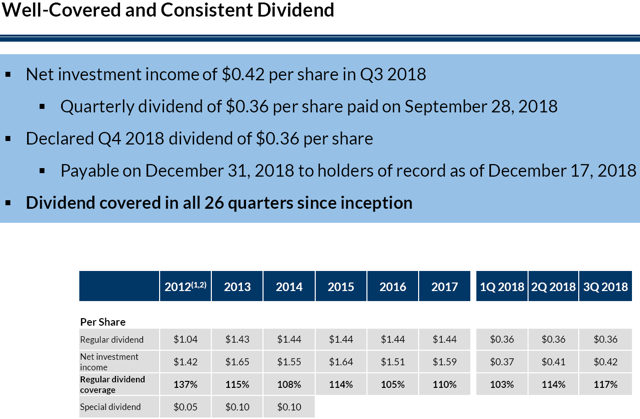 Source: TCPC Q3 2018 Earnings Call Slides
There was a decline in portfolio investments as TCPC management continues to take a higher quality approach, including selective portfolio growth, with adequate protective covenants, at higher yields for improved dividend coverage.
Despite our platform's robust pipeline of potential deal flow, we continue to deploy capital and are willing to let our balance sheet shrink when appropriate as we did this quarter. While we benefit significantly from BlackRock scale informational advantages and resources our leadership strategy and disciplined underwriting process remain unchanged. At this point in the quarter, our pipeline is robust and includes many transactions that are well within our historical yield range.
Source: TCPC Q3 2018 Earnings Call
However, I am expecting larger portfolio growth in Q4 2018 given the company had already invested over $100 million in the first six weeks:
In the fourth quarter to date, through November 7, we have invested approximately $102.7 million primarily in five senior secured loans, with a combined effective yield of approximately 11.9%. Looking ahead, we believe we're well positioned for continued growth for several reasons. First, our nearly two decades of experience investing in middle-market companies across multiple market cycles. Second, our long-term relationships with deal sources and portfolio companies which provides us with the ability to source unique investment opportunities. Third, our focus on credit quality and downside protection. And finally, our partnership with BlackRock has expanded our market-leading private credit platform with significant scale, resources, and geographic research that provide enhanced opportunities for our shareholders.
Source: TCPC Q3 2018 Earnings Call
It is also important to note that dividend coverage for TCPC is not reliant on fee and dividend income, some of which is amortized over the life of the investment, reducing the potential for "lumpy" earnings results.
For the quarter ended September 30, 2018, TCPC reported just above my best case projections covering its dividend by 117% that included $0.06 per share of income related to prepayment premiums and accelerated original issue discount amortization. There was another increase in its overall portfolio yield from 11.6% to 11.7%, driving increased amounts of recurring interest income even with a decline in portfolio investments. There was an increase in the amount of prepayment-related income due to higher exits during the quarter, which is likely responsible for the lower-than expected portfolio growth:

Source: TCPC Q3 2018 Earnings Call Slides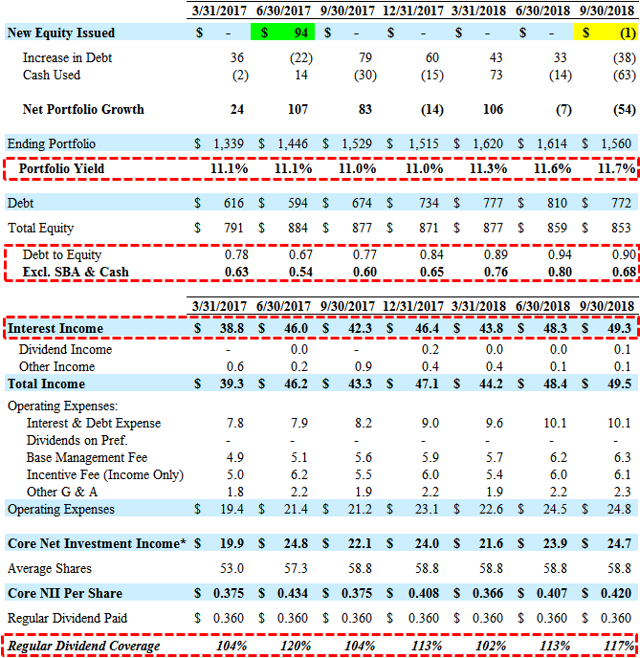 Source: SEC Filings and www.bdcbuzz.com
TCPC Interest Rate Sensitivity Analysis
Interest rate sensitivity refers to the change in earnings that may result from changes in interest rates. Most BDCs continue to experience higher portfolio yields mostly due to the rising LIBOR that should improve (or at least maintain) net interest margins and dividend coverage for the sector in the coming quarters. There is a good chance that the company will be able to maintain or improve its portfolio yield in the coming quarters due to continued rise in LIBOR as well as new investments at higher yields as mentioned by management on the recent call:
The overall effective yield on our debt portfolio at quarter end increased to 11.7% as the portfolio continues to benefit from modest increases in LIBOR. Through November 7, we have invested approximately $102.7 million primarily in five senior secured loans, with a combined effective yield of approximately 11.9%. We have discussed the potential for rates to rise for several years and positioning our portfolio accordingly, has allowed us to benefit from the recent increases in LIBOR as our floating rate investments reset. This benefit has been enhanced by our predominantly fixed rate liabilities.
Source: TCPC Q3 2018 Earnings Call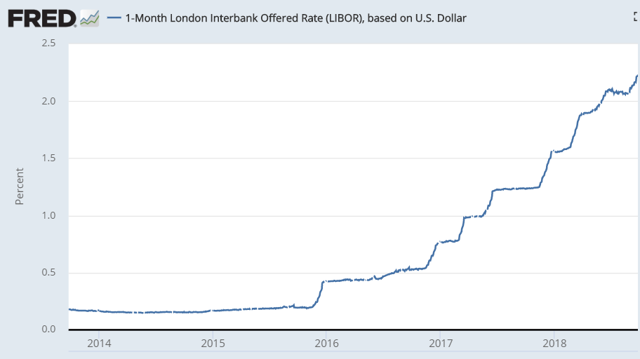 Source: FRED
The Fed will likely hike rates by another 25 basis points in a couple weeks: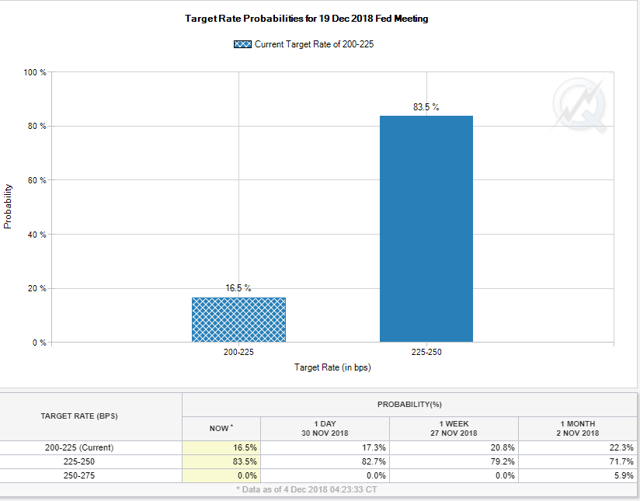 Source: CME Group
As of September 30, 2018, 91.8% of portfolio debt investments bore interest at variable rates, 66.5% of which are subject to interest-rate floors, and only 33% of borrowings are at variable rates. I consider TCPC to have better-than-average positioning for rising interest rates.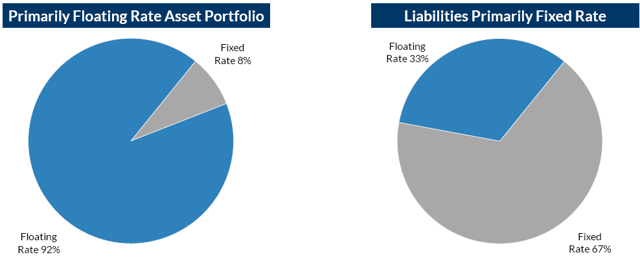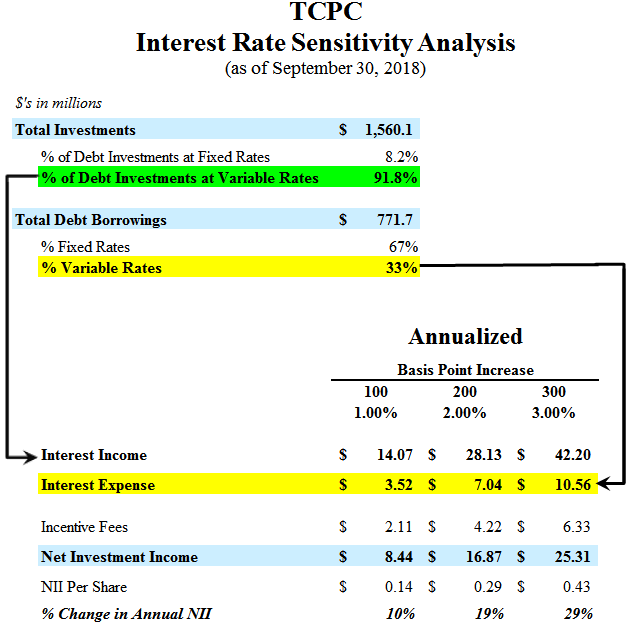 Source: SEC Filings and www.bdcbuzz.com
TCPC continues to lower its cost of capital including its TCPC Funding Facility previous reduced by 0.50% (from LIBOR+2.50% to LIBOR+2.00%) and reduced the capacity to $300 million (to lower the amount of unused fees paid), and extended the maturity to May 2022. Additionally, TCPC increased the capacity on its SVCP 2022 facility to $125 million. In February 2018, the company established a new $100 million revolving credit facility with ING Capital LLC, at LIBOR plus 2.25% replacing the previous SVCP Revolver at LIBOR plus 2.5%. On November 3, 2017, the company issued $50 million of 4.125% senior unsecured notes due August 2022 for net proceeds of $49.1 million as a follow-on to its August 2017 issuance of the 2022 Notes. Also, management indicated that it will likely continue to issue fixed-rate notes.
We have six different sources of funding. We've got the SBA, we have two different credit lines, and three different note issues, and it's intentional. We've diversified our sources of funding by type, by size, so that we have the flexibility to optimize our balance sheet, both our cost and liquidity, and also our risk, and so that we are not dependent on any one source. And clearly, the confirmation of the investment grade rating, the addition of Moody's are helpful from the perspective of a number of lenders, and so, today we have adequate liquidity, but as we think about it for the future, we have a series of options, and we will keep you posted along with rest of the market as soon as we are ready to make a decision on going forward with something new.
Source: TCPC Q3 2018 Earnings Call
TCPC Joint Venture With NEWT
As of September 30, 2018, TCPC did not have a "joint venture" or "senior loan program" that uses off-balance sheet leverage to increase its overall portfolio yield. BDCs are allowed a maximum of 30% of investments to be considered 'non-qualified' that would include these types of investments and was discussed on a previous call:
Q. Is there a potential that if you reduce asset coverage, you still make use of the 30% bucket with something like a JV, or would a JV in a 30% bucket be used kind of as a substitute for the reduced asset coverage to increase your economic leverage?

A. I think, there is a potential for both. We've looked at a number of these in the past. And at some level, in my mind, the notion of what the JV specifically is targeting, may drive some of that, the notion of where you can get better leverage and cost of leverage, whether it's on balance sheet or through JV as part of the decision, how you can source the right assets, depending on where it's -- all that's I think we would consider. But, I do think, both these models are feasible with the specifics being the key consideration points.
Source: TCPC Q2 2018 Earnings Call
On November 27, 2018, a wholly owned affiliate of Newtek Business Services Corp. (NEWT), Newtek Commercial Lending, Inc., and a wholly owned affiliate of TCPC, Conventional Lending TCP Holdings LLC, entered into a joint venture ("JV"). NEWT and TCPC each committed to contribute an equal share of equity funding to the JV and each will have equal voting rights on all material matters. The JV intends to deploy capital over the course of time with additional leverage supported by a warehouse line of credit. The intended purpose of the JV will be to originate commercial loans to middle-market companies as well as small businesses.
Source: NEWT 8-K Filing
TCPC Risk Profile Update
Overall credit quality of the portfolio remains strong, with 92% of the portfolio in senior secured debt (mostly first-lien positions) and low non-accruals and low concentration risk:
At quarter-end, our portfolio had a fair market value of $1.6 billion, 92% of which was in senior secured debt. We held investments in 95 companies across a wide variety of industries. Our largest position represented only 3.4% of the portfolio, and taken together our five largest positions represented only 15.4% of the portfolio. We are not reliant on income from any individual portfolio company. In fact, on an individual company basis, over half of our portfolio companies contribute less than 1% to our recurring income.
Source: TCPC Q3 2018 Earnings Call
As mentioned earlier, management has been slowly growing the portfolio (or shrinking if needed) and only investing in "the right type of structures with protections including covenants":
We have a better ability than the more syndicated loan market to hold the line, that may mean there are a few more deals that go a different route, if they have that option but to answer your question, we are certainly holding line on the right type of structures with protections including covenants but also documentation which is certainly an area that contains a lot of rights that we put a priority on.
Source: TCPC Q3 2018 Earnings Call
During Q3 2018, net asset value ("NAV") per share decreased by $0.10 per share or 0.7% (from $14.61 to $14.51) due to net unrealized losses of around $10 million primarily from three of the same investments as the previous quarter, including:
$4.2 million on its investment in Green Biologics
$4.0 million on its investment in Real Mex
$2.6 million on its investment in AGY Holdings
However, its investment in Real Mex has been exited since the end of the quarter (at its fair value as of September 30, 2018) and will not have further impacts to NAV in Q4 2018:
Moving onto our portfolio performance, while the overall portfolio remained strong NAV declined from $14.61 to $14.51 in the third quarter due to three legacy positions that we mentioned last quarter, Real Mex, Green Biologics and AGY. As we discussed on prior calls, we continue to work through each of these positions to maximize value. In the case of Real Mex, we exited the position post quarter end in line with where the position was marked as of 9/30.
Source: TCPC Q3 2018 Earnings Call
The company had realized gains of $1.1 million, or $0.02 per share, comprised primarily of a $0.8 million gain on the repayment of its loan to iGM RFE1.
We realized net gains during the quarter of $1.1 million or $0.02 per share primarily from the payoff of our IGM loans. As Howard noted, our unrealized losses of $10.4 million or $0.18 per share were primarily comprised of write-downs on three positions we've discussed in the past, one of which we exited post quarter end.
Source: TCPC Q3 2018 Earnings Call
It should be noted that its investment in AGY Holdings is still marked above cost (see details below) and "fundamentally good company despite earnings volatility". If AGY was marked down to cost, the impact to NAV would be around $0.08 per share or 0.6%.
AGY continues to be a fundamentally good company despite earnings volatility and Green Bio missed projections, but received an equity infusion from its strategic owner during the quarter. These positions aside the credit quality of our portfolio remains strong.
Source: TCPC Q3 2018 Earnings Call
However, its investment in Green Biologics is currently valued at only 24% of cost and if completely written off would impact NAV by around $0.07 per share or 0.5%. Management discussed this investment on the recent call:
Q. On Green Biologics, if I can, the fair value of the cost was mark down to 28 from 52 on the overall position, especially the convertible notes on the senior secured term loan mark down to 13 and 17. Just wondering, what specifically in quarter drove these pretty historically negative marks? So if there was anything new any new headwinds that are better facing a company, that are different from past quarters?

A. Yes, the company has struggled to make its numbers and that's continued and it's gotten an equity infusion and in connection with the equity infusion and the reevaluation of the various securities in the capital structure the position was marked down.
Source: TCPC Q3 2018 Earnings Call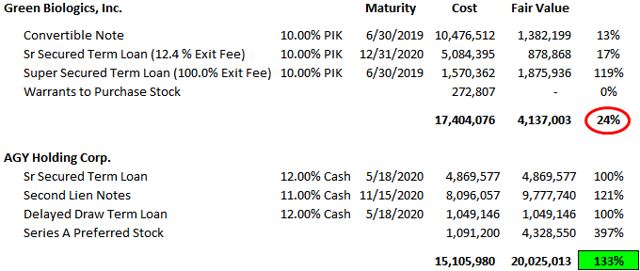 Source: SEC Filings and www.bdcbuzz.com
As of September 30, 2018, Real Mex was its only investment on non-accrual status, which represents 0.1% of the total portfolio at fair value but recently sold.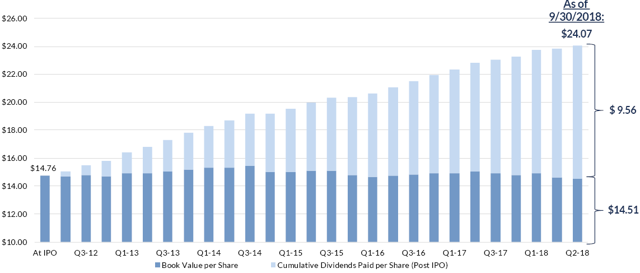 Source: TCPC Q3 2018 Earnings Call Slides
Summary & Recommendations
As mentioned earlier, I recently purchased additional shares of TCPC mostly due to being under-priced relative to other BDCs, and its RSI was near 30. I am expecting higher returns over the coming quarters for the reasons discussed in this article, including continued increases in its portfolio yield, likely shareholder approval for higher leverage, and potential returns from a JV.
The stock price for TCPC has rallied since my recent purchase, but I believe that BDCs are still under-priced due "tax-loss selling/harvesting". Tax loss harvesting is the practice of selling a security that has experienced a loss. By realizing, or "harvesting" a loss, investors are able to offset taxes on both gains and income. The sold security is replaced by a similar one, maintaining an optimal asset allocation and expected returns.
Continued lower prices in December could lead to greater opportunities as more investors use tax-loss harvesting strategies to realize losses for the 2018 tax year. This creates an opportunity to take advantage of potential gains as 'discount reversion' takes place in the early part of 2019.
The January effect is a seasonal increase in stock prices during the month of January. Analysts generally attribute this rally to an increase in buying, which follows the drop in price that typically happens when investors, engaging in tax-loss harvesting to offset realized capital gains, prompt a sell-off. Another possible explanation is that investors use year-end cash bonuses to purchase investments the following month.

Source: Morningstar
To be a successful BDC investor:
Establish appropriate price targets based on relative risk and returns (mostly from regular and potential special dividends).
Closely monitor your BDCs, including dividend coverage potential and portfolio credit quality.
Identify BDCs that fit your risk profile.
Diversify your BDC portfolio with at least five companies (there are over 50 publicly traded BDCs, please be selective).
The information in this article was previously made available to subscribers of Sustainable Dividends, along with:
Real-time changes to my personal BDC positions
Target prices and buying points
Real-time announcement of changes to dividend coverage and worst-case scenarios
Updated rankings and risk profile
One-month preview of upcoming public articles
Disclosure: I am/we are long TCPC. I wrote this article myself, and it expresses my own opinions. I am not receiving compensation for it (other than from Seeking Alpha). I have no business relationship with any company whose stock is mentioned in this article.