I often write on Seeking Alpha about names that aren't necessarily headline grabbing companies. With the seemingly non-stop stream of destabilizing political and social news coupled with the ever growing importance of companies like Amazon (NASDAQ:AMZN) and Google (NASDAQ:GOOG), it's actually become even easier for these less sexy companies to fly under the radar. Herman Miller, Inc. (NASDAQ:MLHR) fits this description with a business model centered around the design and manufacturing of home and office furniture equipment. Factor in the company's $2B market cap and it appears even more unlikely that you'll see a Herman Miller news story flashing in red on CNBC, but that fact makes the investment opportunity no more or less valuable than other stocks in the market. The investment thesis for MLHR isn't focused on one massive profit driver but rather several different tailwinds causing my bullishness in the stock's future such as solid revenue growth, strategic investments and a very reasonable valuation.
Recent Company Performance
Herman Miller's last two quarterly reports (Q4 FY2018 and Q1 FY2019;the company's fiscal year is staggered 2 quarters from the calendar year) have sent shares flying higher, however shares now trade lower than they did at the time of each of these reports. The chart below begins the first trading day after MLHR's FY 2018 report and ends November 30, 2018. The upward spike in September is following the company's Q1 FY2019 report.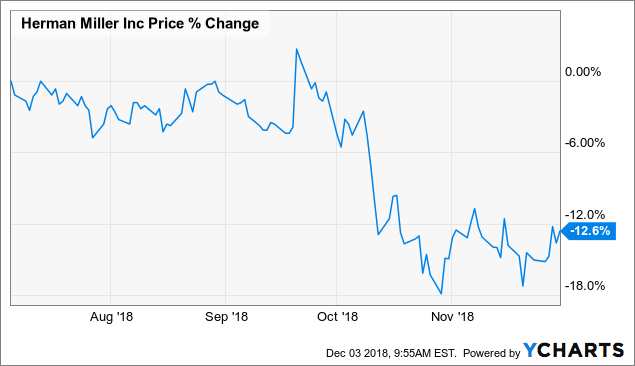 The dip in share price largely coincides with the downturn seen in the broader market -- so the question that must be answered is: has Herman Miller's stock been disproportionately punished during a market downturn? The following image from MLHR's Q1 FY2019 Investor Presentation displays the consistent growth generated by Herman Miller over the last five years on both an organic revenue and EBITDA basis: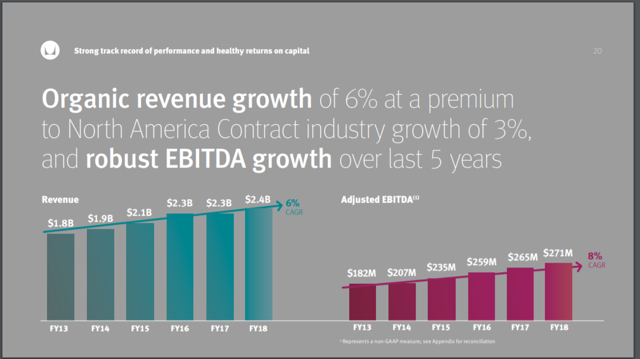 The company's forward looking projections indicate that organic revenue growth is expected to grow between 3% and 6% for the next 3-5 years, with EBITDA growing at 2x-2.5x that rate over the same time horizon. The next excerpt displays various return metrics as well as noting the rather impressive 21% average annual return on invested capital.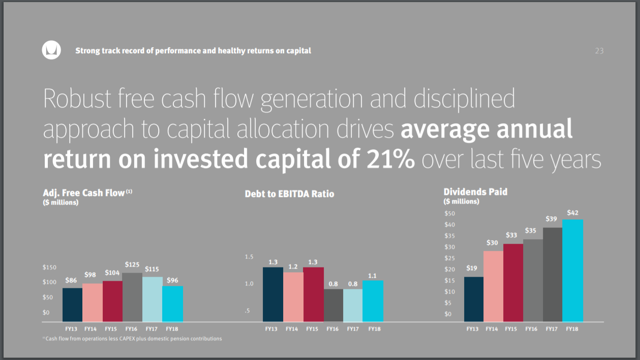 This image reinforces the statistics above and indicates that the company's operating performance has been stable and reliable over the last five years. One potential concern for investors that can be derived from this information is the decrease in adjusted free cash flow and increase in debt to EBITDA ratio that occurred in 2018. Any time a company becomes more levered, the associated risk with the stock increases. These fears can be allayed somewhat as the third chart above shows an annual dividend increase, something management would not sign off on if cash flow concerns were prevalent. MLHR VP of Investor Relations addressed these concerns on the Q4 FY 2018 Conference Call, saying:
Given our current cash balance, ongoing cash flow from operations and total borrowing capacity, we remain well positioned to meet the financing needs of the business moving forward.
Value Proposition
While previously admitted to not be the most exciting investment prospect, MLHR does offer some unique value to its customers. The company divides itself into four different categories: North America, ELA, Consumer, and Specialty.

Note: Revenue and Adjusted EBITDA figures sourced from Herman Miller Q4 FY2018 Investor Presentation
The company does a good job of relying on North America to be its largest and most reliable segment, while it leverages its other three business segments for alternative revenue streams that offer high growth figures as well as diversification in both its product mix and geographic distribution. The North America segment generates low single digit revenue growth and serves a wide variety of professional and corporate end markets. The modest performance of this business segment is expected to continue. Below are a few of the notable value-creating initiatives/transactions that are part of the broader Herman Miller:
Design Within Reach
Design Within Reach (DWR) is a fully-owned subsidiary of Herman Miller created with the goal of making "authentic" modern design more available. Essentially the idea is to work directly with the brands and designs they deem to create the most desirable modern furniture -- many of which are European -- and offer those goods at reasonable prices instead of resorting to knock-offs or "reproductions" with marketing tags such as "created in the spirit of" or "just as good as". This concept has started gaining traction as FY2018 saw revenue in the Consumer segment (comprised primarily of DWR) grow 13% organically with operating margin expansion of 200 basis points. The company is targeting high single digit operating margin by 2020 for the Consumer segment. MLHR currently operates 33 Design Within Reach studios and two outlet stores, with plans to open 7 new or expanded DWR studios and one more outlet store in FY2019. Volume-wise these figures aren't huge but the company's overall Design Within Reach footprint (studios and stores) is growing 23% from 35 to 42. If the location expansions begin to yield similar results to existing stores, the Design Within Reach concept will quickly become a large profit driver for Herman Miller.
Dealer Network
This aspect of MLHR's business model is intertwined with the Design Within Reach initiative and largely enables its success, but it also offers benefits that make an impact throughout the company. CEO Andi Owen spoke on this strategy during last quarter's Conference Call:
An integrated set of digital tools across all of the Herman Miller brands is simplifying the process for our dealers to help customers discover, select, and ultimately purchase our products. This quarter, we launched a user-friendly tool that allows dealer designers and sales team members to quickly select products across the entire portfolio and place them in visual presentation tools to share with our end customers. We are also expanding the capability of virtual and augmented reality selling tools that allow customers to experience and design their future space without the complexity and cost of physical markups. We have also been working with our dealers to expand our offering into fast-growing product categories.
Mr. Owen threw a lot at investors in a short period of time in that excerpt but my biggest takeaway is the the integration of advanced technology aimed at enhancing the customer experience wherever possible. Fitting out a personal apartment or house is a big enough job, but detailing a studio or portfolio or products bring an entirely new dimension of difficulty and therefore the visual presentation tools and virtual/augmented reality features mentioned above would be a much easier interface for any end-user. The utilization of such advanced technology is a differentiating factor that will bring customers back to Herman Miller
Diversification
There's one business segment that hasn't been covered yet - ELA. This is what houses Herman Miller's international revenue streams. The top line for this business segment is derived from three regions: Asia Pacific (39%), EMEA (38%), and Latin America (23%). When trying to determine if a company is diversified, I try to look a little deeper than simply checking a box once a firm has revenue from abroad. MLHR exemplifies this in the sense that it generates revenue from multiple different regions in the world but also serves multiple end markets. Geographically, the company has revenue in the areas mentioned above in conjunction with its primary market, North America. In terms of end markets, the North America segment focuses on environments in Education, Healthcare, and general commercial offices while the ELA is serving similar types of clients, just elsewhere around the world. The Specialty segment focuses on "high-craft furniture products and textiles" and the Consumer segment contains Design Within Reach and e-commerce initiatives. As you can see, the consolidated revenue of Herman Miller is the aggregation of a multitude of different products across different regions, serving different types of consumers. Having multiple "layers" to diversification significantly reduces the risk of being too highly levered to one input in your business model.
Headwinds
The diversification efforts taken by MLHR mentioned above certainly mitigate risk but certainly do not eliminate it altogether. The largest risk I see facing Herman Miller is an economic downturn. While that would naturally affect all stocks, MLHR's revenue is largely driven from the commercial segment. The rising interest rate environment we're seeing would already discourage firms from making discretionary purchases such as a re-modeling, if that firm's profits were also under pressure then the likelihood of that purchase declines even further. This is not a comment on where the World is from an economic perspective but rather an acknowledgement that if and when a recession occurs, Herman Miller would be hit harder than most. Another concern would be the ongoing international tariffs we're seeing from President Trump's administration. With 20% of its business abroad, management has had to be on top of these developments. On the quarterly Conference Call, Mr. Owen mentioned that the company has been working on contingency plans for some time now and will raise prices in January in certain areas, if necessary.
Valuation
Shares of MLHR currently trade around $33.50, well off the 52-week high of $41.84. Per the Wall Street Journal, there are only five analysts on Wall Street who cover the stock, with two buys, one overweight, and two hold ratings. The fact that none of those analysts has a rating below hold is a positive sign but in my opinion the more telling statistic is the average price target of $43/share, 28% above current levels. MLHR's valuation is also attractive from an earnings perspective:
| | | |
| --- | --- | --- |
| Year | EPS | P/E |
| FY18 | $2.71 | 12.4 |
| FY19E | $3.14 | 10.7 |
| FY20E | $3.35 | 10 |
Annual EPS growth is a great thing for any investor but there is an element to MLHR's growth that entices me even more. It intuitively makes sense that the company's bottom line growth is reflective of the overall corporate structure -- diversified. Herman Miller's projected earnings growth is not from one major product release or a rapidly growing business unit but rather the combination of mixed revenue growth across the business as well as cost control and scale. Each of Herman Miller's business segments are expected to grow revenue year-over-year with the smaller ones (ELA, Consumer, Specialty) continuing to benefit from their enhanced scale. On the cost side, the company has recently announced its "Profit Optimization Initiative" aimed at finding $60 million-$90 million in annualized operating efficiencies. The quote (from Mr. Owen on the Quarterly Conference Call) and image (from Herman Miller's presentation at the Baird Global Industrial Conference) below provide more detail on this program: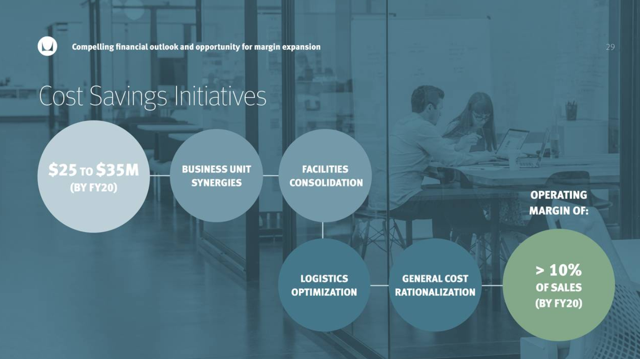 I will simply point out that we continue to make progress against the plans we have laid out. The initial phase, which focuses on corporate-wide cost reductions is nearing completion as we finalize our facility consolidation projects in the UK and China. The second consumer-focused initiative is progressing well and we expect the benefits from this work to ramp up as we move through the fiscal year. Finally, our most recent work, which is centered on profit optimization within our North American contract business, has moved from the scoping to implementation stage. In all, we remain highly confident that each of these phases will achieve the goals we have established.
Conclusion
Herman Miller is far from the flashiest stock on Wall Street but that isn't stopping me from being a bull on the name. MLHR has a growing top line, diversified revenue streams and a unique value proposition along with an attractive valuation. The company is in a very interesting part of its life as its strategic revenue streams have begun to make themselves integral to the operation of the entire firm. The continued success of these initiatives is vital to the continued growth of MLHR. Buy shares now before the stock rises back to fair value.