Americans are the kings of 'stuff'. We accumulate so much 'stuff' that we don't know what to do with it. We own cars and boats and ping-pong tables and boxes and boxes of who knows what collecting dust in our basements and overrunning our closets. Much of that 'stuff' can be more accurately classified as junk, but even though we know this, there's a level of cognitive dissonance at play and we go on collecting more and more 'stuff' anyway.
When we reach the point where we run out of space to store our 'stuff', we don't stop accumulating. That would be un-American. Instead we seek external spaces to house our stuff. My favorite comedian, the late George Carlin, has a whole skit dedicated to explaining this phenomenon. He went as far as to suggest this American pastime may hold the key to the meaning of life: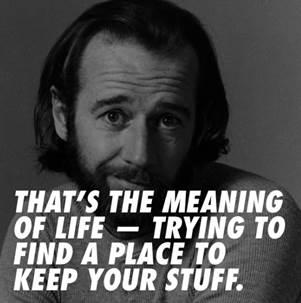 Keeping with the American can-do spirit, there is a solution to this problem: self-storage. Self-storage is a low-cost way to keep our less popular 'stuff' separate from other 'stuff' we use more frequently. For a small monthly fee, we can access our 'stuff' at a location nearby, take what we need, and go on with our lives finding more 'stuff' to buy.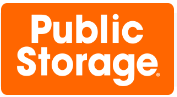 Enter Public Storage
Public Storage (PSA) is the king of the self-storage market. The company owns more than 140M square feet of rentable storage space making it the largest in the country. The company owns properties in approximately 40 states domestically along with international exposure in Belgium, Denmark, France, Germany, the Netherlands, Sweden and the U.K. Revenues and net operating income have increased for the past 3 years as seen here from the 2017 annual report: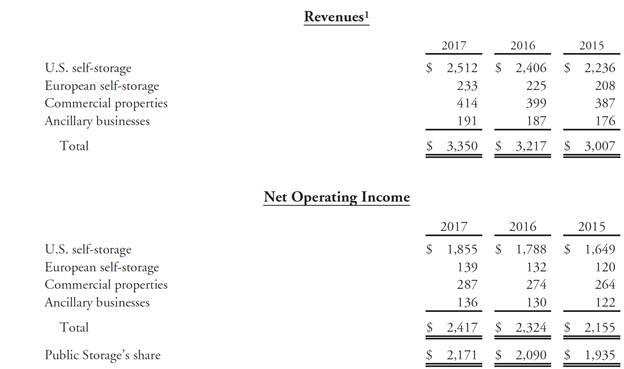 Despite continued strength of the business, the company has decided to keep the common dividend flat since 2016 at $2.00/quarter. During this period, the company began issuing debt for the first time to take advantage of low rates. Debt remains a very small percent of total market cap at about $1B. The debt is rated 'A' by S&P and 'A2' by Moody's.
Public Storage is renowned for its voracious appetite of preferred stock (in lieu of debt) to fund its growth. The issuances are voluminous and Public Storage has an illustrious history of redeeming higher coupons and issues lower ones. That trend remains true today, however more recent issuances which came to market at all-time low interest rates may become perpetuals.
And that is where the opportunity resides for income investors today.
As you will see from the chart below, common shares have diverged significantly from the preferred shares over the past month. What is perplexing about this shift, is the Federal Reserve and the FOMC have become increasingly dovish during that window. The yield on the 10-year Treasury actually dropped nearly 25 basis points during that period. Below is the PSA common contrasted with three preferred issuances to demonstrate my point: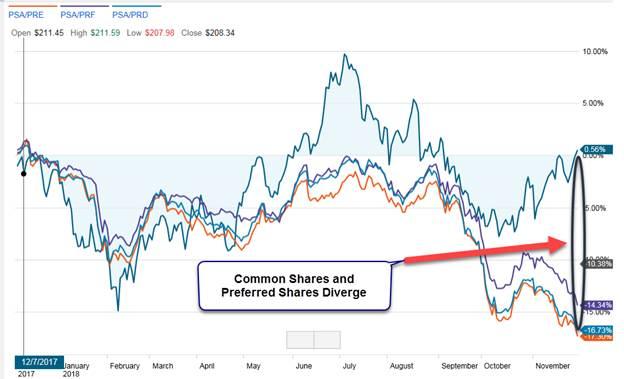 Chart from Charles Schwab
I selected three issuances I own with very cheap coupons for illustrative purposes. On Friday, I stepped in to purchase shares of the E Series (PSA.PE) as the volatility started to resemble a tech stock and not the steady-eddy 6% yielder that it is. Below are some pertinent facts about the E series:

The coupon rate on this particular issuance is 4.9%. That is a testament to just how strong and conservative the balance sheet is to be able to bring coupons that low to market. As you can see, the shares are rated BBB+ which indicate minimal risk for the continuity of payments. The shares are cumulative in the outside chance of any missed payments, and what's more: they trade ex-dividend next week on December 11th.
In short, you can lock in a safe, approximately 6% yield right now that trades at a discount to its par value of $25.00 for $20.74. Because this coupon is the lowest preferred issuance outstanding, there is a distinct risk that these shares will not be called for decades, if ever. In the event that they are called, shareholders who purchase today collect a 20% premium.
6% is most likely insufficient to anchor a portfolio long-term, but it is a nice accessory to weather any down years in the stock market and to provide a boost for those seeking income today. I selected the E-series (although I own others) because I am comfortable with the perpetual risk these entail. There is a larger gap between its current price and its par value (compared to other issuances) and that can narrow when/if markets start to correct in the event of an economic slowdown and folks flee to safety. I believe that the E-series provides me with greater liquidity in the future if I decide to sell. And if the Federal Reserve is right in its latest forecast, rates won't be moving that much higher in the near future.
My plan is to use the dividends from this holding to help me buy some more 'stuff' for the holidays.
Disclosure: I am/we are long PSA.PF, PSA.PE, PSA.PD.
I wrote this article myself, and it expresses my own opinions. I am not receiving compensation for it (other than from Seeking Alpha). I have no business relationship with any company whose stock is mentioned in this article.