For those that may not be already familiar with the company, 3D Systems (DDD) was founded by Chuck Hull shortly after he invented and then patented stereolithography in 1986.
Essentially, stereolithography is the process of creating 3D objects by successively "printing" thin layers of an object using a medium curable by ultraviolet light, starting from the bottom layer to the top layer.
Stereolithography ("3D printing") can be used to create things such as prototypes for products in development, medical models, and computer hardware, as well as in many other applications.
Today, Chuck Hull sits on the company's board of directors and acts as the DDD's Chief Technology Officer.
Meanwhile, 3D Systems' technologies and services are used in the design, development, and production stages of many industries, including aerospace, automotive, healthcare, dental, entertainment and durable goods, with the company following a "razor and blades" sales model whereby it develops hardware for customers and follows on with sales of accessories and support in order to generate recurring revenue streams.
Is DDD stock undervalued today at current levels?
3D Systems posted a $66 million net loss in 2017 or a loss of $0.59 per share.
It also generated just shy of $26 million in operating cash flows in 2017 which were more than offset by nearly $31 million in capital expenditures and another $34 million in acquisition expenses.
Through the first nine months of 2018, it's posted a GAAP loss of $41 million, recorded a $3 million deficit of cash flow from operations in addition to spending another $28 million on capital investments.
These are not exactly the type of qualities that I would typically look for in an investment.
But I began to wonder if maybe there's more to this company - and its valuation - that meets the eye.
That is if you're willing to do a little outside the box thinking.
DDD's sales are 8.1% higher through the first 9 months of 2018 compared to where they were a year ago.
Sales of DDD's products were $316 million through September 30, in addition to services revenue of just under $191 million.
That at least tells you there are customers out there who are demanding what the company is selling.
So, where is all that money going?
3D Systems was able to generate a respectable gross profit margin of 47.6% through the first 9 months of this year, an improvement over the 46.6% gross margin it generated a year ago.
Yet, each and every penny - and actually more - of those gross profit dollars are being gobbled up by DDD's operating and R&D expenses.
Operating costs have risen 9% so far this year compared to the first nine months of 2017.
Even acknowledging the company's recurring sales business model, I don't love that costs are outpacing sales.
Particularly when those sales are only growing at a single digit rate.
Add to this, the persistent net losses and cash flow deficits - this company literally has no economic value in the traditional accounting sense.
But what about the presence of other "real economic value" being held within the company that eludes the confines of traditional accounting techniques?
For example, what about the value of 3D System's human capital?
Human capital is defined as the present value of an individual's future labour income.
Lifetime Financial Advice: Human Capital, Asset Allocation, and Insurance" (Roger G. Ibbotson, Moshe A. Milevsky, Peng Chen, CFA, and Kevin X. Zhu)
The above definition is in reference to the considerations an individual is faced with when making asset allocation decisions including the need to purchase life insurance.
The idea being that when individuals are starting out their careers, their largest asset is the value of their future earnings while at the same time individuals who are younger in age might have far fewer financial assets to their name by comparison.
But why can't we apply the same concept to the case of 3D Systems?
After all, a prospective investment in DDD is much more about what it could become (the value of future earnings) rather than the cash flows and profits that it is currently producing.
And keep in mind that this is a firm after all that has strategically set out to accumulate what it believes to be valuable human assets for much of the past century.
In late 2001 3D Systems began an acquisitions program that expanded the company's technology through ownership of software, materials, printers and printable content, as well as access to the skills of engineers and designers.

The rate of 3D Systems' acquisitions (16 in 2011) raised some eyebrows with regard to the task facing the company's management team.

Other onlookers pointed to the encompassing scope of the acquisitions as indicating calculated steps by 3D Systems to consolidate the 3D printing industry under one roof and logo, to become a comprehensive one-stop-shop capable of servicing each link in the scan/create-to-print chain."
Source: Pfeifle, Sam (10 October 2012). "A brief history of 3D Systems acquisitions". Head in the Point Clouds (BLOG). SPAR Point Group. Archived from the original on 14 March 2013.
3D Systems now employs over 2400 people in 25 offices worldwide [sic]. Through its acquisitions, the company has achieved a strong and growing presence in Asia-Pacific (China, Korea, Japan) and Europe (France, Germany, Switzerland, Italy, the United Kingdom)"
Source: Johnson, Cory (25 April 2012). "Printing in 3D" (Video). Bloomberg West. United States: Bloomberg Television.
OK, so let's go back to the numbers for a minute.
Right now, the company is worth $1.44 billion based on a market capitalization of 114 million shares outstanding at a price of $12.65 per share.
Meanwhile, 3D Systems had reported current assets of $347 million versus total outstanding liabilities of $223 million in addition to non-controlling interests valued at a little under $9 million as of the third quarter.
So, the company has virtually no financial obligations to its name at present, but it does have approximately 2,600 employees working for it globally, according to DDD's September 2018 corporate presentation: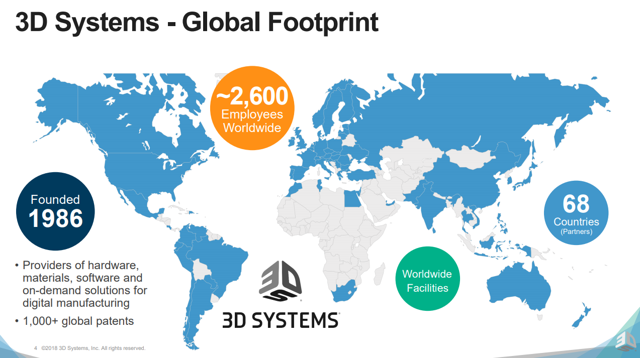 Based on the reported figure of 2,600 employees and a market capitalization of $1.4 billion that suggests the market today values each of the company's staff members at approximately $530,000.
If that a fair price?
What would you, personally, value your own human capital at?
Some of you may recall this famous quote from Warren Buffett when he addressed an audience at Columbia Business Students in 2009:
Right now, I would pay a hundred-thousand dollars for 10 percent of the future earnings of any of you… If that's true, you're a million dollar asset right now, right? If ten percent of you is worth a hundred-thousand?"
Source: CNBC
What Buffett is suggesting here is that if, for example, you were currently earning an annual salary of $100,000, he would be willing to offer you a lump-sum of $100,000 in order for the right to receive a 10% perpetuity of your future earnings.
As:
10% of $100,000 salary = $10,000 Buffett's annual share
The $100,000 lump-sum figure implies that Buffett is valuing that individual's earnings at a 10x multiple
By extension, this would mean that if Buffett, or anyone else for that matter, owned 100% of your human capital (i.e. your employer, or more accurately, your employer's shareholders in the case of a publicly-traded company) that according to Buffett's logic, a fair price for your human capital would be equal to 10x your current one-year earnings.
Let's apply that logic to the case of 3D Systems.
In 2017, DDD's total selling, general, and administrative costs were $264 million.
Based on 2,600 employees, that works out to an average annual salary of about $101,000 per employee.
Now, I understand that there are other non-payroll expenses included in SG&A, but I will also point out that part of the expenditures for costs of goods sold and research and development will also contain an element of costs associated with hiring labour.
And for whatever its worth, that $101,000 figure would probably not be far off the mark for someone who had specialized knowledge of 3D printing and moreover, would also probably not be far off the mark from the average salary of the graduating students at Columbia's business school whom Buffett was addressing with the original quote.
Sticking with our example, if you were to go ahead and apply Buffett's 10x multiple against 3D System's 2,600 employees at average annual earnings of $100,000, this would imply that the value of the human capital currently employed by the company may actually be, in fact, worth something closer to $2.6 billion, nearly double the firm's current $1.4 billion market capitalization.
A $2.6 billion value for the firm equates to about $21.14 per share or 71% upside from Friday's closing price of $12.38.
Of course, one of the issues in using this type of logic would be if the firm had to provide an immediate return to its suppliers of capital.
Bondholders, for example, are going to demand regular interest payments on the capital they've loaned to the firm.
There's simply no feasible way to accomplish this by way of liquidating the value of the firm's human capital (besides laying workers off).
The good news, however, is that given DDD at present has no (net) financial obligations (and minimal capital requirements for that matter), this issue becomes something of a non-starter.
Perhaps then, this is why when DDD has turned to capital markets to provide financing in the past, it opted to issue equity (which does not require regular cash distributions) as opposed to debt.
As far as those shareholders are concerned, maybe they're more than happy to forgo the benefit of a smaller, nominal dividend in exchange for the prospect that 3D Systems will be able to reinvest those funds towards the goal of innovating a revolutionary technology that will one day pave the way towards a much larger firm with the capability to provide more traditional returns to future shareholders in the form of profits, dividends, or share repurchases.
Some readers may recall the "clientele effect."
The clientele effect describes the way in which certain investors seek out stocks in a specific category.

Some value investors try to only invest in stocks with a high dividend.

Whereas other investors, such as technology investors, seek companies that are high-growth with the potential for high capital gains.
Source: Investopedia (paraphrased)
The clientele effect helps to explain the manner in which the stage in a company's life cycle and the nature of its business operations have the propensity to attract - and dissuade - certain types of investor.
Given all of the above, maybe an approach to valuation that emphasizes the potential value of DDD's future earnings held within its available human capital is the more appropriate approach to follow.
It's just a theory…
But there's more I like about this stock than just "creative accounting"
But to be perfectly honest with you, if the speculative value of DDD's human capital as outlined above were all this stock had going for it, that wouldn't be nearly enough to get me interested in DDD as a prospective trade or investment.
Truth is, I happen to really like the current chart set up as well.
For one, the DDD stock has twice previously exhibited strong support at levels below $20.
The first was during 2016. After falling to $6 per share, the stock shot up more than 200% in less than six months, to $18.
Then again towards the end of 2017, DDD stock was trading at a 52-week low of under $8, only to go on to mark a fresh 52-week high north of the $20 mark less than a year later, a 150% spike.
However since then, DDD's shares have experienced a retracement - mind you nothing out of the ordinary.
DDD stock has fallen approximately 42% from the 52-week high that was marked earlier this summer and now trades back at familiar levels around $12 per share (more on that below).
Meanwhile, the fact that the second bottom ($8 per share) marked by the stock in 2017 was significantly higher than its 2016 low ($6 per share), is considered to be a bullish indicator for DDD stock.
And if the shares were to indeed bottom out at $12 this time around, that third consecutive "higher low" would similarly provide bullish confirmation of the pattern that would (in theory) be beginning to develop in the company's share price.
There's at least some reason to believe that could end up being the case.
Below, we can see that DDD stock has demonstrated solid support at $12 twice previously within the past five months.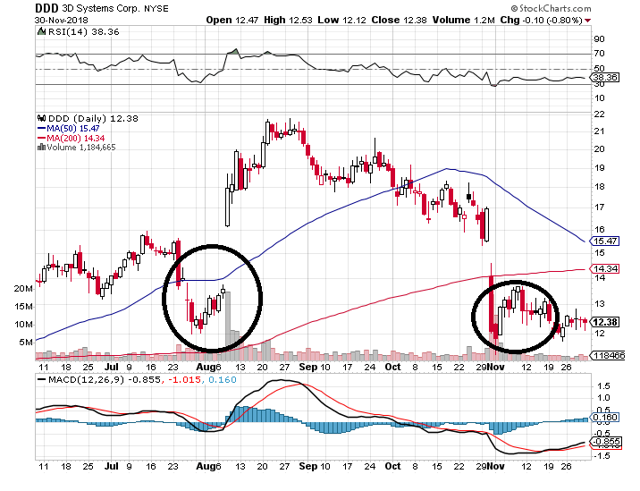 The first time was in late July. After falling just shy of 20%, DDD stock would go on to rally 75% over the month that followed.
More recently in the fourth quarter, the stock fell 29% on Q3 earnings but has since gone on to stabilize itself somewhat in the $12 region.
Will it happen again?
There's simply no way of telling for sure.
That's particularly true in light of the fact that DDD doesn't pay any kind of dividend or return any cash flows to its shareholders.
In fact, there's nothing to say that it wouldn't be possible that rather than taking off to $20 - or higher - that DDD stock falls back down to $8 per share, its 2016 lows - or worse.
Not helping either is that the XLK, SPDR's Technology Sector ETF, is down 11% since the fourth quarter began, including a decided move below its 200-day trading average.
I do however find this illustration of DDD's MACD particularly compelling:

That alone wouldn't be enough to get me to jump into the DDD stock either, but the combination of (at least in my view) strong 'speculative' value along with some decent technical qualities tell me this may not actually be the worst idea in the world right now.
Mind you I don't even hold a terribly bullish outlook for markets these days, but if this much anticipated (or at least much speculated about) "Santa Claus Rally" were to take hold in time for us to close out 2018 on a positive note, maybe just maybe, there will be a DDD stock certificate waiting for me below the Christmas with a couple of extra bucks beside it.
Happy Holidays.
Disclosure: I/we have no positions in any stocks mentioned, but may initiate a long position in DDD over the next 72 hours. I wrote this article myself, and it expresses my own opinions. I am not receiving compensation for it (other than from Seeking Alpha). I have no business relationship with any company whose stock is mentioned in this article.
Additional disclosure: I do not own any DDD stock as of this writing. I have no immediate plans to make a purchase in DDD stock as of this writing. I may however purchase DDD stock in the future. I plan to continue to monitor this trade for the days (and potentially weeks) to come. Perhaps waiting for a convincing break above DDD's 50-hour moving average concurrent with a break out of the "wedge" formation that DDD stock finds itself in at this juncture in time. The above research does not constitute investment advice nor is it a recommendation to take action in any investment security. You are encouraged to conduct your own research and due diligence before taking investment action, including a careful review of the risks associated with the security in question, an evaluation of the security for suitability within your own set of circumstances and consultation with a professional financial advisor if you have one. Any positions disclosed are subject to change and without warning.