Toll Brothers (NYSE:TOL) is a builder of luxury homes and the stock has been in recovery mode since trading as low as $28.68 on Oct. 22. The stock is down 31.3% year to date and in bear market territory 37.4% below its 2018 high of $52.73 set on Jan. 23. The stock has also been in recovery mode and is up 15% since setting its 2018 low.
The luxury builder concentrates on larger homes for buyers moving up from smaller homes. This gives them better pricing power than other homebuilders. The stock traded as low as $30.17 and as high as $34.33 on Tuesday as investors reacted to the earnings news. The homebuilder complained about rising mortgage rates as orders slumped but looks for a comeback in 2019.
Home Prices May Be Peaking
The S&P CoreLogic Case-Shiller 20-City Composite posted a gain of 5.1% year over year in September, down from 5.5% in August.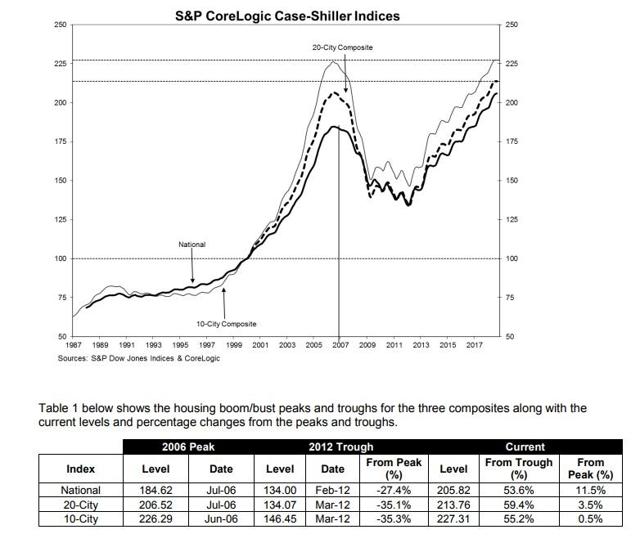 Home affordability is another issue as the National Association of Home Builders reported that 50% of the homes on the market are affordable for only households making $75,000 or more of annual income.
New Home Sales Slump In October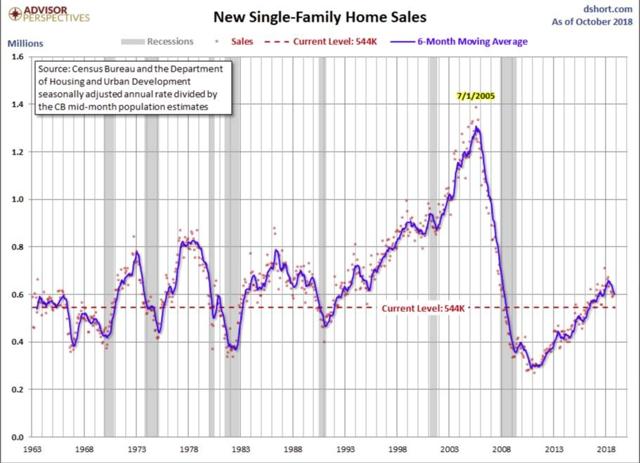 On Nov. 18, we learned that sales of newly-built single-family homes fell to a seasonally adjusted rate of 544,000 units in October, the lowest sales pace since December 2016. The NAHB reports that rising mortgage rates and home prices are causing buyers to take a pause. The inventory of new homes rose to 336,000 in October as the median sales price fell 3.6% to $309,700 as the market shifts to townhouses and lower-cost dwellings.
Daily Chart For Toll Brothers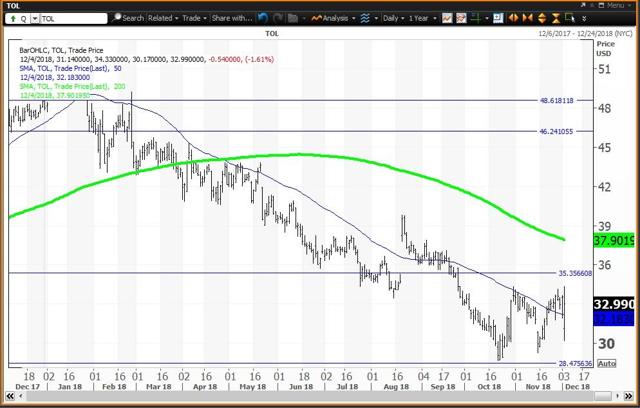 Courtesy of MetaStock Xenith
The daily chart shows that the stock as been below a "death cross" since April 27. A "death cross" occurs when the 50-day simple moving average falls below the 200-day simple moving average and indicates that lower prices lie ahead. The top horizontal line is my annual pivot of $48.60 which failed to hold on Jan. 29. This level was tested again on Feb. 27 on a positive reaction to earnings which was an opportunity to reduce holdings.
In the second half of 2018, the stock was above my semiannual value level at $35.36 which is the horizontal line below the "death cross". This level became a magnet between July 25 and Sept. 26. The spike higher on Aug. 21 was a short-lived positive reaction to earnings. The stock is now between my monthly value level at $28.47 and semiannual pivot of $35.36.
Weekly Chart For Toll Brothers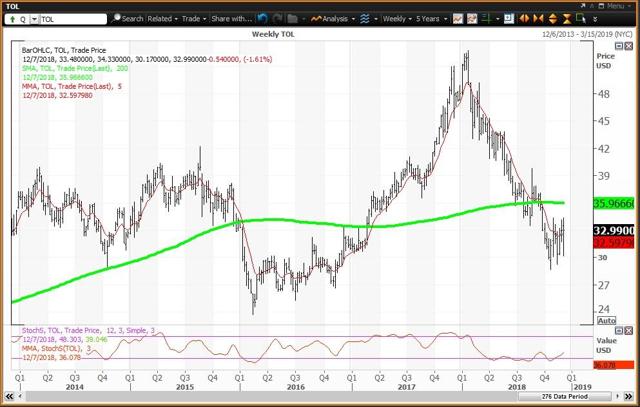 Courtesy of MetaStock Xenith
Toll Brothers has a positive weekly chart with the stock above its five-week modified moving average of $32.60. The stock has been below its 200-week SMA or "reversion to the mean" at $35.97 since the week of Sept. 28. The 12x3x3 weekly slow stochastic reading is projected to rise to 36.08 this week, up from 29.97 on Nov. 30. A warning suffered by Toll as 2018 began was a weekly "key reversal" on Jan. 26. This occurred as the stock set its 2018 high then closed below the low of the week of Jan. 19.
Trading Strategy: With a P/E ratio of 8.71, buy weakness to my monthly value level at $28.47 and reduce holdings on strength to my semiannual, quarterly and annual risky levels at $35.36, $46.23 and $48.60, respectively.
Disclosure: I/we have no positions in any stocks mentioned, and no plans to initiate any positions within the next 72 hours. I wrote this article myself, and it expresses my own opinions. I am not receiving compensation for it (other than from Seeking Alpha). I have no business relationship with any company whose stock is mentioned in this article.