Celgene (CELG) is traded within 10% of multi-year lows despite good sales and profit numbers in 2018. Celgene also re-affirmed its 2020 guidance of $19-$20 bn revenue and $12.5 EPS.
The stock is currently traded at 6x of the 2020 earnings. The management touts new products that are set to be launched by 2020 and to potentially offset the revenue loss from established products after 2020. However, it appears that the market is still expecting the revenue to decline sometime after 2020.
In spite of seemingly attractive valuation, we still think adding more positions of Celgene stock may not be as attractive as other biotech investments.
Quick Background
Celgene is an integrated global biopharma company that have therapies for the treatment of cancer and inflammatory diseases, through next-generation solutions in protein homeostasis, immuno-oncology, epigenetics, immunology and neuro-inflammation.
Celgene's stock significantly underperformed Nasdaq Biotech ETF, or IBB (IBB), in the past three years: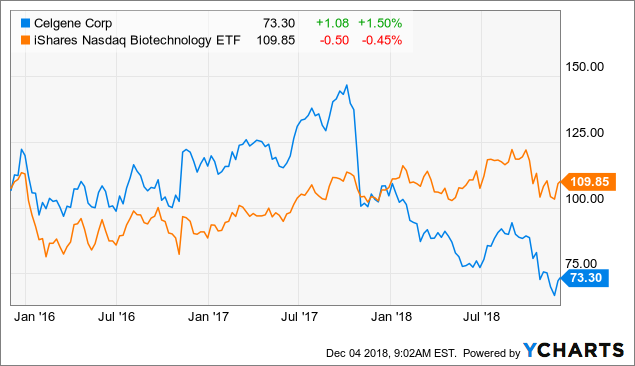 About ten months ago we opined in Is Celgene A Growth Or A Value Stock? that Celgene needs to provide a plausible explanation of how it plans to fill a gap after 2023, otherwise it would be viewed as a value company.
As of now, we think that Celgene has not been able to explain how it will fill the gap from Revlimid sales decline. The management's current explanation seems weak and unconvincing.
We wanted to see what has changed in the last ten months and whether the company is moving in the right direction.
Financial Statements
Let's look at the financial statements first to refresh our views of the company.
Starting from the balance sheet, we can see that Celgene has a meaningful increase in the "meaningless" asset types - intangibles, as compared to 12/31/2017. The increase of almost $12 bn in intangibles supports the acquisition spree that Celgene has been involved in since the beginning of the year.

Source: Celgene SEC filings with Author's marks in red
Cash balance and current assets were affected negatively as well - decrease from $15 bn a year ago to $8 bn now.
Total liabilities have also increased - from $23 bn to $29 bn, mainly due to the increase in the long-term debt:

Source: Celgene SEC filings with Author's marks in red
GAAP-reported net income slightly increased in the first nine months of 2019, mainly due to the stellar performance of Celgene's main products - we will talk about it later in the article.
Cash flow from operations slightly decreased as compared to the last year, that was associated with a decrease in the fair value of equity investments - this is Ok in our opinion.
Cash flow from financing depicts a very startling situation. The company is apparently so obsessed with its 2020 per share EPS targets that it buys back its shares at elevated prices by borrowing in the debt market and deteriorating its cash position:

Source: Celgene SEC filings with Author's marks in red
As we can see from the financing cash flow above, the company purchased $6 bn stock and at the same time issued debt. Not a good sign, in our opinion.
Next, in order to make sense of where the company is headed, let's look at the performance of each of the assets and try to forecast how those assets are trending.
Revlimid - Genius Drug
In the first nine months of 2019 Revlimid has shown a stellar performance. Sales grew 20% in the US and 17% in ex-US:

Source: Celgene SEC filings
Most importantly, the growth was mostly driven by the volume, not by the price increases.
As we predicted in the beginning of the year, the Revlimid sales grew mainly due to numerous multiple myeloma treatment regimens administered in combination with Revlimid:

Source: SEC filings of respective companies. Author's analysis
Let's reiterate what we mentioned previously:
Revlimid's additional sales are positively correlated with the increased use of 2L Darzalex, Ninlaro, and Empliciti that were all approved in 2015 and have a collective annual sales of $1.8 bn, and this is just the beginning of the lifecycle of these drugs. $1.8 bn of Darzalex + Ninlaro + Empliciti revenue means $1.8 bn revenue of Revlimid in addition to Revlimid use in the first line.
Celgene does not need to put additional efforts to market Revlimid. It's the job that is being done by Janssen (JNJ), Takeda (OTCPK:TKPYY), BMS (BMY), and others.
We think that Revlimid will peak in 2023 at ~$14 bn and then will gradually lose its sales to Teva's generic, per settlement with Teva (TEVA). From the SEC filings:
The volume limitation is expected to increase gradually each 12 months until March of 2025, and is not expected to exceed one-third of the total lenalidomide capsules dispensed in the U.S. in the final year of the volume-limited license under this agreement…
Pomalyst
Pomalyst/Imnovid sales have also dramatically improved in the first nine months of 2018. However, the growth was driven by both price increases and volume. And it's unclear what's the proportion of price to volume in Pomalyst sales, but 38% increase in the U.S. seems to include a significant pricing component:

Source: Celgene SEC filings
Based on the current trend, we think that Pomalyst will peak at $4 bn in 2024, rapidly losing exclusivity afterwards.
Otezla
Otezla, a relatively new drug, was approved in 2014 to treat PsA (psoriatic arthritis). Otezla performed fairly well with sales growth driven by units.

Source: Celgene SEC filings
Psoriasis, in general, is an extremely competitive therapeutic area with a large number of medical options. While there are multiple ongoing studies to test Otezla in genital psoriasis, scalp psoriasis, UC, and Behçet's disease, it is unclear how successful Otezla will be in other indications. We are going with the conservative estimation based on PsA only and peak revenue at $3.5 bn in 2023.
Abraxane
Abraxane sales growth was just 7%, and it was driven by both price and volume. We expect it to peak at $1.2 bn in 2021.
Five New Products
Celgene's management suggests that the five new products that are expected to be launched by 2020 will compensate the sales loss from the Revlimid decline.
During the Q3 2018 earnings call, the CEO stated:
...the big five that we're talking about because the combined peak revenues of those five, as we look at them, largely offset what would be the complete loss of REVLIMID's revenue. So not just a peak in a given year, but over time it would replace most of what REVLIMID contributes in a year.
While we think the CEO's response makes senses, the specific wording of the response is what matters the most. Over time. When exactly? That's the question we need to figure out.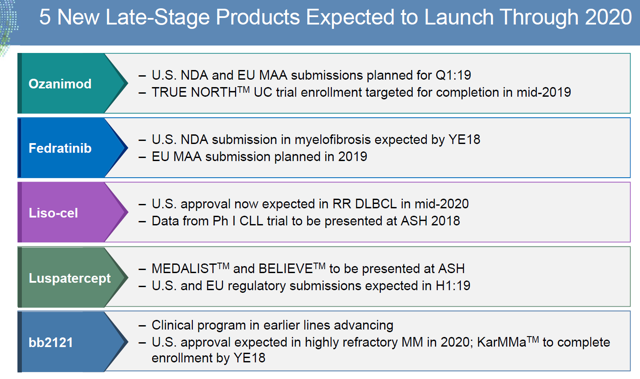 Source: Celgene investor presentation
We've modeled the forecast of all five products the CEO was talking about - ozanimod, fedratinib, bb2121(7), liso-cel, luspatercept - and came to the conclusion that all five products combined can make $10 bn (current Revlimid sales) in 2028.
For this model, we generously assumed 100% probability of Phase 2/3 approvals, successful NDA filings and respective launches. This does not happen in reality (it's around 60-80% probability per late-stage asset), but we wanted to test the best case scenario given what the CEO said.
We also took into consideration the uptake pattern for each of the drugs given the indications pursued and the future pricing environments. For example, CAR-T uptakes are not as steep as previously thought given reimbursement, manufacturing, administration, pricing and side effect challenges.
Total Sales Forecast
So, we built the total Celgene revenue in 2018-2030 based on the currently marketed drugs, keeping in mind patent expirations.
We also added the new five drugs the CEO was talking about and assumed a 100% probability of success, for illustrative purposes.
And here's what we got: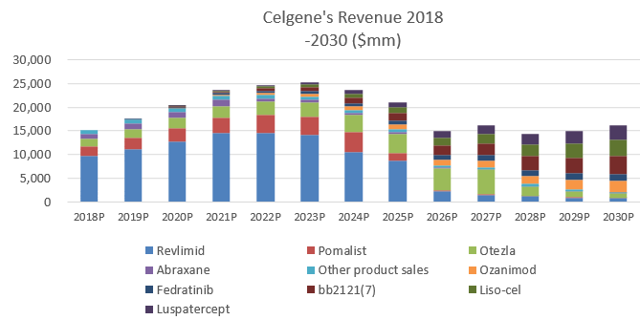 Source: Author's forecast
A couple of takeaways here:
The sharp drop in revenue is inevitable, and it will occur after 2023
The sales will bottom in 2026-2028 and will start growing after that period
Celgene will be a diverse-product company starting from 2026-2028
The good news is that the current growth will be until 2023. The bad news is that there are currently no products to continue immediate growth after 2023.
Valuation
The tricky part with Celgene's valuation is to estimate the sustainable growth of the company.
Currently, the EPS guidance for 2018 is around $8.8: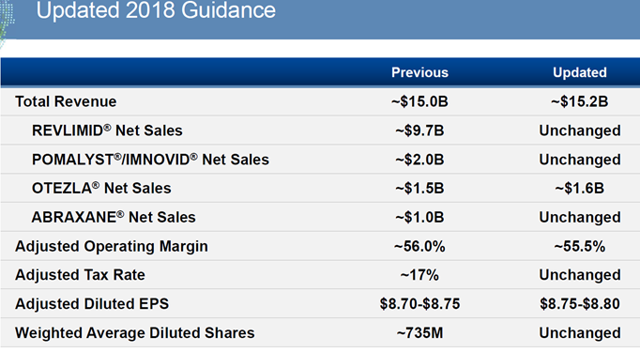 Source: Celgene investor presentation
This means that the stock is trading at 8.5x of its 2018 earnings, which is quite low for the S&P 500 company. Current healthcare S&P 500 P/E is around 20x.
For P/E purposes, it makes even less sense if we look at the 2020 earnings projections (which we agree with):

Source: Celgene investor presentation
The stock is trading at 6x of 2020 earnings! Unbelievable.
It is obvious that the revenue cliff we are talking about bothers investors the most.
Let's look at the current expected and historical EPS growth for S&P 500. Let's also assume that the growth rate in revenue is correlated with the growth rate in earnings.
Right now, expected/historical growth of S&P 500 is ~10%.
If we assume that Celgene's revenue in 2030 to be ~$16 bn, how much does the current revenue needs to be in order to grow at 10% to reach $16 bn in 2030?
So, it looks like $5.2 bn revenue in 2018 would grow at 10% to become $16.2 bn in 2030. If we assume current net profit margins, then this would mean $2.2 bn of net income from the imaginary sales of $5.2 bn in 2018.
Next, what's the P/E multiple that would fit the imaginary $5.2 bn sales? Most likely the P/E has to be higher than S&P 500 average given that our growth of 10% is "certain".
Let's say we have 20% premium over 20x P/E, that gives us 25x P/E, or $55 bn valuation, or $79 per share.
The current price of CELG is ~$75. Mr. Market is not that wrong, after all.
Our imaginary valuation is very rough and does not take into account both negative and positive news along the way from 2018 to 2030. It just shows the logic behind the current pricing levels and implies the possibility of the swings to both sides - up and down.
Conclusion
We are currently long CELG shares with the cost basis of ~$90 per share.
We wanted to understand whether it makes sense to double down on CELG shares given the weakness of the stock in the last several months.
And we came to the conclusion that the weakness of the stock is rather justified. We decided not to increase our exposure to CELG and to seek better risk/reward opportunities in other biotech companies.
We will keep our investment in Celgene, as the future of this multi-product S&P 500 biotech company is likely positive. There are many aspects of stock movements that we, analyst and investors, don't control and have no ability to forecast.
What's more important to us is that the Celgene stock does not look to be grossly overvalued, and for that reason we will keep the stock until the company finds reasonable sources for growth, thus moving the stock higher.
Disclaimer: This is not an investment advice. Please do your own research prior to making any investment decisions. This article represents our independent opinion and it cannot be construed as an investment advice.
Disclosure: I am/we are long CELG, IBB, TEVA.
I wrote this article myself, and it expresses my own opinions. I am not receiving compensation for it (other than from Seeking Alpha). I have no business relationship with any company whose stock is mentioned in this article.