Diageo plc (NYSE:DEO) recently announced the sale of a portfolio of brands to American Sazerac Company. Sazerac will pay $550m for the 19 brands.
The sale is part of a strategy to shift focus towards faster growing, more premium brands. But does such a strategy make sense? To answer this question, one must have a look at the company's brand portfolio pre- and after sale.
Diageo's Brand Portfolio
After the sale to Sazerac, Diageo's portfolio consists of 58 brands. You can find an overview of the portfolio here. However, the portfolio brands differ considerably in terms of size and sales volume.
In its latest annual report (Diageo's fiscal year ends June 30th), the company names six "Global Giants":
Johnnie Walker
The world's top selling scotch as well as the world's top selling spirit overall. Listed among the top-100 of the 2018 Interbrand ranking (with an estimated brand value of $4.73bn).
Smirnoff
The world's top selling vodka and the second best selling spirit overall. Was listed among the Interbrand top-100 in 2017 (with an estimated value of $4.29bn).
Bailey's
The original Irish Cream (made of Irish whiskey and cooking cream)
Captain Morgan
Spiced rum as well as a number of rum based cocktails and mixed drinks.
Tanqueray
The third best selling gin brand globally.
Guinness
Irish beer brand. The top selling Irish beer. The name is also widely known for the Guinness World Records brand, that was started by the company (though is no longer owned by Guinness).
Those brands represent a combined 41 percent of Diageo's net sales. Please note that Johnnie Walker Gold Label Reserve, Johnnie Walker Blue Label and Tanqueray No Ten are grouped in the "Reserve" segment and thus are not included in this figure.
Another 38 percent of net sales is comprised of the "Local Stars" (brands with a leading position in select markets) and "Reserve" (luxury spirits at an above premium price level) segments.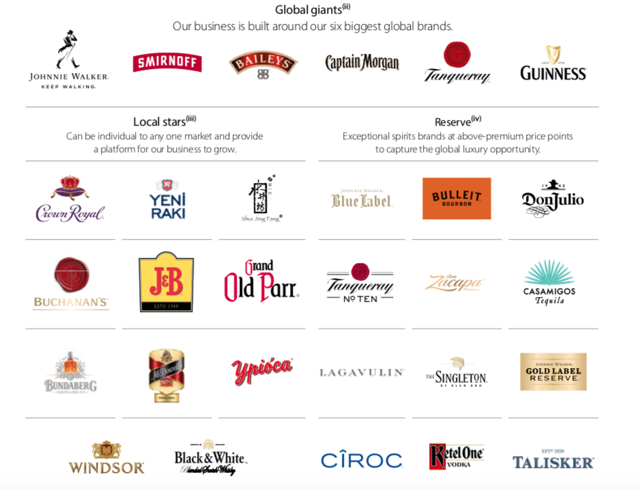 The three core segments of Diageo's brand portfolio; Source: Diageo plc
Altogether, those 29 brands account for 79 percent of Diageo's sales.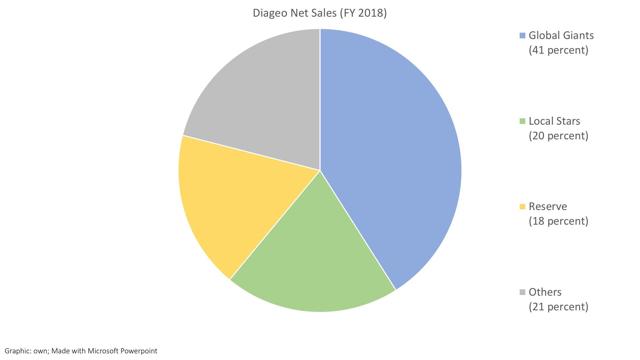 Strengthening Fast Growing Product Categories
25 percent of Diageo's net sales came from scotch in the fiscal year 2018, making it by far the largest category in front of beer (16 percent) and vodka (11 percent). This should not come at much of a surprise as the "crown jewels" of Diageo's brand portfolio -Johnnie Walker (including Blue Label and Gold Label Reserve), Guinness and Smirnoff- are from exactly those categories. Canadian whiskey and rum (7 percent of net sales each) are major categories as well. Gin (4 percent) and tequila (3 percent) on the other hand are rather underweighted in the sales mix.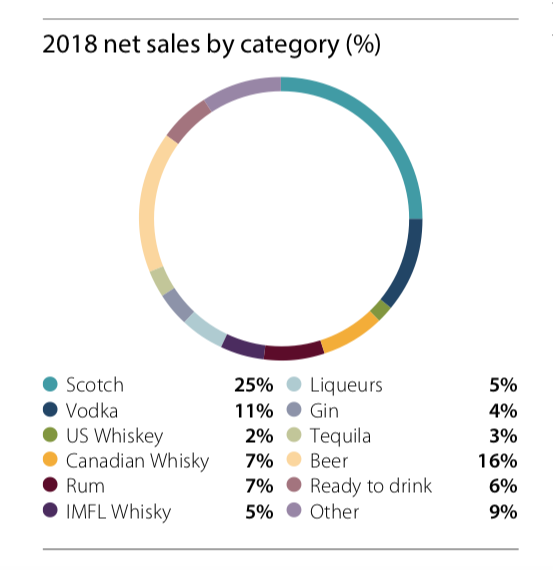 Diageo's net sales by category; Source: Diageo plc
However, those are exactly the categories that are growing the fastest, while sales in scotch, Canadian whiskey and rum only grew moderately and vodka sales even decreased slightly.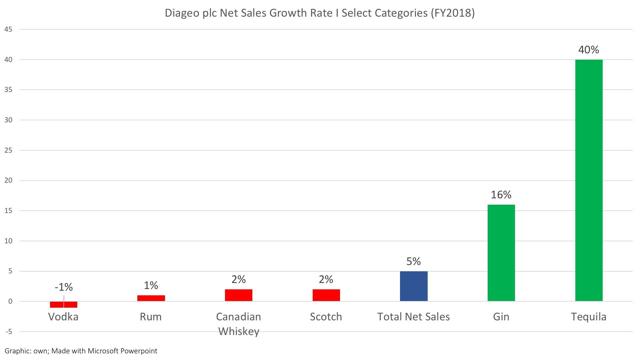 I highlighted the difference in growth rates by marking the respective categories in red (growth rate below the company's net sales overall growth rate) and green (above overall growth rates) in the above graphic. It should be mentioned that Diageo's strong growth in exactly those categories is not a coincidence but the result of an overall trend in the global spirits market.
If we now take a closer look at the brands that Diageo is selling, you will realize that nine of the brands belong to the exact categories that have been highlighted as slow-growing above (plus two of the brands, Yukon Jack and Piehole, are whiskey-liquors).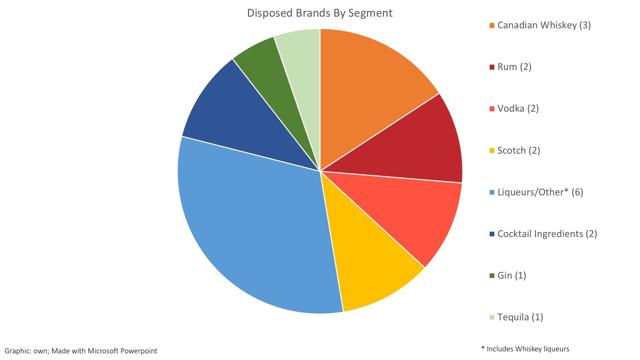 None of the brands belongs to the three core segments of the portfolio.
Admittedly, there is also one tequila brand about to be sold. However, this brand's, Peligroso, product line-up is very similar to that of Casamigos (yes, you are right, the George-Clooney-tequila), which Diageo acquired in 2017 (and for which it booked a goodwill of £458m in its 2018 annual report). It hence makes sense to exclusively concentrate on Casamigos, which Diageo lists among its "Reserve" segment, instead of operating two brands targeting more or less the same customer group at the same price point (thus risking to impair the development of an asset that was not exactly purchased at a cheap price).
Premium Spirits Are Less At risk From Marijuana
Furthermore, I believe premium or luxury spirits to be less at risk of being substituted by marijuana infused beverages or other marijuana based products than their non-premium brethren. A premium spirit - regardless of category - is normally purchased for the taste and character of the respective product. Customers who primarily want to - euphemistically speaking- "have a good time" on the other hand might choose to go for marijuana-based products instead where they are legal and available at comparable price points to lower end spirits.
This might read a bit at first, but there appears to be a correlation between the availability of legal marijuana and declining alcohol sales.
Risk
While I believe Diageo's strategy to be right, there are of course some risks to consider for those entertaining the idea of an investment in the stock.
As Diageo is a British company, naturally, Brexit poses an imminent risk. Due to the nature of the spirits business and the requirements, especially such of geographic origin (for instance tequila may only be distilled in certain Mexican regions, scotch must be distilled in Scotland etc.) I would see the company at risk in case of an increasing trade war as well.
Investors should also be mindful of the currency risk, as Diageo reports in Sterling while significant production and the vast majority of sales occurs in other currencies.
Conclusion
All in all, I believe Diego plc to be on the right path strategically. A focus on less but better brands will help the company to fortify and expand its standing as a global leader in the market for alcoholic drinks. It is my expectation that strengthening the fastest growing segments while at the same time concentrating on the strongest brands in those segments already accounting for large percentage of sales volume will improve the portfolio performance in the long term. Shareholders will also profit from the redistribution of cash generated by the sale of the disposed brands.
Disclaimer: All research contained in this article was done with utmost care. However, I cannot guarantee accuracy. Every reader is advised to conduct his own due diligence and research.
Disclosure: I/we have no positions in any stocks mentioned, and no plans to initiate any positions within the next 72 hours. I wrote this article myself, and it expresses my own opinions. I am not receiving compensation for it (other than from Seeking Alpha). I have no business relationship with any company whose stock is mentioned in this article.