Toll Brothers (TOL), one of America's biggest homebuilders and leader in the luxury home segment, just released its earnings. Both earnings and sales came in way above expectations which continues a strong double-digit growth streak. This is where the good news ends. A weakening housing market has hit the company's new orders as high interest rates hit the company's net order flow. Overall, the company continues to be positive with regards to the future of the housing market. I, however, continue to be on the sidelines as the housing market continues to decline on the back of falling leading indicators.

Source: Toll Brothers
Outlook Matters
Everything started off so promising. Toll Brothers reported a stunning fourth quarter with sales at $2.46 billion. This is $130 million above expectations and 21% higher compared to Q4 of 2017. This is the fourth consecutive quarter with double-digit sales growth. 3 of those quarters have been above 20% growth.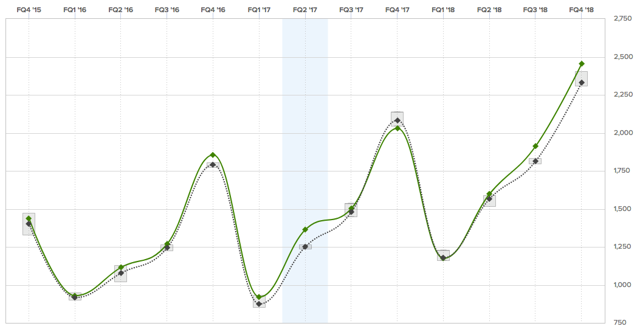 Source: Estimize
EPS rose to $2.08 versus expectations of just $1.82 versus $1.17 in Q4 of 2017. This means that the growth rate has risen to 78% versus expectations of 55.6%.
Total homebuilding deliveries soared 12% to 2,710 units in Q4 while pre-tax income was up 31% to $396.5 million. Backlog value improved 9% to $5.52 billion.
Unfortunately, this is where the fun ends. The net signed contract value came in at $1.50 billion which is down 15% year-on-year. Contract units were down 13% to 1,715 units. It almost does not matter how solid a certain quarterly performance has been as long as there are signs that demand is weakening. Toll Brothers blames a softer market due to rising interest rates and the effect the media (well-publicized reports) has on consumers. You don't buy a house when it seems to be a bad idea according to 'other people' right?
In November, we saw the market soften further, which we attribute to the cumulative impact of rising interest rates and the effect on buyer sentiment of well-publicized reports of a housing slowdown. We saw similar consumer behavior beginning in late 2013 when a rapid rise in interest rates temporarily tempered buyer demand before the market regained momentum.
California took the biggest hit where rising interest rates hit hard given the region's price appreciation over the past few years.
What's Next?
Weak new orders are always bad, but what really matters is the trend and factors that predict the housing market. Toll Brothers remains positive with regards to the longer term trend due to a solid economy in California, lower unemployment rates, and strong equity in existing homes that stimulate the purchase of more expensive homes.
I have a similar view on this. The problem we are currently having is that housing sentiment is falling. Both NAHB housing market sentiment and leading building permits are rolling over. Growth rates are either at or below zero and the trend is starting to trend down as you can see below and read in this article.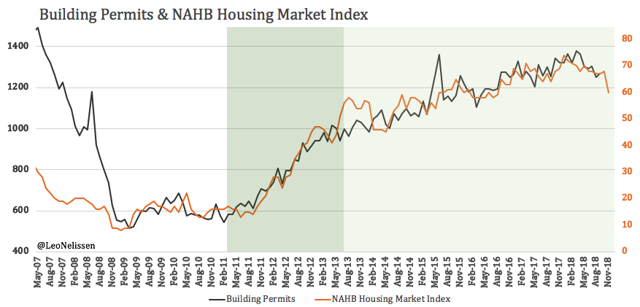 It is extremely difficult if not impossible for homebuilders to generate positive new orders in such an environment. Yes, it is likely that sales continue to be strong given the strong orders in 2017 and early 2018, but expectations are slowing. Note that this happens along with a slowing general economy and peaking consumer sentiment as the graph below shows.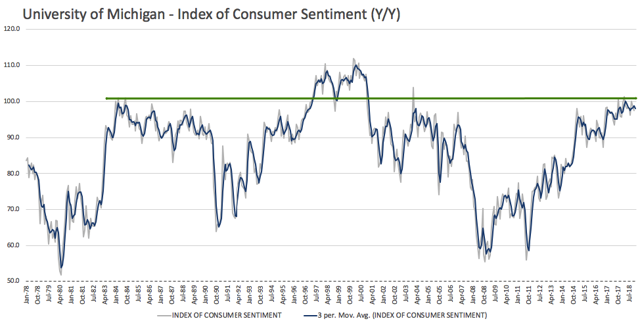 In other words, the low unemployment argument is perfectly valid. The problem is that hard economic data like unemployment might get worse when leading economic indicators continue their decline. This means that the most expensive houses will continue to be a bigger drag on homebuilders than houses in the low income category given the demand for affordable housing. At least, that has been the story so far.
Until we get a meaningful reversion of leading homebuilding indicators (building permits, NAHB sentiment) or a reversal of leading economic indicators like the ISM manufacturing index, I am convinced that homebuilding stocks continue to disappoint. The decline of the homebuilding ETF (ITB) and Toll Brothers is very unlikely going to end without it.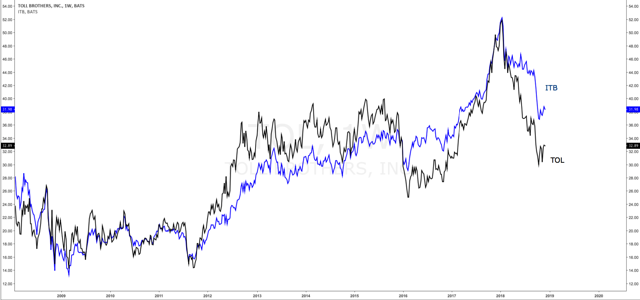 Source: TradingView
In other words, if there is one thing I want to achieve by writing this article, it's that Toll Brothers continues to be a 'stay on the sidelines' stock. Even though I like the company's business model and strong position in the luxury segment, I have to pass until indicators suggest that we can expect new orders to improve again. Once that happens, I am going to be a buyer of stocks like Toll Brothers. These companies prove over and over again to be perfectly able to exploit a strong housing market. The only problem is that they are going nowhere without housing strength.
I'll keep you updated!
Thank you for reading my article. Please let me know what you think of my thesis. Your input is highly appreciated!
Disclaimer: This article serves the sole purpose of adding value to the research process. Always take care of your own risk management and asset allocation.
Disclosure: I/we have no positions in any stocks mentioned, and no plans to initiate any positions within the next 72 hours. I wrote this article myself, and it expresses my own opinions. I am not receiving compensation for it (other than from Seeking Alpha). I have no business relationship with any company whose stock is mentioned in this article.