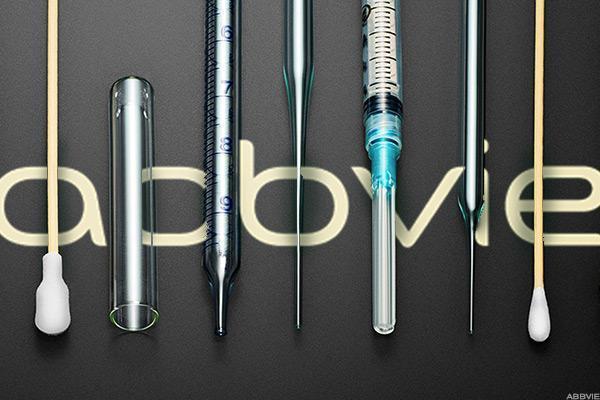 (Source: TheStreet)
Investment Thesis
The biopharmaceutical company AbbVie Inc. (ABBV) has been one of the more controversial names in the large-cap health care space over the last year, with a number of strong arguments being made on both the bullish and the bearish sides. ABBV had been a top performer throughout 2017 with returns of over 54%, not including dividends. 2018, however, has not been as fortunate, with the company running into a number of hurdles that have stripped the stock of its outperformance. In this piece, I discuss why the stock of AbbVie offers a compelling buying opportunity, some of the risks and challenges the company faces going forward, and why the stock appears bullish from a technical standpoint.
The Tables Are Turning, For the Better
AbbVie has experienced a number of setbacks over the last year, and its stock has underperformed for much of 2018 as a result. Part of that underperformance was the byproduct of increasingly heightened expectations due to the stock's strong returns throughout 2017 and the start of 2018, but concerns over the company's outlook and the viability of Humira as a long-term source of revenues have also played a significant role in the stock's weakness.
March 22nd marked the beginning of the end for the bull trend in AbbVie's stock, as the company announced that it was abandoning plans to seek accelerated FDA approval for its oncology drug Rova-T. The drug had high hopes as a potential blockbuster for AbbVie, but disappointing midstage test data came up woefully short. AbbVie had coughed up $5.8B upfront to buy the drug, so to see it basically confirmed as a dud made the results all the more inadquate. These results validated the bears' thesis that the company would be unable to find a long-term replacement for Humira; the stock fell nearly 13% on the day the news became known, and has been unable to recover since.
The Rova-T setback was just the beginning of many that AbbVie would experience throughout 2018, with a variety of problems that ranged from a botched stock sale to allegations of illegal kickbacks. All in all, it has been far from an ideal year for ABBV shareholders; however, a deeper look would indicate that the underlying company is performing better than the stock is letting on.
Declining Valuations Amid Improving Fundamentals
Despite ABBV's decline in both price and valuation since its peak in late January, growth for the company itself has remained strong. On an earnings basis, AbbVie has reported non-GAAP earnings for the last year of $7.49, reflecting roughly 41% growth over earnings of $5.31 for the year prior. GAAP earnings growth for the same period hasn't been as strong, with TTM earnings of $4.84 versus $4.11 for the year prior indicating growth of 17.8%; however, it should be noted that GAAP earnings for Q4 of 2017 had taken a one-time hit of $0.77 pertaining to the enactment of the Tax Cuts and Jobs Act, so for this situation the non-GAAP results are a more accurate indicator of the company's performance. Revenue growth has been similarly strong, with TTM revenues of $32.187B that increased by 18% over revenues of $27.273B for the year prior.
Looking forward, management expects the company's performance to remain strong, as illustrated by yet another raise of adjusted EPS guidance for the full-year 2018. In its most recent quarter, AbbVie updated its full-year guidance range from $7.76 to $7.86 to $7.90 to $7.92. At the midpoint, the raise represents an improvement of 2.59% over the prior range, as well as Y/Y growth of 41%.
The stock hasn't done a good job of reflecting this earnings growth; looking over the last year, AbbVie's earnings growth and its stock price and P/E ratio have headed in opposite directions. While GAAP earnings have risen by 17.8%, ABBV's P/E ratio (on a GAAP basis) has dropped by 20.2%, and its forward P/E has dropped by 34.3% to 11.38. Granted, the valuation had been a bit elevated early in the year, and at one point ABBV was trading at a mid-30s multiple. However, the stock's current P/E of 18.70 is far more reasonable considering the company's earnings growth, as demonstrated by its PEG ratio of 1.05. I should also add that ABBV trades at a non-GAAP multiple of just 12 times earnings, which is far lower than many of its peers, not to mention the overall market.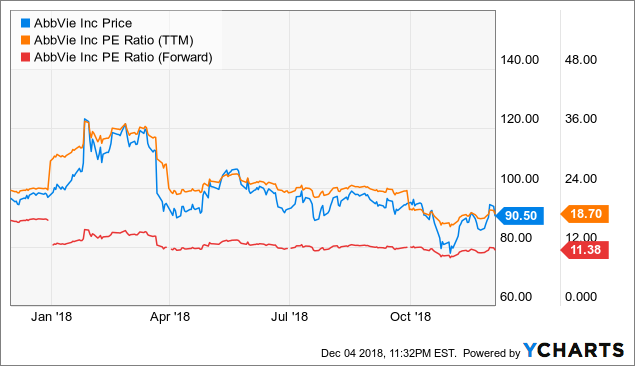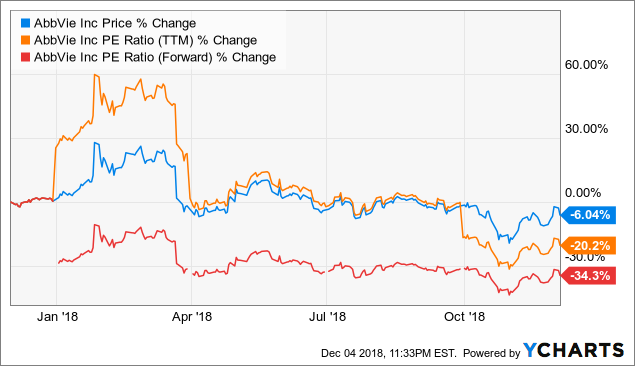 Strong Growth In the Pipeline
In the company's most recent quarter, Humira posted total revenues of $5.124B, good for 9% growth over the same quarter last year taking into account the impact of exchange rate fluctuations. However, total reported revenues for the quarter grew 17.8% Y/Y, indicating that the majority of the company's growth came outside of Humira.
Apart from Humira, Imbruvica, a hematologic oncology drug developed in partnership with Johnson & Johnson (JNJ), provides the company's second-largest source of revenues. The drug contributed sales of $972M for the third quarter, good for 41.3% growth Y/Y. AbbVie's third-largest drug, Mavyret, has performed even better, with over 100% revenue growth over the last year. While the size of the revenues for the two drugs remains far off in comparison to Humira the growth is certainly there, and it's clear that both Imbruvica and Mavyret present long-term blockbuster potential.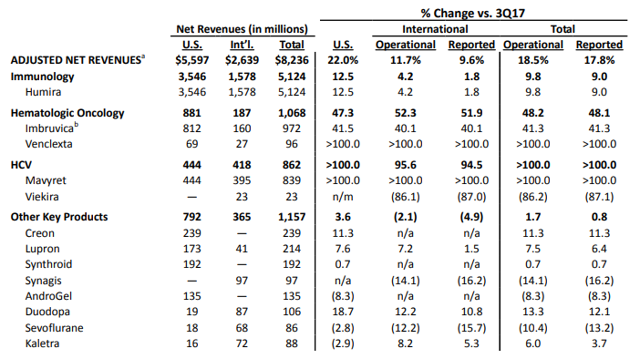 (Source: AbbVie 3Q18 Financial Results)
I would also point to the recent FDA approval of Venclexta, a treatment for elderly patients with acute myeloid leukemia co-developed by AbbVie and Roche (OTCQX:RHHBY). SunTrust has recently forecasted that the drug's approval could add over $1B in peak annual sales for AbbVie, arguing that Venclexta has a greater chance of securing market leadership over its competition, in the form of Pfizer's (PFE) newly-approved Daurismo, due to having a broader label and stronger efficacy profile. This makes Venclexta a valuable addition to AbbVie's lineup, and provides another example of the growth opportunities in the company's pipeline.
Robust Dividend
Over the last few years, AbbVie has increasingly developed a reputation as an exemplary choice for investors seeking dividend income. At a current yield of 4.73%, the stock's dividend yield and growth rate far outpace that of any of the company's peers. AbbVie has been especially generous with its dividend over the last year, raising its payout from $0.64 to $0.71 at the start of 2018 and again to $0.96 in the following quarter. More recently, the company has announced a hike of ~11.5% to $1.07 for its upcoming dividend, to be paid in February of 2019.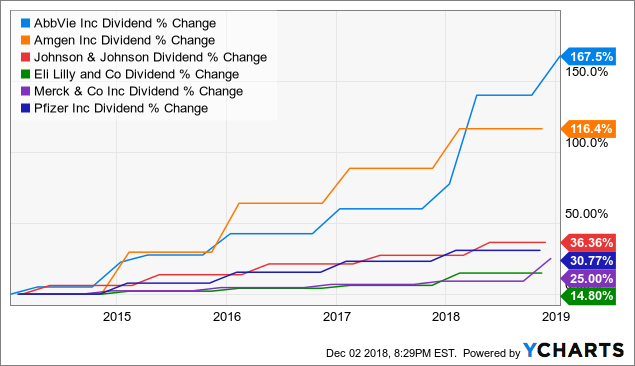 The company's payout ratio, which stands at roughly 65%, still has a ways to go to be considered excessive, and should not be a problem as long as AbbVie can continue to grow earnings in 2019, which the company has indicated will be the case. However, considering that Humira makes for such a large portion of AbbVie's overall revenues, it is safe to say that the dividend lives and dies by the blockbuster drug's growth; if that growth were to deteriorate without the company being able to diversify away from Humira, the dividend's viability would certainly be called into question, and investors would likely question whether AbbVie would have been better off investing in its pipeline through R&D or M&A. For now, such a scenario remains years away, though it remains a risk to be considered as long as Humira remains the primary source of AbbVie's revenues.
Risks
Lack of Revenue Diversification
For years, AbbVie's Humira has held the title of the best-selling drug in the world, but the company has been unable to diversify their revenues away from their cash cow. I had mentioned earlier how in 3Q18, Humira revenues had grown by 9% to $5.124B, which on its own is by no means a negative statement. However, total revenues for the quarter came in at $8.236B, meaning that Humira alone accounted for over 62% of the company's sales. And while Imbruvica and Mavyret have been strong growth drivers for AbbVie, neither of these drugs have yet been able to contribute meaningfully in terms of revenue diversification, as the two drugs combined only accounted for 22% of AbbVie's total revenues for the third quarter. AbbVie's dependence on Humira has been well-known for a while and has arguably been priced into the stock, but that doesn't reduce the importance of needing to move away from Humira as competition grows and patents expire.
Biosimilar Competition
A number of biosimilars to Humira were recently approved and launched in Europe, exposing AbbVie's crown jewel to significant competition. Though AbbVie's US-based patents on Humira are expected to remain strong until 2023, the drug's relative lack of patent protections in Europe has opened the door to biosimilars from competitors, including Amgen's (AMGN) Amjevita and Novartis' (NVS) Hyrimoz. The company has decided to face these challenges head-on with a new 80% discount for Humira in Europe, likely in an attempt to choke out its competitors and maintain market share. While the roughly two-thirds of Humira's sales that come from the US should see continued growth until 2023, the remaining one-third of sales made internationally may experience a negative impact.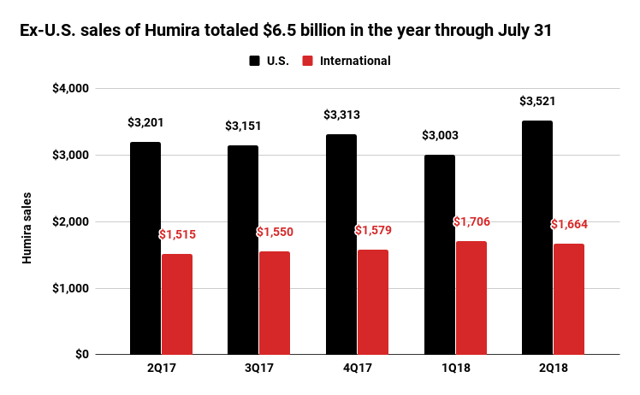 (Source: BioPharma Dive)
Overall, it remains too early to tell whether Humira's growth in Europe will be eroded by competition from biosimilars. For now AbbVie is standing by its long-term guidance of $21 billion in sales for Humira by 2020, but eventually it will have to seek alternative sources of revenue apart from Humira, as the company has until 2023 before biosimilars have the opportunity to eat away at the drug's market leadership in the US.
Technical Analysis
AbbVie's stock had spent much of 2018 in what is known as a descending triangle, a bearish chart pattern that consists of downtrend resistance coinciding with a horizontal support level, at ~$85 in the case of ABBV. That $85 level had been a consistent source of buyers for the stock until mid-October, when it was taken down along with the broader market. It was the company's Q3 earnings report on November 2nd, which surpassed expectations and quelled fears of declining fundamentals, that became the catalyst for the stock's reversal; since then the stock quickly reclaimed its prior support, and has just recently managed to break out of both its 50-day moving average and its longer-term downtrend on above-average volume. The stock is currently facing near-term resistance at its 200-day moving average (currently just under $95), but the fact that ABBV is establishing a number of bullish signals makes me positive on its prospects going forward.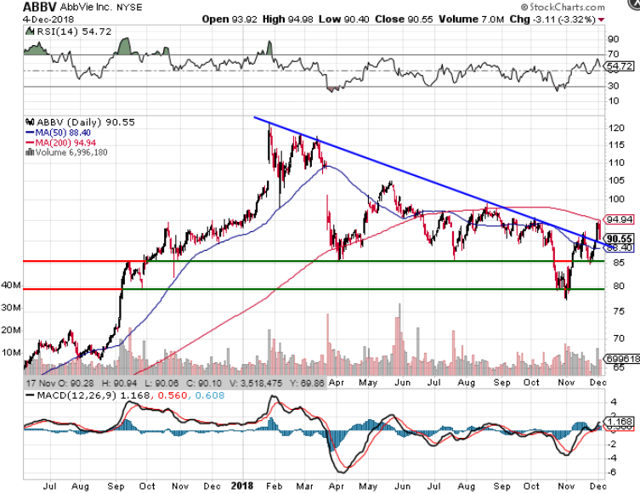 (Source: Stockcharts.com)
Conclusion
AbbVie still faces questions as to whether it will be able to diversify away from Humira in the coming years, but I believe that at these levels the concerns have already been priced into the stock, as reflected by its low valuation relative to the company's strong earnings growth. With regards to the company's lineup of treatments, while Rova-T didn't pan out anywhere near as well as the company had hoped, AbbVie's pipeline still offers a number of long-term blockbuster opportunities in the form of Imbruvica, Mavyret, and Venclexta that should aid in its transition away from Humira. The stock also offers a generous dividend and a positive technical setup; for these reasons, I view ABBV as an attractive buying opportunity for the long-term.
Disclosure: I am/we are long ABBV, JNJ. I wrote this article myself, and it expresses my own opinions. I am not receiving compensation for it (other than from Seeking Alpha). I have no business relationship with any company whose stock is mentioned in this article.
Editor's Note: This article discusses one or more securities that do not trade on a major U.S. exchange. Please be aware of the risks associated with these stocks.